Halloween is the season in which cats are seen in abundance, thanks to their 'spookiness' and magical ways. This goes for all kitties, but especially black cats with their sleek and shadowy ways. However, it can be a terrible night of fright for most cats.
Follow these tips to keep your kitty safe and calm during Halloween season.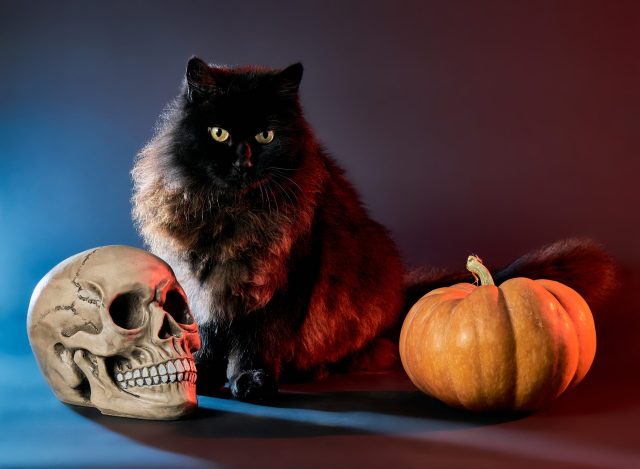 10 "Must Know" Halloween Safety Tips for Cats
#1 – Stay Visible
If your kitty is a hip cat and is going Trick-or-Treating with you, be sure they're wearing a reflective leash and harness or light up collar for easy visibility in the busy and low light conditions that unusually accompany Halloween shenanigans.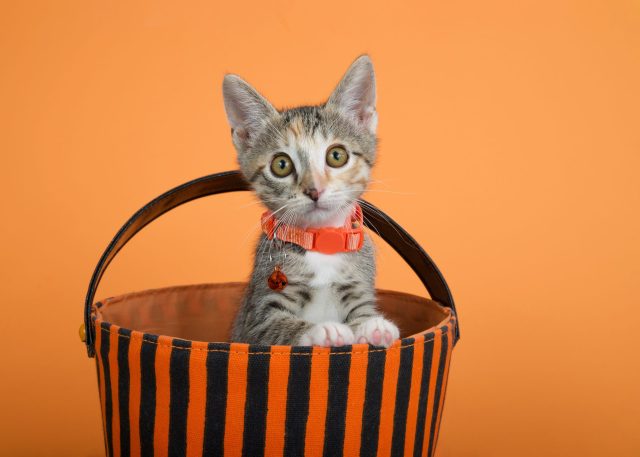 #2 – No Candy
Candy is a no-no for kitty. Unless you want to end up at the emergency vet, keep your kitty away from all that candy and the wrappers!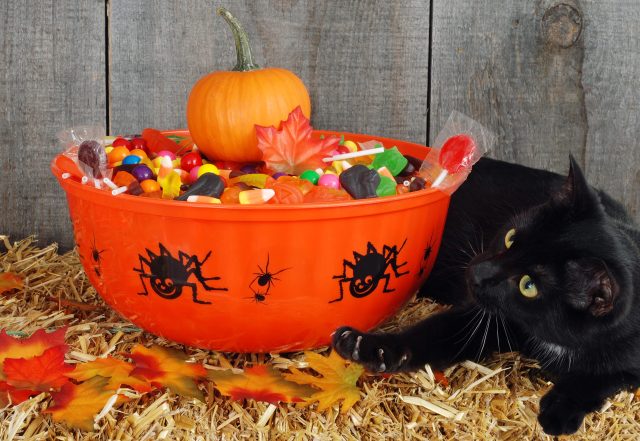 #3 – Candles
A lot of us use candles in our Halloween decorating, not just in the pumpkins, but on tables for "mood lighting." But remember your cat can jump up on those areas and could get burned or start a fire. If you have pets, its best to use battery-operated candles and lights.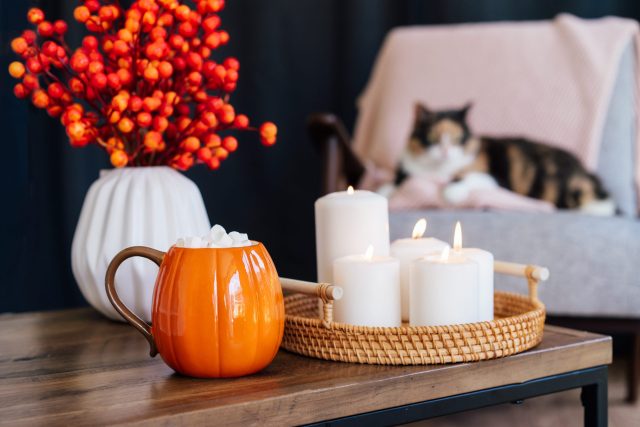 #4 – Costumes
Most cats don't care for dressing up in a costume, but some really dig it. If you decide to try a costume with your cat, be sure they don't mind. If your purry one doesn't like it, it's better to just put on a Halloween collar or leash to mark the occasion than to stress your pet.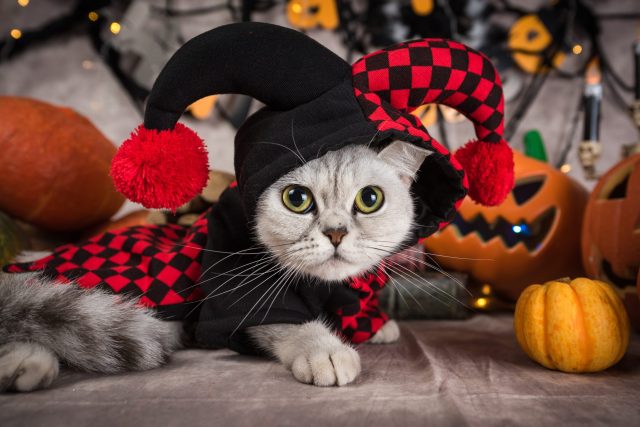 #5 – Watch The Door
Keep your kitty away from the door so she does not run out when you open it for Trick-or-Treaters. A lot of pets are lost on Halloween night.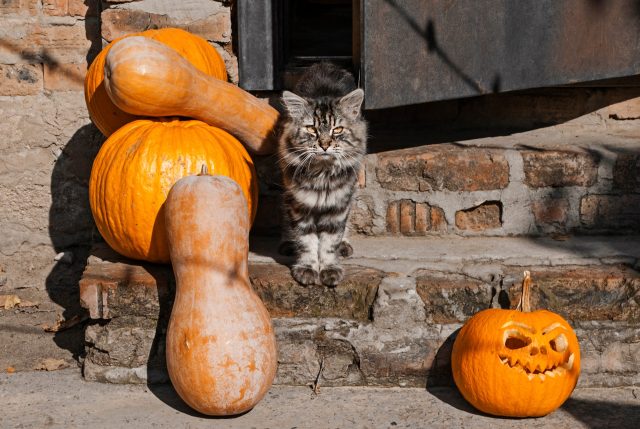 #6 – ID Tags
In case your cat does get out, ensure she can make it home by putting a collar and ID tag on her, even if she does not normally wear one.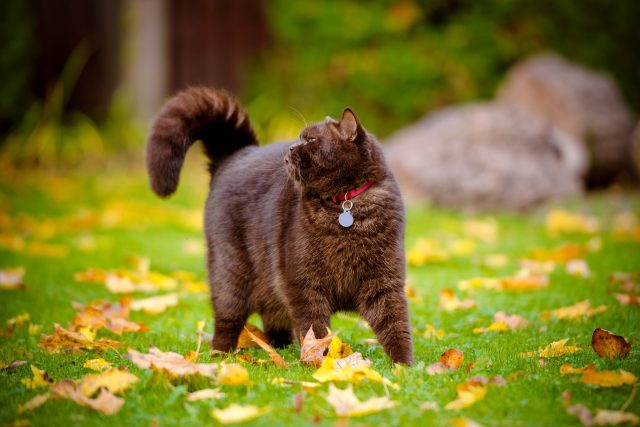 #7 – Decorations
Halloween decorations can be hazardous. There are a lot of chemicals (like fog machines and glow sticks), and kitties love to eat things like streamers and fake cob-webbing, so decorate with care and watch that your cat doesn't get into anything.
#8 – Don't Leave Cats Outside Unattended
Halloween witnesses the highest number of animal abuse cases than any other day. Especially for black cats. Keep your kitty safe by keeping them in doors for a few days before and after Halloween.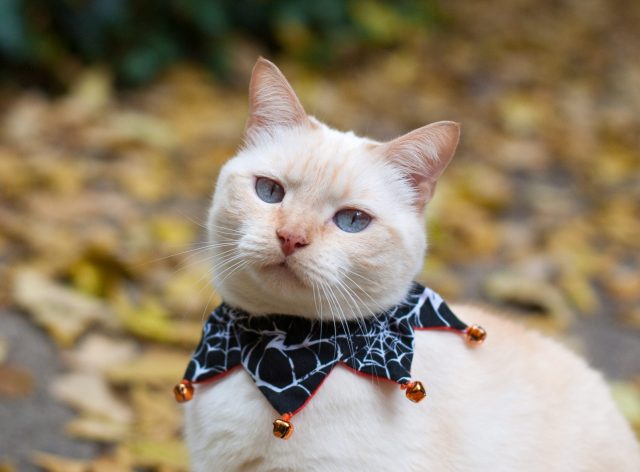 #9 – Have an Exit Plan
If your kitty is going Trick-or-Treating with you, have a plan if it becomes too much for your cat. Even on leash, your cat could wiggle out of their harness, or if they scratch you, you may drop the leash. It's best to have someone with a car nearby and keep a cat carrier with you so you can put your cat in a secure space if necessary.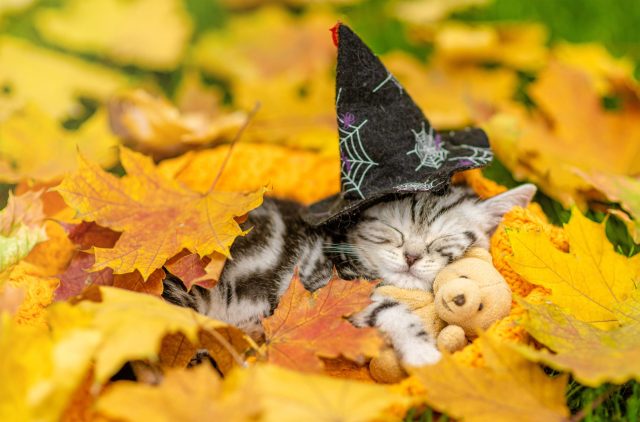 #10 – Emergency Vet
Make sure you know which vets are open late on Halloween night and keep their information handy, in case you need it.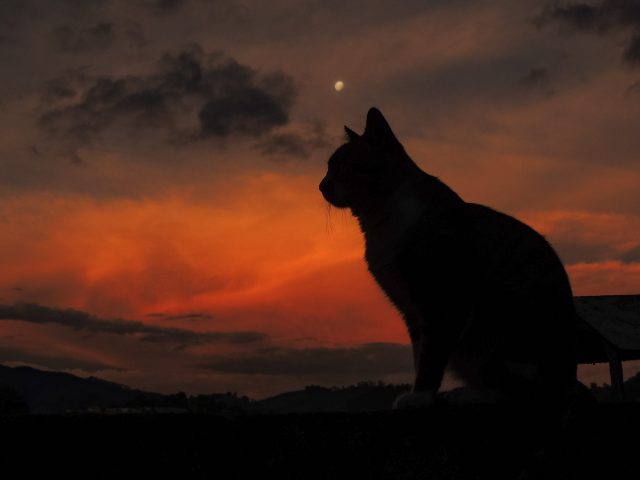 With these ten tips in your pocket, you and your feline familiar can experience not only a safe Halloween, but a spooky fun one as well! Happy Haunting!