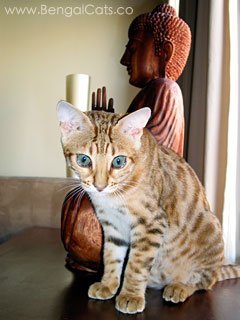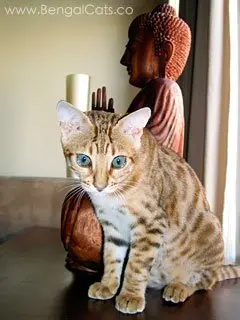 BengalCats.co is an online community for Bengal cat owners, breeders and enthusiasts with informations, videos, pictures and more! This Web site is dedicated to helping others learn about this breed, share their own experiences and promote the well-being of Bengal Cats.
The idea came in December 2007 right after purchasing my first Bengal cat and I wanted to keep a record of what I was learning about this amazing breed. Since then, I've tried to bring Bengal cats fans together through social networks and through this site by writing articles and posting the best pictures and videos I can find.
Victor Hugo said about cats:
"God invented the cat so that man have the pleasure of caressing a tiger at home."
Sharing your life with an exotic-looking cat is now possible since the introduction of the Bengal breed into households all over the world.
The Bengal is a domesticated cat derived from early generations of hybrids produced by the cross of a domestic cat and a small wild spotted feline living in Southeast Asia: the Asian Leopard Cat (ALC), (Prionailurus bengalensis).
About the Authors
Subscribe to BengalCats
Please stay in touch with BengalCats.co through one of our subscription methods. If you're active on those social networks, feel free to connect with me on Facebook, Twitter and Google +.
If you are familiar with News Aggregators and RSS syndication, you can follow BengalCats via our RSS feed. Simply add it to your news aggregator and you'll get notification every time something is published on BengalCats.co.
If you prefer getting blog posts by email, you can subscribe by entering your email address in the following field and hitting the "Subscribe" button below. You can subscribe or unsubscribe from this service at any point.