Spooky season has arrived, and it's time to rejoice by choosing what to be for Halloween! And if you love cats, then maybe you've decided to be one for the big night and all the celebrations around it. But now, you have to settle on what kind of cat you'd like to be. Will your costume be a simple affair or an artful homage to the feline kind?
Whatever your cat costume jam, we've got a plethora of inspiration to get you styling your purrfect cat costume. And sure, it's easy to buy a costume set, but a big part of the Halloween fun is gathering all the pieces and details you need to craft a unique costume. So, let us help you have a hauntingly good time crafting a cat costume with this selection of tutorial videos. They'll give you all the inspiration you need to find your inner feline this Halloween!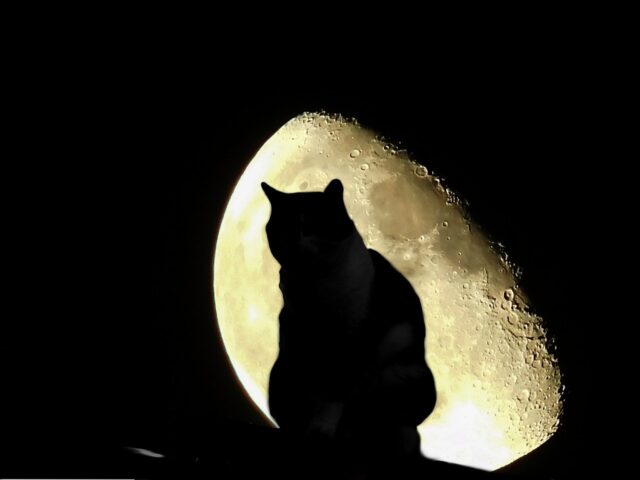 Cat Costume Inspiration
First decision to make, what kind of cat do you want to be? Will you be silly and cute or mysteriously aloof? What about a Broadway-style feline or even a flirty kitty? Maybe you just want to add cat ears and a tail with a black shirt and jeans. Whatever you decide, these cat costume tutorials offer all the guidance you'll need.
DIY Halloween Kitty Cat Costume
RunwayDoneMYWAY brings you a full cat costume tutorial that includes: DIY Kitty Fur Skirt with Boa Trim and Tail, Glove with Boa Trim, Lace Kitty Ears, Faux Fur Boot Covers to create your Kitty Feet. Best of all, there's no sewing involved! This cute Halloween cat look is made from easy-to-find materials and some you probably already have around the house.
CATS the Musical Costume
In this costume tutorial, Laura Iseley shows you how to make a full Broadway or West End costume from CATS, "from the wigs, tails, collars, unitards, leg/arm warmers, all the way to the makeup!"
Cute Kitty Cat Dress
For a cutie cat dress to wear with your cat ears and tail, check out cosplayer Yumi King's tutorial on making a dress out of a black T-shirt. In the video below, she shows you how to turn the simple tee into a cat dress!
Two Last-Minute Cat Costumes
Whether you're feeling sassy or edgy, Gracie Dzienny brings you two cat costume tutorials when you need a last-minute costume.
Digging those fingerless kitty gloves? Our fuzzy paws come in an array of colors to match any style of costume!
Making Ears and Tails of It!
Every cat costume needs ears and a tail, so enjoy this selection of choices that will help you find your inner cat this Halloween.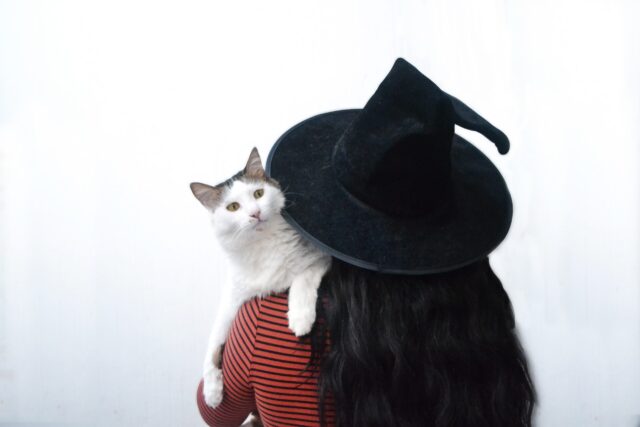 DIY Furry Cat Ears
If you're handy with a sewing machine, Yumi King's video on making furry cat ears will get you feeling like a super kawaii neko in a hurry!
Easy No-Sew Animal Ears
Crafted by Kinpatsu Cosplay, these ears will work for many different animal costumes, including your cat getup! They are highly detailed and will have everyone asking where you got them. You can purroudly say you made them with your own little paws.
Glittery Cat Ears Headband
The Fun Five brings you an easy tutorial on making a glittery cat ears headband that will sparkle in the spooky lights.
Cats Ears on Clips
Veronica of Craft Revue teaches you how to make fuzzy cat ears on hair clips. No headbands here!
Looking for a ready-made pair of kitty ears to accent your costume? Check out our collection of craft-free headbands in sequins, rhinestones, and faux fur!
Broadway-Style Tails
If you're aiming for a costume inspired by CATS, this tutorial by Tilli Boom Cosplay shows you how to make all three of the different types of tails the show has utilized during its long tenure on the stage.
Pompom Cat Tail
PomPomWonderland created this adorable cattail as a keychain, but by sliding the ring onto a belt, you've got a cute tail for your cat costume.
DIY Fluffy Tail
Craft Revue to the rescue again! Veronica instructs you on how to make a fluffy cat tail that will be too cute with any cat costume.
Cat Makeup Tutorials for a Purrfect Look
Cat makeup can range from glamour puss to realistic. You can even create cat art on your eyes! Whatever look you're aiming for, these cat makeup tutorial videos will inspire you!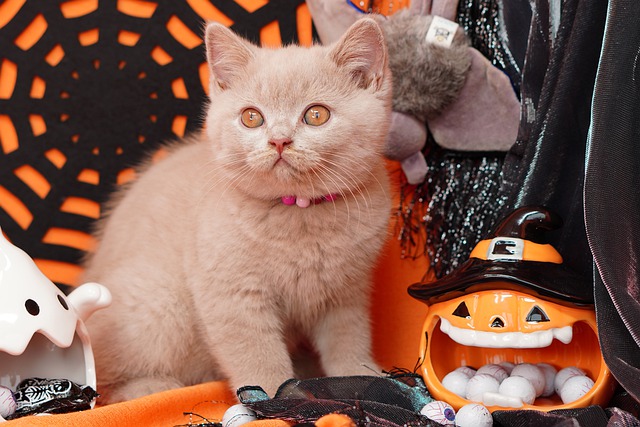 Glittery Halloween Glam Cat
From Melly Sanchez, a super cute glam look complete with gold glitter. You'll be the fanciest cat padding the Halloween scene.
Last-Minute Cute Cat Makeup
I Covet Thee proves a last-minute costume "requires nothing more than a trip to your makeup bag." Check out this cute cat makeup tutorial that features a sweetheart kitty nose!
CATS Stage Makeup
Watch as CATS cast member Emily Keane transforms into the character Cassandra in this makeup tutorial.
Scary Cat Cute
Boots UK offers a pawsome tutorial for a scary cat look that's still cute too!
Glamour Puss Style with Cat Eye Contacts
Check out this gorgeous cat makeup tutorial that blends feline mystique and glamour. Arshia Moorjani adds cat eye contact lenses to complete a purrfect look. And while decorative contact lenses can add a dramatic statement to your cat costume, be safe in doing so. Before you just buy a pair because they're a good deal, the FDA offers this information on how to keep your eyes safe when choosing and wearing Halloween contacts.
Once you've put together your costume and decided on your makeup look, get entirely into character with the 9 Rules of Feline Speak. Then, read The Haunting of Forrest Wisewhiskers. If this spooky tale chills you to your core, then you've definitely connected with your inner feline!
Now, is your cat ready for the big night in? Check out these cute DIY Cat Halloween Costumes!
Have A Safe and Happy Howl-o-ween!