Just two months ago, Machine Gun Kelly and Megan Fox announced their engagement, and now, they've expanded their family. Their new addition is simply purrecious with whiskers, big green eyes, and fur patterned in exotic rosettes. That's right, cat lovers, the celebrity couple has grown the family with a Bengal kitten they've named Whiskey.
Meeting on the set of Midnight in the Switchgrass in March of 2020, the pair became fast friends. By June, MGK tweeted that he was calling Fox his girlfriend. In what can be described as an intensely passionate relationship, the rapper and actress aren't shy about their PDAs, with the Jennifer's Body actress calling Kelly her "twin flame." As part of their family, little Whiskey will never lack for love.
Welcome to the Gang, Whiskey
Machine Gun Kelly, whose real name is Colson Baker, took to his Instagram and TikTok to introduce the couple's new kitten. In the TikTok clip, the pair have dressed for the occasion, wearing matching leopard print pajamas as they cuddle Whiskey. And when MGK lifts Whiskey to the camera for a good look at his cute face, we're also treated to a glimpse of his adorably spotted kitten tummy! It's cuteness all around as Whiskey's pawrents are beaming with purride!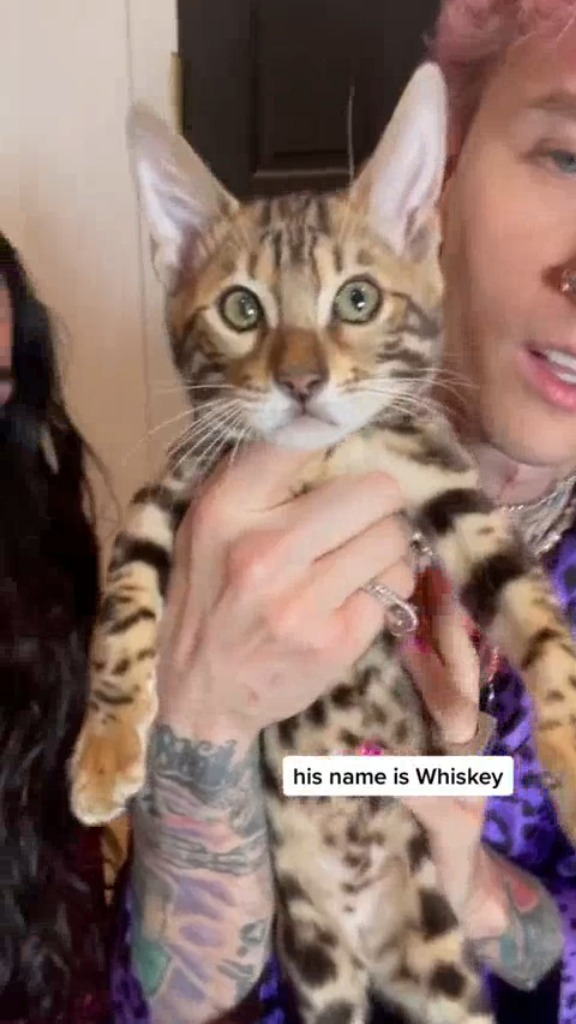 In his Instagram post, the "Emo Girl" singer wrote, "welcome Whiskey to the gang XX" and posted a selection of multiple pictures offering a look into Whiskey's life as he settles in at his new home.
Whiskey lounges on a cat tower in the first picture, his mouth open wide! While we know he's yawning, he sure looks like a tough little big cat roaring with all his might!
The second shows a happy trio, all dressed in feline rosettes! Whiskey looks like he has mischief on his mind as he looks away from the camera.
In the third picture, we see that MGK is already totally smitten with his boy!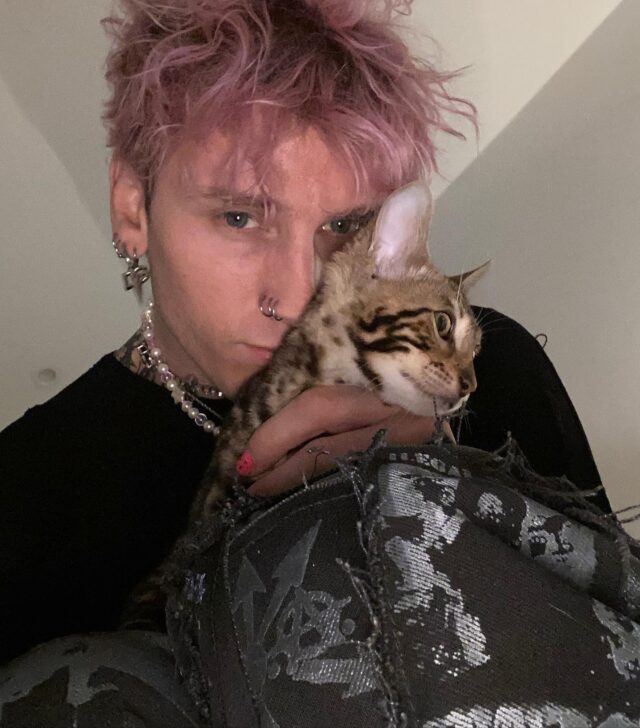 In another photo, a cat dad and his kitty snooze away, tucked in next to each other. Looks like Whiskey is already ruling the house.
Fox and Kelly are planning a gothic wedding with a red river, but with no date and no venue scheduled yet, we'll have to wait to find out if Whiskey will play a role in the nuptials.
H/T: www.pagesix.com
Feature Image: @machinegunkelly/Instagram