Looking for the Best Waterless Cat Shampoos? Our guide is here to assist you in selecting the ideal product for your beloved pet. Cats are known for their self-grooming, but sometimes they need a little help to stay clean and healthy. Waterless shampoos are a fantastic option, offering a stress-free, mess-free grooming experience for both you and your feline friend. Dive into our article to explore the top choices available in the market that promise to keep your cat's coat shiny, soft, and smelling fresh without the need for water.
1. Vet's Best Waterless Cat Bath | No Rinse Waterless Dry Shampoo
The Vet's Best Waterless Cat Bath is a no-rinse dry shampoo that is formulated to clean, condition, moisturize, and soothe a cat's itchy and dry skin and coat. It uses natural ingredients such as Aloe Vera, Neem Oil, Vitamin E, and Oatmeal to gently clean and moisturize. The foam application is quick, easy, and safe to use on cats 12 weeks or older. It is veterinarian-formulated and recommended, providing a relaxing spa-like experience for cats.


---
2. Burt's Bees for Pets Cat Natural Waterless Shampoo
Burt's Bees for Pets Cat Natural Waterless Shampoo with Apple and Honey is a convenient option for cat owners who want to freshen up their cats' skin and fur without the hassle of a bath. It is particularly useful for cats who dislike bathtime or when a quick refresh is needed between grooming appointments. Made with 99.7% natural ingredients, including apple and honey, this dry shampoo is suitable for all cats and kittens and is free of fragrances, sulfates, colorants, and harsh chemicals, making it safe and gentle for use on feline companions.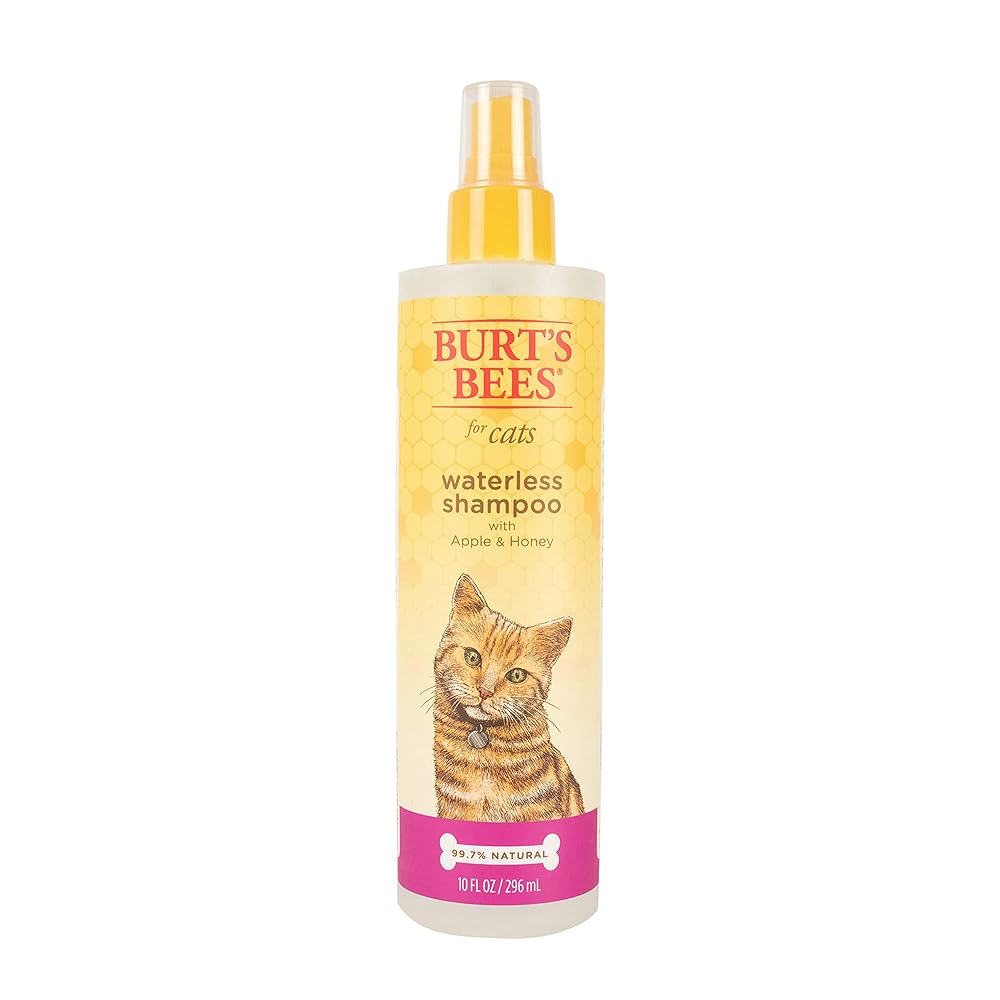 ---
3. TropiClean Aqua de Coco Waterless Cat Shampoo
The TropiClean Aqua de Coco Waterless Cat Shampoo is a no-rinse dry shampoo specifically designed for cats. It effectively cleans the coat while reducing dander and allergens. The shampoo contains natural ingredients like aloe and coconut, which nourish dry skin and leave a pleasant coconut and cucumber scent. The formula is paraben, dye, soap, and cruelty-free, making it suitable for use on cats 12 weeks and older. For a complete tropical experience, it can be paired with TropiClean's deodorizing spray and hypoallergenic wipes.


---
4. Mooncat Waterless Cat Shampoo
Mooncat Waterless Cat Shampoo is a convenient and gentle option for cat owners who want to freshen up their pets between baths or grooming sessions. It is pH-balanced and made with high-quality natural ingredients, promoting healthier skin and a natural shine coat. This non-toxic shampoo is safe for all cats and kittens, as it is free from fragrances, sulfates, colorants, and harsh chemicals.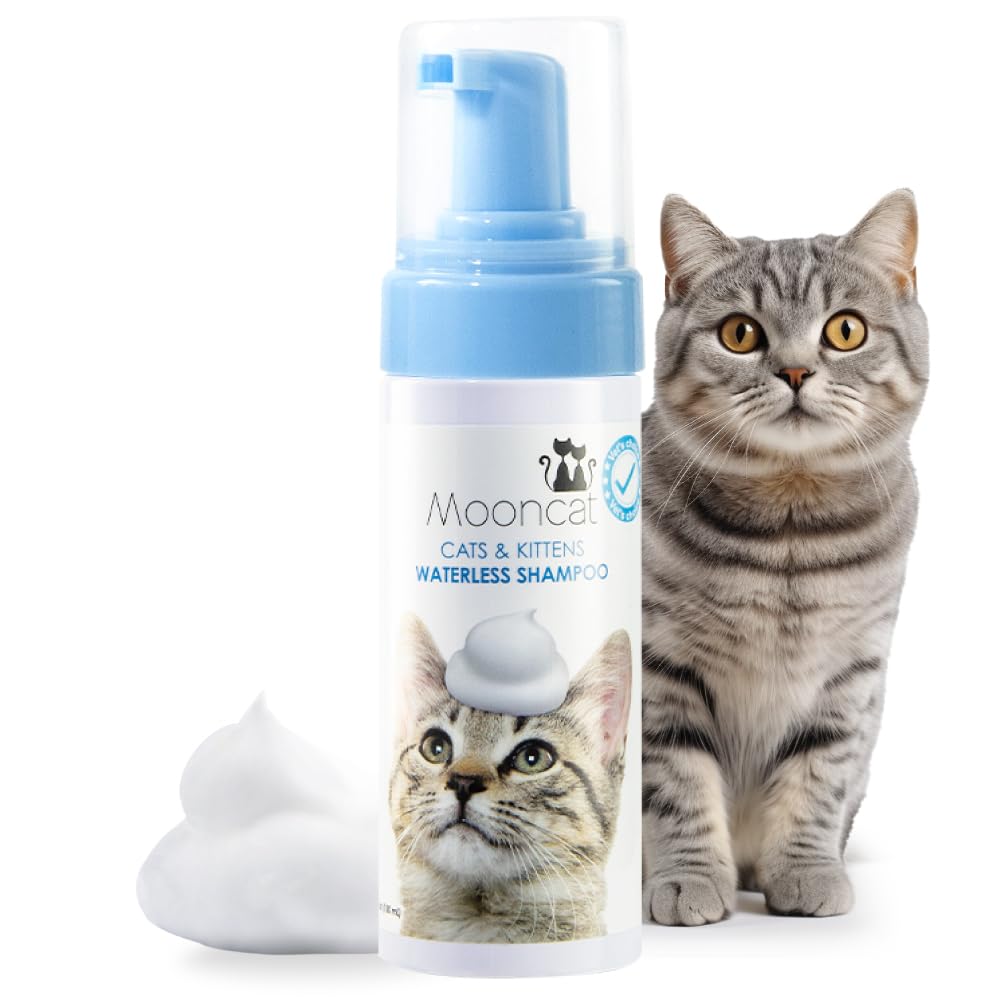 ---
5. FAMOUS Cat Shampoo, Dry Shampoo for Dogs
The Famous Cat Shampoo is an organic and pH-balanced shampoo that effectively cleans and deodorizes your cat without causing any irritation or allergies. It contains oatmeal and aloe vera, which soothe the skin and moisturize the coat, leaving it soft and fresh. This waterless shampoo is a convenient option for cats who dislike water or for quick touch-ups between baths. It is suitable for all types of cats, including those with sensitive skin or elderly cats.


---
6. QuikClean Waterless Shampoo, 8 oz.
The QuikClean Waterless Shampoo is an 8 oz. spray bottle that offers a convenient solution for pet owners who want to clean their pets without the mess of traditional shampooing. This waterless shampoo is designed to remove stains and dirt from the pet's coat without the need for water, making it ideal for quick touch-ups or for pets that do not enjoy baths. Additionally, the formula is tearless and enriched with lanolin, providing a gentle and conditioning effect that brightens the pet's coat.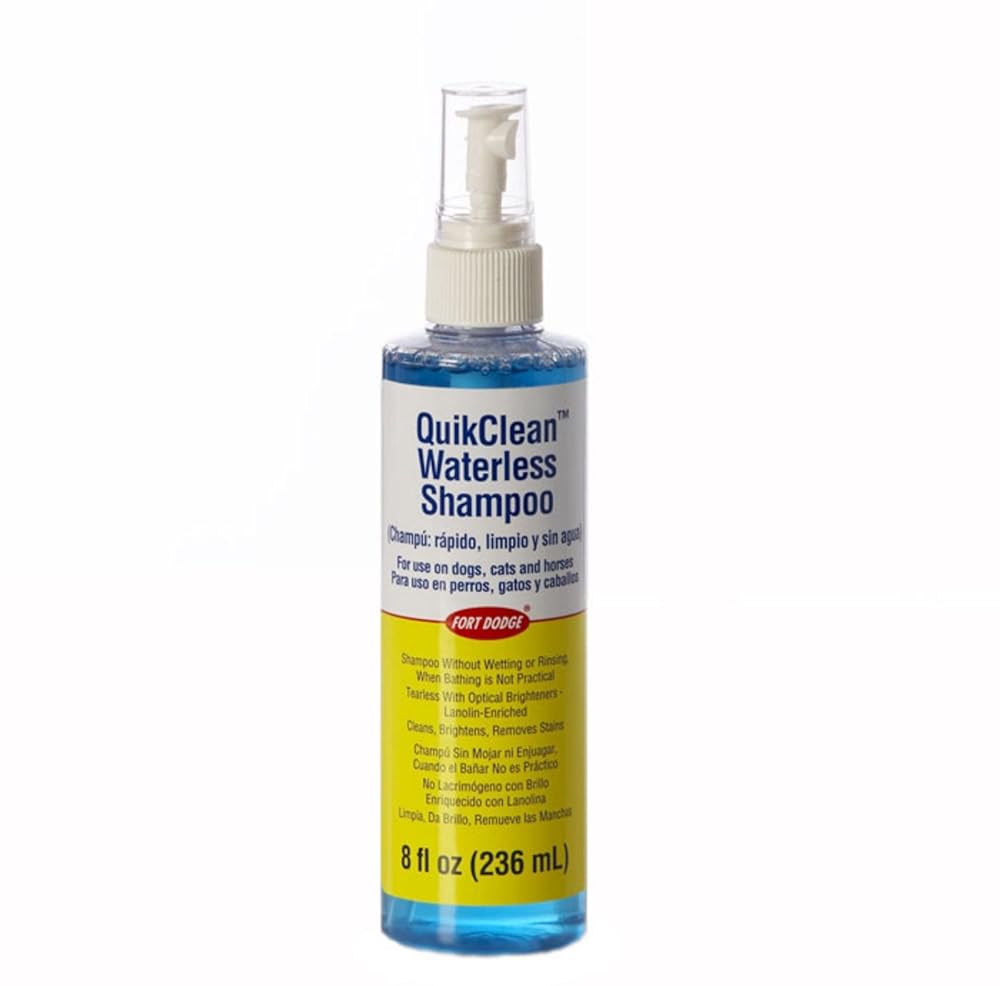 ---
What Should I Consider When Choosing a Waterless Cat Shampoo?
When choosing a waterless cat shampoo, several factors should be taken into account to ensure your feline's safety, comfort, and well-being:
Ingredients: Always check the ingredient list. Opt for natural and hypoallergenic formulas to minimize the risk of allergic reactions or skin irritations. Avoid shampoos with alcohol, artificial fragrances, and dyes, which can be harsh on a cat's sensitive skin.
Safety for Cats: Ensure the shampoo is specifically formulated for cats. Cats have different pH levels and sensitivities than dogs, and using a product intended for dogs can be harmful.
Purpose of the Shampoo: Consider why you're using the waterless shampoo. Some are formulated for general cleaning, while others may target specific issues like deodorizing, reducing dander, or repelling fleas.
Ease of Application: Look for products that come in easy-to-use spray bottles or applicators that will make the process more convenient for both you and your cat.
Scent: While many people appreciate a pleasant-smelling shampoo, strong fragrances can be overwhelming for cats. Opt for a mild or unscented formula, or one with natural fragrances like chamomile or lavender, which can also be calming.
Residue: A good waterless shampoo should not leave any sticky or greasy residue on your cat's fur. It should be easy to brush or comb through after application.
Customer Reviews: Check reviews from other cat owners to get an idea of the product's effectiveness and see if there are any common issues or concerns.
Brand Reputation: Choose a reputable brand known for producing high-quality, safe products for pets.
Price: While it's essential to find a product within your budget, it's equally crucial not to compromise on the quality or safety of the product.
Consultation: If your cat has a history of skin issues or allergies, it's always best to consult with your veterinarian before introducing any new grooming products.
Frequently Asked Questions About Waterless Cat Shampoos
What is waterless cat shampoo? Waterless cat shampoo is a convenient cleaning product designed for cats, which doesn't require rinsing. It's ideal for spot cleaning, freshening up your cat between baths, or for cats who are averse to water.
Is waterless shampoo safe for all cats? While generally safe, individual cats might have different sensitivities. Always check the ingredients and choose hypoallergenic formulas, and consult your vet if your cat has known allergies or skin conditions.
Can waterless cat shampoo replace regular bathing? No, it's meant for occasional use between baths or for cats who can't be bathed traditionally due to health reasons, old age, or fear of water.
Does waterless cat shampoo help with shedding? Some products might help reduce shedding by moisturizing the cat's skin and coat, but it's not a complete solution. Regular grooming and a healthy diet are also essential for controlling shedding.
Can I use waterless shampoo on kittens? Many waterless shampoos are safe for kittens, but always read the label and use products designed for kittens, as their skin can be more sensitive than adults.
How often can I use waterless cat shampoo? It depends on the product and your cat's needs, but it should not replace regular grooming and bathing routines. Use it sparingly, and consult your vet for personalized advice.
Will waterless shampoo remove fleas and ticks? While some products might help repel pests, waterless shampoos are not a substitute for veterinarian-recommended flea and tick preventatives.
How do I apply waterless cat shampoo? Spray or apply the shampoo onto your cat's coat, avoiding the eyes, ears, and mouth. Massage it in, then wipe away excess product with a cloth or brush your cat's fur.
What ingredients should I avoid in waterless cat shampoos? Avoid shampoos containing alcohol, artificial fragrances, and colors, or any ingredient known to irritate cats' skin. Natural, hypoallergenic, and organic ingredients are often safer options.
Can I use waterless shampoo on my cat after surgery? Consult your veterinarian before using any grooming products on a cat that's recently had surgery to avoid interfering with the healing process or causing irritation to the surgical site.
Final Summary: The

Best Waterless Cat Shampoos
In this article, we reviewed the Best Waterless Cat Shampoos. These products are essential for owners looking for a hassle-free solution to keep their pets clean. The shampoos listed not only help maintain a healthy, shiny coat but also ensure that your cat smells fresh. Each product has unique features designed to cater to different needs and preferences. Now, with the right waterless shampoo in hand, you can enjoy a clean, happy, and healthy cat without any of the usual bathing struggles. Happy grooming!