Bengal cat Rose is only four-years-old, but she's already known a lifetime of pain and sickness. Luckily, this "beautiful soul" also knows love and support thanks to the RSPCA Isle of Thanet branch.
Rose came to RSPCA Thanet just a couple of months ago as a stray who'd once been used for breeding. And she arrived with a concerning lump on her leg. Biopsies revealed the lump to be a soft tissue sarcoma. The malignant tumor's complicated location left vets with no choice but amputation of the leg. Now, this sweet lady cat has received even more bad news and needs your help.
More Cancer Found
Emily Mayer, branch manager at RSPCA Thanet, describes Rose as "a beautiful soul who sadly arrived with a large lump on her right hind limb."
"We quickly had biopsies of the lump which heartbreakingly have shown it is soft tissue sarcoma, a nasty form of cancer."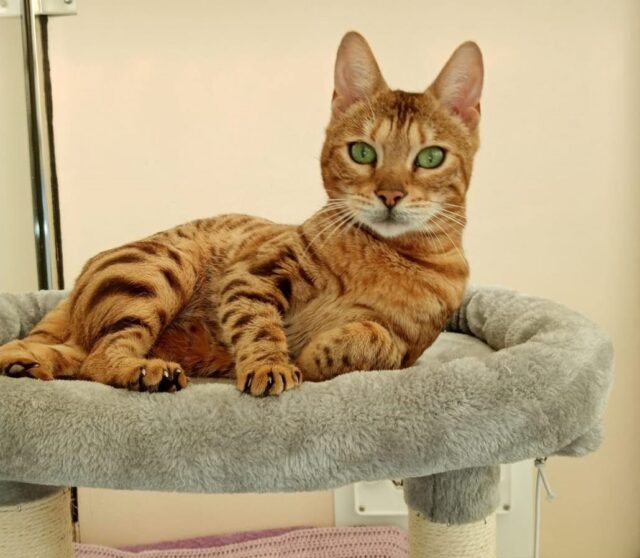 "As this is around her muscle and due to its size, the vets decided the only option was to amputate her leg to try and eliminate the cancer."
RELATED: 5 Things You Didn't Know About The Bengal Cat
And while Rose was acclimating well to life as a tripod cat, she and her caregivers at RSPCA Thanet learned "absolutely heartbreaking" news.
"We have sadly since discovered another cluster of lumps on her chest which also require removal," Emily explained. "Unfortunately, the vets have concluded that the cancer is likely to come back."
"At the moment, all we can do is make her life as pain-free and as special as we can," Emily said. "Rose is a young cat who is so loving and playful and she deserves every chance of happiness."
Help for Beautiful Bengal Rose
To get Rose the life-saving surgery she so desperately needs, the RSPCA Thanet branch has started a JustGiving page in hopes of raising the estimated $3,800 needed to cover the costs of her medical care. And they need the help of cat lovers everywhere.
"We thank you all so much for any donations to help our self-funded branch," the RSPCA Isle of Thanet shared on JustGiving. "Any donations made above the cost of Rose's veterinary bills will go towards helping more of our animals in need."
The shelter is also looking for a foster home with experience caring for cats who need a little extra help in life.
RELATED: 5 Benefits Of Adopting A Special Needs Cat
To help Rose and other kitties in need, follow RSPCA Isle of Thanet on Facebook and check out the Rose to Recovery page on justgiving.com.
H/T: www.theisleofthanetnews.com
Feature Image: RSPCA-Isle of Thanet Branch/Facebook