[ads1] [dropcap]O[/dropcap]n October 28, 2016, the US Fish & Wildlife seized 3 domestic F5+ Bengal cats during importation into the US by an active duty Army EOD family at the Boston MA, Airport. As of December 20, 2016, they are still being held in an undisclosed location from their owners by USFW. Bengal Cats are domestic cats, science, all cat associations, veterinary medicine, popular culture and media recognize Bengal Cats as domestic animals with the acknowledged non-domestic ancestor of the Asian Leopard Cat, Prionailurus bengalensis.
USFW (U.S. Fish and Wildlife) considers Bengal Cats "Wildlife Hybrids" and has jurisdiction over Bengal Cats during international imports and exports regardless of generation. While the United States Department of Agriculture recognizes Bengal Cats as domestic cats and has jurisdiction over travel within the US, the USDA only requires an updated shots record and veterinarian health certificate prior to domestic air travel.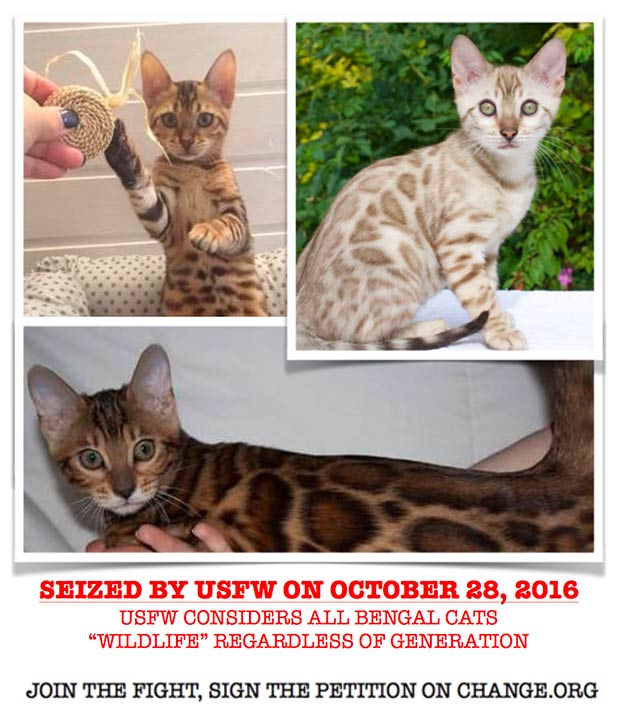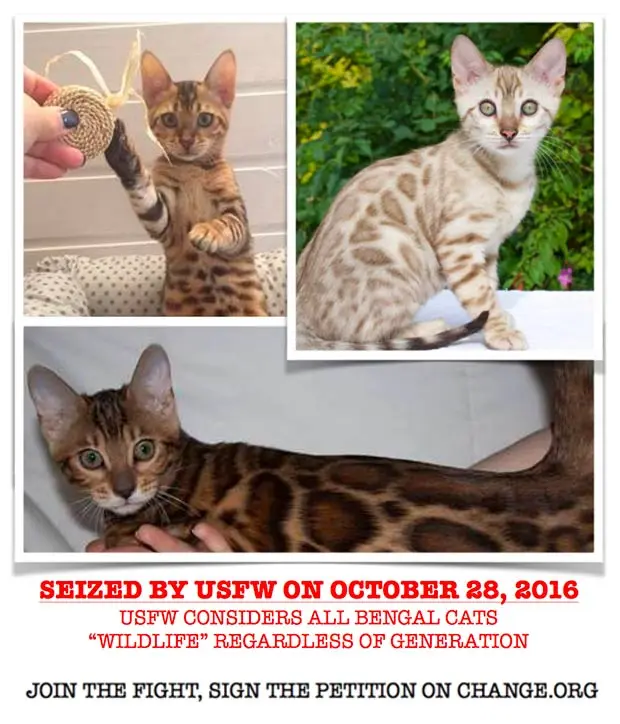 Along with a $55 US Customs fee, US Fish and Wildlife requires a $100 USFW Import/Export License which takes up to 60 days to process, 48 hours notice with $186 for inspection and a CITES permit for F1-F4 early generation Bengals for international imports/exports. However a CITES permit is not required for F5+ Bengal Cats with proof of no Asian Leopard Cats or early generation Bengals in the past four generations. Recent lineage while "generally interpreted" as the past four generations, does not lawfully require certified pedigrees and allows photocopied pedigrees or uncertified records that include the recent lineage, name and address of breeder and identifies the specimen by birth, sex, microchip number, or other mark. If the past four generations cannot be proven then the additional CITES permit is required.
Quote from 50 CFR 23.43:
"(2) For import, export, or re-export of an exempt wildlife hybrid without CITES documents, you must provide information at the time of import or export to clearly demonstrate that your specimen has no purebred CITES specimens in the previous four generations of its ancestry. If you are unable to clearly demonstrate this, you must obtain CITES documents."
Prior to import the owners of the seized Bengals contacted the USDA and Boston Airport for information on importing F5+ domestic Bengal Cats. The USDA's information online shows domestic cats do not require additional permits or licenses and the airport only informed of a $55 standard acceptance form completed at US Customs. The owners are a newly developing cattery and did apply for a USFW license weeks prior to the seizure for intended use of early generation F1-F4 "hybrid" Bengals not knowing domestic F5's were still considered "wildlife" by USFW. The USFW website has numerous broken links for information on CITES permits and commercial trade along with limited clear information on generational regulations for the general public to follow concerning the Bengal Cat breed.
When one of the owners arrived at the Boston airport to pick up, USFW intervened and requested additional information on the cats, along with pedigrees and an USFW import/export license. The owner was in complete shock and told the inspector these were domestic cats and didn't understand why they were considered under USFW jurisdiction. The inspector began to explain that Bengal Cats are descendants of Asian Leopard Cats and considered wildlife hybrids regardless of generation. The inspector was willing to bring the owner in compliance to accept the animals and requested the pedigrees and USFW declaration forms to be filled out. After a long review the inspector returned and informed the owner that the cats could not be released and seized due to illegal ancestors in the late ancestry. The owner requested the names claimed to be illegal and a public policy that enforced it, the inspector was not able to provide either.
Later that week a long list of names was provided and after extensive research by the owner the list was narrowed down to 7 original names related to a lawsuit between USFW and another Bengal breeder in the mid 2000s. The illegal names in question were also F5+ Bengal Cats and were privately deemed illegal by USFW for being disclosed as DSH (Domestic Short Haired) during export from the United States without USFW permits. The owner of the 3 cats seized publicly declared theirs as Bengal Cats and not DSH.
The determination of CITES (F1-F4 Bengals) versus Non-CITES (F5+ Bengals) only reviews the past four generations, the inspector listed ancestors beyond the pedigrees provided and went as far back as 10th great grandparents. How the inspector retrieved such information not provided by the owners is highly questionable and pending result of FOIA requests. A record, policy or list of illegal ancestors is undisclosed by USFW with no public policy in place for the general public to follow. When the owners asked how Bengal cat breeders would be aware of such unlawful names they were advised to learn it from the industry, or better know as community hearsay. The inspector also advised that pre-inspection of pedigrees is not technically allowed and typically not performed until after a shipment arrives at the facility, this practice varies by inspector and not equally enforced at all regions.
It is believed that an ancestry ban is not legally enforceable due to certified pedigrees not being legally required for all imports/exports and therefore explains why there isn't a public policy posted by USFW. In the beginning the owners were confused and misjudged with lack of diligence for not having an USFW license and 48 hours notice of inspection, when in reality the seizure ultimately occurred due to an undisclosed ancestry ban.
First time offenders do not typically have their Bengal Cats seized, if the owners were not able to supply information for the past 4 generations they could have been brought into compliance with a CITES permit and allowed to bring their Bengal Cats home that day. Sadly due to willing providing pedigrees, even if the owners had the USFW license with 48 hours notice, the inspector likely could have attempted to seize the cats based on the undisclosed illegal ancestors ban.
If you would like to join the fight in encouraging USFW to change their policy considering Bengal Cats as Wildlife, to participate in an online signature petition visit:
Change.org Petition: USFW – Recognize the Bengal breed as domestic cats!
The owners are also facing possible legal fees, boarding costs, USFW fees and potential fines. If you would be interested in assisting the military family in need, please visit:
Stop the US Fish & Wildlife from seizing domestic cats!