[ads1] [dropcap]O[/dropcap]ne of the most daunting tasks when you have finally decided to take the plunge and purchase a Bengal is finding a reputable Bengal breeder. Please keep in mind while reading this article that this information is directed towards parties looking to buy through a breeder. This article is not meant in any way to discourage people from adopting, but adoption is NOT always for everyone. Please keep an open mind and keep negativity in check.
There is always a lot of negativity towards breeders of any kind. Even the most trustworthy of Bengal cat breeders face the same vilification and negativity thanks to far too many dishonest backyard breeders. However, what many people do not realize is that selecting a bengal from a reputable breeder is actually a wonderful thing.
Reputable breeders will ALWAYS shine above a non reputable breeder. A reputable breeder takes great care when selecting breeding pairs. Their main focus is to advance and better the Bengal breed through genetic selection. They genuinely care about the health and quality of the cats they produce.
When you begin your search for a bengal, it can seem a bit overwhelming. Perhaps there are many breeders in your area to choose from. Perhaps there are only one or two. You may find there are no local breeders and you will have to take somewhat of a road trip. Here are some pointers when researching breeders: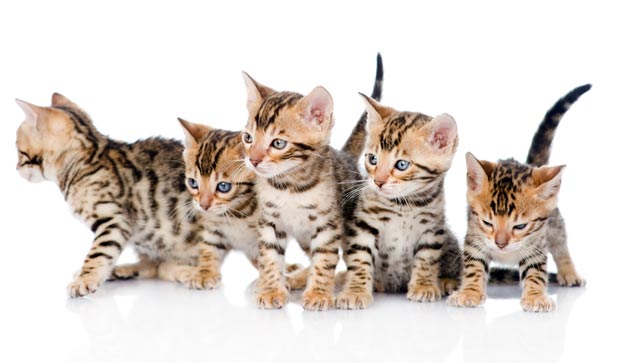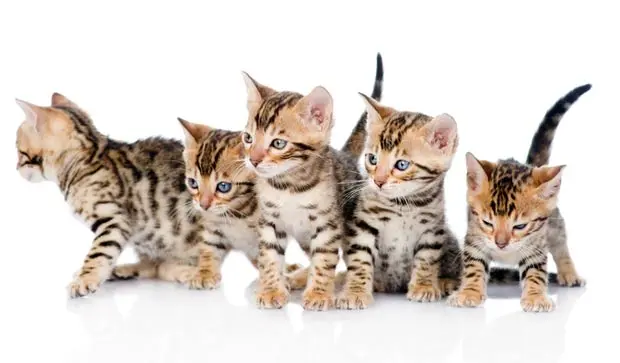 Finding A Bengal Cat Breeder:
There is some debate in the bengal community regarding how to find a good breeder. Some frown upon breeders who advertise on sites such as Kijiji (ebay classifieds) or in the newspaper. BUT… every breeder, even the best ones, had to advertise they had kittens and establish a reputation SOMEHOW.
Many breeders have their own websites or at least a Facebook page. Here they will provide details about their operation, any health screenings their cats have had, provide pictures of their queens and kings, show available Bengal kittens for sale and/or available retired adults. They will have pictures of previous litters. They may provide information about their contracts with new owners. Many will post reviews from past kitten buyers. Some breeders may have you fill out a pre-approval questionnaire and you may have to go on their waiting list. This is all very important information to know when looking for the right breeder.
ALWAYS be wary though: if something seems too good to be true, it probably is. There are SO many scammers out there looking to fraudulently offer you a kitten, take money deposits through sites such as Paypal, then disappear. These people go as far as to set up very nice webpages… but something will always seem "off" about them. It's wise to cross reference photos of cats or kittens, phone numbers, etc with a quick google search. If the photos or phone number show up on multiple sites, STAY AWAY. Report these fraudulent "breeders" to TICA if they show they are TICA affiliated on their page.
Asking The Right Questions:
Are the kittens you are considering TICA registered? Do they come with full breeding and show rights, or sold as pet only? Will they be spayed or neutered prior to leaving for their new home, or are they sold on a strict spay or neuter contract? Have the parents undergone genetic and medical testing such as PK or HCM screening, FIV/FELV tests, FCoV free, and have regular fecal tests to ensure healthy kittens? Have the kittens had a wellness check with a veterinarian? Are they up to date on their age appropriate shots? Where are the kittens raised? What age does the breeder release kittens to their new family? What food(s) are they being fed? What kind of litter is being used?
These are all EXTREMELY important questions to ask the breeder prior to visiting their home or cattery. A responsible Bengal breeder will have no qualms about answering what may feel like even the most intrusive questions about their breeding practice. This information will also help you weed out the reputable breeders from the backyard breeders. Reputable breeders more often than not sell their kittens as "pet only", meaning they will already be altered or only sold on a strict alter contract. Certain kittens that are considered above average in quality may be sold to show or breeder homes.
Backyard breeders release their kittens without concern about their futures. Reputable breeders also routinely screen their queens and kings for genetic and health issues prior to breeding to ensure the kittens they produce are high quality and will be genetically sound. Backyard breeders do no such thing. When you physically see the cats and kittens, always be on the lookout for concerns such as sneezing, runny nose, goopy eyes, signs of diarrhea, or dirty living conditions. These are unacceptable standards for any principled breeder and can be an indication of a possible serious issue such as FCoV. (feline coronavirus)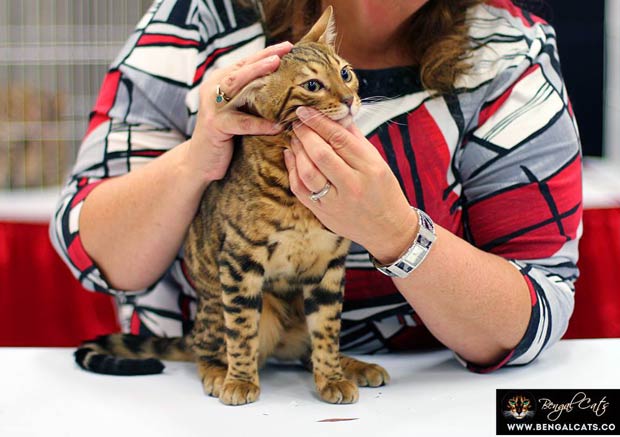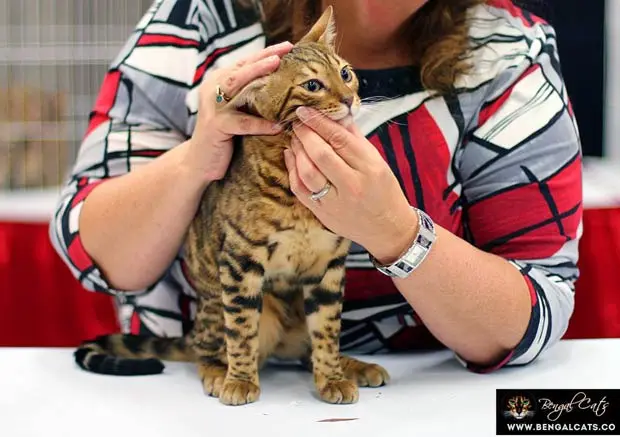 The Breeder:
Reputable breeders will always stand a mile apart from backyard breeders. Ethical breeders will be TICA affiliated, and if required, state licensed. They will abide by TICA's litter rules, limiting queens to only 2 litters per year. Backyard breeders will not be TICA affiliated, licensed, and will certainly not abide by strict breeding guidelines. When researching a breeder, online reviews are always helpful. Look for breeder with high reviews from past kitten buyers. BE WARY of breeders with several negative reviews, especially if those reviews cite health concerns, sicknesses, or deaths.
The Cats:
Any good breeder will not hesitate to show you their cats and kittens. They will gladly show you their queens and studs, provided they didn't use an outside stud who is offsite. If that is the case, ask if photos can be provided of the stud so you can see what he looks like as well. They will happily show you where the cats and kittens live, how they are raised, and let you socialize and play with them. During this time, you should be observing their behavior.
Watch and see if the cats and kittens are social and willing to visit and play with you. They should be clean and well fed, with no signs of runny noses, goopy eyes, sneezing, coughing, diarrhea, hair loss, fleas, ear mites, or other health concerns. The kittens should be alert and playful. They should not be fearful, timid or shy around people. You shouldn't feel rushed or pressured to purchase a kitten by the breeder. If a breeder is unwilling to allow you onto their property to see their kittens, that is a sign of something being wrong. Should this happen, end all communication and find a different breeder.
A reputable breeder will highly socialize their kittens so they are friendly, social, and assimilate smoothly into their new homes. They will also refuse to release their kittens to their new home before they are 12 weeks of age. A reputable breeder will offer their buyers a written contract that lays out the guidelines about congenital or illness health guarantees, spay/neuter terms, returning a cat to the breeder (if applicable) and other concerns about the cat. The breeder and new owner will both sign and keep a copy of this contract for their personal records.
A quality breeder will send their kittens home already TICA registered and pedigreed, with shots and worming records, and maybe even a sample of the food their kittens are accustomed to eating. They will offer support any time it is needed by a new owner. They are always happy to answer an owner's questions about Bengal behavior, health, proper nutrition, etc.
If the breeder is more of a hobby breeder, they may only have two or three queens and a king. These cats may live inside the house with their people. Larger scale catteries may have breeding and housing facilities separate from their own home. If this is the case, pay attention to the cleanliness of the facilities. While facilities may not be state-of-the-art, they should be clean, well cared for, and maintained for safety.
Yes, there will be SOME odor…they ARE cats, after all… but it should not be overwhelming. Litter boxes should be clean. Food and water should be available and from clean sources. Males should be housed together away from queens. Queens with kittens should be segregated in a nursery area where they are safe from other cats and to avoid health issues or litter mix-ups. These facilities should also be clean and well maintained. Bengals are an expensive breed… you NEED to feel confident in your decision when selecting your breeder. Your cat's overall health and well-being can depend on it!
Bringing a Bengal into your life is a pretty major decision. You are making a 12+ year commitment to this little lap leopard. By selecting a reputable Bengal breeder, you not only contribute to the overall proper development and improvement of this beautiful exotic breed, but you are also helping secure the health, longevity and temperament of your new family member.
Good breeding of ANY animal is quite important, but when it comes to the Bengal we ALL want the best! Always research as much as you can about the Bengal cat breed prior to bringing one home, and always make sure to do as much research as you can about the breeder you have selected. Help discourage shady backyard breeders by supporting those who love this gorgeous breed and consistently strive for purr-fection!