Articles
The 12 Best Cat Drinking Fountains Of 2021
Is your Bengal cat in love with faucets, sinks or even bidets? Apart from the fact that Bengals genuinely love water, there is one important reason why all cats sneak around running taps, and it's because they prefer drinking fresh water.
Cats have an innate aversion to still water, as in nature still water is more likely to be polluted, stale or a source of dangerous bacteria. However, cat's instincts are not the only reasons why cats like drinking running water. Moving water has more oxygen in it, which is the reason why running water tastes better, especially to finicky felines.
So, why is this important to know?
Well, most cats simply don't get enough water on a daily basis. Their whiskered ancestors got 80% of their mandatory water intake through their diet, and they had minimal need for drinking water. But, when our furry friends switched to kibble and canned food, this all changed. With their new dietary regime, cats don't get nearly enough water to stay healthy and hydrated. Of course, as complicated as cats are, they retained their ancestral attitude towards the water, as in they tend to drink it a lot less than dogs and they strongly dislike still water.
This is why a cat water fountain is a great investment. Instead of worrying your cat will get dehydrated or develop a health problem due to lack of water, you can simply set up an irresistible source of fresh water. Cat drinking fountains are also a great way to keep your cat mentally stimulated and engage their curious side.
What Should You Know Before Buying A Cat Drinking Fountain?
Before you spend $$$ on a cat drinking fountain, here are the 4 most important features you need to consider:
Materials
Fountains come in a variety of materials, such as stainless steel, ceramic and plastic. While the choice is yours, it's best to avoid plastic ones in case your cat has acne or suffers from allergies.

Ease of maintenance
The cat water fountain must be cleaned regularly, so make sure you choose one that's easy to take apart and reassemble after washing.

Power source
Whether it's batteries or electricity, each has its pros and cons. Most people prefer cat water fountains that run on electric power, but make sure that the cord is long enough to reach the outlet.

Filtration Types
From ultraviolet to carbon filters, the main goal of fountains with a filtration system is to keep your cat's water purified and fresh as long as possible. However, have in mind that although they have many benefits, filters are an additional expense, as they need to be changed regularly.

If you're not sure which is the best cat drinking fountain for your spoiled furball, take a look at our top list for 2021!
1. PetSafe Drinkwell Ceramic Pagoda Fountain for Pets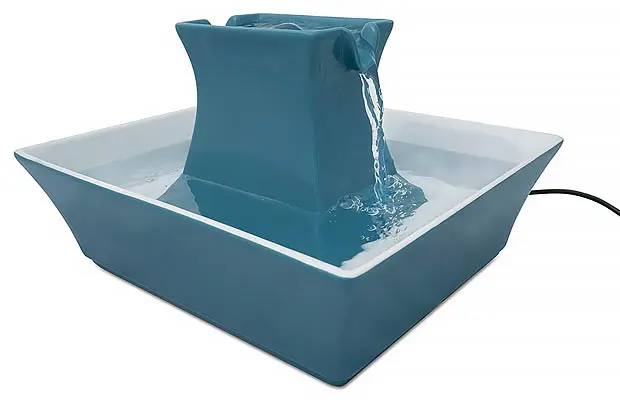 With dual free-falling streams, your precious kitty will have two drinking areas with constantly fresh water. Sleek, ceramic design makes this water fountain easy to clean. The carbon filtration system keeps the running water pure and odor-free, while foam filters prevent hair buildup and floating debris in the fountain. The replacement filters cost from $6-$10, and considering you don't have to change them often, they won't be a strain on the budget. A low-voltage 12V system with submersible pump allows this cat water fountain to run smooth and silently, and you definitely won't see additional costs on your electric bill with this energy-efficient fountain. The PetSafe Drinkwell fountain holds 70 Oz of water that's always fresh and clean, so it's a great option if you have two or more cats, as well.

Suitable for households with multiple cats
Easy to clean
Ceramic design suitable for allergic or sensitive cats
Read the reviews on Amazon
---
2. PetSafe Drinkwell Platinum Pet Fountain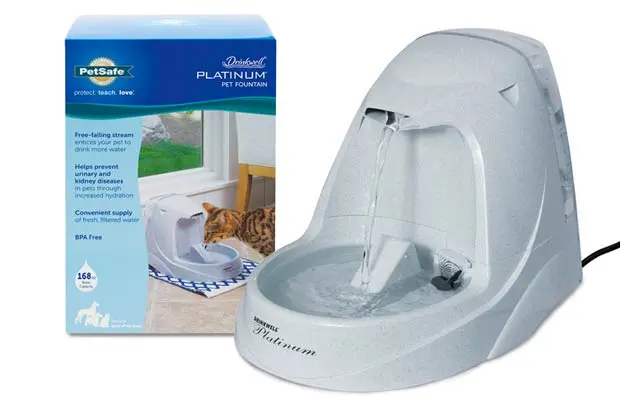 A more budget-friendly cat drinking fountain, the PetSafe Drinkwell Platinum is suitable for both cats and dogs. The 168 oz capacity allows you to fill the tank and forget about adding more water. The activated carbon filters keep the water clean, fresh and tasty. Filters cost around $5 and come in a pack of 3 pieces, so you won't have to spend a lot of money on fountain maintenance. The free-falling design with adjustable flow control is particularly enticing to cats, but this 16-inch high fountain won't be a good fit for kittens. You won't have to worry about batteries running out because this fountain runs on energy-efficient, low voltage, 12V system. Although it's made of sturdy, BPA-free plastic, this fountain might not be the best choice for a cat with allergies or feline acne.
Inexpensive
Free-falling water stream entices cats
Suitable for dogs and cats
Read the reviews on Amazon
---
3. Catit Flower Fountain
With an adorable design and a cheap price tag, Catit Flower Fountain adds a bit of flower power to your cat's drinking routine. The fountain is quite easy to disassemble and clean, and the ergonomic design makes drinking water a pleasant activity for a cat. The 3 different water flow settings are ideal for picky cats, and the Triple Action Filter keeps debris, sediments, and minerals away from your kitty. The filters cost around $12 for a value pack, so keeping your kitty refreshed won't be draining your budget. The capacity of 100 oz makes this fountain compact and energy-efficient, as it doesn't need much power to run smoothly. However, as it's only 8 inches high and weighs 3 lbs, if your Bengal is prone to knocking stuff over, you might want to skip this one.
Budget-friendly
Unique design
Triple Action Filter makes it ideal for cats with UTIs
Read the reviews on Amazon
---
4. Pioneer Pet Raindrop Stainless Steel Pet Drinking Fountain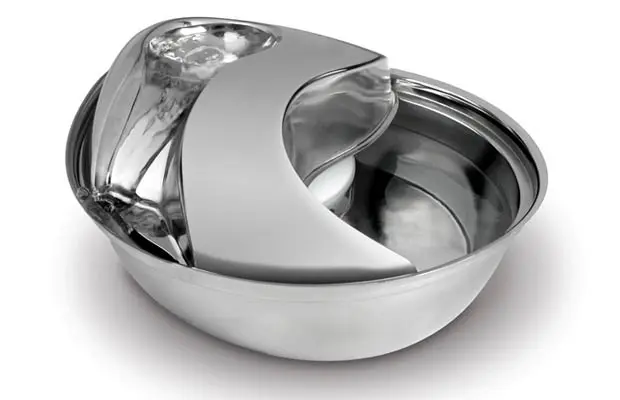 The stylish and luxurious design of this cat drinking fountain makes it hard to believe it costs as little as it does. However, the cheap price doesn't mean you'll be losing on quality. Made from stainless steel, the Pioneer Raindrop fountain hold 60 oz of water that's constantly purified by premium filters. The 3-layer charcoal filters cost $13 and need to be replaced each month. Ultra quiet pump circulates the water gently around the fountain, so you don't have to worry about puddles on your kitchen floor. Easily cleaned and maintained, this fountain disassembles in just a few moves. Even though this cat water fountain is quite low at 4.5 inches, it's wide enough to accommodate both kittens and adult cats. This fountain runs on electric power and the low voltage makes it energy-efficient.
Affordable
Stainless steel, elegant design makes it great for cats with allergies or feline acne
Incredibly silent
Read the reviews on Amazon
---
5. PetSafe Drinkwell Multi-Tier Pet Fountain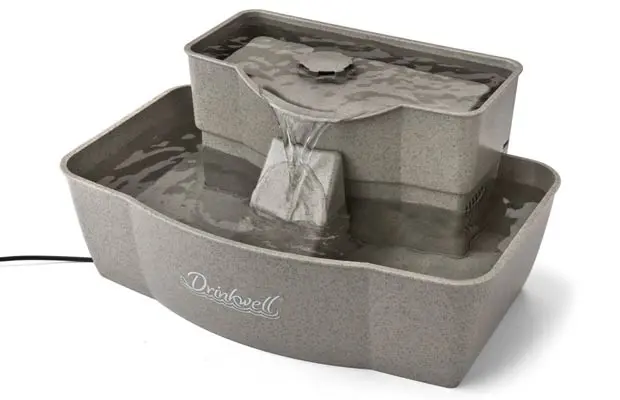 This all-around great fountain has a special, two-tier design that makes it ideal for households with multiple pets or senior cats that suffer from arthritis. The free-falling water stream circulates the water from 100 oz tank, and before your cat drinks it, the water is purified with carbon-based filters. The filters are inexpensive ( $7 for 10-pack) and easy to replace. The fountain is powered by a submersible pump that operates quietly and runs on low voltage. The maintenance is a breeze, as this multi-tier fountain easily separates into two pieces which can be washed manually or in the dishwasher. With a $28 price tag, this cat water fountain is surprisingly robust and durable. It's made of BPA-free plastic, so, although it's safe for pets in general, it won't be the best choice for cats with feline acne and allergies.
Cheap but durable
Two-tier design perfect for senior cats or cats with arthritis
Easy to clean and dishwasher safe
Read the reviews on Amazon
---
6. Petsafe Drinkwell 360 Fountain for Pets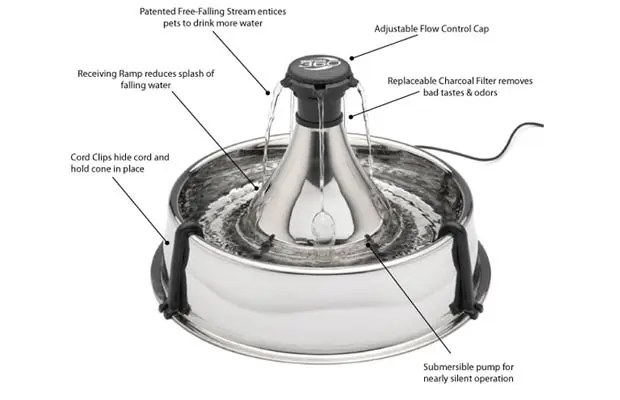 With a full, 360-degree access to the free-falling stream of water, this fountain will instantly become your cat's favorite. The water streams are fully adjustable and you can choose between having 1 to 5 active streams, making Drinkwell 360 suitable for homes with multiple furballs. With a 128 oz capacity, you won't have to add more water every few hours. The flow control cap allows you to change the intensity of the water stream, making sure even the pickiest cats will be pleased with this fountain. Beautifully designed, this cat water fountain is made out of stainless steel or BPA-free plastic, so it's easy to clean and dishwasher safe. A double filtration system keeps the debris and hair away from your pet and simultaneously keeps the water fresh and odor-free. At around $8, the replacement filters are as affordable as the fountain.
Energy-efficient and quiet
Suitable for household with more than one pet
Easy to clean and dishwasher safe
Read the reviews on Amazon
---
7. Catit Design Senses Fountain with Water Softening Filter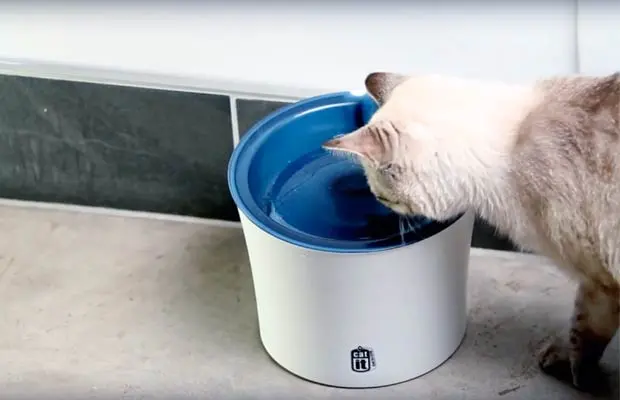 With a simple design and a modest price, this cat water fountain is a great choice if you're on a tight budget. The advanced filtration system includes a water softening filter that makes tap water clean and fresh and removes mineral buildup. Replacement filters are not the cheapest ones available (about $8 per two filters), but considering the low price of the fountain, it won't be a big cost. The large water-to- air surface promotes better oxygenation, so the water will have better taste- great for picky cats. This compact fountain uses less than 4 watts of power, meaning that powering the water pump needs less energy than a small lamp. Even though it has a minimalistic design, this fountain is not that easy to clean. In addition to washing the tank and different filters, you'll need to take apart the pump and clean it as well.
Inexpensive
Energy-saving
Improved oxygenation and water softening filter
Read the reviews on Amazon
---
8. Uniclife Pet Water Fountain with LED Light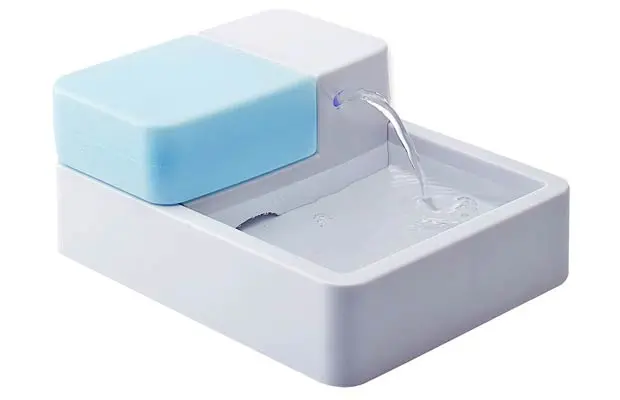 Although your cat won't need a lamp to find the fountain in the dark, the built-in LED light ensures you won't trip over the fountain during the night. Small and simple at first glance, this cat fountain truly shines when the lights are out, creating a beautiful glowing water display. Apart from being attractive, this fountain is also quite durable and easy to maintain. The 60 oz of water is being constantly purified by activated carbon filters that make sure the water is always fresh and clean. Filters need to be replaced once or twice a month, but since a pack of 4 costs $10, they won't burn a hole in your pocket. Quiet and low-cost, this cat fountain runs on electric power.
Interesting design with built-in LED lamp
Suitable for kittens and senior cats alike
Simple maintenance
Read the reviews on Amazon
---
9. Cat Mate Pet Fountain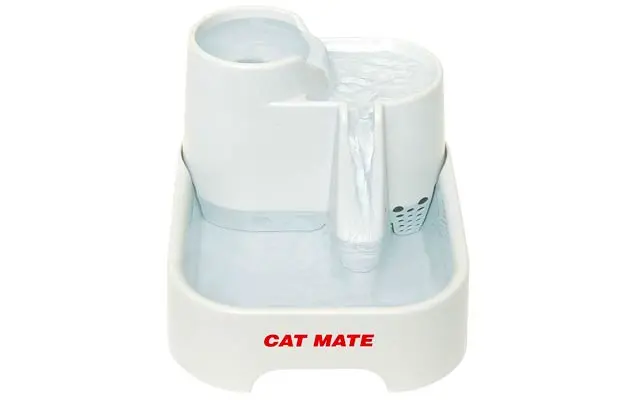 For families with multiple pets, multi-tiered cat water fountains are the best solution. The Cat Mate fountain features 3 different drinking stations at different heights, making water accessible to kittens, adult and senior cats with ease. The special ramp between tiers prevents splashing and allows the water to flow freely. This fountain is powered by an Isolated Pump System that's super quiet and needs only 2 watts for a smooth operation. Polymer-carbon filters keep the water fresh and pure, and the replacements are budget friendly, with a $14 price tag for 10 filters. Since it's made out of plastic, it's dishwasher safe, and you won't need any tools to take apart this fountain for cleaning. This particular model comes with 3 years of guarantee.
Multiple tiers suitable for multi-pet households
Quiet and saves electric energy
Has a 3-year guarantee
Read the reviews on Amazon
---
10. Petkit Eversweet Smart Fountain
Completely automatic with an intelligent working mode, this smart pet water fountain is well worth the price. It has two water circulation modes, so you can choose an energy-efficient operation that keeps your pet hydrated or normal mode for when you're away and need the water to flow freely. Particularly useful features of this fountain are its smart alerts, that notify you when you need to change the filters or add more water to the tank! The fountain uses special Triple Purifying Filters that need to be replaced every 4 to 12 weeks, and cost around $20 for a 3 to 6 months' supply. With a 70 oz capacity for water that's always fresh and tasty, thanks to great oxygenation, your cat will love this fountain.
Smart design, completely automated
Different modes of water flow
Easy to clean
Read the reviews on Amazon
---
11. PetSafe Drinkwell Ceramic Avalon Pet Fountain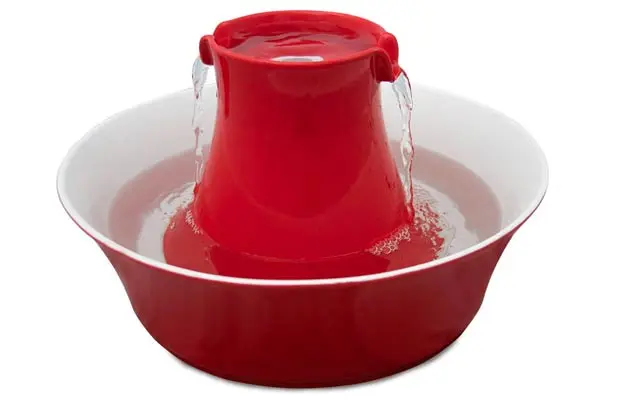 Dual free-falling streams and two drinking areas are a great solution if you have a pair of Bengals in your home. The modern ceramic design comes in two different colors, and this antibacterial and durable material makes this fountain ideal for cats with allergies and feline acne. Free-falling streams circulate fresh water thanks to two sets of filters, meant to keep pet hair and debris away and purify water. The replacement filters go for $5 per 4 filters and need to be changed once or twice a month. This fountain holds up to 70 oz of water and is powered by a silent submersible pump that runs on electric power.
Easy to clean, dishwasher safe
Two drinking areas and two water streams
Ceramic design makes it suitable for sensitive, allergy-prone cats and cats with feline acne
Read the reviews on Amazon
---
12. PetSafe Healthy Pet Water Station with Stainless Steel Bowl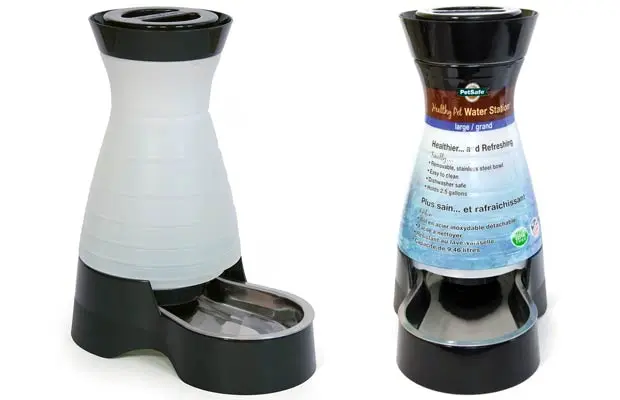 Unlike all the other cat water fountains from the review, this $20 model doesn't run on electricity. Instead, PetSafe fountain relies on gravity to automatically deliver water to your cat. When the plastic tank is attached to the base, water starts automatically flowing to the stainless steel bowl. The pressure and the intensity of the water stream can be adjusted with a flow-control valve, so there won't be spills and puddles. What's particularly appealing to some pet owners is the sheer simplicity of this fountain. It has no filters that need to be replaced, no batteries or power cord to deal with and its design is minimalistic as well. In case you don't mind the lack of features and more advanced options, this self-sufficient water fountain might be the best choice for you.
Minimalistic design and simple maintenance
Easy to clean, dishwasher safe BPA-plastic
Doesn't need electricity or batteries to run
Read the reviews on Amazon
---
Tell us which cat water fountain would you choose for your Bengal in the comments below!
---
Disclosure of Material Connection: Some of the links in the post above are "affiliate links" designed to provide a means for sites to earn advertising fees. This means if you click on the link and purchase the item, Bengalcats.co will receive an affiliate commission. Regardless, we only recommend products or services we use personally and believe will add value to our readers.