[dropcap]W[/dropcap]e all love pampering our furry friends with cute accessories and tasty treats, but it's not always easy finding the perfect gift for the felines in our life. Sometimes having too much choices becomes overwhelming and the search goes from fun to frustrating in an instant. Thankfully, I've got you covered with these Leopard print products for your cat.
If you're looking for Bengal-inspired feline goodies or leopard print cat products to emphasize your kitty's wild side, you've come to the right place. From exotic prints on toys and beds to trendy pet carriers, this list has it all!
1. Aspen Pet Round Bed Animal Print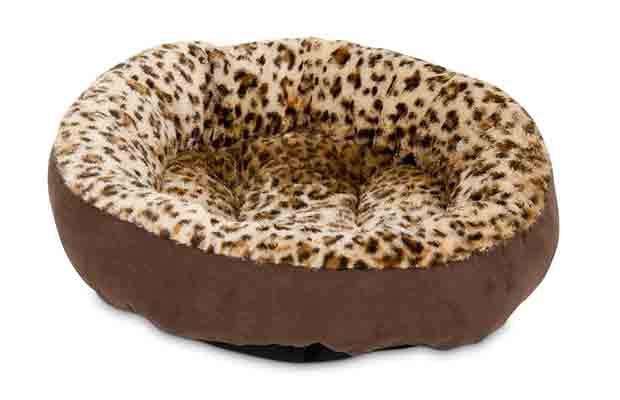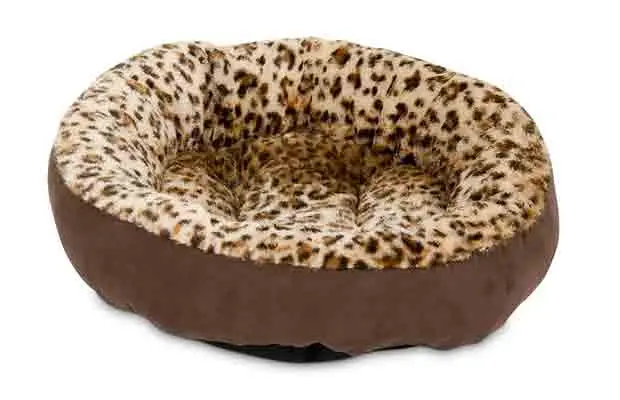 What better place for your little ball of fluff to take a nap in than this leopard print cat bed? Cozy and warm, with a plush animal print interior, Aspen Pet Round Bed is, after your lap, the best place for your kitty to rest after playing for the whole day. The quilted design keeps the stuffing in place, so the bed won't lose its shape after a few weeks. It's inexpensive, easy to clean (just pop it into a washing machine and you're done) and comes in a perfect size for a Bengal cat.
Read the reviews on Amazon
[divider style="solid" top="15″ bottom="15″]
2. Drymate Pet Bowl Place Mat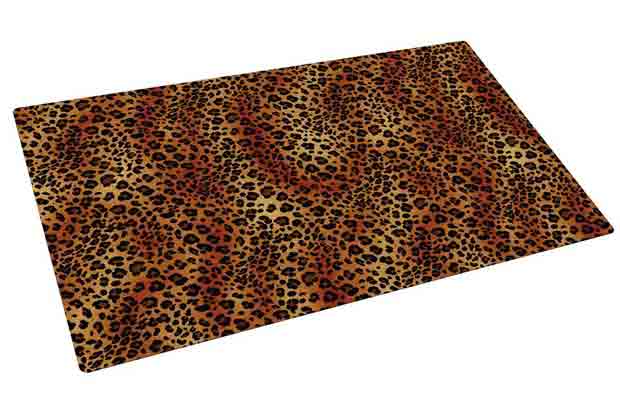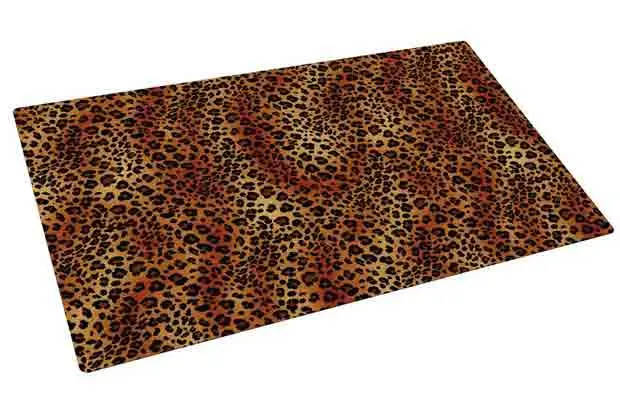 If your cat has a tendency to "fish out" the food from the bowl before eating it or likes to play with the water dish, this placemat will help minimize the mess. Stylish and practical, it protects your floors from spilled food and water, and its Bengal-inspired print has the "wildcat" vibe that all feline lovers adore. Resistant to stains and durable, this leopard print cat placemat is also machine-washable and comes with a non-slip backing. For a matching bowl, take a look at
number 7 on our list.
Read the reviews on Amazon
[divider style="solid" top="15″ bottom="15″]
3. Favorite Portable Tunnel with Ball Toy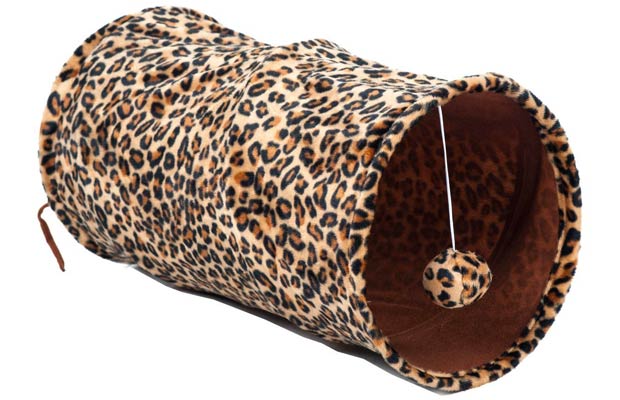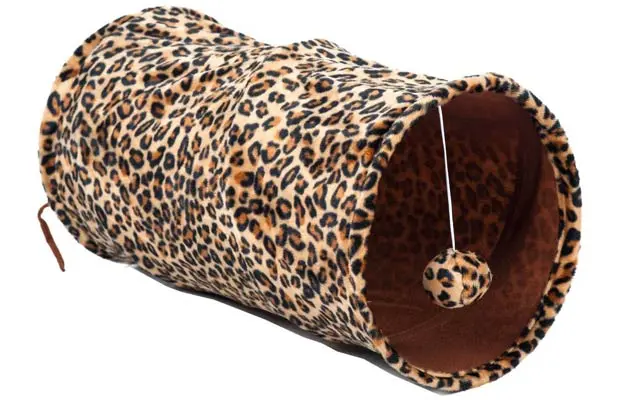 Keeping a Bengal cat entertained at all times isn't always easy. Playful and highly intelligent, they're always on the lookout for the next challenge and can easily get bored with simple cat toys. This multi-interactive, leopard print cat toy is sure to keep your pet occupied for hours on end. The cats can chase through it, "hunt" and ambush the dangling ball (or your leg, if you happen to pass by), and even take a nap in the tunnel when all that fun takes its toll.
Read the reviews on Amazon
[divider style="solid" top="15″ bottom="15″]
4. Go Pet Club Cat Tree Condo House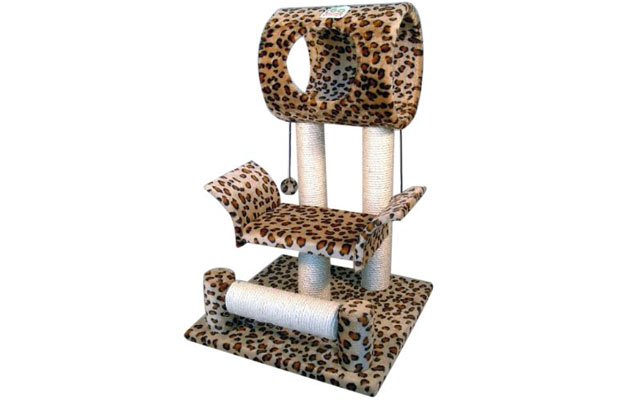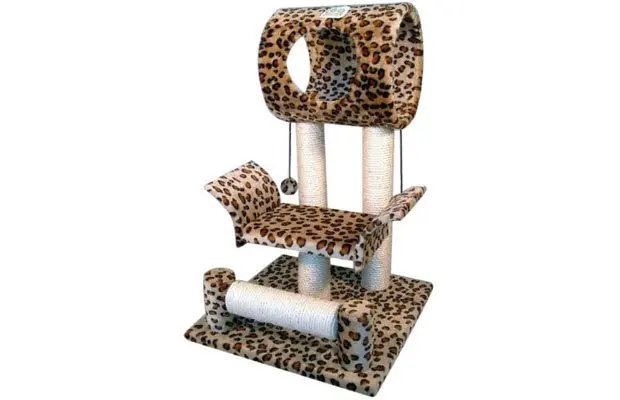 If you have a pair of Bengal cats, or just want to make sure your mischievous kitty won't get easily bored with their new toy, this is a great choice. A multi-level cat tree house with leopard print faux fur lining, this luxurious cat condo consists of a tunnel, multiple scratching posts, two dangling balls and a lounge area. An active cat (like most Bengals are) will definitely appreciate the various playing features, as well as the napping post that doubles as a watchtower.
Read the reviews on Amazon
[divider style="solid" top="15″ bottom="15″]
5. K&H Manufacturing Kitty Sleephouse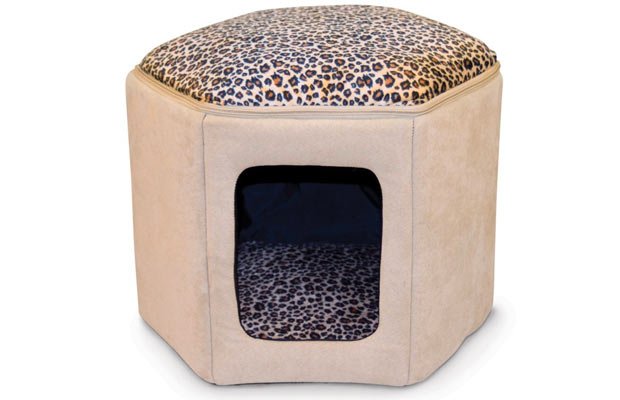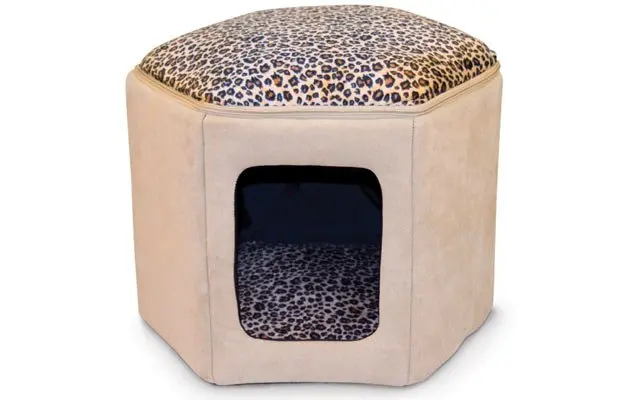 Another great choice for your kitty's napping area, this gorgeous sleephouse is sturdy, stylish and easy to assemble. If your cat likes exploring all the nooks and crannies of your home in search of a perfect place to hole up, they will certainly appreciate this comfy little hideout. The sleephouse can accommodate two cats, or give your kitty the choice between sleeping inside or on the cushioned top. The microsuede and fleece the sleep house is made of are easily cleaned with a damp cloth, and the cover of the bottom pad can be zipped off and washed.
Read the reviews on Amazon
[divider style="solid" top="15″ bottom="15″]
6. Leopard Print Pet Bed Pillow Cushion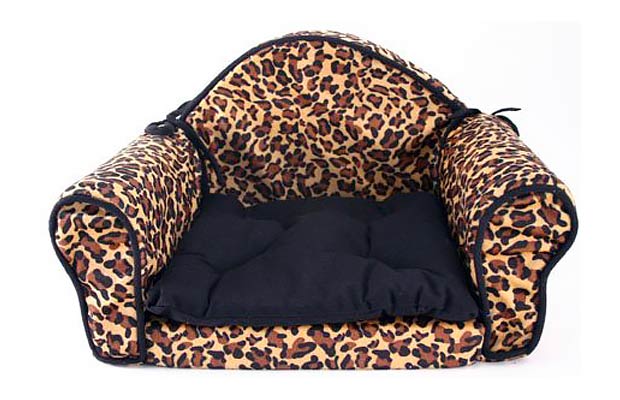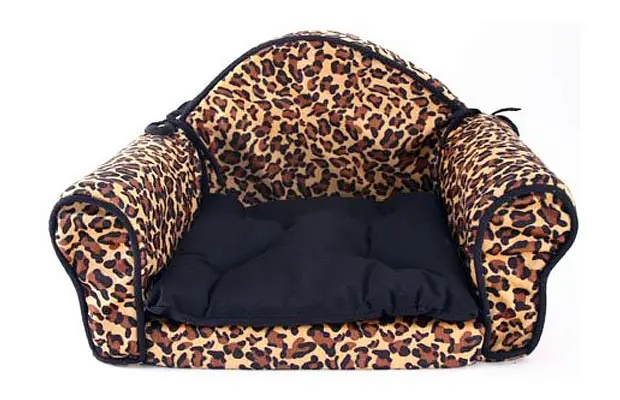 Is there anything cuter than a miniature version of furniture, made specifically for cats? I don't think so. This adorable leopard print cat sofa is comfy and soft, and it's perfect for your cat to curl up after a long day of exploring and jumping around. It's machine-washable and spacious enough for a grown Bengal cat. And it certainly doesn't hurt that it kind of looks like a cozy cat throne, which will give you the perfect excuse to start referring to your cat as furry royal highness. (If you're not already doing it, of course.)
Read the reviews on Amazon
[divider style="solid" top="15″ bottom="15″]
7. Loving Pets Spoiled Leopard Milano Bowl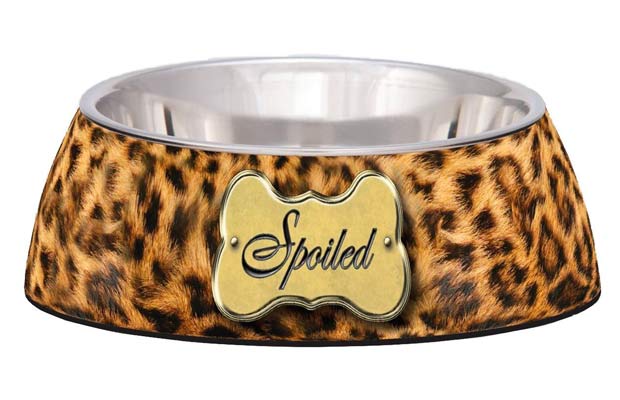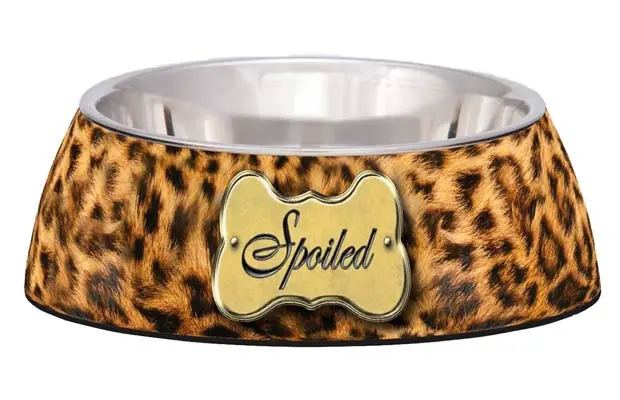 If you have a Bengal prince or a princess in your home, then a leopard print bowl with a "Spoiled" tag is just the thing they need. The bowl is just the right size for a hungry Bengal's meal and made of bacteria resistant stainless steel. With a rubber ring on the bottom and the No Tip design, there won't be any spills or slipping. The inner part can be detached from the sides and washed in a dishwasher. It's perfect for serving your cat's every whim, pardon, meal.
Read the reviews on Amazon
[divider style="solid" top="15″ bottom="15″]
8. Modern Pet Cat Kitty Hammock Bed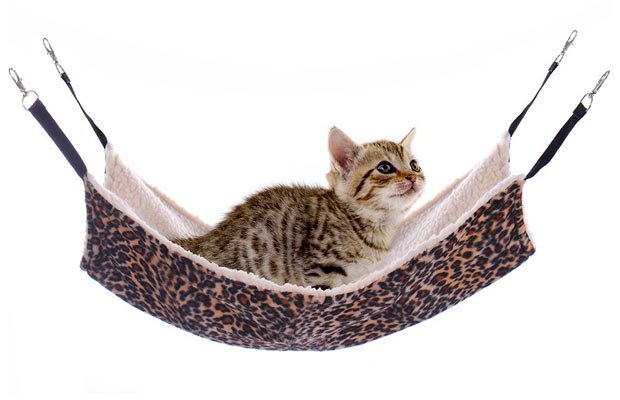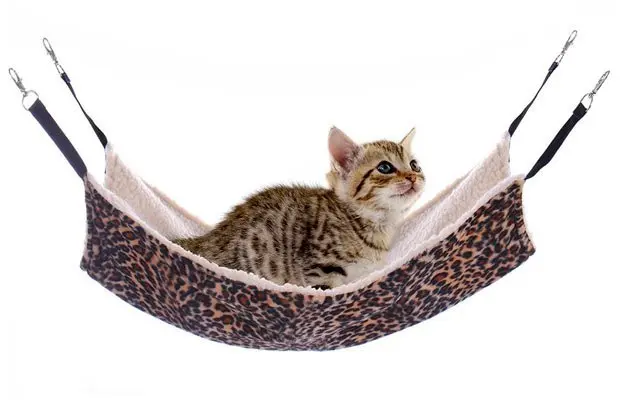 A plush bed that doubles as a swing, this leopard print cat hammock is sure to enchant your kitty. The adjustable straps and spring clips make it easy to install, and it can be hooked almost anywhere. If your cat likes to sit under your chair while you work or spends time in a crate, cat hammock is a great choice. One thing is certain- once your cat gets in the hammock, it won't be easy getting her out.
Read the reviews on Amazon
[divider style="solid" top="15″ bottom="15″]
9. Aoleytech Pet Travel Portable Carrier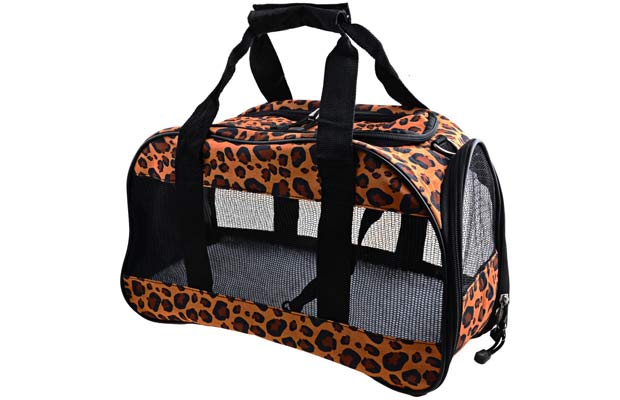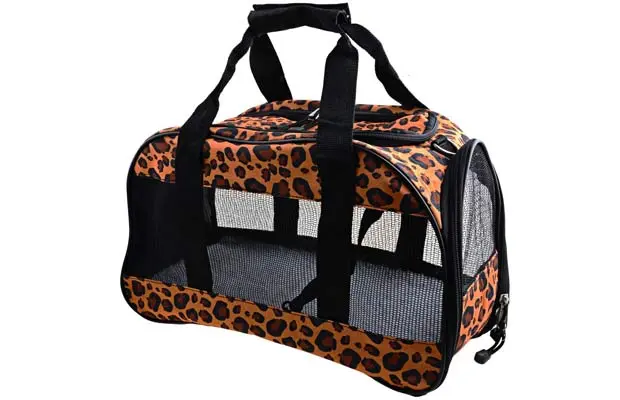 Whether it's a visit to the vet's office or you're taking your feline with you on vacation, you'll need a safe and comfortable carrier. Complete with a safety belt, great ventilation system and a soft, washable pad, this portable carrier makes sure your cat is safe and comfortable during transport. The carrier has an adjustable shoulder strap and a carrying handle, so it's really convenient to handle. Compliant with most airlines, this leopard print cat carrier ensures that you and your cat travel safely and in style.
Read the reviews on Amazon
[divider style="solid" top="15″ bottom="15″]
10. Kitty Holster Cat Harness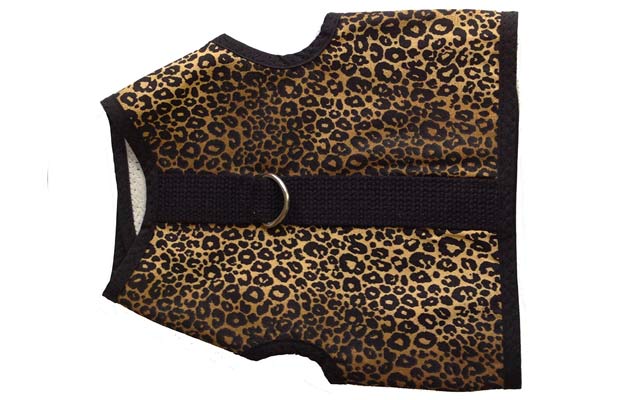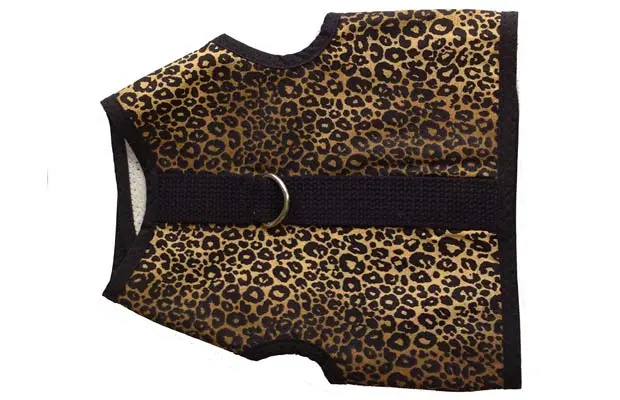 Unlike most breeds, Bengal Cats love being walked on a leash. They're very active and need the exercise, so most owners decide on leash training their cats in order to take them outdoors. Lightweight and robust at the same time, this leopard print cat harness will enable you to take your cat with you on walks and not worry about their safety. Made from durable cotton, this holster harness is snug and secure, and it doesn't irritate cats as strap harnesses tend to. The spotted design looks great on Bengals, too.
Read the reviews on Amazon
[divider style="solid" top="15″ bottom="15″]
11. Retractable Exotic Pet Lead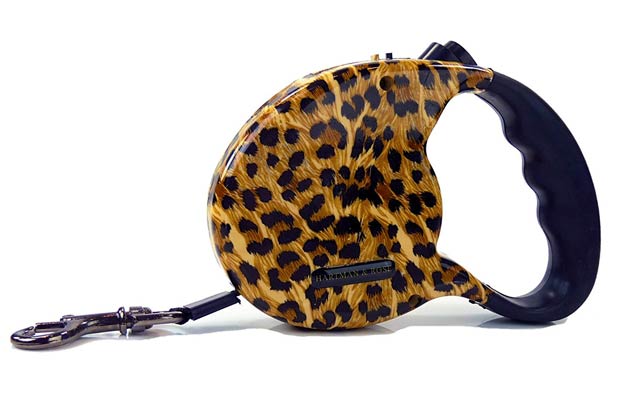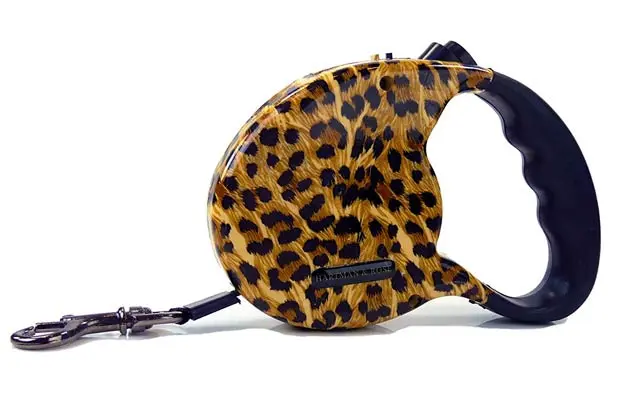 Ideal for pairing with the Kitty Holster harness from our list, the Hartman & Rose leopard print lead is both secure and elegant. With a built-in LED flashlight, quiet retractable mechanism and a reliable braking system, it will make your cat's outings much safer and easier to handle. The classy animal print design is a perfect match for your Bengal's lustrous coat and the 20 lbs weight maximum ensures your cat won't be able to get away during the walk.
Read the reviews on Amazon
[divider style="solid" top="15″ bottom="15″]
12. Sherpa Cat Tote Pet Carrier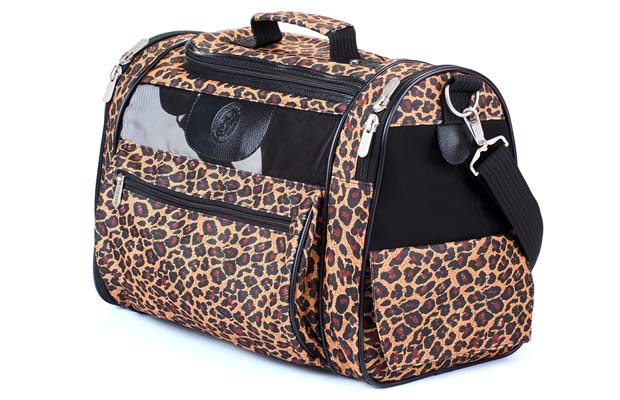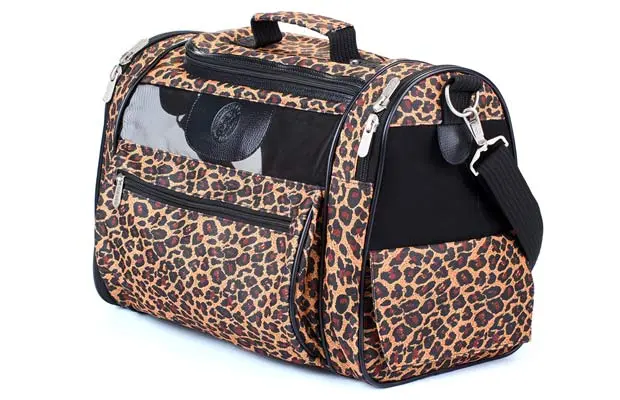 Although I already mentioned one great pet carrier, I felt it necessary to include an option suitable for the more spirited felines. And by spirited, I mean feisty, curious cats that simply love clawing and chewing the carrier once they're inside. The mesh on this carrier is much smaller and, although it still provides good circulation of air, it leaves less space for your cat to claw her way out. The Sherpa Cat Tote also includes some convenient storage pockets for kitty necessities and a privacy flap for nervous felines.
Read the reviews on Amazon
[divider style="solid" top="15″ bottom="15″]
Disclosure of Material Connection: Some of the links in the post above are "affiliate links" designed to provide a means for sites to earn advertising fees. This means if you click on the link and purchase the item, Bengalcats.co will receive an affiliate commission. Regardless, we only recommend products or services we use personally and believe will add value to our readers.