[dropcap]W[/dropcap]ith Halloween just around the corner, it's the best time to start looking for Halloween costumes for your cat. Yup, you read it right. Why should you be the only one to have all the fun for All Hallows Eve? Dress up your kitty and go trick or treating- for kibble, of course.
To help you decide which costume your feline friend should wear this year, we made a list of 17 best Halloween costumes for cats!
Things to Consider Before Buying a Pet Costume
Even though they are undoubtedly adorable, funny pet costumes for cats are not always comfortable. When choosing a Halloween costume for your cat, make sure to pick the right size. If wavering between two sizes, we recommend you to pick the larger size of the two.
If a costume is too tight or too loose, your cat will feel (even more) annoyed with it. Of course, it goes without saying, if your cat is scared or simply refuses to be dressed up, you should never force them to wear a costume, no matter how cute they'd look.
Cat Halloween Costume Checklist
[tie_list type="checklist"]
Choose the right size
Be gentle and careful with your cat
Never force your cat to wear a costume
[/tie_list]
1. Shark Costume for Cats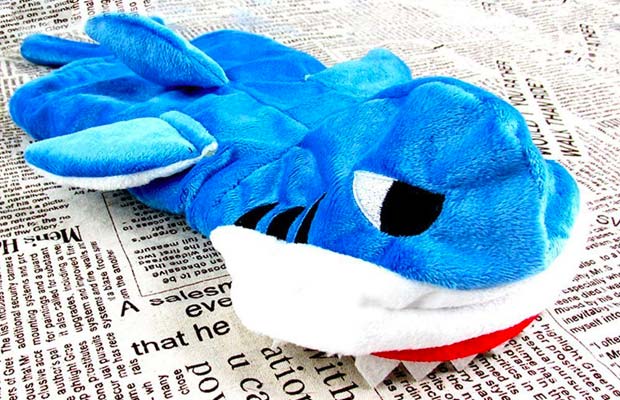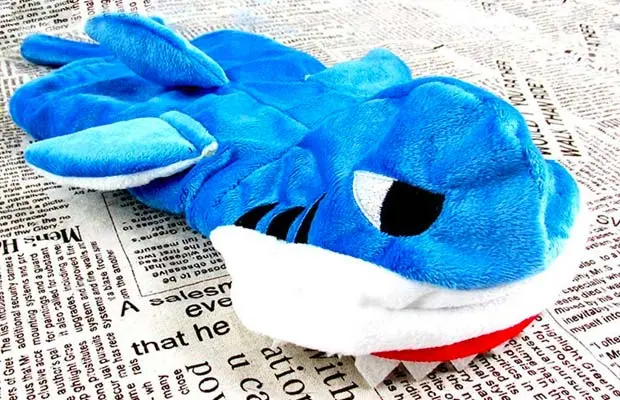 This adorable, plush shark costume for cats will make your ferocious feline look like they've stepped out of the cute version of Jaws. Complete with a fishy tail, fins and a hood lined with big felt teeth, this Halloween costume is a purrfect blend of scary and sweet!
The soft and warm material of the costume makes it pretty comfy, and it's quite easy to get on or off, because of the elastic leg holes.
When it comes to sizes, the costume comes in 5 different ones, starting with extra small to extra-large. The measurements for each size are available, but if you're unsure about the sizing info, go a size up- you don't want the costume to be too tight.
In case you're looking for matching cat and owner Halloween costumes, you can get an adult-size version of the blue shark costume here. You and your kitty are going to look fintastic!
[divider style="solid" top="15″ bottom="15″]
2. Lion Mane Wig for Cats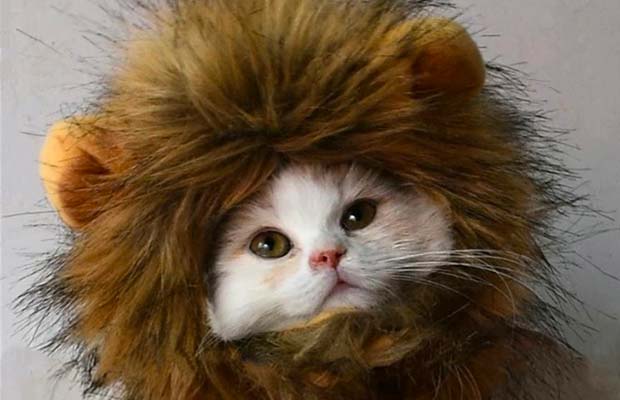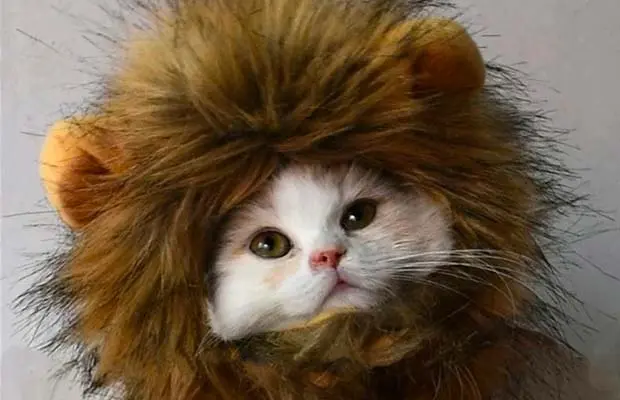 I dare you not to aww when you see your kitty looking like a tiny, grumpy lion. I mean, can it get more adorable than this?
Made out of fake fur and polyester, this lion mane is smooth and comfy and it won't irritate your cat. (And if it does, you'll hear them roar, don't worry!) The wig is fastened by a Velcro strap, so it will be easier to fit it snugly on your kitty's head.
The size should fit most average cats, with a neck circumference of 10 to 11 inches, so if your kitty has some extra fluff this wig might not be the best fit.
Lion Mane Wig for Cats can also be washed with warm water and soap, so you'll be able to reuse it for every special occasion, not just Halloween. Because, let's face it, you want to see a miniature lion eating kibble as often as you can.
[divider style="solid" top="15″ bottom="15″]
3. Cat Sailor Costume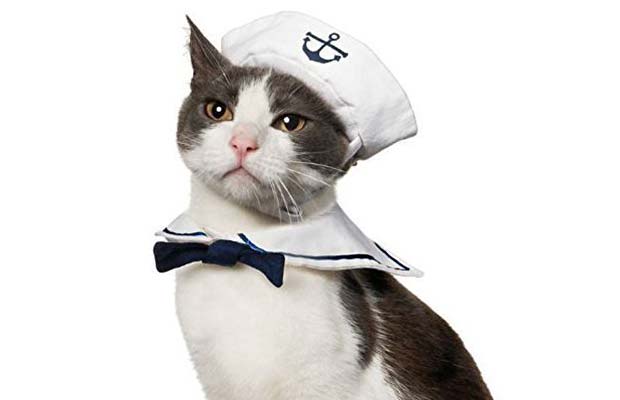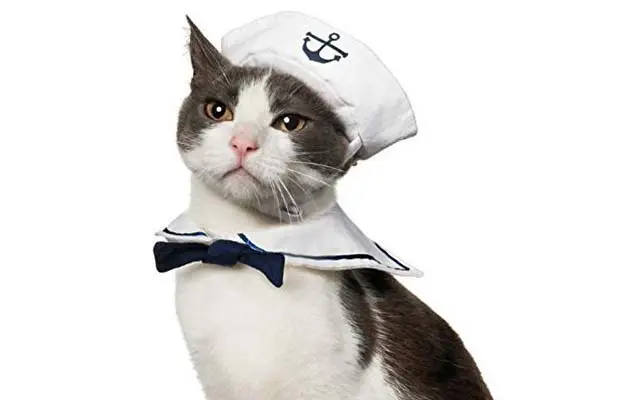 All aboard! The ship sailing to Cutesville is about to depart!
Complete with a hat, collar and a bow tie, this sailor uniform is comfortable and easy to put on. The hat is attached with straps that go around the cat's ears and under their chin, which makes it less irritating- cats are not that big on things that cover up their ears. Then again, cats are not big fans of anything. The bow tie fits like a collar, so there shouldn't be any problems putting it on even on the feistiest of felines.
The 2-piece costume will fit cats with neck circumference from 11 to 13 inches.
For those of you who are going with a nautical theme for this year's Halloween and are looking for a matching cat and owner Halloween costumes, take a look here.
[divider style="solid" top="15″ bottom="15″]
4. Cat Pirate Costume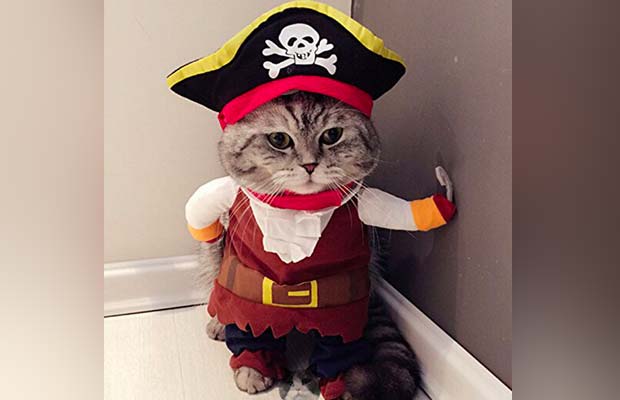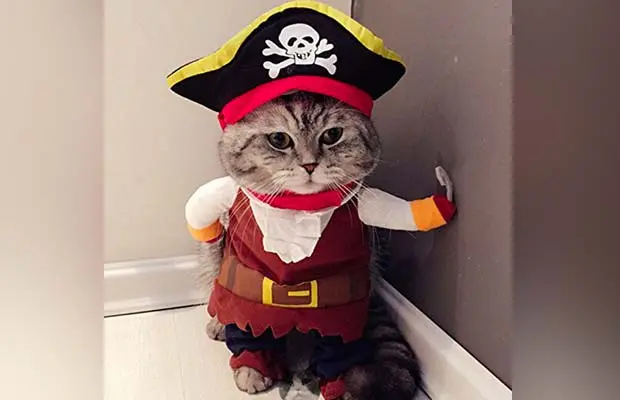 Ahoy, matey! If dressing your cat up as a sailor doesn't truly reflect their mischievous nature, but you're still set on a naval theme… What can be better than a pirate costume for cats?
Especially if the said costume is as pawesome as this one. It has everything your cat will need to terrorize the seven seas: a traditional pirate captain hat, outfit that even has two little hands, one with a hook included!
The costume is quite detailed, but it's not that complicated to put on. A strap under the chin keeps the hat in place, while the rest of the costume is meant to be put over the front legs only, so it's not too uncomfortable to wear.
Fair disclaimer, though, it doesn't mean your cat won't organize a mutiny after the Halloween party ends.
With 4 available sizes (S-XL), it's safe to say this is one of those Halloween costumes for cats that will fit even the chubbiest pirates out there.
Yo-ho-ho and a bottle of cat wine!
[divider style="solid" top="15″ bottom="15″]
5. Cat Cowboy Costume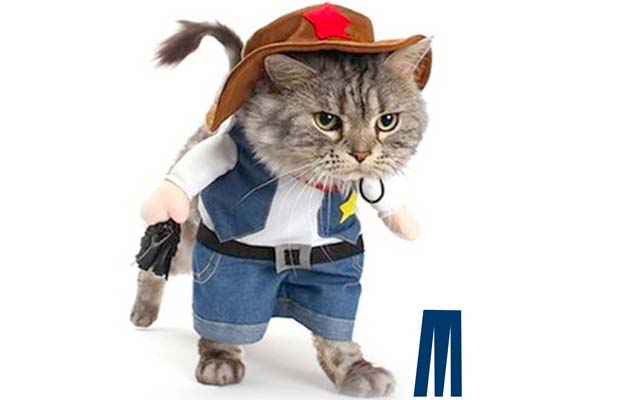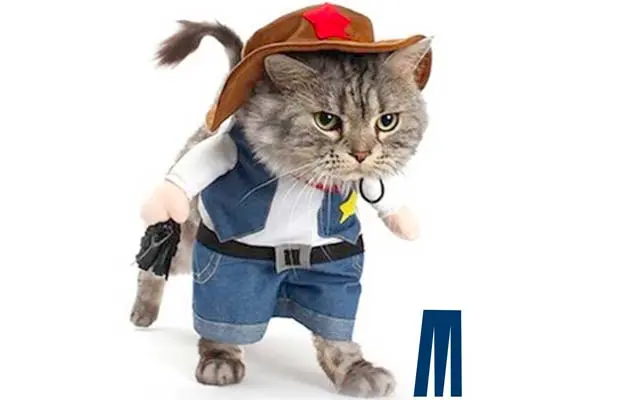 You might need to lasso in your cat to dress them up, but this adorable cowboy costume is certainly worth the effort! Whether your feline is a jolly rancher or an old-fashioned outlaw, cowboy themed Halloween costumes for cats are bound to be a hit.
This particular sassy outfit is definitely Western-appropriate, as it comes with a typical cowboy outfit with a big buckle belt and a pair of tiny hands holding a lasso. Of course, the dazzling impression wouldn't be complete without a perfect hat!
Both the hat and the outfit are adjusted by straps, and come in three different sizes to accommodate different kitty sizes: small, medium and large.
Be warned, though: your kitty might be tempted to pull a quick draw (with claws rather than guns) on you, but, hey, it's not called Wild West for no reason!
[divider style="solid" top="15″ bottom="15″]
6. PetsLove Policeman Costume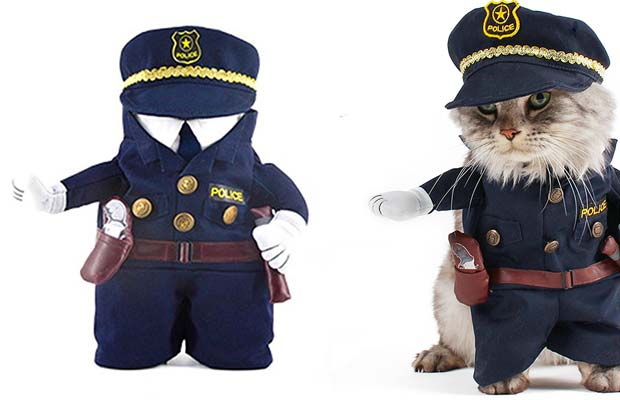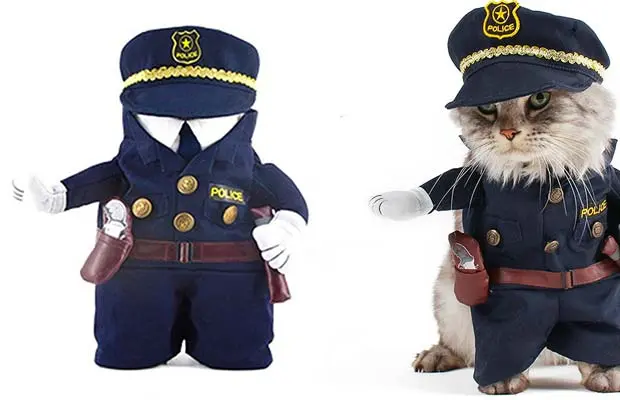 If your Mr. Whiskers always wanted to be a pawliceman, what better chance to fulfill their dreams than getting them a five-0 inspired Halloween costume for cats?
With this meticulously crafted costume, your kitty will be the main attraction while patrolling around the neighborhood. Not only that the recognizable blue uniform comes with a gun holster. It also includes a cute little policeman hat for the officer Meow.
The outfit itself is well-made and easy to put on, as it only goes over the front legs. The policeman cap fastens with an adjustable strap, ensuring it stays snuggly while your furball chases bad guys around the block.
The available size suits cats with a circumference of 20 inches for the chest and 14 inches for the neck.
[divider style="solid" top="15″ bottom="15″]
7. Trump Wig For Cats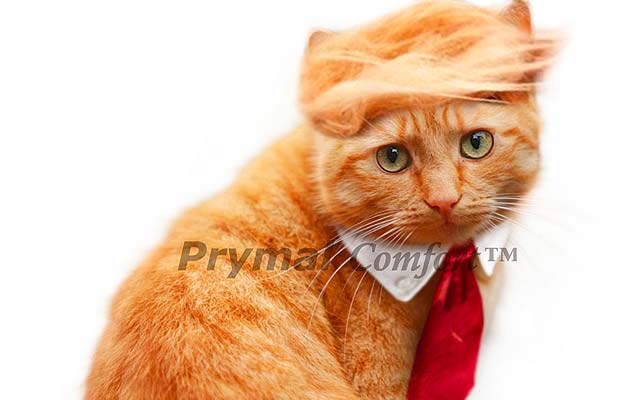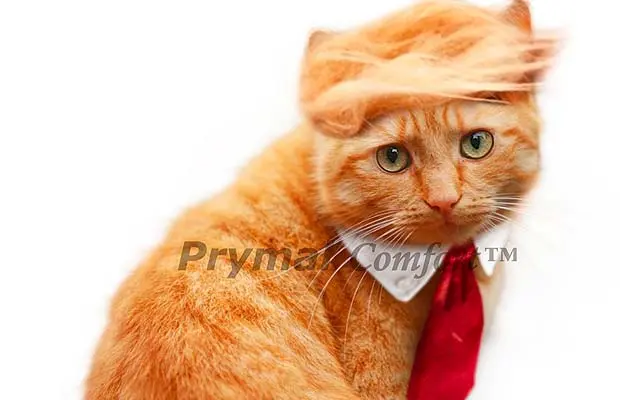 Regardless of your feline friend's attitude towards the 45th American president, there's no doubt that this costume will make Halloween great again. OK?
The recognizable Trump wig looks particularly good on orange tabbies, although kitties of all colors and sizes can flaunt this hilarious cat covfefe. I mean, costume.
Both the wig and the tie collar are a one-size, and they can be easily adjusted to fit your furball due to the elastic band straps. Your kitty will look like a billionaire in no time!
Disclaimer: a small loan of millions of dollars is not included in this package.
When it comes to matching cat and owner Halloween costumes, you'll find a yuge version of this little number here.
[divider style="solid" top="15″ bottom="15″]
8. Princess Leia Cat Costume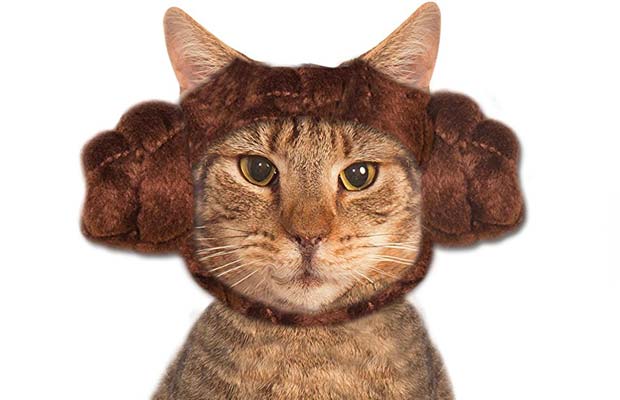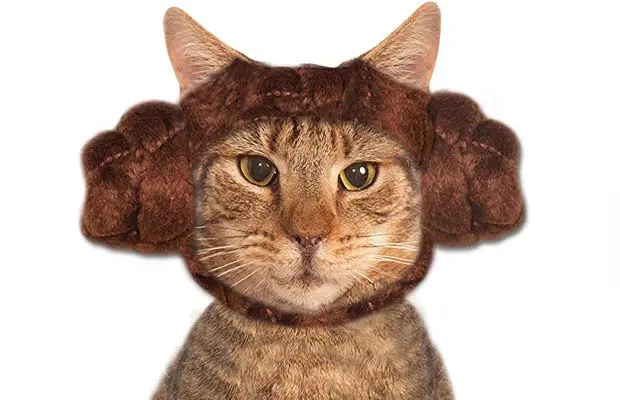 Let's be real for a moment: cats are definitely on the dark side. And it's not because of the cookies.
However, if you'd like to pretend your furry little villain is with the good guys then this geeky cat costume is a great choice. You simply can't go wrong with the rebellious Princess Leia's space buns!
Made out of soft, plush material, this headpiece is extremely easy to put on and comfortable to wear. There are cut outs that allow your kitty's ears to wiggle free, so there's a chance your kitty will be less angry at you for dressing them in Halloween costumes for cats.
[divider style="solid" top="15″ bottom="15″]
9. Yoda Cat Costume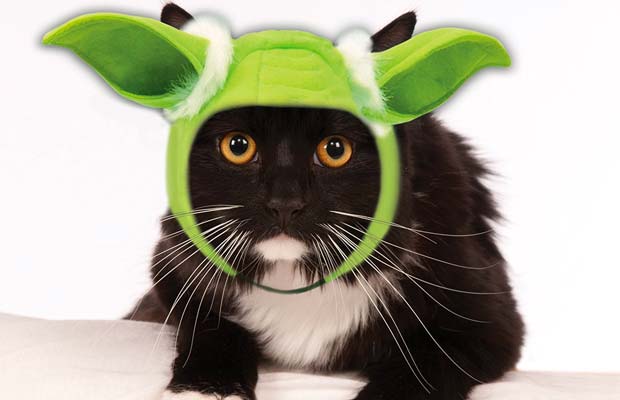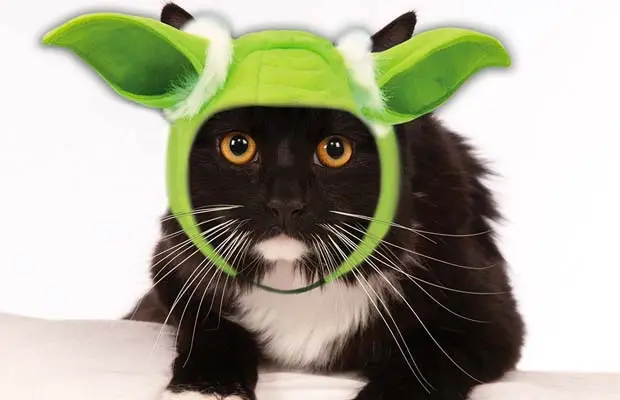 If you like Star Wars, love this Halloween cat costume, you will.
Your cat might not be one with the force, but they'll certainly look adorable with big, green, pointy ears. And, after all, cats do seem to have the "mysterious" and "Master" part down, so why not show it off with an appropriate costume?
This comfy headpiece comes in one size so it will be a snug fit for most cats. There are convenient ear holes in the headband, so there won't be no squishing or discomfort in the name of fashion (and nerdiness).
When you think about it, dressing up your cat as Yoda has perfect sense: both are smart, small and powerful. Herh, herh, herh.
[divider style="solid" top="15″ bottom="15″]
10. Cat Dinosaur Costume with Hood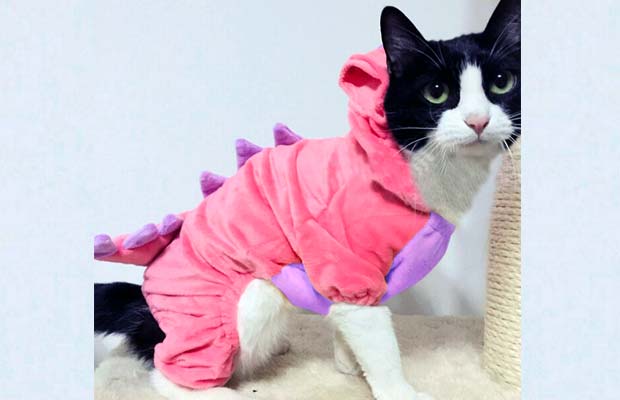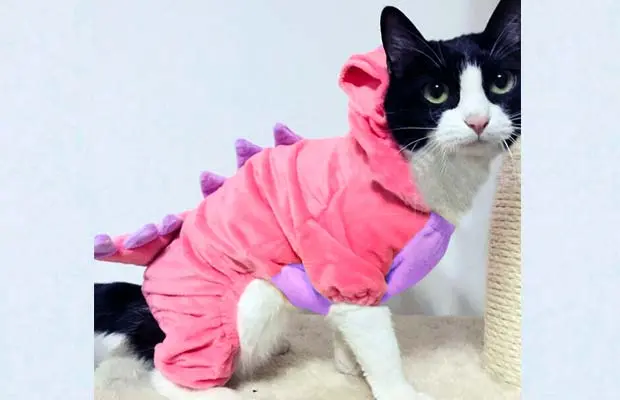 When it comes to pet Halloween costumes for cats, this is one of the cutest outfits out there. Just look at that pink, fluffy goodness! It makes me want to rAWWWr.
This dinosaur costume has all the important details, from spikes to tail. It's made from soft plush materials and it will make your feline look like an angry stuffed toy. But a totally a cute one, nevertheless!
Another great thing about this outfit is that it passes as a dragon costume for cat, so you don't have to spend extra money in case you want your cat to go as kawaii Drogon next Halloween. (And you can be Pawleesi, the Mother of Cats, of course.)
The costume comes in 5 different sizes, XS to XL. The reviews indicate that the sizes run a bit small. So, if you have a Chubbysaurus that weighs over 15lbs, you might have trouble getting them to fit into this adorable outfit.
[divider style="solid" top="15″ bottom="15″]
11. Cat Witch Costume With Hooded Cloak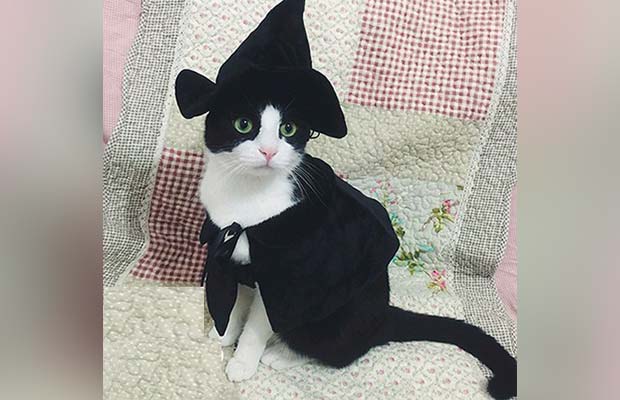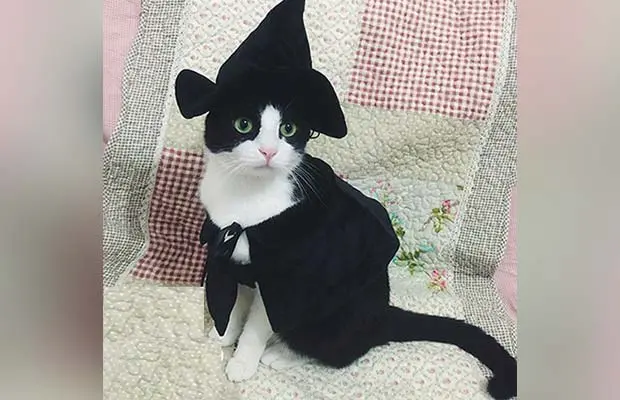 There's no creature in the world that's more mysterious and magical than a cat. It's no wonder that witches and wizards always favored felines!
This is why this enchanting sorcerer costume is a perfect fit for any kitty. I like to think that it's a spot-on Minerva McGonagall costume, but it's definitely very versatile-  it can represent any magical character, from Sabrina to The Wicked Witch of the West.
The pointy hat has an elastic strap, and the cloak is fastened by Velcro, so dressing your cat won't require any hocus pocus skills. The universal size makes it suitable for most cats, regardless of the amount of fluff they flaunt. The only thing that's missing is a cauldron full of kibble, but a regular food bowl will do the trick!
Accio treats!
[divider style="solid" top="15″ bottom="15″]
12. Unicorn Cat Costume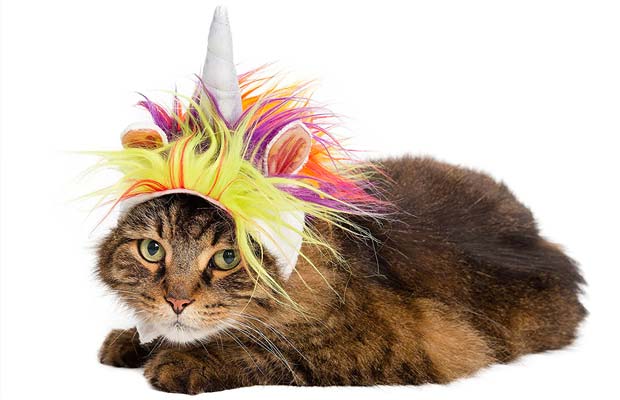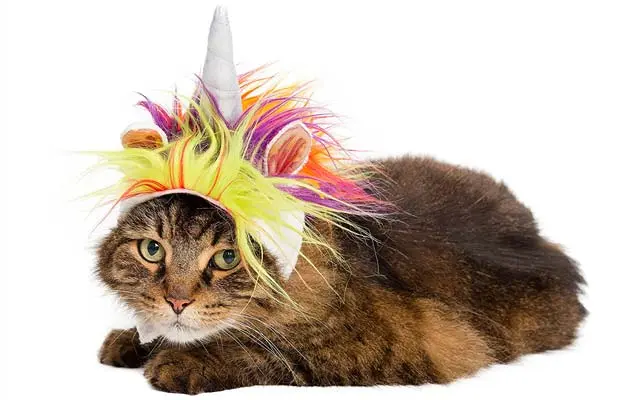 Your kitty might not poop rainbows, but it doesn't mean they can't be a unicorn. And an adorable, colorful one at that.
Complete with a furry, fluffy rainbow mane and a silver, shiny horn, this plushy headpiece is the closest thing your cat can get to a real unicorn. The costume is very well-made, with quality materials, and attention to details. Even the unicorn horn stays upright! Thankfully, it's very light and soft, so your cat won't have the opportunity to stab you with it.
The headpiece uses Velcro to fit snuggly on your cat's head, and it will accommodate any feline that weighs up to 15 lbs.
If you want to sparkle along your cat in matching cat and owner Halloween costumes, discover your own unicorn persona here.
[divider style="solid" top="15″ bottom="15″]
13. Freddy Krueger Pet Costume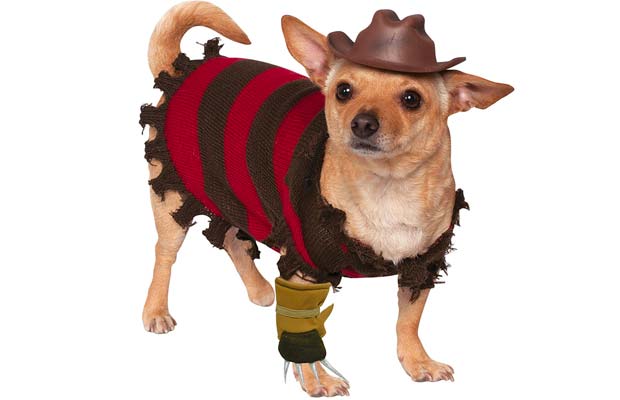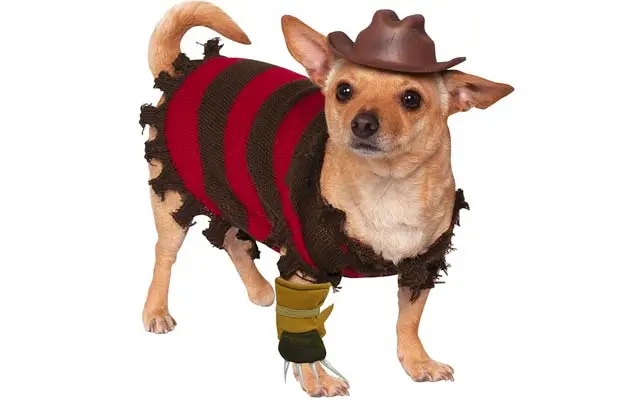 Does your cat haunt your dreams? Do you wake up in the middle of the night, drenched in sweat, afraid you forgot to buy catnip?
Then this Nightmare On Elm Street pet costume is exactly what you need. Your kitty will look lit (pun intended) with the trademark hat, ripped sweater and bladed glove, all made out of smooth, velvety material. Granted, they still might use their own claws while you dress them, so make sure to have some Band-Aids on hand.
The costume comes in many different sizes, but most cats will fit in a size S or XS if they're particularly small. The sweater is a pull-on, and the other accessories are held in place by an elastic band.
[divider style="solid" top="15″ bottom="15″]
14. Vampire Bow Tie Cat Collar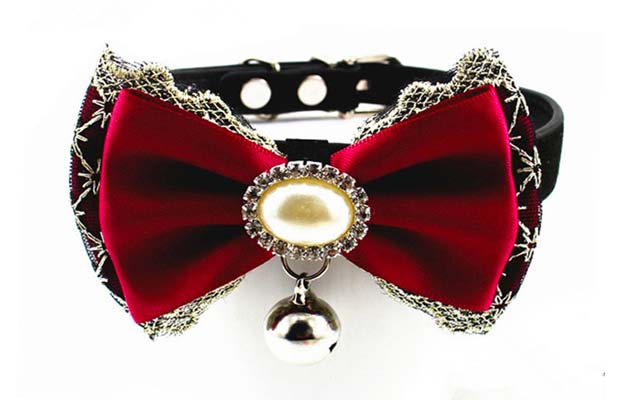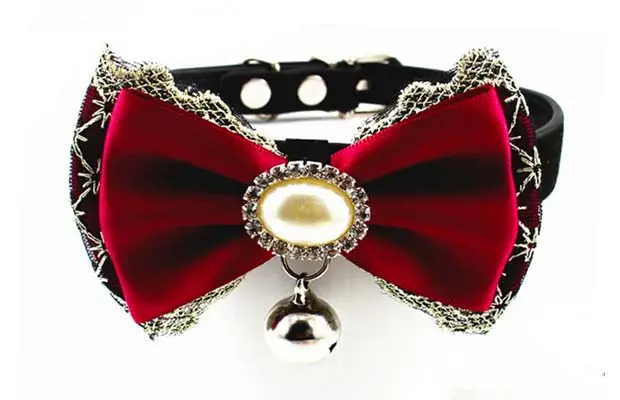 When you think about it, your cat already has the most important part of a vampire costume nailed down- the fangs and blood-sucking tendencies. Why not add a gothic, Dracula-like bow to make things official?
This luxurious pet collar is a great substitute for a classic pet Halloween costume for many reasons. It's as uncomplicated as it gets, your cat won't mind it in the slightest, and it's quite original. Your kitty might be team Edward, a fan of Anne Rice or Bella Lugosi, and this bow tie collar would work in each case. Black lace and red satin bow practically scream vampire.
And if anyone dares to doubt your feline's vampire powers, they can always flash their fangs to prove a point!
[divider style="solid" top="15″ bottom="15″]
15. Classic Movie Monsters Costumes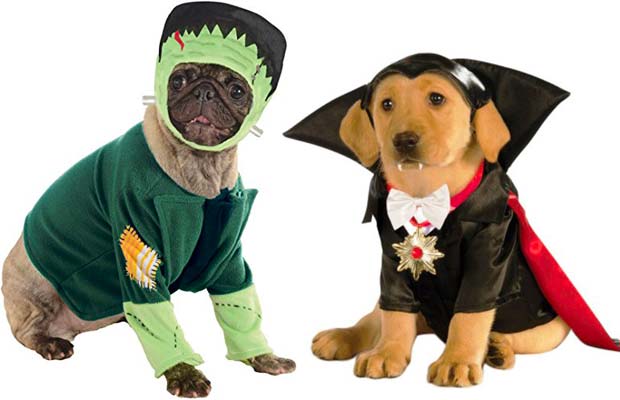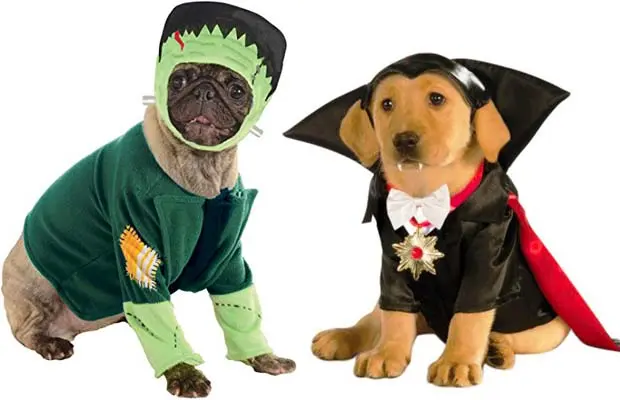 Love classic horror movies? You can choose between the Romanian bloodsucker, Count Dracula, and the undead and misunderstood Frankenstein's monster. Both costumes will look great on your cat!
Inspired by the old time monster movies, these costumes are elaborate and faithful to the original. The Dracula cat costume comes with a silky cape, headpiece, and a medallion, while the Frankenstein has a plush headpiece and an appropriate outfit.
If you love vintage movies and pop culture and want to share that love with your cat, either one of these costumes will be a great choice. The sizes vary from extra small to extra-large, but most cats will feel comfortable in medium-sized costume.
[divider style="solid" top="15″ bottom="15″]
16. Pokemon Costumes For Cats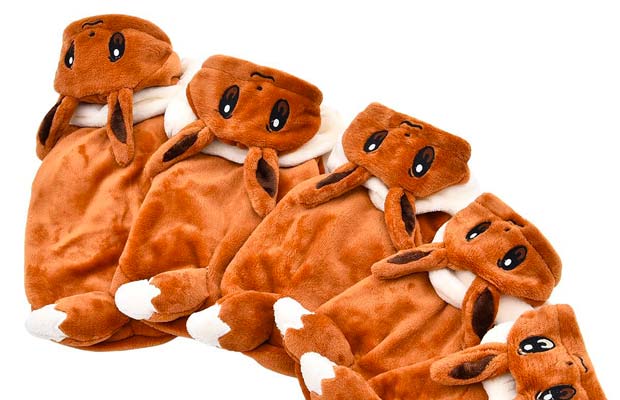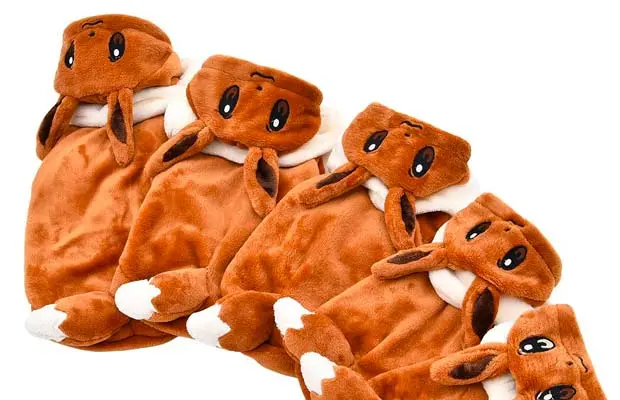 You feel like you've gotta catch them all? Well, these Pokemon costumes for cats are a great start.
The most popular, Pikachu costume, is actually a soft hoodie that will keep your cat warm (and probably irritated). The outfit has holes for the two front legs, and a hood with the cute Pikachu ears and face. If you want something a bit more out of the ordinary, both the Snorlax and Eevee are good choices. They're made of plush materials and look absolutely adorable when worn.
All three costumes are made in the same way, with opening for front legs only and detailed hoods, and each of the costumes is the best fit in size S.
And, if you want to flaunt matching cat and owner Halloween costumes this year, you can't beat going as Ash Ketchum to your kitty's Pokémon of choice!
[divider style="solid" top="15″ bottom="15″]
17. Zoo Snoods Knit Snood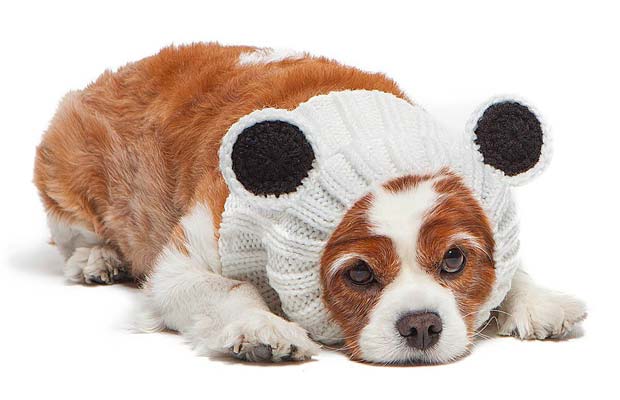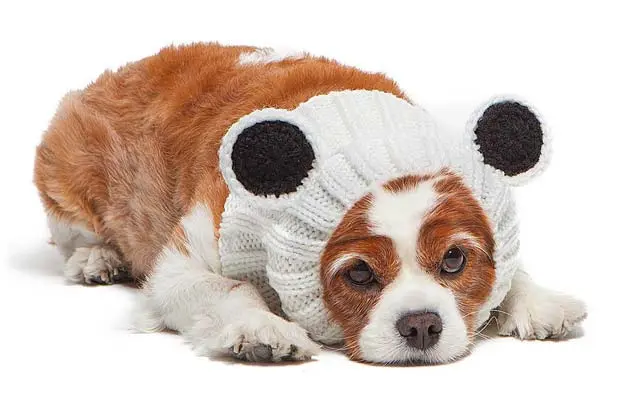 For people who are looking for cute, funny costumes for cats that don't like playing dress up, Zoo Snoods are the purrfect choice. Snug, cozy and versatile, this costume doubles as an ear warmer.
The snoods come in variety of different designs, ranging from dinosaurs and foxes, to giraffes and pandas. Your cat's Halloween costume can be anything you want it to be! Personally, I think that the Bull Knit Snood is a great choice for cats, as it represents their mischievous nature. Yup, your kitty will look like a fluffy little devil.
Made out of acrylic yarn, this soft headpiece is practical and won't trouble most cats. The snood is easy to put on, and it's stretchy enough to fit different sizes. When buying a costume for your cat, have in mind that most felines will fit snugly in an S-sized snood.
[divider style="solid" top="15″ bottom="15″]
Have you ever had your pets dressed for Halloween? We'd love to hear about your favorite cat costume ideas and funny stories in the comment section below!
[divider style="solid" top="15″ bottom="15″]
Disclosure of Material Connection: Some of the links in the post above are "affiliate links" designed to provide a means for sites to earn advertising fees. This means if you click on the link and purchase the item, Bengalcats.co will receive an affiliate commission. Regardless, we only recommend products or services we use personally and believe will add value to our readers.