Articles
The 13 Best Cat Treat Dispensers
Multifunctional and versatile, automatic and interactive cat treat dispensers are an ideal way to entertain your bored feline, control their wolfish eating habits, or simply help them adjust to a new diet.
By connecting fun and food into one activity, these useful gadgets won't leave any cat indifferent.
To help you make the best choice for your beloved fur baby, here is a list of the best cat treat dispensers for 2021!
1. PetSafe SlimCat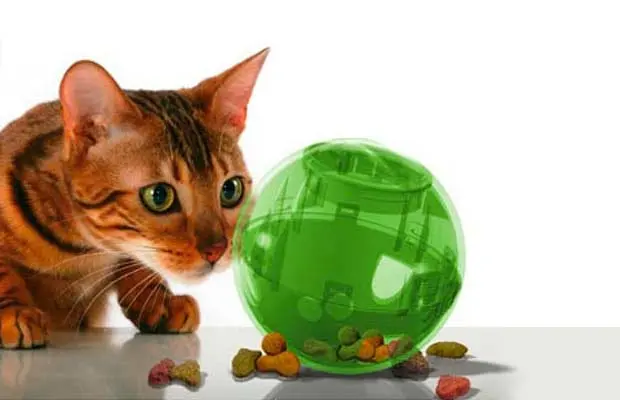 Whether you want to stimulate your cat to be more active or to prevent them from excessive eating, PetSafe SlimCat is a great choice. This cat treat dispenser ball stimulates feline's innate hunting instinct's and makes exercise a fun part of the feeding routine. Even though you can add different dry treats to the ball to reward your kitty's efforts, if you have a cat that scarfs their meals and throws up after, PetSafe SlimCat can be used for meal time. The various openings will dispense adjustable amounts of kibbles and keep your cat from overeating.

Suitable to use for treats and whole dry meals
Helps fight obesity and encourages exercise
FDA approved plastic and dishwasher safe
Read the reviews on Amazon
---
2. Petcube Bites 2
One of the first and best of its kind, Petcube Bites is a Wi-Fi pet camera with built-in, automatic cat treat dispenser you can control remotely via an app. Wall-mounted, this futuristic gadget offers two-way audio, night vision, sound and motion alerts, as well as the option to capture videos of your furball in 1080p HD. As far as the treats go, the container holds up to 1.5 lbs of treats and it can fling the treats at different distances. You can enjoy watching your acrobatic Bengal jump for their favorite kibble!

Works with any treats
Controlled via app
Safe for pets
Read the reviews on Amazon
---
3. PetSafe FUNKitty Egg Cersizer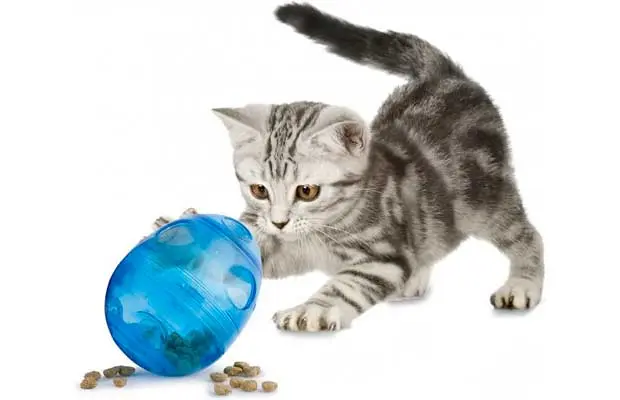 Just imagine your kitty's face if their toy started dispensing treats during playtime. I mean, even the laziest cats wouldn't be able to resist running around after a fun ball that drops out tasty kibbles. Well, that's exactly what PetSafe FUNKitty Egg Cersizer does. As soon as your cats starts rolling this cat treat dispenser toy, food comes out through the various opening on the ball. In case you don't want the treats to be easy to access, you can adjust the number of open holes. This way, your Bengal cat will have to work for the hidden yummies!

Provides exercise and keeps your cat active
Dishwasher safe
Easy to adjust (number of holes and their size)
Read the reviews on Amazon
---
4. Catit Senses 2.0 Food Tree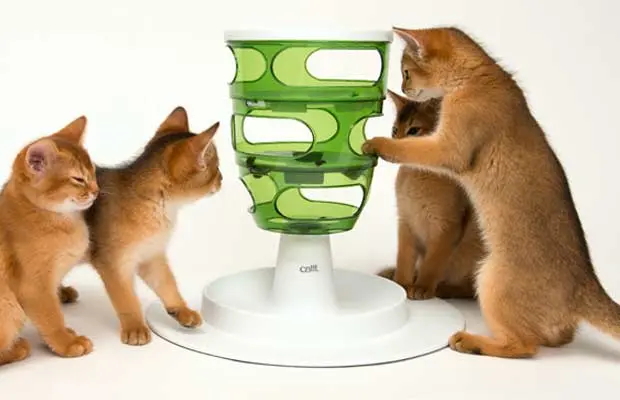 If you have a Bengal cat, you probably already know that they simply love putting their paws where they don't belong and the Catit Senses 2.0 Food Tree is a great way to divert their attention from cupboards and drawers they usually like to borrow stuff from. This automatic cat treat dispenser will allow your Bengal to fish out and "steal" their food from various side openings, making meal time a fun and a challenging game. Additionally, you can swap pellets for special treats or even some toys your kitty loves to play with. Either way, one thing is for sure: your frisky feline will adore this gadget.

Stimulates natural hunting behavior
Suitable for homes with multiple cats
Sturdy and easy to clean
Read the reviews on Amazon
---
5. TRIXIE Tunnel Feeder For Cats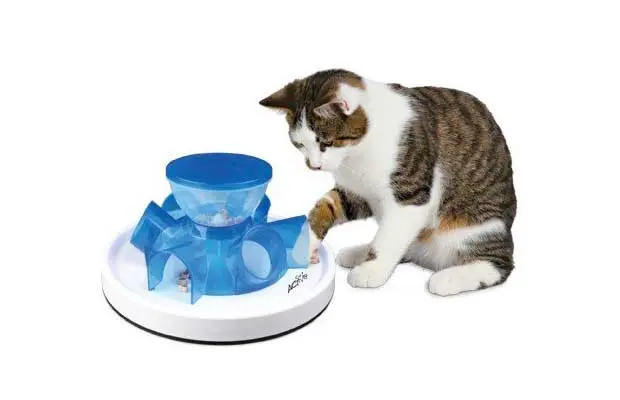 With options for customization and a smart design, TRIXIE Tunnel Feeder is a cat treat dispenser toy for inquisitive or wolfish cats that gobble their food. With 6 tunnels and an adjustable level of output, this tunnel feeder will pique your cat's curiosity and provide a mentally stimulating game that can double as meal time. Instead of focusing on encouraging physical activity like some of the products from the list, TRIXIE Tunnel Feeder provides a challenge for cats that get easily bored or simply scarf their food if not controlled.

Rubber base prevents sliding
Easily customizable for various dexterity levels
Dishwasher safe
Read the reviews on Amazon
---
6. TRIXIE's 5-in-1 Activity Center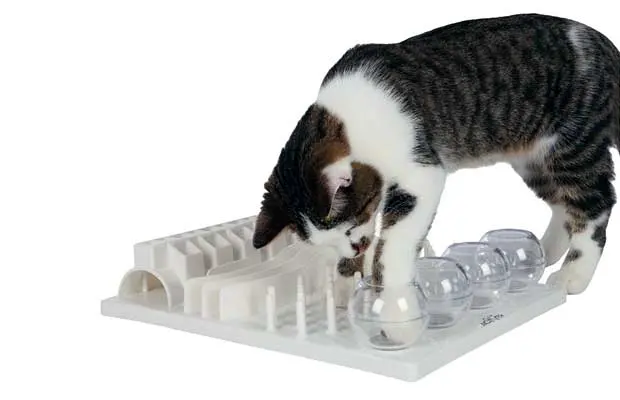 In case you have a particularly clever kitty that gets easily bored with new toys, TRIXIE's 5-in-1 Activity Center is bound to keep them captivated for hours on end. With multiple sections, this cat treat dispenser toy offers your cat not one but five different challenges to choose from. Stimulating all your feline senses, this puzzling and entertaining food maze will definitely be a hit with food driven Bengals. The fact that cats have to work their way to kibbles makes this not only a fun toy, but a great way to control their portions and speed of food intake.
Suitable for both wet and dry treats
Different options great for picky and intelligent cats
Easy to clean and dishwasher safe
Read the reviews on Amazon
---
7. Catit Senses 2.0 Digger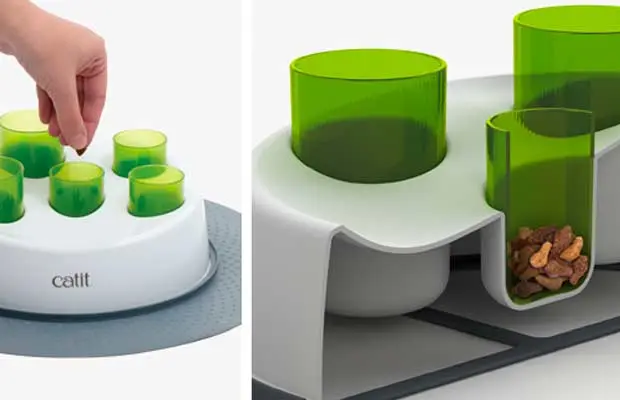 For those cats that love scooping up things with their paws, Catit Senses 2.0 Digger is definitely a gold mine they'll love digging into. Consisting of multiple upright tubes of varying width and height, this cat treat dispenser toy will help you channel your cat's natural pawing behavior into a productive activity. Just pour a small amount of their favorite treat or preferred pellets into the tubes, and watch your kitty paw out their reward! And don't worry, the no-slip rubber mat that comes with it will prevent larger Bengals from cheating by tipping the feeder.
Prevents binge eating
Suitable for both wet and dry food
Adjustable and easy to clean
Read the reviews on Amazon
---
8. Tiger Diner Ceramic Cat Feeder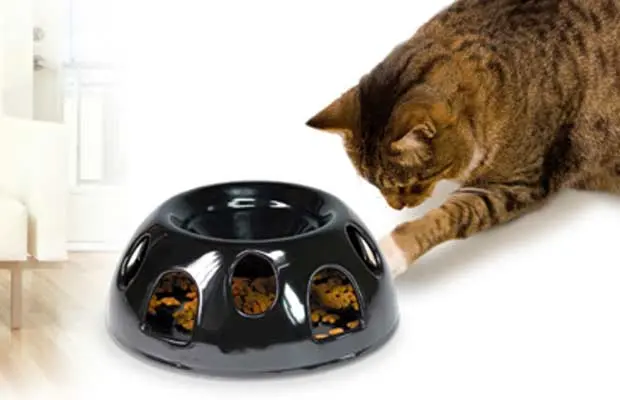 Sometimes, less is definitely more, so don't let the simplicity of the Tiger Diner Ceramic Cat Feeder fool you. This funnel-shaped, automatic cat treat dispenser allows you to portion your cat's food and serve it in an entertaining, engaging way. The various openings encourage your kitty to paw out their own food, so they won't be able to eat too fast or too much. Even without all the bells and whistles some other products offer, this feeder is still a great way to challenge and amuse your feline.
Sturdy and durable
Ceramic is ideal for cats with feline acne
Lead-free, non-toxic and dishwasher safe
Read the reviews on Amazon
---
9. Northmate Catch Interactive Feeder
Offering mental stimulation and controlling the speed of eating, Northmate Catch Interactive Feeder doubles as an interactive toy and an automatic cat treat dispenser. By scattering their favorite treats or kibbles between rounded plastic spikes, you'll be able to prevent your cat wolfing down on food and create a fun, rewarding game for them. The multiple, uneven spikes ensure that the treats are not easily accessible and pose a challenge even for the highly intelligent kitties.

Suitable for kittens and adult cats
BPA and phthalates free
Easy to clean and dishwasher safe
Read the reviews on Amazon
---
10. Petzi Treat Cam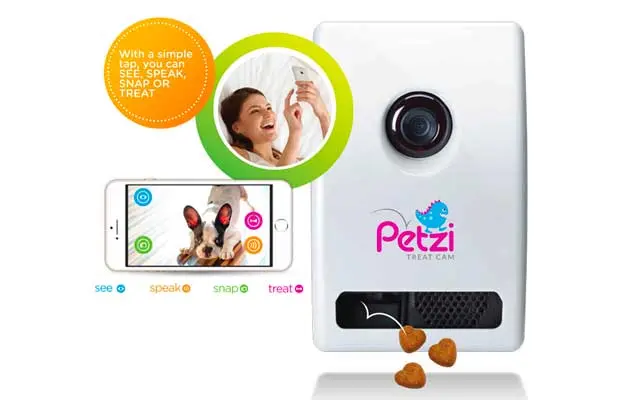 Equally rewarding for both the pet and the owner, this cute product can help kitties with separation anxiety, as well as keep you in the loop with your cat's home alone shenanigans. Similar to other pet cameras and automatic cat treat dispensers, Petzi Treat Cam allows you stay in touch with your favorite furball while you're away and remotely reward them with treats. More modest in the way of options it offers, this pet cam has one-way video and audio and the option to take snaps of your kitty while they're waiting for the kibble to pop out.

Remotely dispense treats
Works with different types of food
Safe for pets
Read the reviews on Amazon
---
11. KONG Cat Wobbler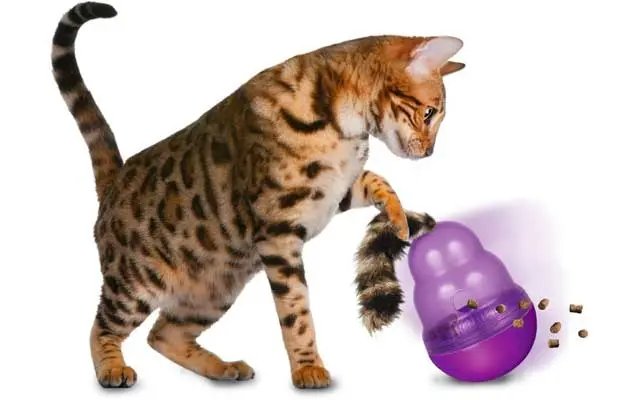 A cat treat dispenser ball with a twist, or, to be precise, a fluffy tail, KONG Cat Wobbler utilizes the allure of catnip to attract even the most disinterested felines. Located in the tail of the toy, catnip will definitely capture the attention of your furball and when combined with treats, there's high chance the cat will obsess over this fun gadget. With only one hole to get the food out of, this pear-shaped feeder will be an entertaining challenge for any feline.

Great for cats that need a more difficult challenge
Promotes exercise
Sturdy and durable
Read the reviews on Amazon
---
12. Bergan Turbo Ball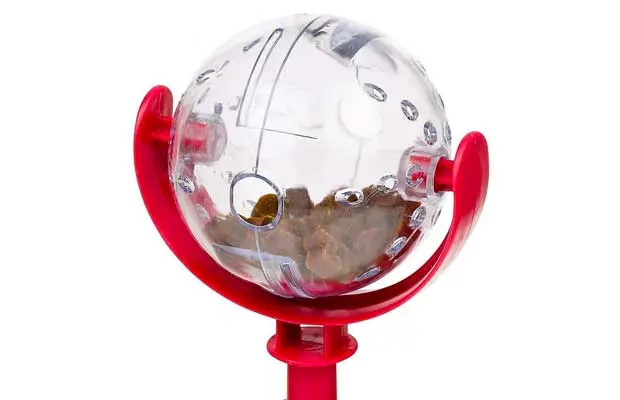 Innovative and fun to use, Bergan Turbo Ball is an accessory for the Bergan Turbo Scratcher that enables you to create a one-stop entertainment and reward center for your pampered feline. This cat treat dispenser ball rotates on a low stand when the cat paws at it, dropping treats through small openings. Apart from entertaining your kitty, this product can serve as a way to reward your kitty for using the scratcher rather than your furniture to sharpen their claws.
Compatible with your cat's scratcher
Can be used to correct destructive behavior
Slows down eating speed
Read the reviews on Amazon
---
13. PetChatz Cat Treat Dispenser
If you're often away from home, or you follow latest tech advances, you are going to love PetChatz. This automatic cat treat dispenser has a two-way audio and video system, which allows you to remotely communicate with your favorite furball and dispense treats or soothing scents via a smartphone app. In addition to being able to reward your feline with treats, you can capture photos and video, as well as monitor your Bengal's activity while you're at work. However, you should have in mind that this product works only with PetChatz food, so if your picky feline prefers another brand, it might not be the best choice for you.

Remotely controlled
Completely safe for pets
Offers a variety of different options
Read the reviews on Amazon
---
Do you already use a cat treat dispenser? Share your experiences in the comment section below!
---
Disclosure of Material Connection: Some of the links in the post above are "affiliate links" designed to provide a means for sites to earn advertising fees. This means if you click on the link and purchase the item, Bengalcats.co will receive an affiliate commission. Regardless, we only recommend products or services we use personally and believe will add value to our readers.