[dropcap]I[/dropcap]t's no secret that Bengals love water more than most cats, but this feline's love for water is something else. Instead of feeling content with an occasional splashing in the tub, Captain Cooper prefers being on the open sea.
This feisty Bengal cat and his owner, Stephanie Mansberger, have sailed almost 7,000 nautical miles together. During their sea adventures, Captain Cooper isn't only focused on maintaining a steady course and doing his duties as a cabin kitty. He might be the first Bengal that set out to conquer the open sea, but he's still finds time to play. Cooper loves using the mast as his scratch post, chasing birds who dare board his ship and exploring all the nooks and crannies of the sailboat.
His owner's love for adventure rubbed off on Cooper as well, so when they're not sailing, you can find them spending time kayaking and cycling together.
I interviewed Stephanie to find out more about her fascinating Bengal kitty, and here's what she had to say about Cooper and his love for sailing.
Where did you grow up?
I grew up in Morgantown, West Virginia.
What did you study?
Bachelor of Science in Interior Design and minor in Communication Studies at West Virginia University.
What did you do professionally before setting sail?
I set sail just after finishing college – I was working as an interior design intern at WVU during the school months and as a sailing instructor in the Florida Keys with the Boy Scouts during the summer and winter breaks. I worked my way from teaching scouts small boat sailing to being the assistant sailing director of the camp (Florida National High Adventure Sea Base). During that time, I worked on becoming a licensed captain and getting my American Sailing Association teaching certificates. Once I achieved my ASA and captain's license I began working with Island Dreamer Sailing School as one of their instructors. I met the owners in the Florida Keys whom also worked at the boy scout camp in the summer, teaching scouts how to snorkel and sail.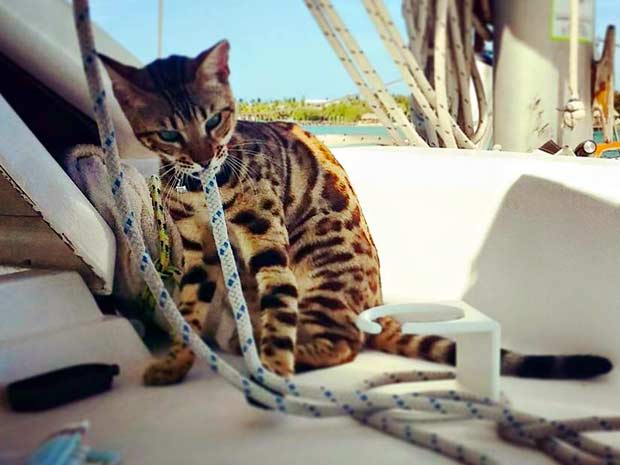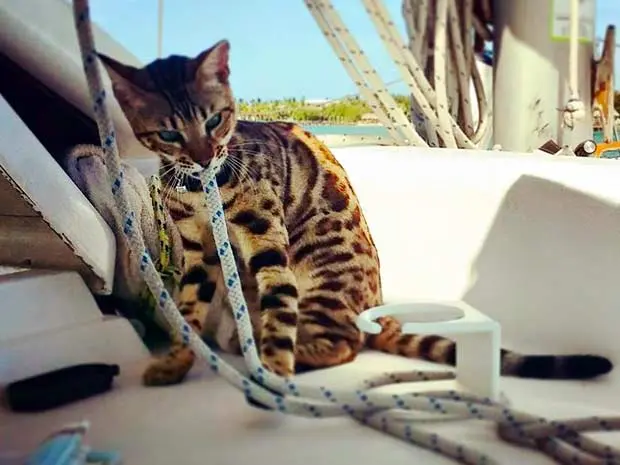 Any life events that you are willing to share that helped you to make these decisions?
When I finished college, it wasn't easy finding a job – and I wasn't totally excited about the aspect of having a desk job. (Especially once I tasted the freedom of my summer adventures in the Keys.)
The owner of Island Dreamer Sailing School approached me during the end of a summer season at the camp with a job opportunity – living aboard and running one of his 41' Morgan Out Island sailboats. I jumped at the possibility. It was a job for a Couples Cruising instructor where I worked alongside another captain.
I sailed with Island Dreamer for almost 5 years – mostly sailing the Miami / Florida Keys area but also getting to do fun trips in Greece and the ICW (Intracoastal Waterway) from Miami to Oriental, NC. I was also sent to the Bahamas to be a sailing instructor model for one of their teaching manuals and was able to explore the Abaco Islands with the photography crew and sail on a brand new sailboat.
Did you sail before this adventure or was this your first time?
Growing up I was a sea scout – a co-ed high adventure scout group for youth aged 13 – 21. We were the only "ship" or sea scout group in West Virginia and learned anything below or on top of the water – sailing, scuba diving, water skiing, racing sailboats, knots, etc…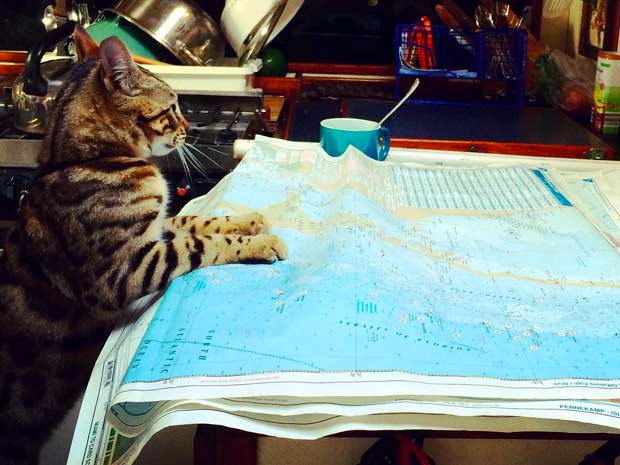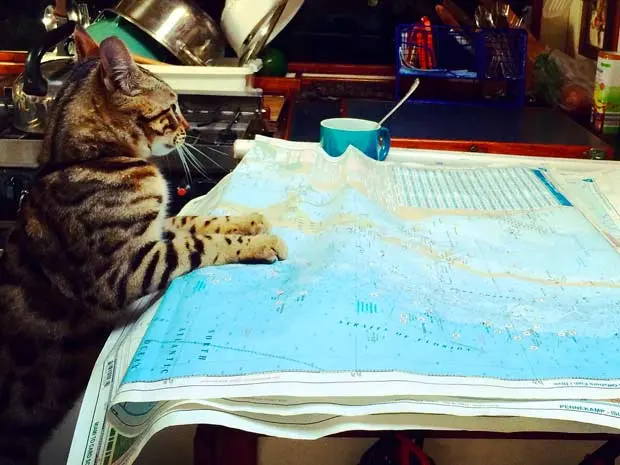 Where did you first hear about Bengal cats?
I had a couple (sailing students) on board from Canada who had a couple of Savannah cats, and after hearing how I really wanted to have a pet, someone on board suggested them. Since they have dog-like qualities and can walk on a leash, they thought they might work well with my traveling lifestyle – after tons of Google research I came across the Bengal breed and fell in love with their traits. I loved that the Bengals are smart, curious, vocal, like the water, and that they take an interest in everything you're doing.
What made you decide to choose Cooper? Or should I say how did Cooper choose you?
I looked all over the internet for Bengal breeders and came across Indian Creek Bengals in PA. The owner, Norine, was awesome to talk to on the phone, the facility was sort of close to where my parents lived in WV and her availability of kittens and pricing met my schedule of when I'd be home visiting WV. The owner was very friendly and informative, and she sent me photos of Cooper via email – I immediately fell in love with his huge kitten ears and markings and knew he was the one.
When exactly did you choose to set sail? Was it before or after getting Cooper?
I was teaching and sailing full-time for almost 2 years before deciding to bring Cooper aboard. He lived aboard and sailed with me for around 2 years.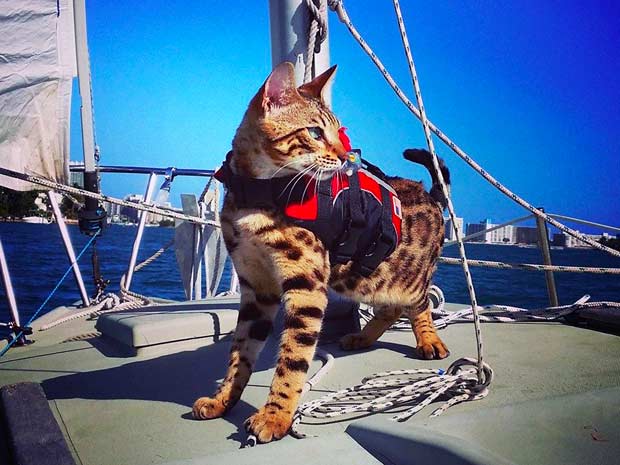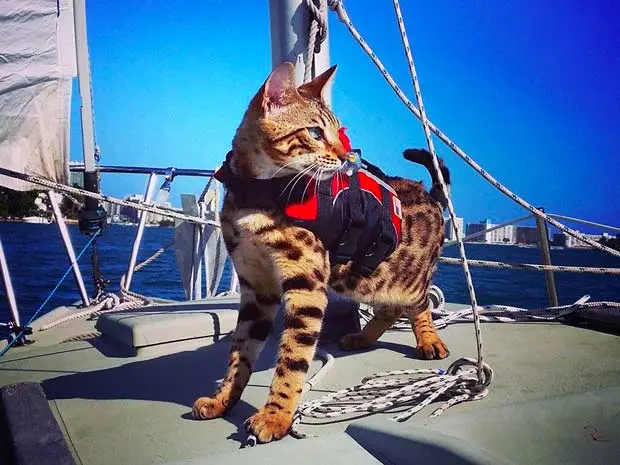 Did the fact that Cooper's breed of cat – being a Bengal and one of their most famous attributes being fine with water, help you in your choices?
Most definitely – that and also that they are hypoallergenic cats. I had to have a pet that my future customers would not be allergic to which could interfere with my businesses.
What security measures did you have in place for Cooper? What did you do to make sure he would be safe on the open water?
Cooper had his own life jacket with water activated strobe light in case he ever fell overboard, especially at night. He also had a tether and harness that he was attached to most of the time he was up on deck while we were sailing and, when we were at anchor, he had a harness or a reflective vest on so I could see him if he fell in the water.
He learned to use the ladder on the back of the boat for if he did fall overboard while at anchor – he could swim over and get back out himself. One night, while chasing birds off the boat, he managed to fall over, so I bought a soft sided dog crate big enough for him to have a hammock in for him to sleep in at night. Most of the time he slept with me but on nights he was feeling adventurous, he would sleep in his hammock next to my berth.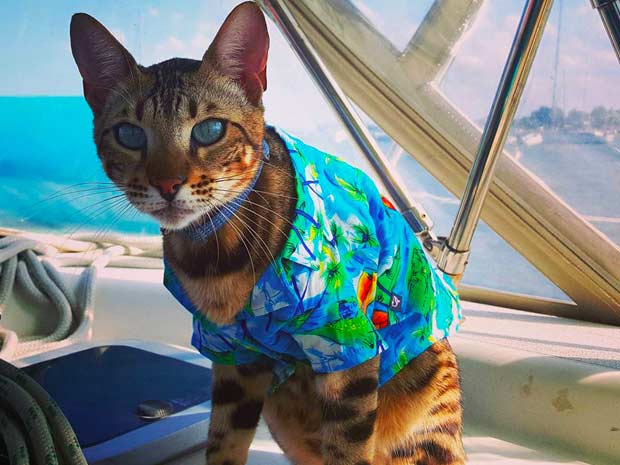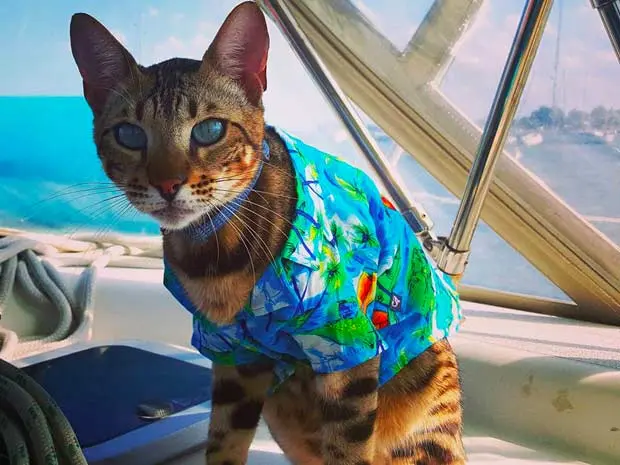 Did you ever have any problems on the boat? Was there ever an incident involving Cooper that caused you stress? Ex: getting tangled in the rope, sea sick, sick in general?
Every once in a while he would get sea sick during rough passages and I would have to bring him up into the cockpit (helm) to get fresh air and he would be back to normal in no time. He loved to explore the engine room and storage compartments – before we started the engine we would add checking all the spaces for Cooper to our engine checklist before firing it up.
He loved the dinghy rides – but would sometimes try and jump ship if he wasn't finished climbing palm trees on the islands or saw a bird he wanted to chase.
How did Cooper on board help with your moral?
He was amazing – he kept me company whether I was in the galley cooking, doing dishes or doing email correspondence.
Cooper was the evening entertainment with guests as he'd play hide and seek and tag on the deck, and he was very popular, especially with our younger guests (children passengers).
He's very curious and wanted to help with everything – from us teaching students how to tie knots, use the winch, raise the sails… he was always there. Cooper made sailing a ton more fun.
He also kept me company during the long hours of doing charter laundry on shore – he would drive with me to a local laundromat and we'd get Starbucks – coffee for me and he'd get the whipped cream toppings.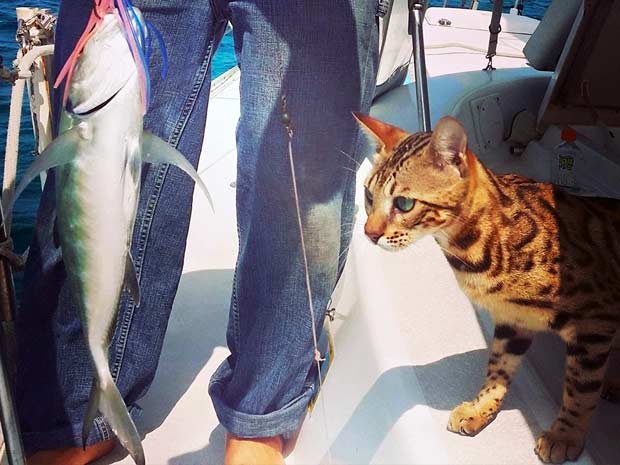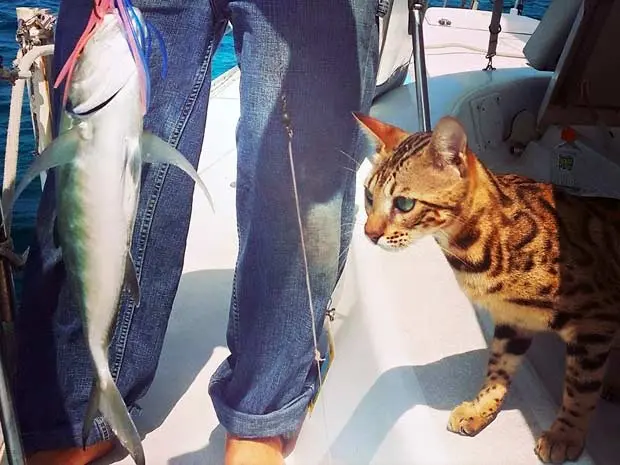 Tell us what a typical day aboard the Catalina Morgan Capri was like.
When we were teaching guests / students:
7am we wake up to finish email correspondences of future charters booked/ prep for the day / trip plan for the upcoming week – (new charter).
by 8am coffee and breakfast out for everyone.
by 08:30 / 09:00 underway sailing – while we sailed we taught drills, knots, right of way, rules of the road, sailing terminology, etc…
noon – lunch
between 1 and 5 anchored for the night and exploring islands, snorkeling, or bar hopping with live music in the keys.
9pm "bed" – us to our own cabin, time to just ourselves – we would work out, read, play with Cooper, look up news on our phones, update the blog.
Just us on board (Day Off)
9am – 5pm prepped boat for next round of charter – gathered laundry, made meal provision lists, empty fridges/ ice boxes, cleaned the decks, repacked the sails, organized teaching materials, made all the guest berths/ heads(bathrooms) up, went to shore to do laundry and buy groceries for another week long charter that usually started the next day.
5 – ?pm Sometimes a movie in the boat, sitting in the cockpit with other instructor friends exchanging charter stories or would take the dinghy over to south beach and catch up with friends enjoying pizza, drinks, and air hockey.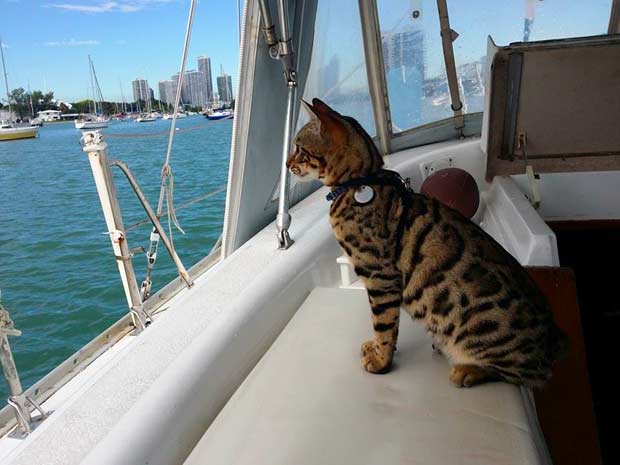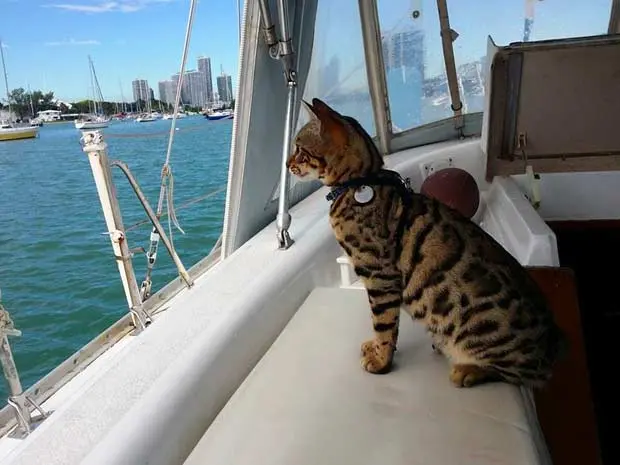 What are a few things you wished you knew or had after you set sail with Cooper?
I'm not too sure about extra things but in the beginning, I bought him way too much stuff – from cool carriers to interesting toys. The boat on its own had a ton of things for him to explore / birds to watch / lines (rope) to chew on, so most of his toys were ignored.
How did others react when they saw you're a captain?
Most people in the Keys were used to young and female captains so it was pretty normal – a lot of my friends are females and captains. Some were surprised or in doubt – especially the more North you go – they're not used to seeing young females on the water behind the helm or giving orders. We once had a charter guest ask as we got to the boat when they'd be meeting their captains for the trip, and that it was very nice of our sailing company to have sent us to pick them up from the airport and help with their luggage to the boat… When I worked for the Boy Scouts some adult Dad leaders would even request a different boat for their scouts by just learning my name – wanting an 'old salty' male captain – in some cases, I had over 1,500 nm or more in a year of sailing / teaching advanced sailing courses.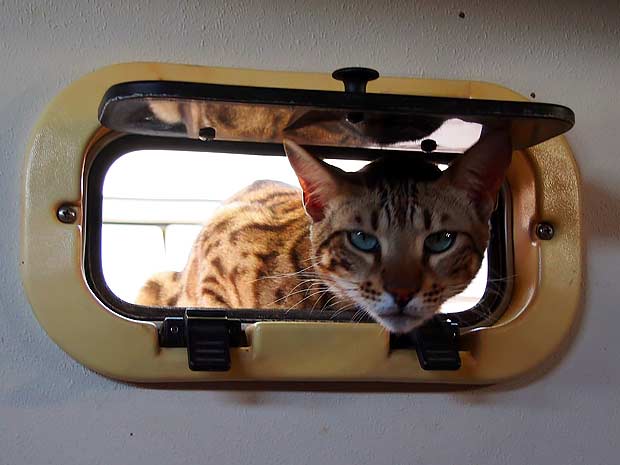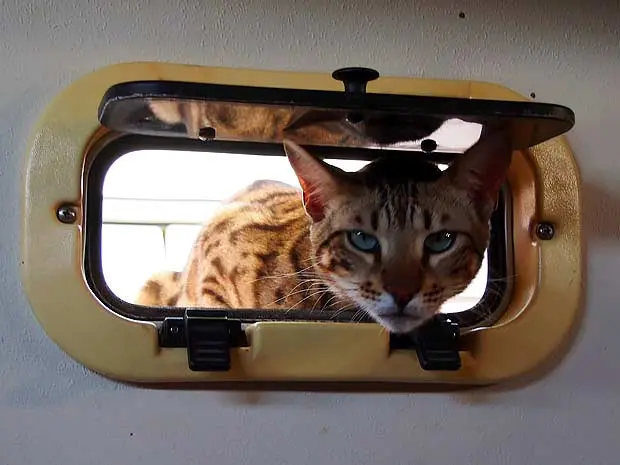 Please tell us about some of your most memorable experiences or interactions.
All of the sunsets and photography opportunities of the Keys, as well as exploring the Island, Boca Chita – even though I visited close to 80 times a year I loved retelling the history of it to our guests, walking Cooper, letting him climb trees, and taking new photos around the island.
Now that you've set your feet on dry land, when can we expect to see you set sail again?
This coming spring/summer – I still have a little red sailboat – a Tanzer 26 that I remodeled a few years ago with my parents. She is currently in Oriental, NC and will hopefully have quite a few weekends to sail her for fun around the Neuse River.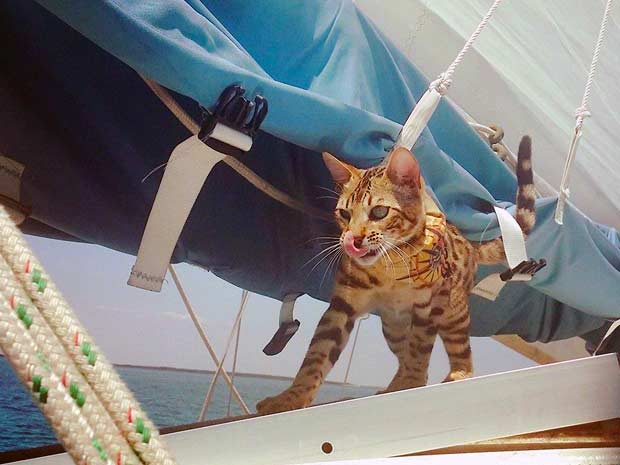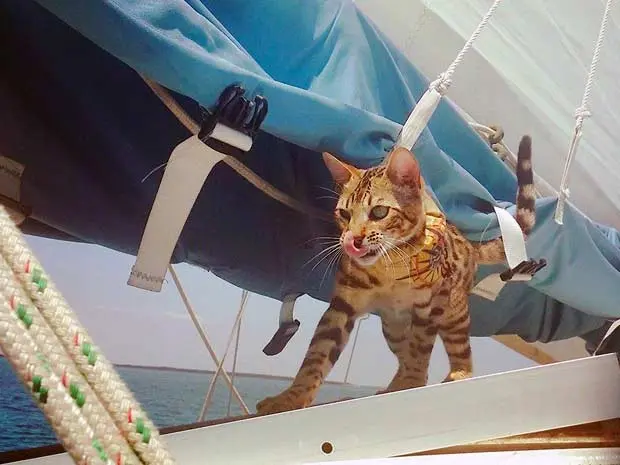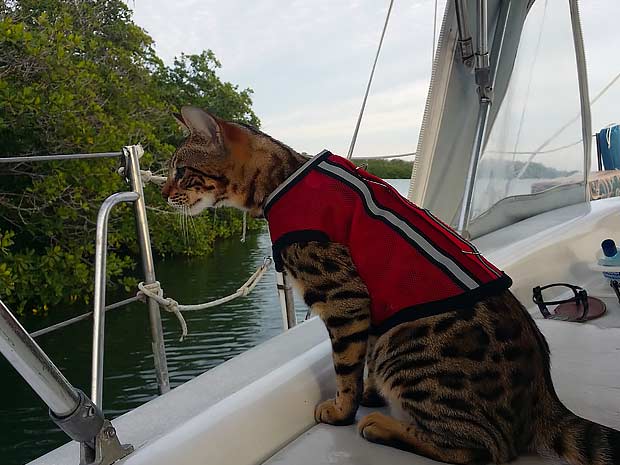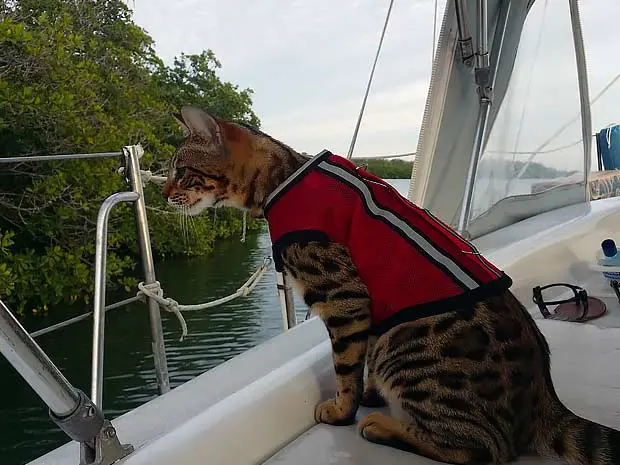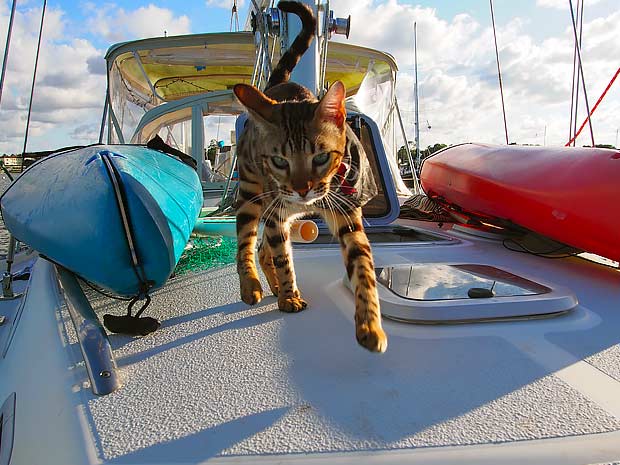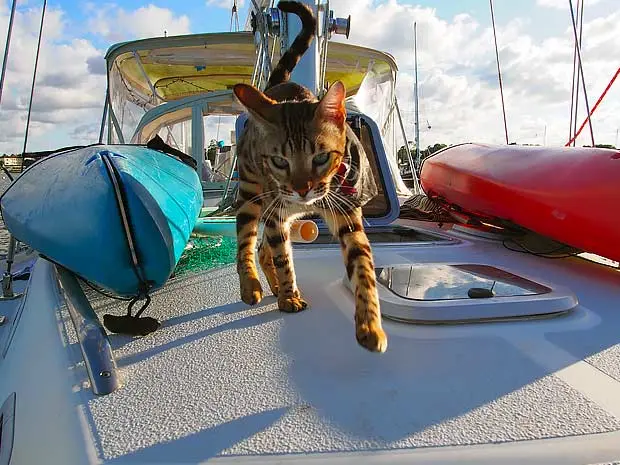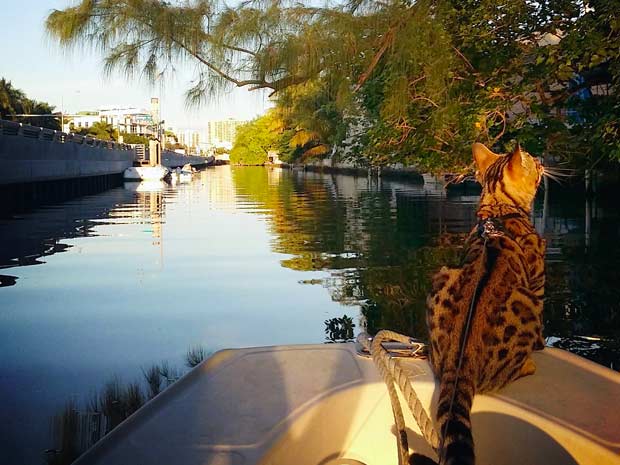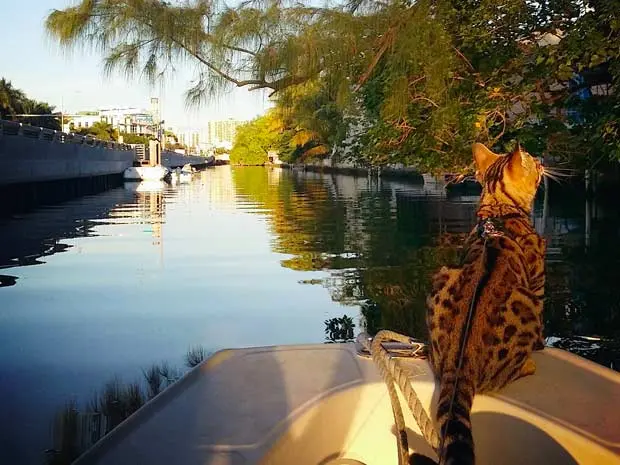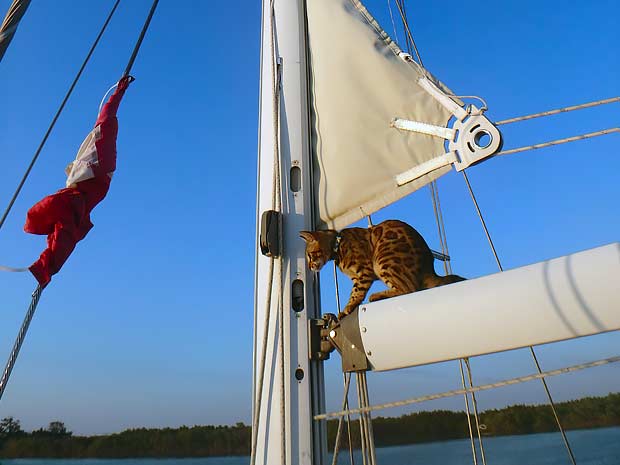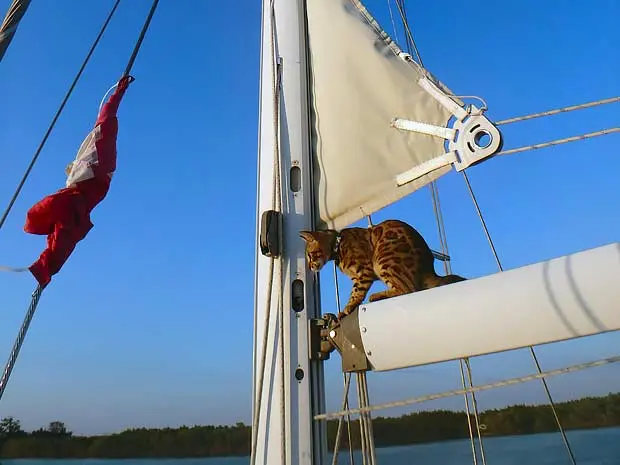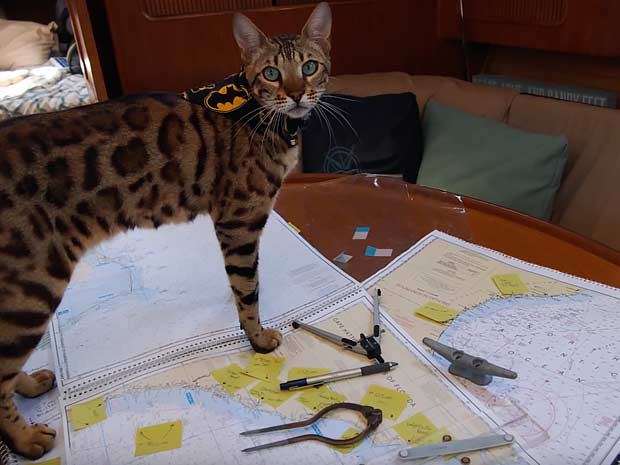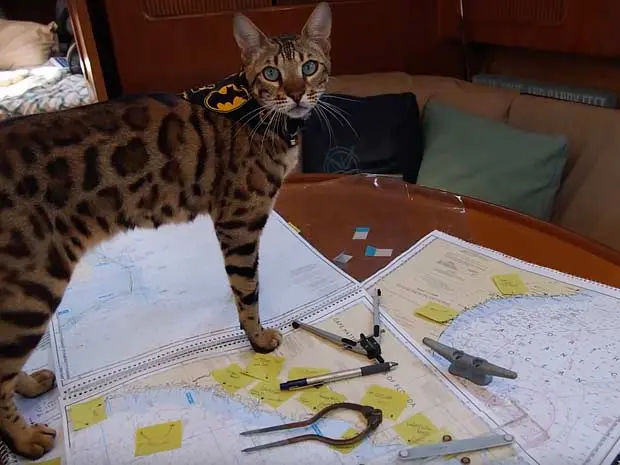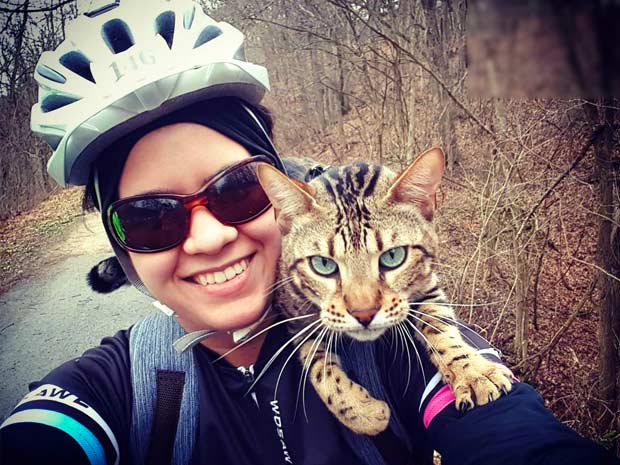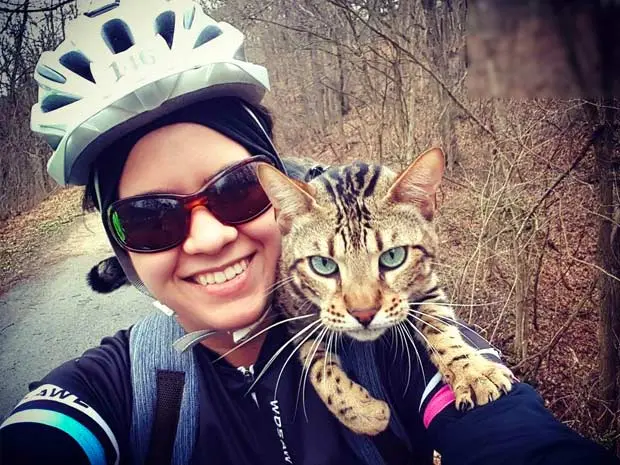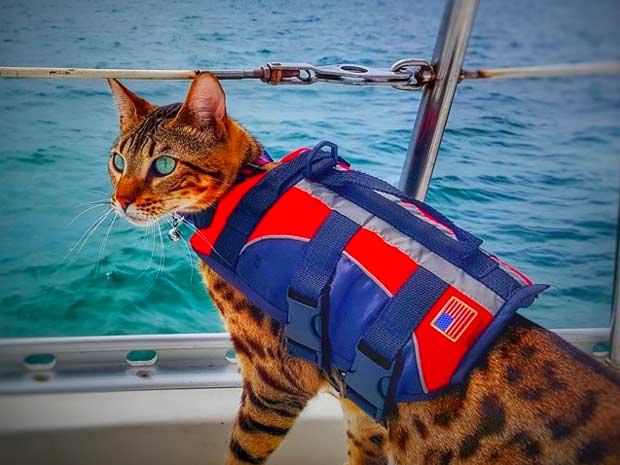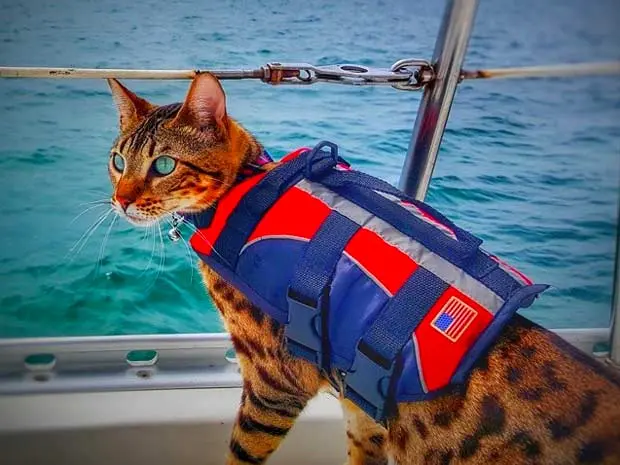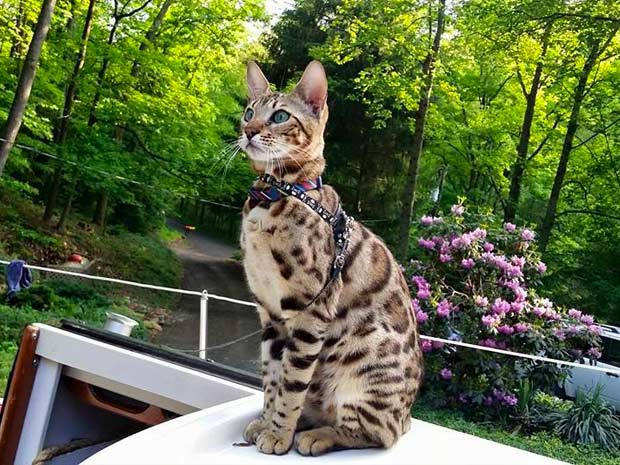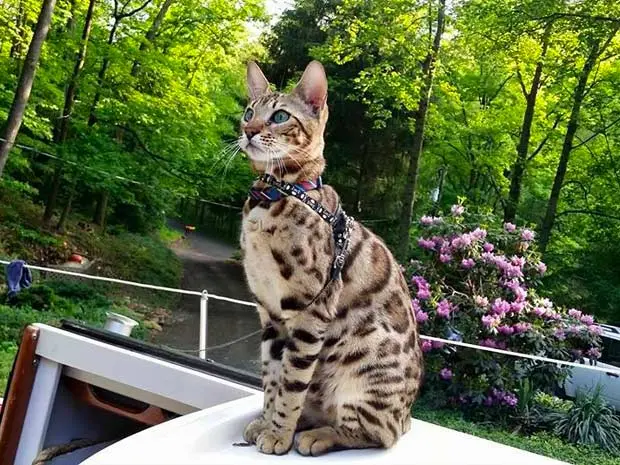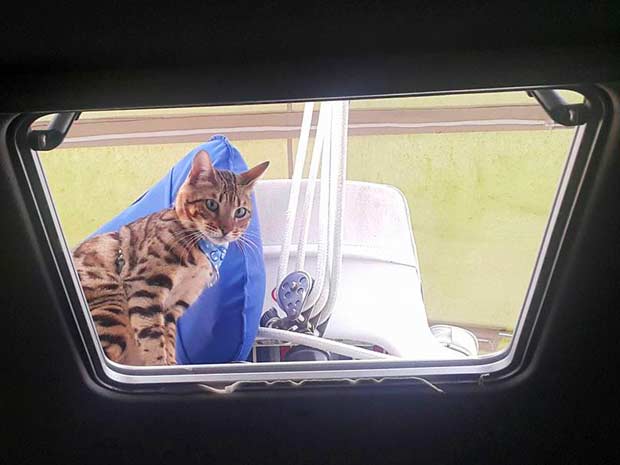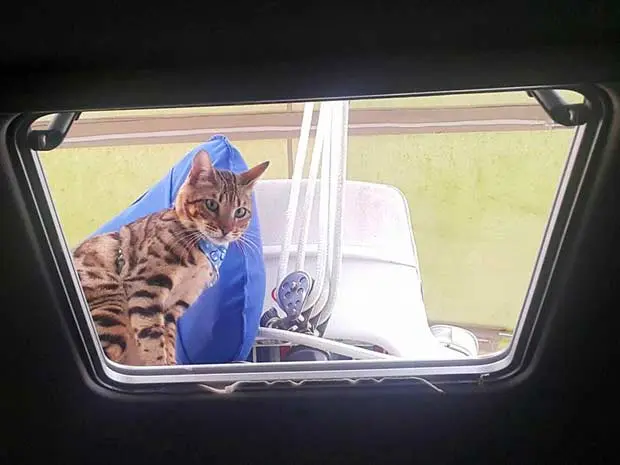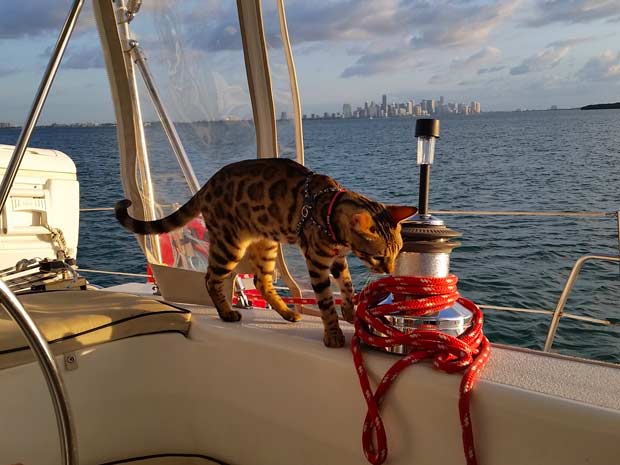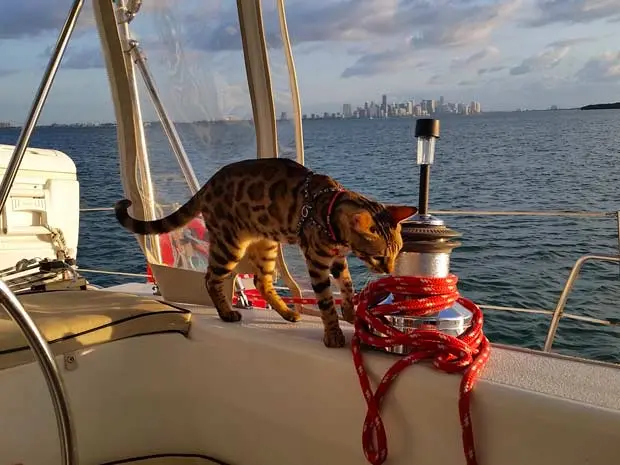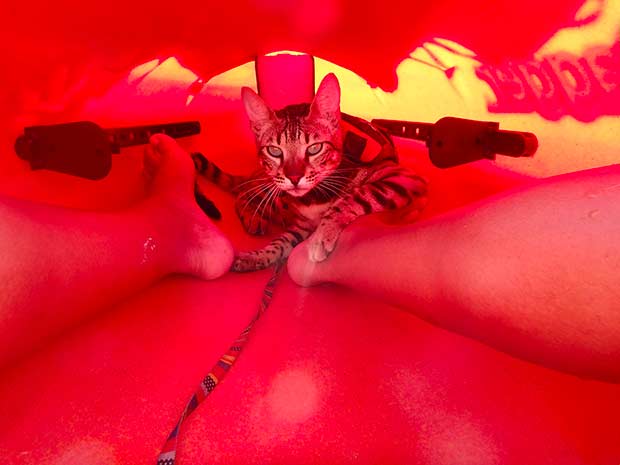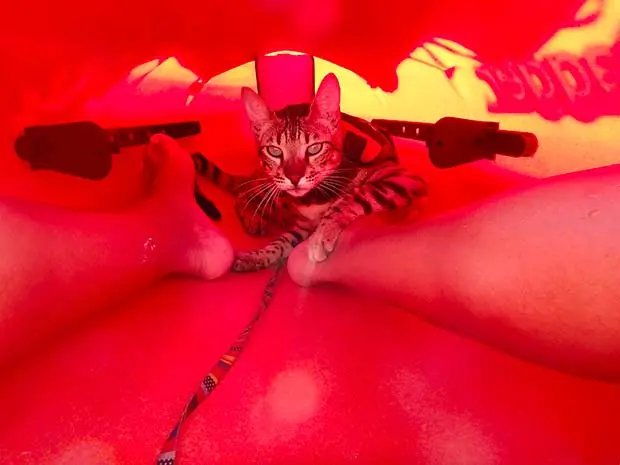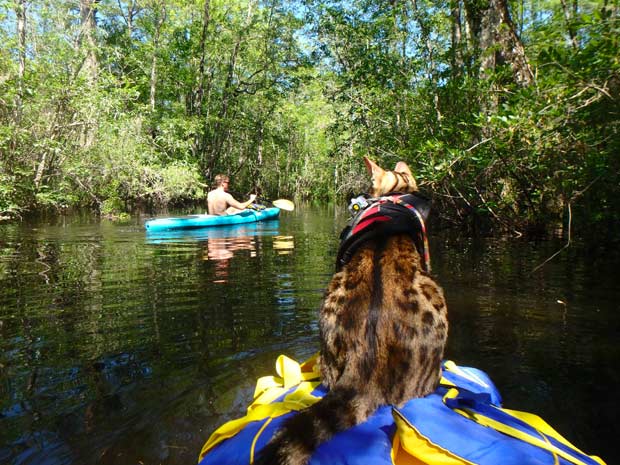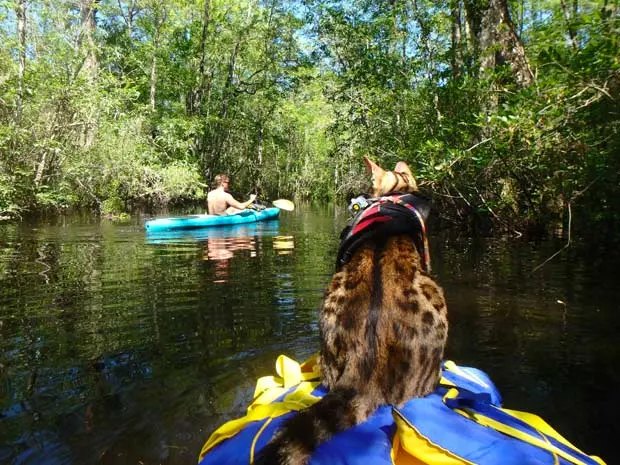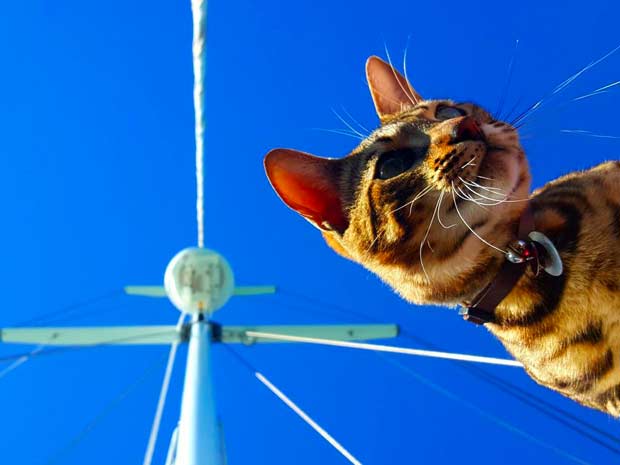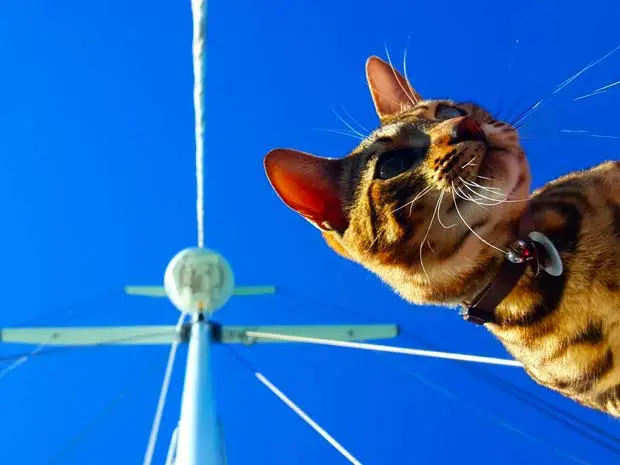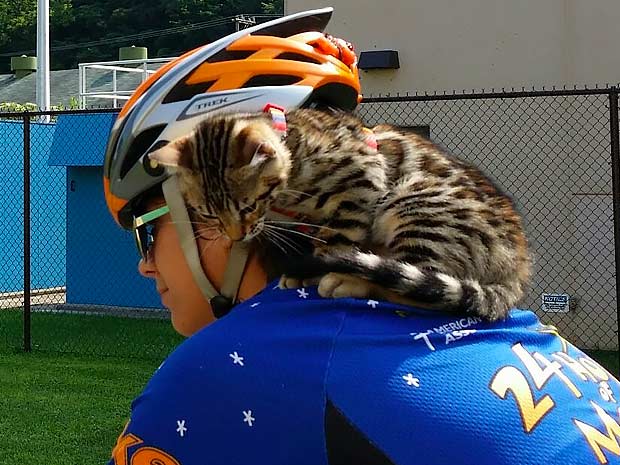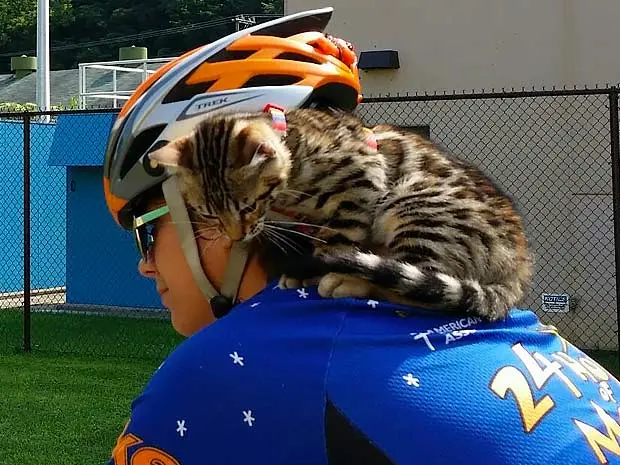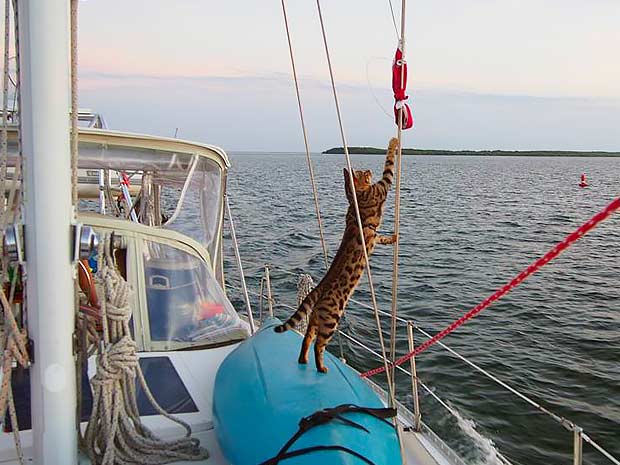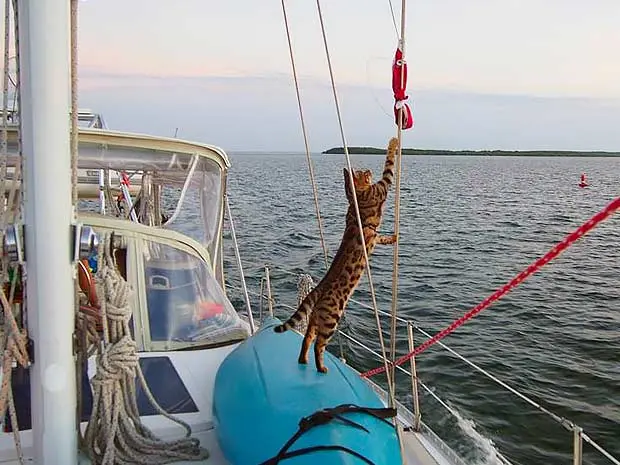 You can follow Stephanie Mansberger's Adventures on Instagram and Youtube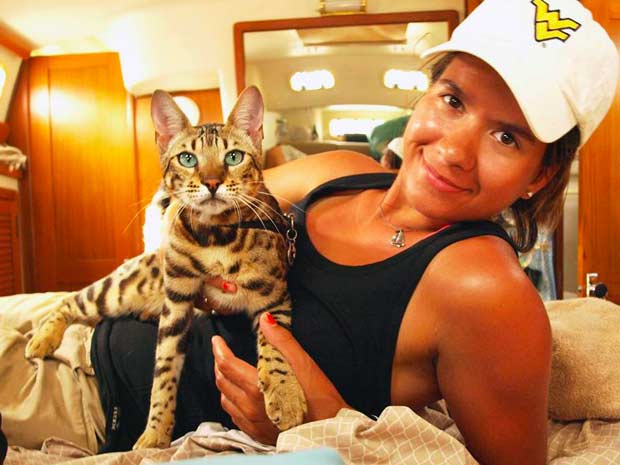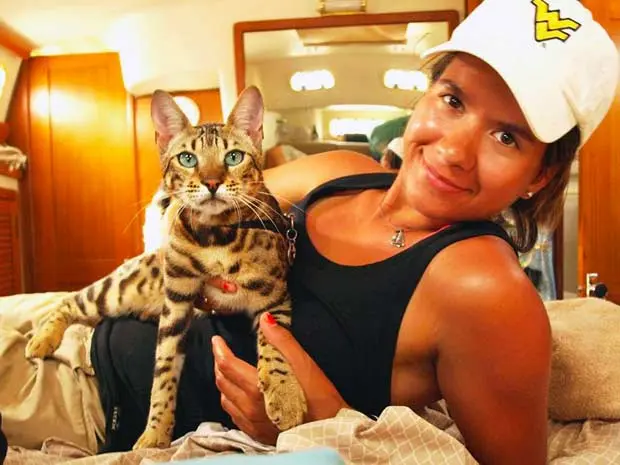 Have something to add to this story? Share it in the comments below.