[dropcap]W[/dropcap]hen it comes to cats, we can all agree on one thing: cats love windows.
Whether they are basking in the sunshine or stalking birds or bugs, cats have always considered the window as one of the sweetest spots to bask.
To keep our furry friends "entertained" and out of the way, countless products that lift them to a higher view have been designed, among them being the cat window perches.
A cat window perch is essentially a bed that offers everything your cat prefers – a great view of what's happening on the outside and a cozy spot off of the floor.
Though cat window perches are simple products, not all are created equally. You'll need to exercise caution when buying to ensure you get a product you can trust to keep your cat suspended mid-air throughout the day.
So if you are in the market for a good window perch for your cat, which one should you buy?
We look at the top 6 cat window perches to buy, as well as factors to consider when buying.
Things to Consider When Buying a Cat Window Perch
While a cat window perch may seem like a simple product, care should be taken when buying as the simple things are often the most confusing.
Also, what may seem perfect to me, may be unfit to another person as personal circumstances and needs differ from one person to another.
With that in mind, it's advisable to consider the factors below before buying.
Size and Weight of Your Cat
Cat window perches come in different sizes and weight, so it's important to make sure you get one that can handle the weight of your cat.
Speaking of weight, it's important to take the current and the future weight into consideration.
For example, if your cat is young, she will definitely gain weight and size with age. In such cases, you should look for a window perch that is large and sturdy.
Also, some cat breeds have the potential to grow immensely in size. If you own such a breed, you will need a large window perch that can accommodate the size and weight of a mature cat of your breed.
The Type of Your Windows
Some people make the mistake of shopping without considering the nature of the window where the perch will be placed on. This can be very risky, considering that windows are made of glass, and glass is fragile.
If the perch will be placed on a small single-pane window, be cautious with the weight as too much of it could shatter the glass.
But if you're thinking of placing your perch on a big double-strength window, then you shouldn't worry much about the weight as such windows are capable of supporting any model with no issues.
Number of Cats to be Accommodated in the Perch
If you own more than one cat or are considering buying more cats in the future, then you may want to revisit the size and weight of your preferred model.
If you currently have more than one cat, you'll need to buy a model that has been proven to be sturdy.
On the other hand, if you own only one cat, do you have plans of adopting more in the future, or do family and friends ever bring their cats along? This way, you'll be able to gauge the size, weight, and design of your preferred window perch.
Window Perch Design
When shopping for a cat window perch, you'll come across various designs – some that rest on the sill and others that hang from the window.
While perches that hang from the window utilize suction cups to provide solid hold, the sill perches sit on something solid and have bolsters to provide leverage.
Window perches have the advantage in that they can be stuck on any window, or even on a wall, which is convenient for many people.
For sill perches, it may not be easy to move the perch from one window to another based on the fact that many windows have no sills or have shallow sills.
Why You Need a Window Perch for your Cat
One of the notable characteristics of cat's behaviors is that they love to establish their territory by exploring and climbing.
You must, therefore, provide the same environment and opportunities for cats that live indoors.
Rather than limiting them from expressing their natural behavior, you can create a space in your house where your pets can mimic outdoor life.
Setting up a window perch provides an environment where your pet can relax without disrupting you.
Cat window perches seek to ensure a healthy lifestyle for cats that live indoors. With a healthy living environment, you can extend the lifespan of your cat to as much as 20 years.
Also, indoor life can present many limitations for your cat. In worst cases, it could lead to a destructive behavior. By setting up a window perch, you can engage your cat in lots of activities.

The Top 6 Best Cat Window Perches for Your Curious Kitty
To help you keep your cat safe and cozy, we've synthesized the multitude of options to bring you the best cat window perches. These are the top models that tick all the boxes with respect to quality, ease of use, design, strength, and price.
1. Original Kitty Cot "World's BEST Cat Perch"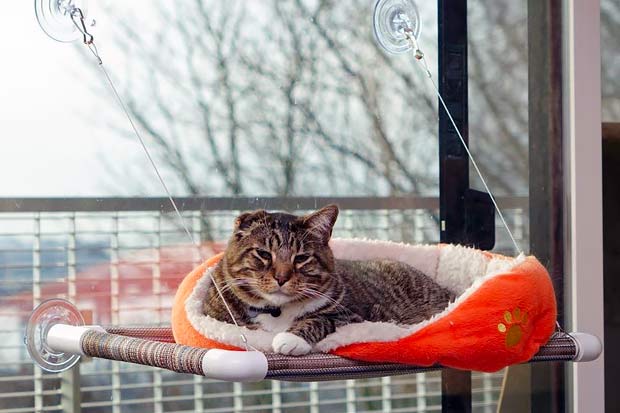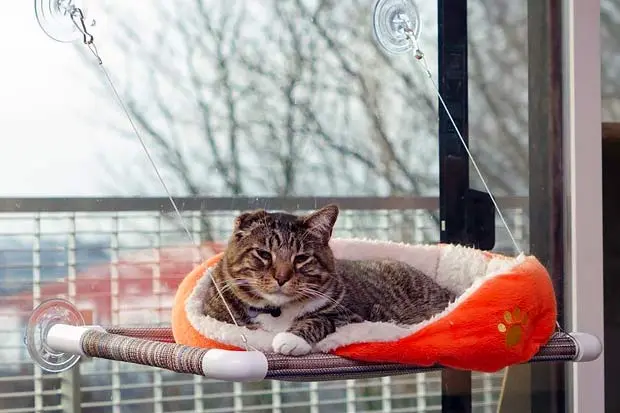 Dubbed as the world's best cat perch, the Original Kitty Cot might just be what it claims to be and has a strong case to prove it. Designed with the best outdoor and rugged fabric, the Original Kitty Cot is not only comfy but sturdy too.
The installation is fast and straightforward. All you have to do is attach the four large heavy duty suction cups to your window, and your Kitty Cot cat perch is ready for your feline.
The Kitty Cot requires no effort to set up, which makes it the model of choice for most people who are not adept with tools.
The frame of the Kitty Cot is 24-inches wide by 13.75-inches deep. This cat window perch has a weight limit of 30lbs, so it can comfortably hold large cats but not immense size cats.
This cat bed is also incredibly strong. Some customers have even reported that two or more cats can safely share the Cot.
Currently, there are no reports of suction cups failing, but it's important to stick to the "1 cat per cot" rule to be on the safer side.
And if you are worried that the Kitty Cot might keep you from closing your curtains, you'll be glad to know that this cat window perch doesn't stand on the way.
Just remove the two button cups to allow the Kitty Cot to be hung until it's ready to be used again. The Original Kitty Cot is fairly priced and one one of the most highly rated cat window perches on Amazon.
Read the reviews on Amazon
[divider style="solid" top="15″ bottom="15″]
2. Oster Sunny Seat Window-Mounted Cat Bed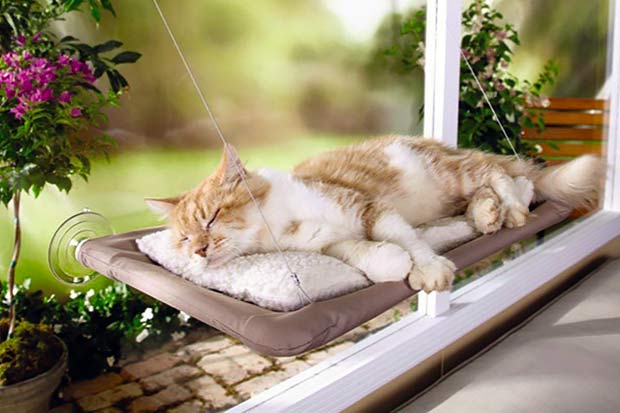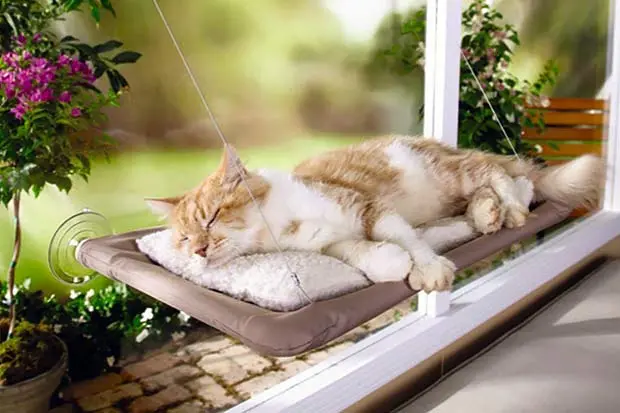 The Oster Sunny Seat Window-Mounted Cat Bed hits the sweet spot between price and quality while keeping all the other features in check.
Just like the Kitty Cot, the Oster Sunny Seat is designed to attach directly to the window with just 4 heavy duty suction cups. The simplicity of installation gives relief to many customers since no hardware tools are required to set it up.
The seat is machine washable and is covered with a sturdy Oxford-style polyester cover that can be removed easily.
When fully assembled, the Sunny Seat measures 12-inches by 22-inches, hence is large enough to accommodate any size cat. This perch can hold up to a maximum of 50 pounds.
The Sunny Seat is designed to last a lifetime, thanks to the durable high-grade plastic frame. The Oster Sunny Seat is also the cheapest cat window perch on our list.
However, if aesthetics matters to you, this perch might not necessarily be for you.
Read the reviews on Amazon
[divider style="solid" top="15″ bottom="15″]
3. K&H EZ Mount Window Bed Kitty Sill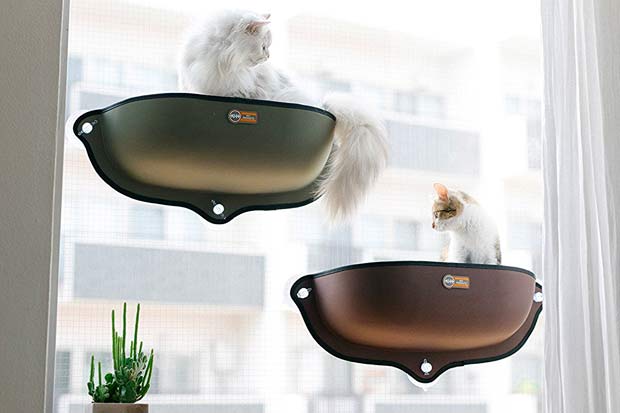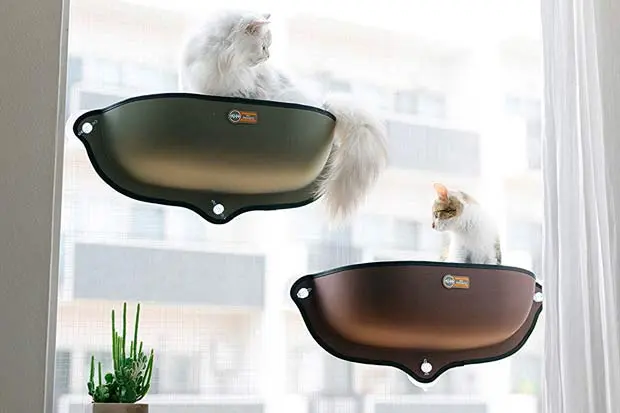 The K&H EZ Mount Window Bed Kitty Sill offers a simple and stylish way to provide your cat a resting place for sun bathing and bird watching. This amazing perch is easy to set up and mounts easily to most windows.
No need for hardware tools to install this window perch. K&H has made it easier for most of their products to mount to most clear surfaces and windows by use of industry strength suction cups.
The sleeping surface is covered with a soft and warm kitty pad that traps kitty hair and dander like a magnet. Fully open at the top, this fantastic perch features a half pod design that allows the cat to climb in and out of the perch easily.
This K&H perch is large enough to accommodate large size cats and sturdy enough to hold cats of up to 50lbs.
And if you'd love a cat window perch that is visually attractive, you can choose one of the available colors that complement your home decor.
Read the reviews on Amazon
[divider style="solid" top="15″ bottom="15″]
4. Sturdy Cat Window Hammock with Strong Suction Cup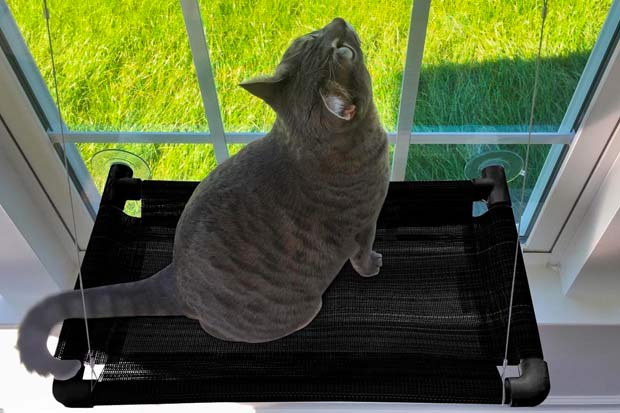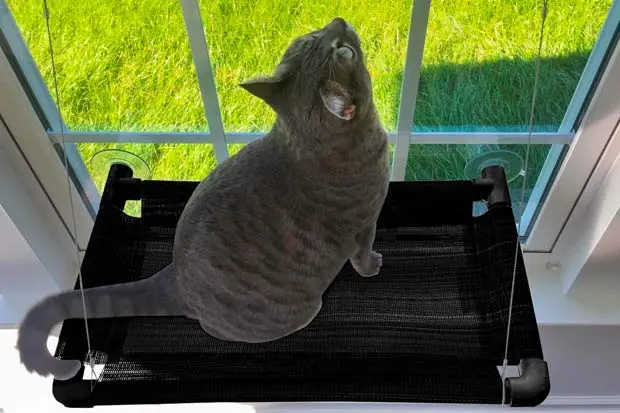 The Sturdy Cat Window Hammock is all your cat needs to live a healthy lifestyle and have a glance of the life outside the house.
This cat window hammock is not only loaded with a host of attractive features but is also affordable and elegantly designed. It attaches to your window firmly using patented giant suction cups, made in Japan.
Installation is super easy. All you need is to find your cat's favorite spot and set it up. What's more, you can mount on windows, smooth surfaces, or on glass doors in seconds.
And if your cat is very large, the Sturdy Cat Window Hammock has got you covered too. This wonderful perch measures 14.5-inches by 21.5-inches when fully assembled. It has a maximum weight limit of 50 lbs so it can hold any size cat.
This cat hammock comes with a fabric cover that is tough, weather resistant and built to withstand scratches. Add this to the stainless steel support cables and what you get is a cat bed that is very strong and durable.
The Petmo Sturdy Cat Window Hammock offers more for its price and is one of the cheapest cat window perches available.
Read the reviews on Amazon
[divider style="solid" top="15″ bottom="15″]
5. K&H Kitty Sill EZ Window Mount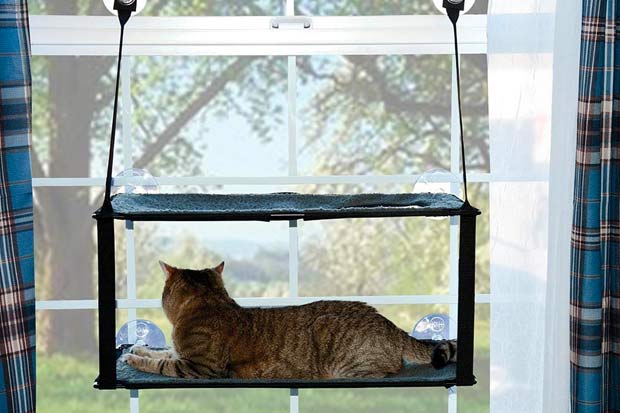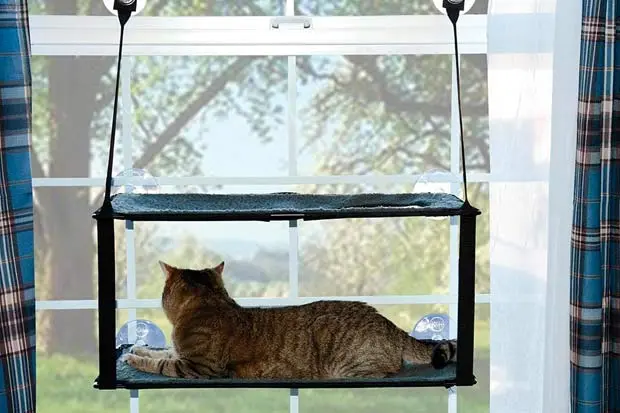 K&H have established themselves as a top brand when it comes to the manufacture of strong and versatile cat beds on the market.
Their Kitty Sill EZ Window Mount is the epitome of this revolution, with large cup sizes capable of holding over 100lbs.
K&H has incorporated revolutionary push and turn giant cups for the ultimate strengths. Each suction cup can hold over 100 lbs, yet they easily attach to any window in seconds and can easily be removed for cleaning.
That's revolutionary considering most of the cat window perches in the market have a weight limit of 50 lbs.
The Kitty Sill features an exclusive design that makes it possible to fold up when it's still attached to the window. It also comes with removable covers so you can easily remove them for washing.
Read the reviews on Amazon
[divider style="solid" top="15″ bottom="15″]
6. K&H Manufacturing Thermo Kitty Sill Fleece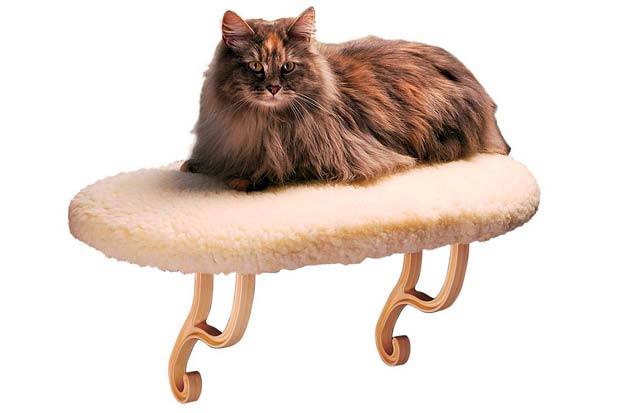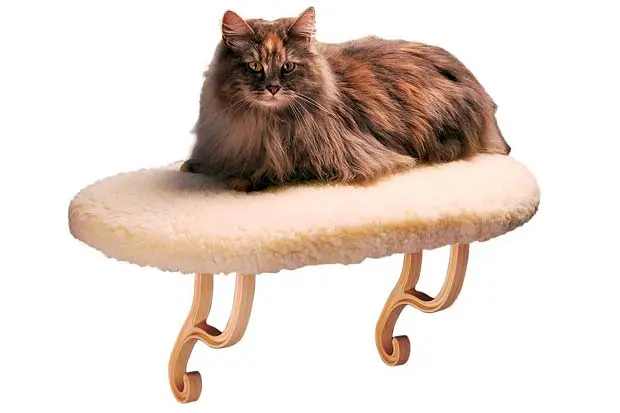 The K&H Thermo Kitty Sill Fleece presents a new dimension of cat window perches. Unlike conventional cat window perches, the Thermal Kitty Sill Freece is thermostatically controlled to warm your pet's normal body temperatures.
This way, the Thermal Kitty window perch gives your pet a warm and enjoyable relaxation. It also allows your feline friend to have an uninterrupted gaze through the window.
This heated cat bed measures 14-inches by 24-inches so it can accommodate even large cats. It's also constructed with sturdy materials that allow it to hold up to 40 pounds.
When it comes to comfort, the K&H Thermo Kitty Sill Fleece blows all the other cat window perches out of the water. The cover is constructed with a cozy orthopedic foam base that gives your pet extreme comfort.
Assembling of this amazing window perch is also easy, and no hardware tools are required. The Thermo Kitty Sill is affordable, and one of the cheapest cat window perches on the market today.
Read the reviews on Amazon
[divider style="solid" top="15″ bottom="15″]
Wrapping Up
Finding the perfect perch for your cat is great, but seeing it fall off from the window with your pet inside can be your worst nightmare.
It's therefore important to buy a quality product and to follow instructions to the end during installation.
Have you used any of these cat window perches? Let us hear your experiences in the comments section below.
[divider style="solid" top="15″ bottom="15″]
Disclosure of Material Connection: Some of the links in the post above are "affiliate links" designed to provide a means for sites to earn advertising fees. This means if you click on the link and purchase the item, Bengalcats.co will receive an affiliate commission. Regardless, we only recommend products or services we use personally and believe will add value to our readers.