Articles
The Best Cat Litter Mat to Reduce Litter Tracking
The American Pet Products Association reports annually on pet parent habits. According to their recent research, American spending on pet-related products totaled over $52 billion dollars. And that's in one year!
To put that in perspective the article states that's "more than we spend on coffee and bottled water combined."
Besides food and veterinarian visits, non-cat owners might consider some purchases frivolous. Those of us cat-lovers, especially Bengal owners, simply shake our heads and smile.
One of the best investments you can make for your feline friend? A useful and practical cat litter mat!
The purpose of any cat litter mat is to prevent your frolicking Bengal from tracking tiny pieces of cat litter all over the house.
Today, we're providing a few cat litter mat reviews to help you determine which one is the best for your furry family.
Ready to learn more? Let's go!
Choosing the Best Cat Litter Mat
Before you make the right decision:​
Size
Depending on the size of your litter box and how many cats are living in your house, litter mats range in size from small to extra large.
Material
Litter mats are usually made out of PVC, Rubber or EVA (Ethylene Vinyl Acetate). EVA and Rubber mats are more expensive but require less maintenance than the PVC ones.
Effectiveness
Choose a litter mat that is easy to shake out and clean.
1. Blackhole Litter Mat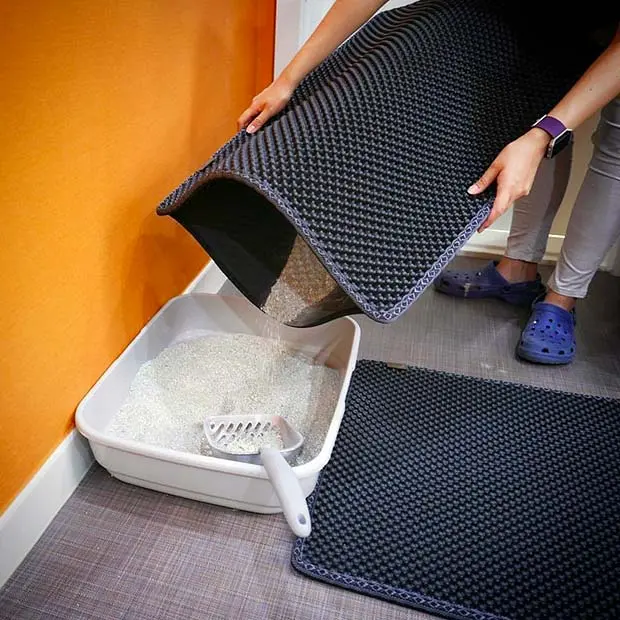 Basic Features
Size: 30 inches x 23 inches
Materials: EVA (ethylene vinyl acetate) polymer
Colors: Dark gray, beige, and vibrant lime green
Litter Trapping Effectiveness
Like the name implies, the Blackhole Cat Litter Mat grabs the litter from your Bengal's paws and pulls it away like a black hole.
The honeycomb-shaped surfaces are a patent-pending convex shape. The mat's surface effectively pulls stray litter from your Bengal's paws, reducing clean-up to a minimum.
Durability
The Blackhole litter mat is made from EVA (ethylene vinyl acetate). This is an elastic-like material similar to rubber.
In general, EVA products are tough and designed to be extremely durable. This rugged material is safe from tearing like other, more flimsy mats made from lesser components.
The unique design and long product life are two reasons this litter mat is on the higher end of pricing. But, since you've decided on a Bengal (one of the more pricey cat breeds), you'll spare no expense for creature comforts.
Methods of Cleaning
The Blackhole cat litter mat boasts a pocketed dual-structure. Cat litter is trapped on the surface then deposited between the two layers of the mat. Litter trappings are easily dumped by lifting the mat and opening the pocket.
The soft foam EVA material is surprisingly lightweight. Clean the mat with soap and water and it's ready to get back to work.
Best Features
EVA is an eco-friendly material
Waterproof for easy cleaning
Durable material is scratch resistant
Read the reviews on Amazon
---
2. Petlinks Purr-fect Paws Mat
Basic Features
Size: 23.25 inches x 14.9 inches
Materials: Rubber-like material
Colors: Blue, Brown, Gray, Tan
Litter Trapping Effectiveness
Large and small circular indentations pattern the surface of the Petlinks Purr-fect Paws Cat Litter Mat. The patented design spreads paws apart as your cat moves across the mat, removing and capturing litter as she walks.
The mat material is soft and comfortable, which encourages you cat to walk over it rather than jump over.
The recessed surface also grabs stray litter scattered during litter box use.
Durability
The textured surface is designed from a lightweight, soft, rubber-like material. The slip resistant mat ensures it stays in place, preventing it from unnecessary damage.
Some reviewers note that the mat tends to curl up along its edges after extended use, so the mat does not lie flat. But the lower price makes it very cost-effective to replace occasionally.
Methods of Cleaning
The flexible material can be rolled up to take litter to the trash or dumped back into the box if reusable. Vacuuming is another easy-clean option. A broom and dustpan can also be used, but litter remains trapped in the surface recesses, so it still needs to be dumped or vacuumed.
Because litter is trapped within the recessed pockets, it's easy to make sure the litter mat is clean. This means there's no sneaky litter lingering out of view or vacuum hose reach.
The waterproof material makes soap and water cleaning a cinch. Allow to air dry before replacing under litter box.
Best Features
Inexpensive
Washing machine safe
100% customer satisfaction guarantee
Note that Petlinks provides a replacement or offers a refund if a customer is dissatisfied with any of their products, so feel free to try it out and see for yourself!
Read the reviews on Amazon
---
3. Pawkin Phthalate Free Mat, X-Large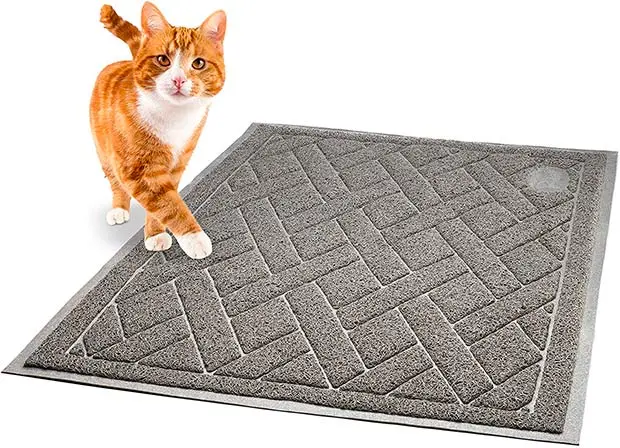 Basic Features
Size: 35 inches x 25 inches
Materials: High-quality, phthalate-free PVC material
Colors: Cougar Pup, Gray, Beige
Litter Trapping Effectiveness
The Pawkin Phthalate Free Cat Litter Mat catcher is created with Litter Lock™ Mesh. The interwoven fibers securely trap scattered litter making sure it cannot be tracked through the house. It's also free of harmful chemicals.
The bottom of the litter mat is a strong slip-resistant material. Even the most playful of Bengals won't be able to shift this mat out of place.
Durability
The high-quality PVC material is softer than other mats with similar construction. This guarantees your Bengal buddy won't avoid walking across the mat.
The thick, interlocking mesh is designed to last. Spongy fibers make it difficult for even the "kneadiest" cat to fray. Dare your Bengal kitty to do his worst!
Methods of Cleaning
Many pet parents consider the best litter mat for cats to be the one where no vacuuming is required. Keep in mind, the Pawkin litter locking mesh confines litter scatter to a limited area — the mat.
A vacuum with strong suction is highly recommended to use when cleaning this mat. Because the thick mesh is so efficient at trapping scattered litter, some particles may become embedded within the meshed weave. Nothing a thorough beat down won't fix!
Although cleaning is a bit more intense, this extra-large cat litter mat is water resistant, so spraying it down with a hose ensures a clean reusable mat every time.
Best Features
EVA is an eco-friendly material
Waterproof for easy cleaning
Mats are laboratory tested to ensure they do not contain phthalates or other harmful toxins
Read the reviews on Amazon
---
4. Cat Litter Trapper Mat – EZ Open Edge by iPrimio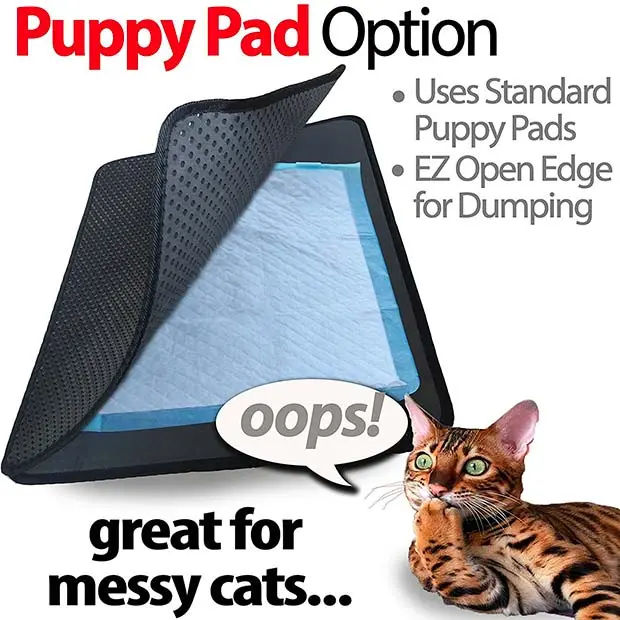 Basic Features
Size: 30 inches x 23 inches
Materials: Soft EVA material treated with water repellant
Colors: Black or Brown
Litter Tracking Effectiveness
In the Cat Litter Trapper Mat – EZ Open Edge, litter falls through holes specially designed to be extra large for better trapping. This mat is excellent for larger- sized litter brands.
It is also an excellent option for kittens or elderly cats that tend to have accidents. The bottom layer is composed of waterproof EVA foam that helps contain leaks. It is also urine repellant.
The double-layered construction allows for placement of a puppy pad between the two layers. This is recommended since the odor from urine eventually becomes difficult to eliminate from the nylon mesh outlining the mat.
Durability
EVA is a long lasting material, so plan on having this litter trap mat for a while. which justifies the more expensive price tag.
The top layer of the bottom flap has a plastic film which repels urine and prevents odor. Preventing urine accumulation also goes a long way to making this mat last.
Methods of Cleaning
Litter is trapped between layers and rests on the slick bottom layer. The iPrimio cat litter trapper is light enough for a child to pick up and dump. (One less chore for you, right?)
Waterproof materials allow for easy clean up with soap and water under the shower head or outside with a hose.
Best Features
Large holes and layered design are one of the best for trapping stray litter
Light weight for easy cleaning
Top layer is comfortable to cats, making sure they do not avoid walking over it
Read the reviews on Amazon
---
5. PetFusion SmartGrip Mat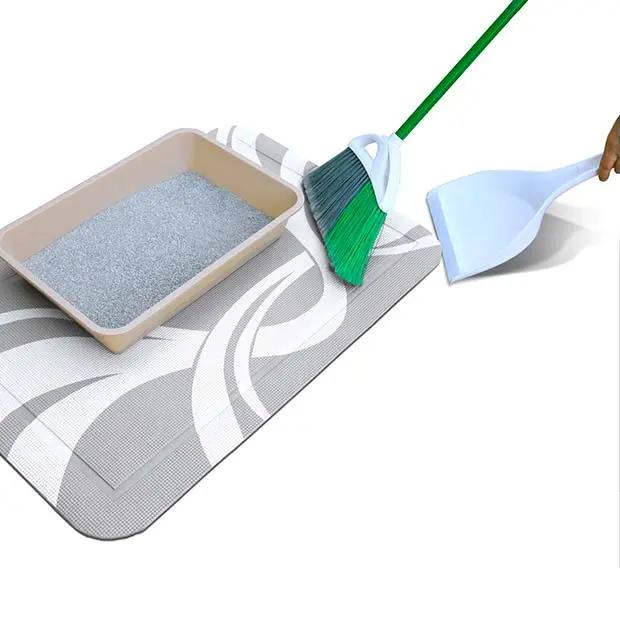 Basic Features
Size: 35 inches x 24 inches
Materials: PVC
Colors: Three neutral tones: beige, gray and sage
Litter Trapping Effectiveness
The PetFusion SmartGrip Cat Litter Mat's material encourages cats to relax their paws as they walk across, releasing trapped litter. Litter from paws and scatter adheres to small indentations on the cat litter mat surface.
The mat's outer edge is a channel-like design which keeps litter within the area of the mat.
To find out more about this particular cat litter box mat, make sure to check out its reviews on Amazon. The PetFusion litter mat has thousands of reviews and the company prides itself on the fact that these reviews are purchase-verified (not "fake" product reviews).
Durability
The soft PVC plastic material is quite sturdy. Imagine a yoga mat for your Bengal baby, but thicker.
For some cat owners, the construction didn't seem as durable as other kitty litter mats. They suggest it might not be the best option if your Bengal tends to be a scratcher of all things with a fun, interesting surface.
Methods of Cleaning
PetFusion's Smartgrip technology allows for simple cleaning using multiple methods. A broom can easily whisk away scatter. Vacuuming has never been easier. And the tried-and-true flick and shake method definitely comes in handy.
Although it has a closed-pore construction some users mention issues with the surface not being fully resistant to urine absorption.
Best Features
Modern design in multiple colors matches any decor
PVC material is phthalate and vinyl chloride  free
Great value for the size
Read the reviews on Amazon
---
6. Easyology JUMBO Size Cat Litter Mat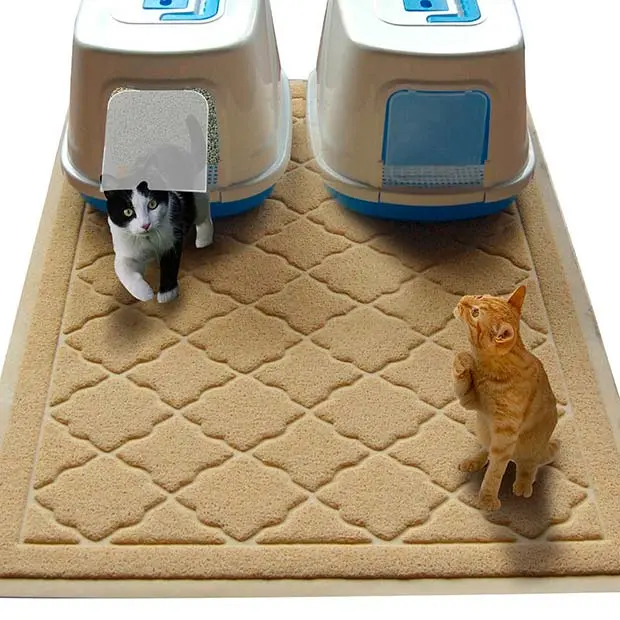 Basic Features
Size: 47 inches x 36 inches
Materials: Non-toxic, phthalate free PVC
Colors: Beige, Black, Brown, Gray, Light Gray
Litter Trapping Effectiveness
As far as cat mats for litter box scatter, the Easyology JUMBO Size Cat Litter Mat is certainly worth considering.
Easyology suggests that the grooves of their unique litter trapping design catch up to 37% more litter than other similarly constructed litter mats.
This makes it perfect for homes with more than one kitty. This jumbo-sized mat covers the most real estate of any litter trap mats out there and easily accommodates more than one litter box.
When it comes to trapping cat litter and preventing scatter from getting everywhere, bigger is definitely better! The one downside is that the large mat may not fit in the designated cat areas of some households.
Durability
With 1/2-inch thick materials, your large mat will not suffer from wear due to heavy traffic.
It also stands up against sharp claws. The extra thick, non-toxic PVC material won't tear like other mats out there.
Tightly woven fiber loops create a heavy-duty build making this cat litter mat one you won't need to replace for quite some time.
Methods of Cleaning
Water resistant PVC plastic is simple to soap up and rinse off for hassle-free maintenance. Because of its rugged construction, the material is not very flexible, therefore not capable of being cleaned in the washing machine.
The unique patented grooves make it a breeze to vacuum. Although the tight weave of the plastic loops and deep grooves sometimes make it difficult to extract smaller particles of litter.
Best Features
Lighter weight despite its size (weighs about 3 lbs.)
Largest cat litter mat available on Amazon
Easyology offers a 10% discount on the purchase of 3 Jumbo Premium Cat Litter Mats
Read the reviews on Amazon
---
Litter Scatters
As you well know, Bengals are some of the most playful felines around. And those sweet little troublemakers tend to get into some messes too.
You can't keep them from every possible mess-making opportunity, but you can combat litter-scatter.
Any of these cat litter mats will do the trick. Just choose the one that fits your style, your needs, and your feline best.
New to our site or the Bengal-lovers community? Take a moment to introduce yourself. Tell us a little about yourself, your Bengal, and why you love the breed.
---
Disclosure of Material Connection: Some of the links in the post above are "affiliate links" designed to provide a means for sites to earn advertising fees. This means if you click on the link and purchase the item, Bengalcats.co will receive an affiliate commission. Regardless, we only recommend products or services we use personally and believe will add value to our readers.