Your Comprehensive Guide to the Best Cat Harness and Leash in 2022
[dropcap]H[/dropcap]ave you taken your cat for a walk lately?
Yes, it's a thing!
If you have an indoor cat and want them to experience the joys of the outdoors without subjecting them to injury and weather extremes, investing in a harness for walks is a good idea.
For us dedicated cat lovers out there, we want the best for our furry friends. Recent trends have shown us that finding a proper cat harness or leash for our cat isn't bizarre, instead, it can be a delightful way to show our pets the great outdoors without fear of losing them.
You can save your cats life with a proper escape proof cat harness, and just as important, you can enrich their lives with the same walking routine dogs enjoy across the globe.
Taking your cat on walks could change your feline friend's life. It's a bonding experience that every cat owner should experience at least once.
In the end, you may determine that your cat does not enjoy walking on a leash, but at least you can say you gave them the opportunity.
Interested in introducing your kitty to the outdoors safely? Keep reading for a comprehensive guide to selecting the best cat harness and leash on the market.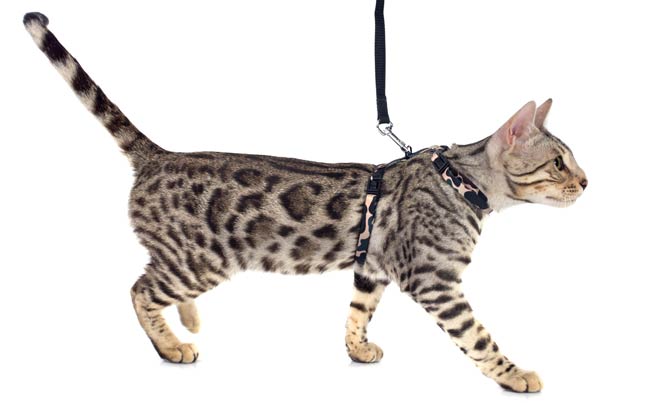 If you're looking for the perfect cat harness or leash, this list is for you. Read on for more info.
Cat Harness and Leash Styles
It's common knowledge that dogs love walks, but did you know that some cats like walks just as much? If your kitty has shown interest in going outside, you should give a cat harness a try.
The best harness for your cat is going to depend on their age, body shape, and preferences. You may have to try more than one style before ending up with a holster that works.
Cat harnesses can be made of nylon straps or they can be little vests that cover the cat's body more completely. Read on for a few of the styles to consider.
Figure 8
Figure 8 is a series of loops securing around your cat in the shape of the number 8. These loops are can press deep into your pet, so be aware that this harness type, like all, need to apply to your cat's body and behavior.
For example, if your cat is anxious and flighty, this is not the harness for them. In that case, you would want a vest harness, as a figure 8 doesn't just secure your cat from escaping, it tightens.
Figure 8 cat harnesses have thin straps that will tighten if your cat pulls forward or tries to back out.
The harness runs across the neck, crosses in the back, and then runs under the chest. They are usually given a quick-release buckle and a D-ring on the back for a place to attach a standard leash.
A figure 8 harness is a good choice if your cat is a known escape artist.
These harnesses work for all sized cats, but should only be used in low-risk situations, as they do not offer much protection for your cat.
This is a great harness if you have a well-trained cat on your hands.
H Style
H Syle cat harnesses are best for calm, confident cats in low-risk situations.
These harnesses are characterized by an adjustable neck and girth strap for a good fit and added security. They also include a D-ring suitable for a leash to clip to.
The straps loop around the torso of your cat and fasten with snap-fit buckles. Typically, they will have a strap on the torso in front of the forelimbs and a strap behind the forelimbs. There will also be straps connecting these two for reinforcement.
Vest-Style
Vests target comfort and cozy security. If you have a larger cat, a vest is a safe bet for preventing tissue or ligament damage.
If you're considering a vest, know they are sometimes the most useful harness if you have a nervous cat or a cat that isn't responding to harness training well.
The vest is simple to put on. It typically includes two or three buckles, each that fasten below the neck and around the abdomen.
A vest-style harness is seen as the most escape-proof option for cats. They improve comfort for your animal while giving them less chance of slipping out of the harness.
Vest-style harnesses offer both durability and comfort with the ability to achieve a snug fit. They have a larger surface area with wider straps which minimize the chance of snagging or pinching your cat.
Because they evenly distribute weight and pressure, they are great for walking stronger cats.
Other Features to Consider
There are a few features you should consider before shopping for a cat harness. What you choose is ultimately going to come down to the preferences of your cat.
Velcro or Buckles
While velcro can help you achieve the snuggest fit for your cat, some cats are afraid of the sound velcro makes.
Buckles are quick to fasten, but you also have to deal with adjusting multiple straps to make sure the harness fits correctly.
Overhead or Step-in
If your cat tolerates harnesses well, you will have no problem getting them into an overhead harness, such as a vest-style harness.
For cats that won't let you put anything over their heads, a step-in harness is a better option.
Top-Rated Cat Harnesses
Remember, your cat might require multiple options, especially if you're training it from kitten-hood. There are options for kittens and adult cats that should be considered as well.
We're going to take a look at five of the best cat harness and leash options on the market today. Here are some of the current harnesses and leashes that work great. These are some of the highest quality harnesses appropriate for any budget.
1. Kitty Holster Cat Harness
Made in the U.S., the Kitty Holster Cat Harness is an award-winning walking holster for cats.
The Kitty Holster is a 100% cotton holster, that fits like a vest, comfortably wrapping the neck and abdomen. The material is also non-abrasive, meaning that rashes and skin damage are unlikely to happen.
This vest harness comes in multiple sizes, available for kittens, teens, and adults. The Kitty Holster fits cats with a 5″ to 8″ neck and 10″ to 14″ chest girth.
When it comes to harnesses, the Kitty Holster is both escape-proof and comfortable. It has a wide radius, making it difficult for your cat to escape through one single band of restriction.
The Kitty Holster presents one of the most common harness types you'll come across, one that has high coverage, flexible material, and security around the neck and spine.
Because of the velcro closures, it is easy to put on and take off this harness. It is designed with wide straps which make it gentle on delicate skin and fur.
The Kitty Holster comes in a variety of fun colors and prints. Plus, you can feel good about the purchase as 10% of profits are donated to Crazy K Farm Poultry and Livestock animal rescue and sanctuary.
Pros:
[tie_list type="checklist"]
This harness is made of soft and non-abrasive 100% un-dyed cotton lining that is gentle on cats.
It is ultra-lightweight and comfortable for cats to wear.
Compared to other harnesses, it is easy to fasten and snap.
[/tie_list]
Cons:
[tie_list type="cons"]
Because of the full-torso design, it can be difficult to find the correct fit for your cat.
The sound of the velcro closures may frighten some cats.
[/tie_list]
Read the reviews on Amazon
[divider style="solid" top="15″ bottom="15″]
2. Katkin Reflective Harness Vest & Leash Set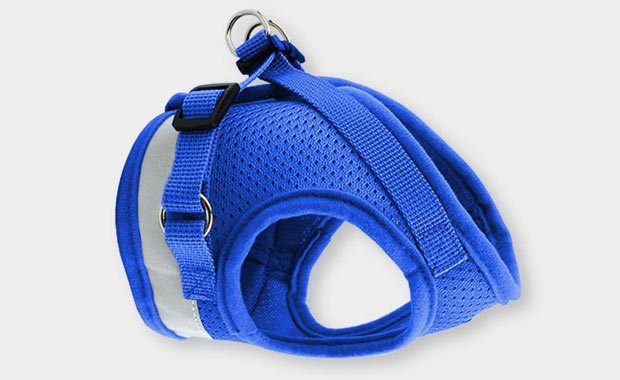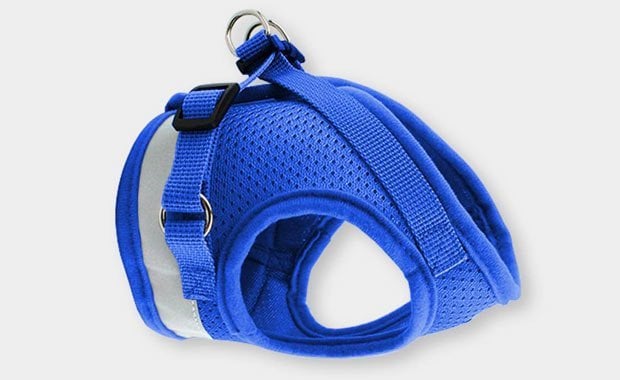 The reflective vest, leash and harness set by Katkin is thin and ensures your cat's comfort. The escape-proof design prevents your cat from getting loose in dangerous situations.
Made from nylon for strength and durability, this harness will keep your fur baby comfortable and safe while you're on the go. The reflective strip makes your cat simple to spot at night.
Available in multiple sizes and colors, this vest harness is perfect for use by every cat.
Snap clips provide strength and resist breakage, while the adjustable design delivers a secure fit to ensure your kitty doesn't escape and run away.
Pros:
[tie_list type="checklist"]
Thin and light and breathable material.
Rotatable traction rope.
Reflective design.
[/tie_list]
Buy from Meowa
[divider style="solid" top="15″ bottom="15″]
3. Mynwood Cat Jacket Harness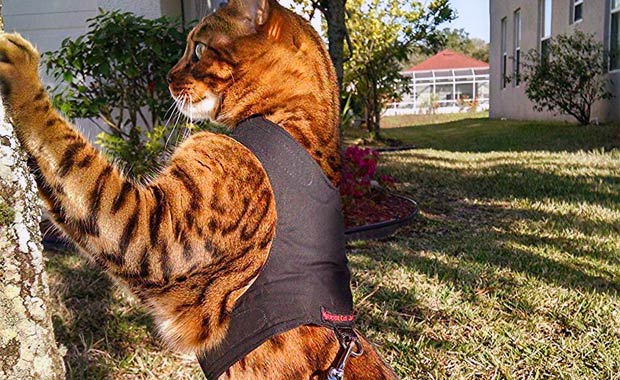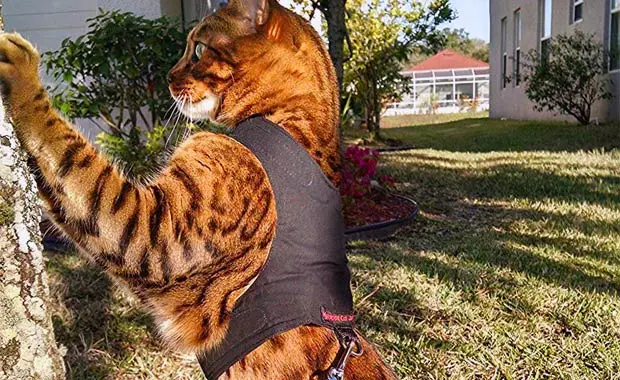 The Mynwood Cat Jacket Harness is a practical and comfortable holster option for cats. Each of these harnesses is made by hand in Yorkshire.
Developed based on feedback from cat breeders and owners, this harness is safe and durable. You won't find more attention to detail than this in a cat harness.
Pros:
[tie_list type="checklist"]
This harness fits your cat securely with two, wide velcro panels.
The Mynwood Cat Jacket Harness is suitable for larger cats.
[/tie_list]
Cons:
[tie_list type="cons"]
Because it is hand made, this harness takes longer to ship.
You should only use this harness on fully-grown cats.
[/tie_list]
Read the reviews on Amazon
[divider style="solid" top="15″ bottom="15″]
4. Puppia Cat Harness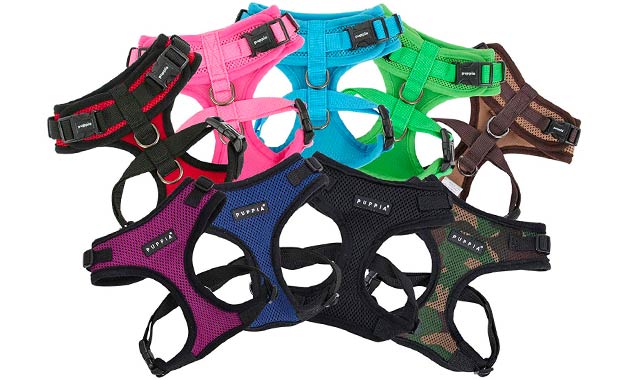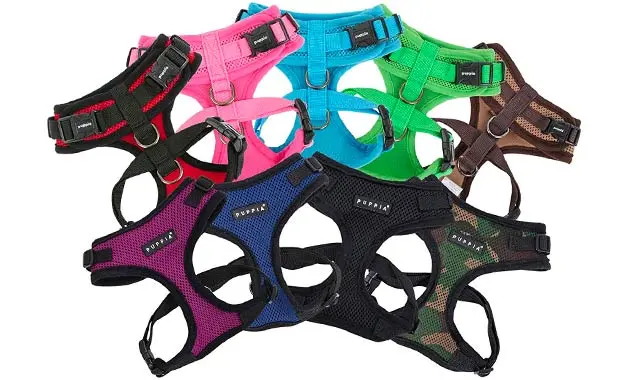 The Puppia Cat Harness fits cats with a neck girth of up to 7.5" and 9" to 13" chest girth. This harness is designed for both cats and dogs.
The Puppia is designed with an easy snap buckle, an adjustable chest strap and features a quick release buckle for added safety. It also has a D-ring to hook up to any standard leash.
Pros:
[tie_list type="checklist"]
This harness is made of soft air-mesh padding for superior comfort.
It is machine washable.
[/tie_list]
Cons:
[tie_list type="cons"]
Customers have reported that this harness is not the most durable.
This harness was not specifically designed with cats in mind.
[/tie_list]
Read the reviews on Amazon
[divider style="solid" top="15″ bottom="15″]
5. PetSafe Come with Me Kitty Harness and Bungee Leash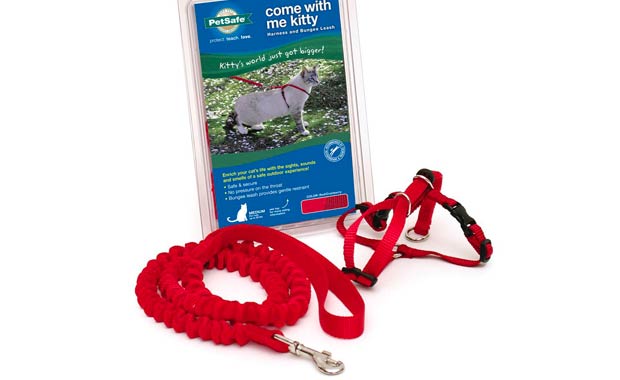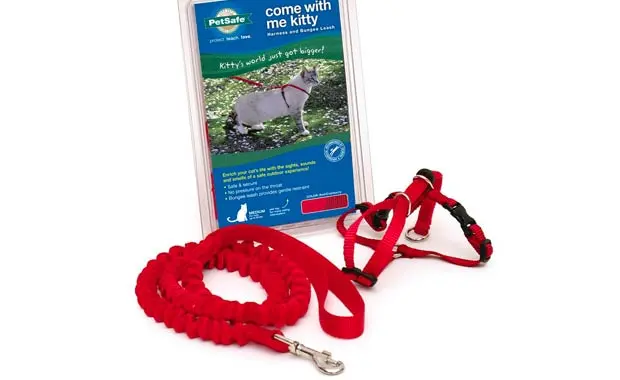 At a price of under $15, the PetSafe Come with Me Kitty Harness and Bungee Leash is a great value.
This harness will fit most cats with a neck between 8″ and 14″ and girth of 9″ to 18″ It is lightweight and made of durable fabric.
Pros:
[tie_list type="checklist"]
This harness has a snag-proof design that prevents the harness from tightening or scratching.
The one dorsal strap design makes it harder for cats to escape.
[/tie_list]
Cons:
[tie_list type="cons"]
The small straps may not provide enough coverage to make your cat feel secure.
[/tie_list]
Read the reviews on Amazon
[box type="info" align="aligncenter" class="" width=""]
Bungee Leashes
Bungee leashes are for better-trained cats. They allow your cat more freedom while giving you control over direction. Yet, why should you not choose a bungee leash?
Cats haven't had enough time to evolve to wearing leashes and being walked like dogs. This means, most cats will experience anxiety when you first try putting them on a leash. This is part of the reason why bungee leashes are great. They allow for that anxious energy to be used without your cat escaping.
Still, many anxious cats can experience whiplash, or become overwhelmed if the bungee inside the leash lashes back at them. You can avoid this by gauging how well your cat responds to wearing a leash, and if it's too much, try moving to a different harness device.
[/box]
[divider style="solid" top="15″ bottom="15″]
6. Voyager Step-in Mesh Harness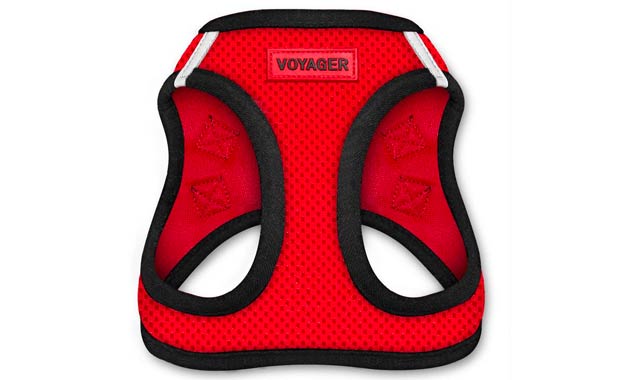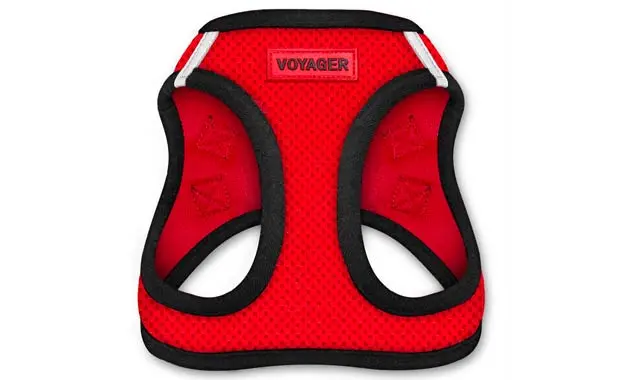 Another harness originally designed for dogs, the Voyager Step-in Mesh Harness is made of all-weather fabric, making it a perfect harness for every climate.
Regardless of the outside conditions, you will be able to enjoy taking your cat on a walk with this harness.
This harness is most appropriate for cats walking in low-risk situations.
Pros:
[tie_list type="checklist"]
Features an easy, step-in design.
The breathable, mesh fabric is ideal for all weather conditions.
For cats who hate having harnesses slipped over their heads, this is a great choice.
[/tie_list]
Cons:
[tie_list type="cons"]
Because this harness was designed for dogs, you may have trouble finding the right fit for your cat.
An anxious cat may be afraid of the hook and loop closure.
[/tie_list]
Read the reviews on Amazon
[divider style="solid" top="15″ bottom="15″]
The Cat Harness Explained
Cats have an interesting skeletal structure, for instance, their clavicle (collarbone) is considered 'free-floating', which means if their head can fit through space, so can the rest of their body.
This means that cats have flexible rubber-like bodies, which require harnesses which prevent the head from getting loose—a top priority—and restrain the mid-section without applying too much pressure.
If you're new to the idea of taking your cat on a walk, you may be wondering, why consider buying a cat harness?
Over 3.2 million cats go into shelters every year. A harness can prevent your cat from getting lost, running away, and gives it the chance to experience the outdoors.
For example, if you're going on a trip you might need to bring your furry pal along with you, a harness or leash ensures your cat gets outdoor time without causing you to worry.
How To Use A Cat Harness
Harnesses and leashes are both safety devices with a series of wraps or buckles that wrap around the neck and midsection of your cat. To make an escape-proof cat harness a manufacturer has to ensure a few following things:
A cats head is above the first wrap, keeping the cat from escaping head-first.
The torso is secure above the belly, preventing injury.
The materials used are flexible yet strong enough to resist tearing.
To apply these to your pet, simply follow the immediate band and secondary band, placing them around your cat in that order. Does this guarantee your cat will love being leashed right away? No. But, there are ways to get one used to being harnessed.
Harness/Leash Training Your Cat
When training your cat to wear a harness or a leash, you need to be patient. In other words, don't try putting your cat in a harness right away. Imagine how scary this would be for you if you had no clue what was happening!
Begin by associating the leash with positive rewards. Place the harness or leash in a familiar place, possibly next to your cat's water bowl. You can also use catnip to attract your cat to the harnesses sitting place, as catnip contains a stimulant called Nepetalactone which is often used to train kittens and teen cats.
Your next step is guiding your cat through a leash or harness with treats. This isn't necessary if you've familiarized your cat with a harness well enough, but will make it easier in the long run.
Practice these two steps until your cat starts showing signs of calmness and readiness to enter the harness.
When this is possible, try facing your cat away from you, guiding them still with treats, and putting on the harness from a sitting position.
Factors To Consider When Choosing A Harness
When thinking about the right harness for your cat, figure out your cats demographic first. For example, Bengal cats tend to be medium or large compared to other breeds. If you have a Bengal cat or one that's slightly larger, consider a harness that will give them extra room.
Here are other factors worth thinking about:
Age
Breed Behavior
Bone Health
Train Your Cat to Walk on a Leash
The best time to introduce your cat to a harness is when they are a kitten, but older cats can be taught to walk on a harness too. Just be patient and make leash training a positive experience.
Keep reading for the steps you can take to train your cat to walk with your new cat walking harness.
1. Introduce the Harness
Don't take your new harness out of the packaging and put it on your cat right away – that is a sure way to make your cat afraid of the harness in the future.
Start by simply leaving the harness around in areas where your cat usually eats, sleeps, or plays. They will feel safest in their own environment. Then, hold out the harness and let your cat explore and sniff it. If your cat responds positively to treats, offer a few at this time.
Some cats are afraid of noises that some forms of velcro and buckles make. As you introduce the harness to your cat, practice making these noises to get your pet accustomed to the sounds.
If your cat is terrified, take steps to calm them and try again another day.
2. Put it On
It's time to try the harness on your cat. Try to distract them with treats to make this a positive experience.
Slip the harness on your cat, but don't buckle or fasten the straps right away. Once the harness is loosely on, do something else that your cat enjoys. You can play with your car or do this close to meal time so that your cat associates the harness with a positive experience.
Next, fasten the harness as you would before taking your cat on a walk. Be sure you can comfortably slip two fingers underneath the straps of the harness (no more, no less). This makes sure your kitty is comfortable, but also that they won't escape once you're outside!
If your cat freezes up or refuses to move, this is completely normal. Leave the harness on for a few minutes, take it off, and be done for the day. Do this each day in longer increments until your cat begins to warm up to the holster.
3. Add the Leash
A leash is another odd object that will take time for your cat to get used to.
Once your cat is walking normally in their fitted harness, try attaching the leash and letting your cat go in an open room. Try letting the leash drag behind them, but be aware that some cats find this frightening.
Read the body language of your cat and offer treats if needed to sweeten the experience.
After letting your cat wander freely, try picking up the leash and following your cat around, wherever they want to go. Keep praising your cat as you do this and offer more treats if you feel it's necessary.
The last step is to gently guide your cat and see how they respond. If your cat responds when you call them, give them a treat. Watch your cat carefully during this time to see if they are showing signs of wanting to escape. If they respond positively, offer lots of praise and more treats.
Repeat this step for several days until your cat barely notices you have attached the leash and are leading them around the house.
4. Go Outside
Before you take your cat outside, make sure their vaccines are not overdue and that they are protected from fleas and ticks.
This is a big step for cats who have never been outside before. Both of you are going to be on high alert the first time you go outside, so take things slow and pay attention to how your cat reacts to the outdoors.
Try carrying your kitty outside and placing them on the ground in an open, quiet area. Your cat may immediately begin to walk. If they don't, it's okay. Be patient and give them time – they may not walk at all the first day.
After a few days of this, try to lead your cat as you did in the house. Don't expect your cat to walk like a dog. They love to sniff, explore, and lounge. Let them do these things, as this is what they would be doing in the wild.
Don't force your cat out of their comfort zone and you both should have a fulfilling, enjoyable experience outside.
While most cats will love the opportunity to be outside, keep in mind that your cat may never be comfortable on a leash. You should never force or drag your cat on a leash if they don't warm up to the idea of being outside.
How To Calm Your Cat Down When Walking
You've seen hilarious cat videos of our fluffy friends behaving strange, but their behavior might be even weirder on a leash.
If you're concerned about how to prevent this or how to calm your cat down, here are some tips.
Use essential oils or positive smells
Bring your cat back indoors, or near your home before unharnessing them
Move slowly, refraining from smothering your cat
If your cat continues to refuse to be walked, it may be a sign that you need to pull back and train them for longer. Or, you can try a different harness style.
Should Cats Wear Leashes?
This is a valid question that should be addressed. Though it's less common to walk your cat than a dog, the differences between walking a cat and dog are few, but include:
Cats have less experience with harnesses and leashes
Most people walk their dogs, potentially posing a threat to your cat
Cats instincts work differently, and their signals for anxiety might be harder to read
There is a lot more data on how to walk a dog than there is for cats. This means, if you're interested in putting a harness on your cat and taking it outside, you need to do a lot of research.
For instance, cats don't just purr when they're happy, they sometimes purr when in distress. Another thing that's uncommonly known is a cat biological clock. Cat's are crepuscular, meaning they are most active before sunset and just after the sun peaks.
Why do these facts matter?
There is a lot most people don't know about cats that can affect how they behave when going on a walk. If you're unaware of why your cat is purring while applying a harness, for instance, it may be because your pet is in pain.
Furthermore, because cats are crepuscular, you may not be able to coax your cat out during midday simply because they aren't energized.
The point is, if you're interested in taking your cat on a walk, be sure to understand your cat's behavior first.
You're Ready to Walk Your Cat
It's time to purchase a harness and walk your cat!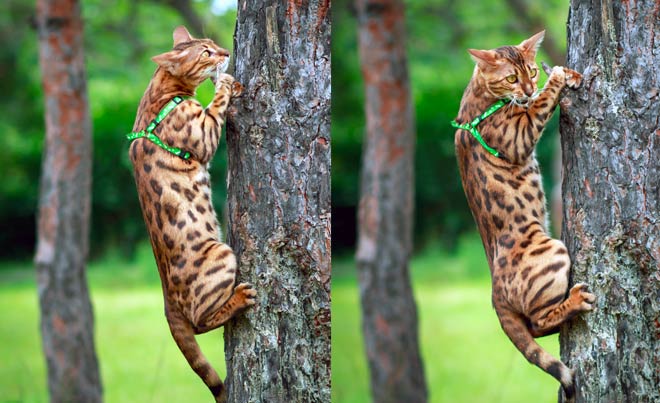 Cats are our fluffiest, most agile, purrfect friends and finding a proper cat harness makes sure we can show them the world without having to worry.
If you're going to harness or leash train your cat, you can be a true friend by doing the right research, and making sure they are comfortable every step of the way.
Your cat may not take to a harness and leash right away, but with a little patience, you could walk confidently outside together in no time.
Sure, there are cats that prefer to lounge around indoors instead of walking. But you'll never know if your cat likes outdoor walks until you try!
Please remember, harnesses are only to be used on supervised walks. Don't leave your cat alone outside while strapped into a harness or holster.
So, what do you say? Ready to take your cat on the walk of its life? If you're prepared for that, you might also want to provide a perfect home for a cat near you. Seize the day, be the best pet owner you can!
Did you enjoy learning about how a cat harness and leash can enrich your cat's life?
Check out our other articles to learn more about different cat breeds and their health, personality traits, characteristics, and more.
[divider style="solid" top="15″ bottom="15″]
Disclosure of Material Connection: Some of the links in the post above are "affiliate links" designed to provide a means for sites to earn advertising fees. This means if you click on the link and purchase the item, Bengalcats.co will receive an affiliate commission. Regardless, we only recommend products or services we use personally and believe will add value to our readers.