[dropcap]A[/dropcap]re you looking for a fun and safe way to take your feline friend with you on your adventures? Or are you tired of transporting your kitty in a traditional cat carrier? Try a cat backpack carrier!
If you and your cat want something more interesting, it may be time to look at other options. But, when it comes to cat carriers, it's hard to know where to start.
Thankfully, there are more choices on the market than ever before! Meaning you can give your cat the best transportation experience ever.
So, what is this exciting option? You may have seen them around your city while riding the subway or biking around town. This alternative allows your cat the freedom to look around and enjoy the view, all while having the same security as their favorite box.
The hot item? Cat backpacks.
No need to stress on the best quality or style; we've got the 10 best cat backpack carriers for your kitty ranked here.
How to Choose a Cat Backpack
The market is saturated with great choices for both you and your kitty. How will you know which one is right for you?
There are several features to consider when choosing a cat backpack.
Durability
Picking a durable cat backpack carrier will help you save money in the long-run. When you choose a durable backpack, you're paying for high-quality materials and long-lasting features.
You'll want to think about the weather conditions where you live or where you plan to use your backpack. Check out waterproof and wind-resistant backpacks. This will not only show you which cat backpacks will hold-up, but which ones will make your kitty most comfortable.
Size and Shape
You want to make sure you get a backpack that is proportionate to your cat. To find a good fit, weigh and approximately measure your cat. Then, look for backpacks with a similar weight limit and size capabilities.
Pick a pack that allows your cat to sit, stand, and move around comfortably. For your kitty, this is the most important element of a cat backpack. If they don't enjoy a pack, do not buy it.
Bubble Window
Though the size and shape of the cat backpack may be the most important part for your kitty, the bubble window is the most fun thing!
Having a clear cat backpack bubble lets your cat look around and enjoy the scenery. This is key if you're taking your cat hiking or on a city adventure. Plus, you get to show off your beautiful feline!
On a more practical note, the bubble or clear section gives your cat a setting. If you choose a backpack with little to no visibility, your cat may become disoriented or scared. If they can see what's going on, they'll feel more at ease with wandering around.
Openings
In your excitement to pick out a new cat backpack, how you'll get your kitty in may not be the first thing you think of. But, you need to think through how you'll get your cat in and out of the backpack.
Make sure each variation is comfortable for your kitty, or they'll dread getting inside. Also, note the difficulty of access if you need to grab your cat quickly to remove them.
Convenience
When browsing cat backpacks, look at the pockets, loops, and other attachments the bag features. These may seem like cosmetic additions, but they'll allow you to have extra snacks, toys, and safety items handy.
Ventilation
The ventilation of the backpack is your kitty's lifeline. This is how they will breathe when out and about. Look for mesh panels where your kitty will stay and additional air-holes in the clear sections of the bag.
Storage Capabilities
As sad as it is, you and your feline friend won't always be out traipsing around the globe or wandering city streets.
When it's time for cat naps and some relaxation, you need somewhere to store your cat backpack carrier. For the easiest storage, look for packs that can fold or mash down. This allows you to store your backpack under your bed or in small closets.
Comfort
Though you want the best bag for your kitty, you need to think about your comfort, too. Remember that carrying your cat around will mean there is extra strain on your neck and shoulders.
When trying on cat backpacks, make sure to make any necessary adjustments to the straps. This ensures you stay safe so you can keep caring for your kitty.
Top-Rated Cat Backpack Carriers
These are the tried-and-true and outright amazing cat backpack carriers available. Check out the list below to find options that work for you!
1. Tundra Cat Carrier Backpack with Bubble Window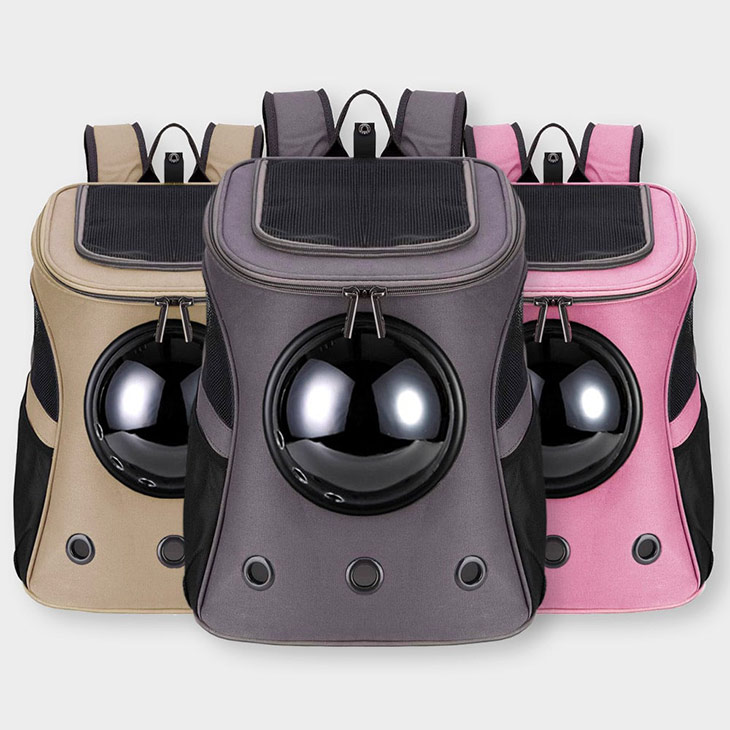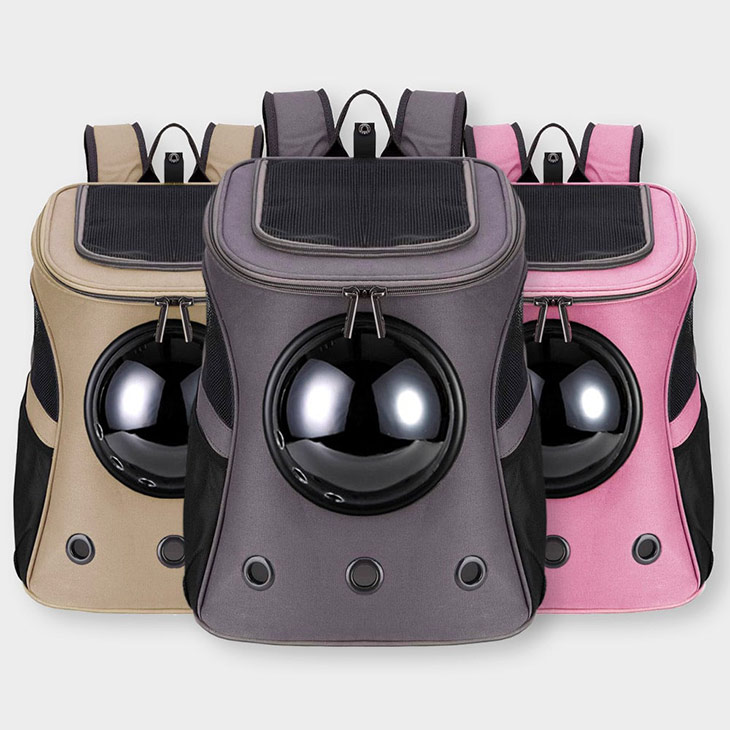 The Tundra Cat Carrier Backpack is the ultimate space cat backpack. This backpack has a bubble window that protects your kitty while keeping them secure.
One notable feature of this bag is that the bubble is removable. The bag comes with a mesh grid that provides extra ventilation for your kitty. This is an excellent feature for mountain hikes or when you'll be in tight spaces, like the subway or an elevator.
The Tundra also comes in three colors: beige, grey, and pink. You can match all your kitty's things or use a neutral to tie all their accessories together.
This bag has a large top opening that makes backpack entry and removal easy for you and your cat. There are also padded shoulder straps, meaning a win for you on long treks!
Buy Online
[divider style="solid" top="15″ bottom="15″]
2. Petami Deluxe Pet Carrier Backpack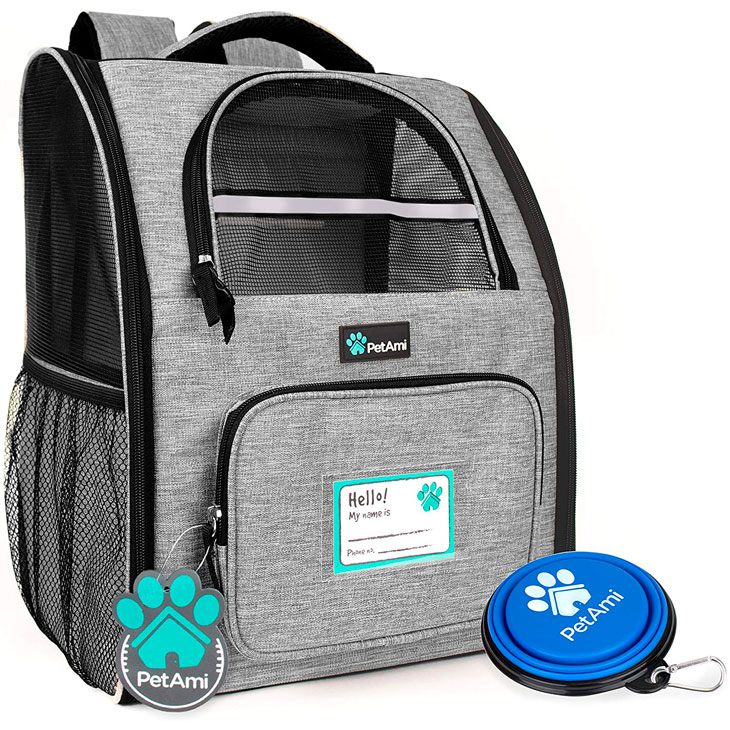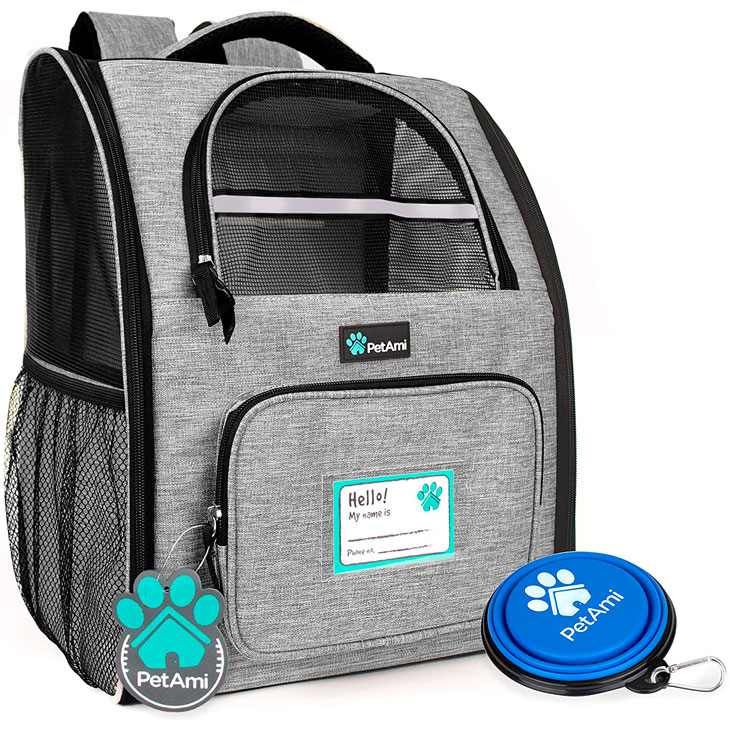 The Petami Deluxe Pet Carrier is an alternative to bubble-window and clear backpacks. This bag is made with durable, high-grade polyester that is made to last.
You can choose from 12 colors, offering a high-level of customization. The colors include heather grey, light blue, heather purple, red, and royal blue.
The Petami Deluxe has two side openings, each with mesh ventilation panels. There is a large ventilation section on the back of the bag, as well, including a safety strap.
There is extra shoulder-strap padding as well as a chest strap, relieving some of the weight from your neck. This would be an ideal cat backpack for long walks. It features a medium-sized pocket on the back to store any treats or leashes.
Read the reviews on Amazon
[divider style="solid" top="15″ bottom="15″]
3. Cataro Backpack Carrier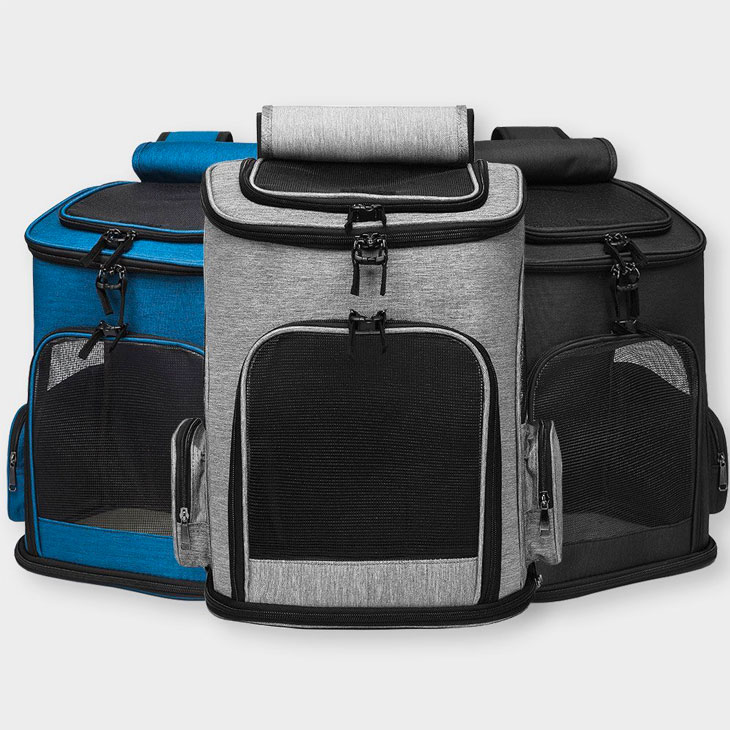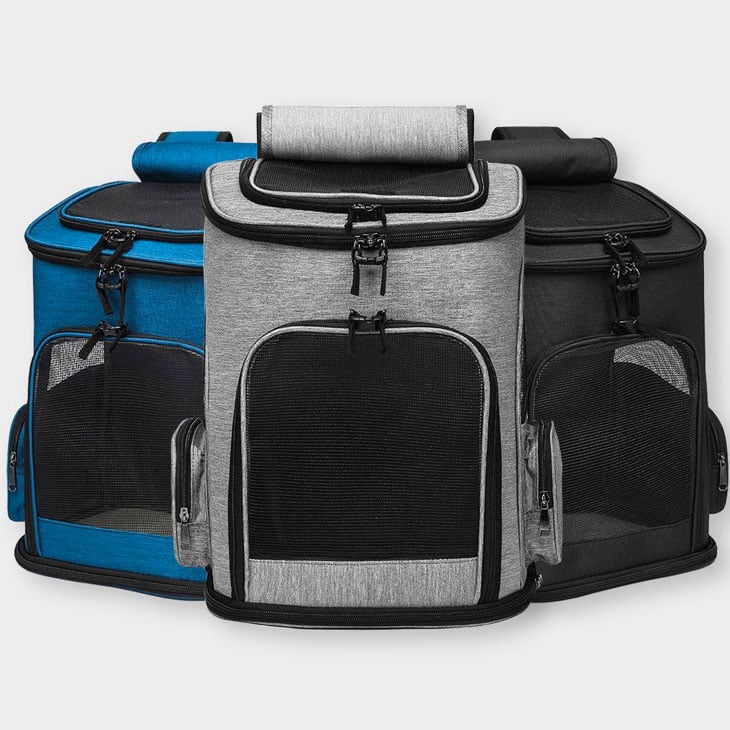 The Cataro Backpack Carrier features several mesh panels:
Two side panels
A top panel
A back panel
This offers great ventilation for your kitty. They may not even notice they're in their cat backpack! The top panel has a flap for versatility.
This bag comes in three colors: grey, blue, and black. There are ample safety features, including frame reinforcement and a strap lock on the back. The zippers are lockable, so your kitty won't be able to bat them open.
There are two medium-sized pockets on the bag. The Cataro also has highly adjustable straps for the best fit on your back.
Buy Online
[divider style="solid" top="15″ bottom="15″]
4. PETRIP Cat Carrier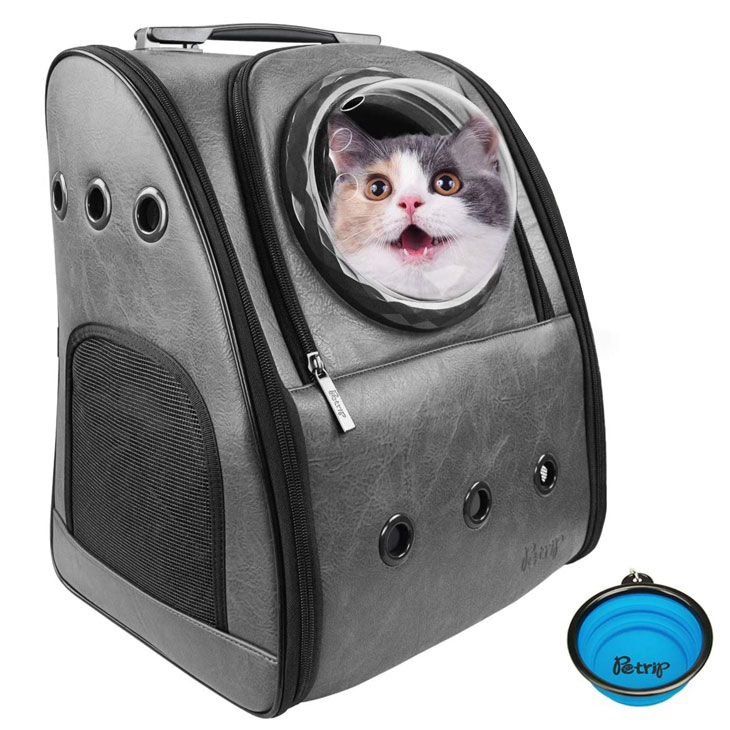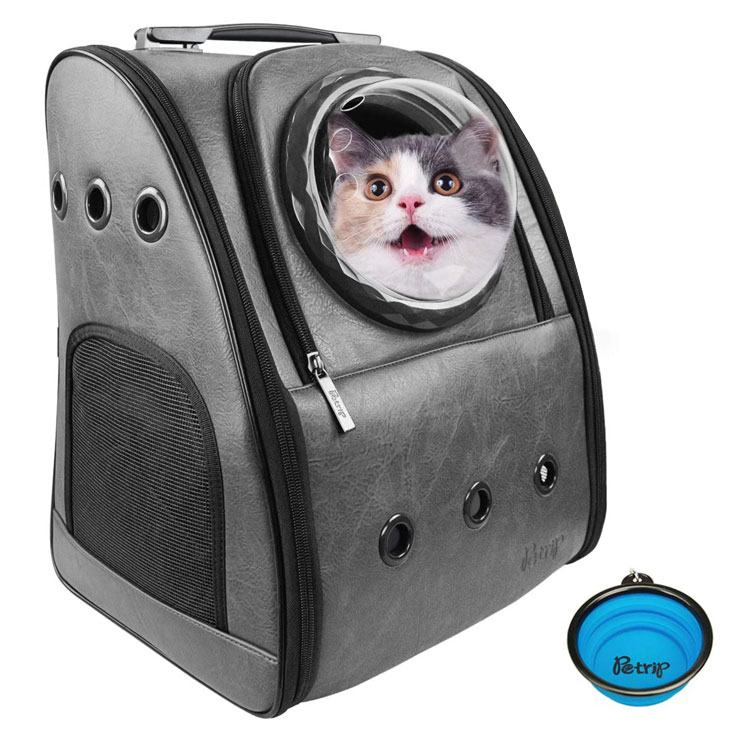 The PETRIP Cat Carrier accommodates larger kitties that want to adventure! This bag has a 24-pound limit, meaning it is durable and strong.
This is a bubble window backpack with a mesh grid option for better ventilation. If your cat needs a bit of breathing room, the hole is perfect for them to poke their head out for a bit to take it all in. Since this bag is built for larger cats, the window is not large enough for your cat to escape.
One interesting feature of the PETRIP Cat Carrier is the removable fleece. This means the bag is built for all seasons. You can ensure your cat stays warm in cooler months but doesn't overheat on summer strolls.
Read the reviews on Amazon
[divider style="solid" top="15″ bottom="15″]
5. Lollimeow Pet Carrier Backpack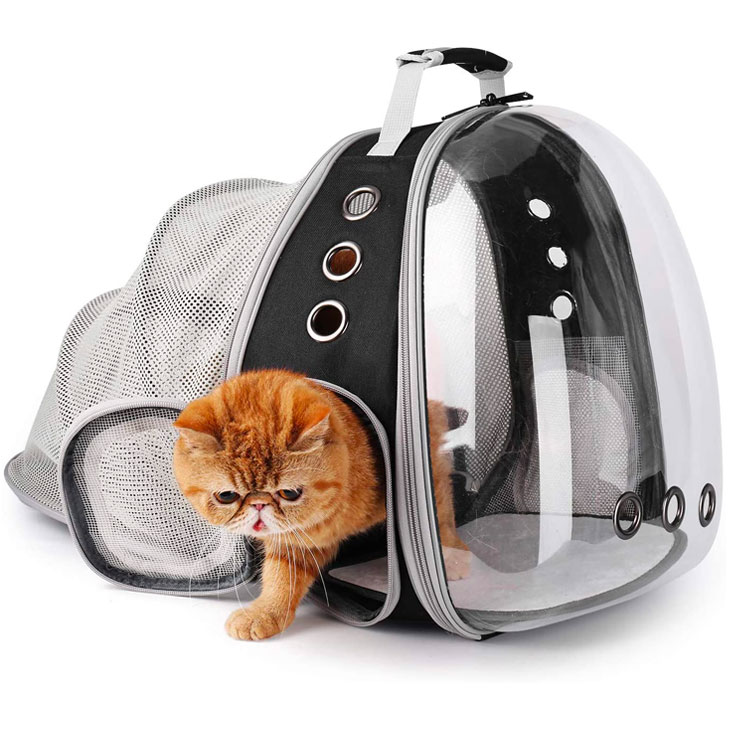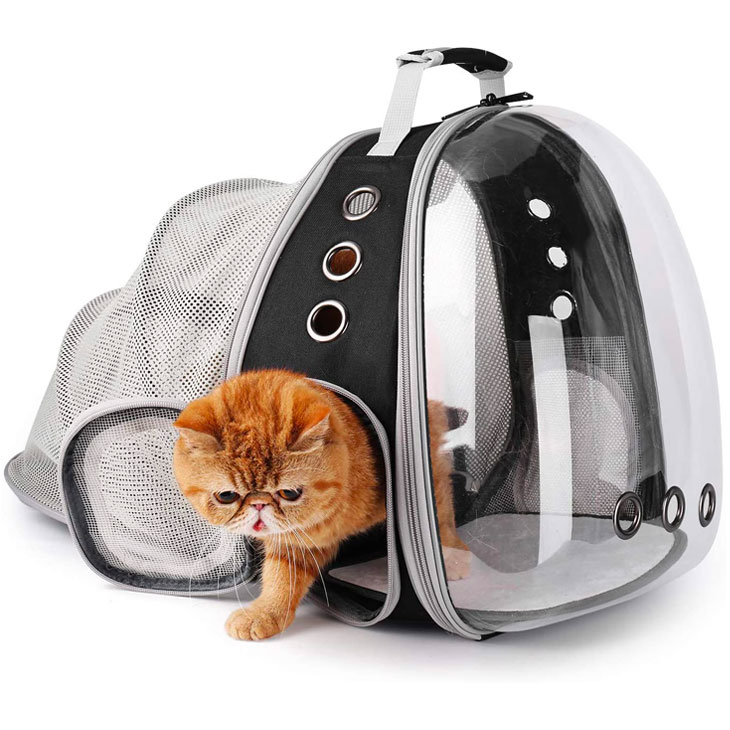 The Lollimeow Pet Carrier Backpack is one of the most versatile bags on the market.
This bag is entirely clear on the back, allowing your kitty maximum visibility. There are also several ventilation holes on the top and back of the bag.
One of the most striking aspects of the Lollimeow Pet Carrier Backpack is the expandable mesh tunnel. This feature allows your cat to walk directly into the backpack. Or, you can use one of the two side openings.
You can also use the mesh tunnel as extra ventilation when you reach your destination. This gives you security knowing your kitty is still safe in the bag with more space.
Read the reviews on Amazon
[divider style="solid" top="15″ bottom="15″]
6. Pettom Pet Backpack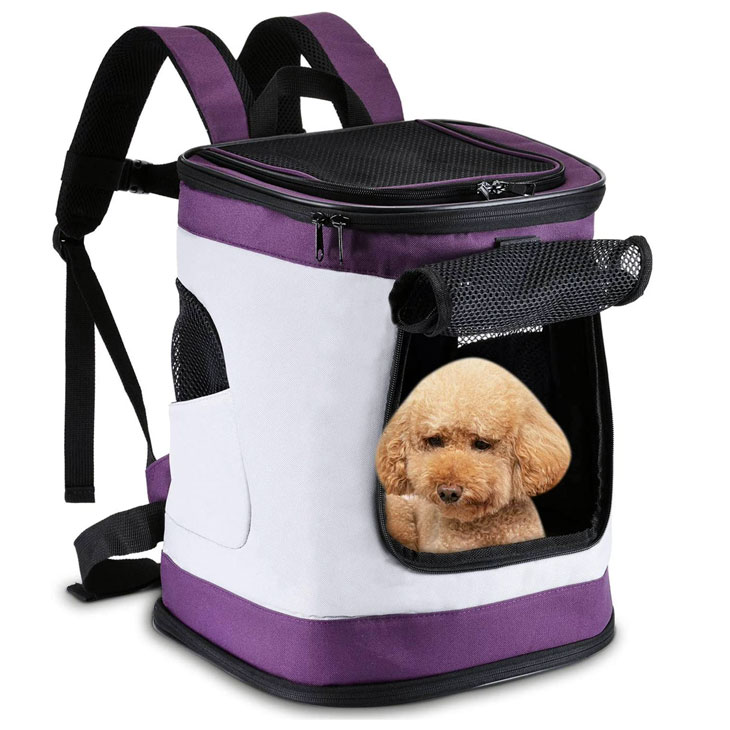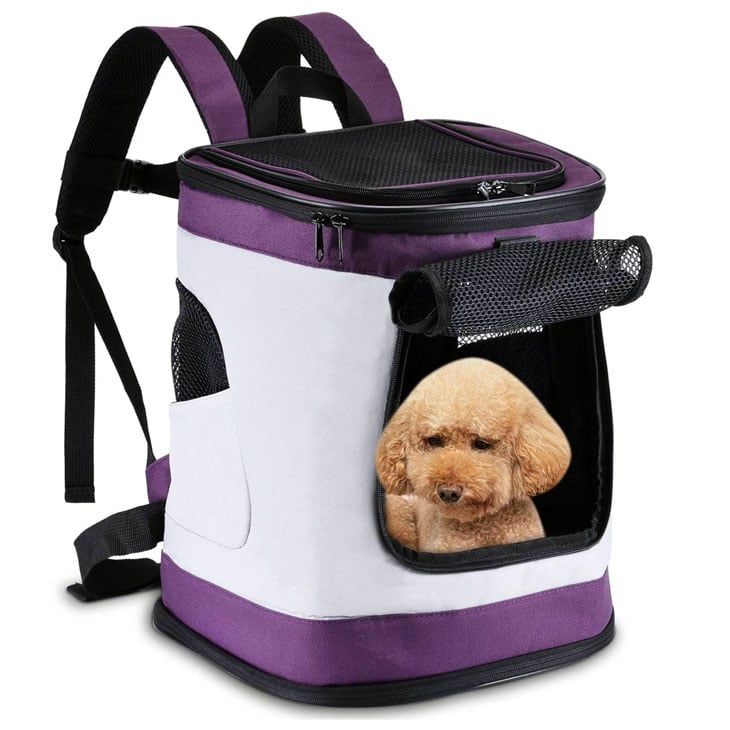 The Pettom Pet Backpack is a soft-sided bag with four mesh panels.
This bag features a top opening and a back opening. The back opening zips away the mesh panel for your kitty to walk right in.
One specific feature is a leash clip in the bag to attach to your cat's collar. This provides extra security for your kitty while en route or on rough terrain.
There is a pocket on each side of the bag that overlaps the mesh panels. The Pettom Pet Backpack is a small bag and may work best for kittens or small cats.
As far as comfort features, there are several adjustable straps for your hips, waist, and chest.
Read the reviews on Amazon
[divider style="solid" top="15″ bottom="15″]
7. Apollo Walker Pet Carrier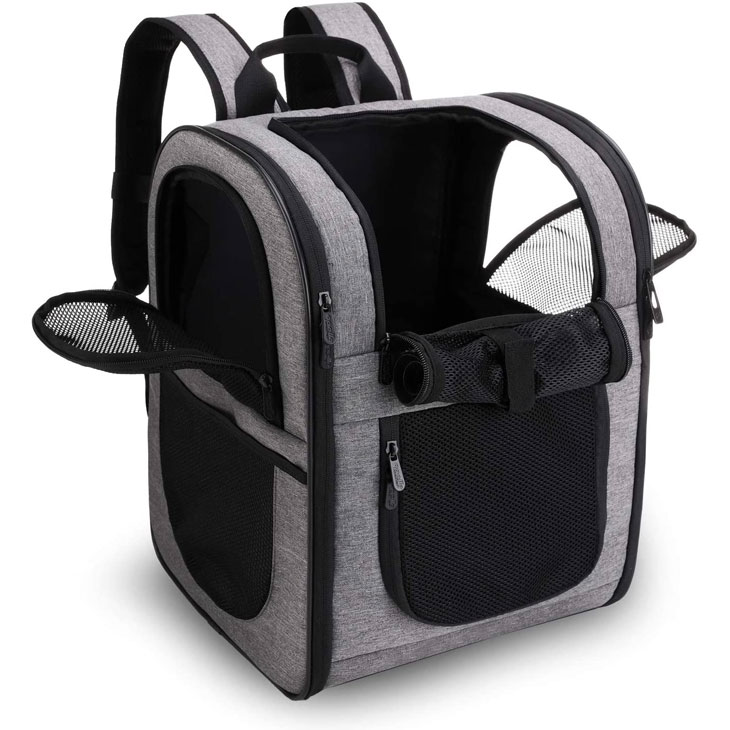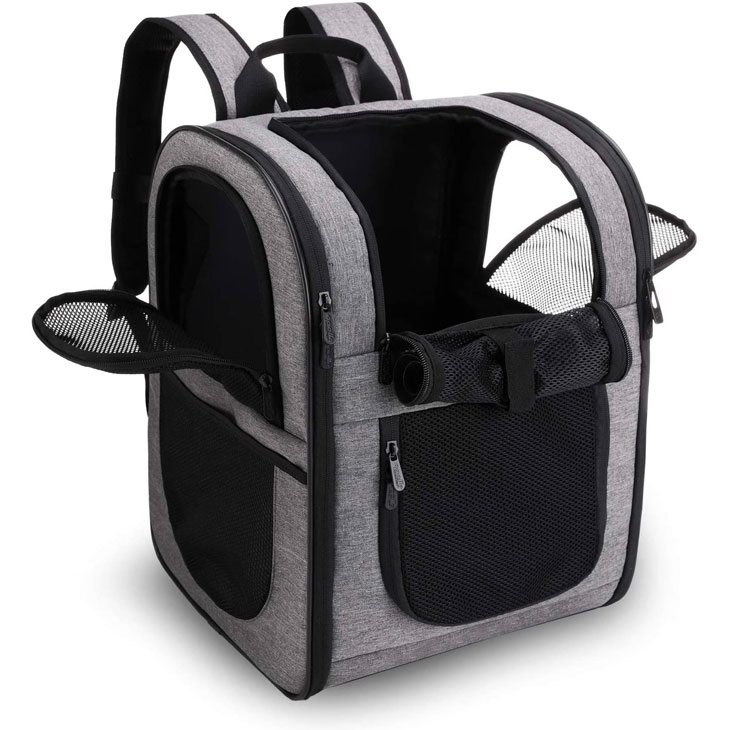 The Apollo Walker Pet Carrier provides maximum ventilation for your kitty. Both sides and the back are full mesh panels with safety straps in the center of each.
The top of each mesh panel zips away, offering more ventilation and space. The sides are openings, allowing your kitty to walk straight in with no discomfort. The mesh is claw-proof, meaning that your kitty won't damage all the mesh.
This bag is large, accommodating medium-to-large cats. It comes in four colors: black, grey, blue, and pink. There are two pockets on the bag and fleece bedding.
The Apollo Walker Pet Carrier is also collapsable, meaning you can store it virtually anywhere.
Read the reviews on Amazon
[divider style="solid" top="15″ bottom="15″]
8. Petcute Expandable Backpack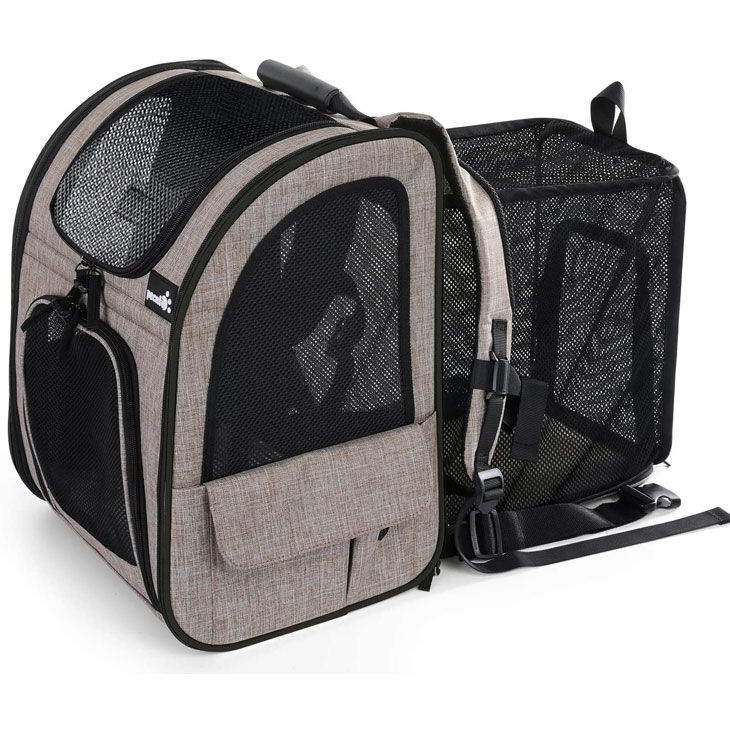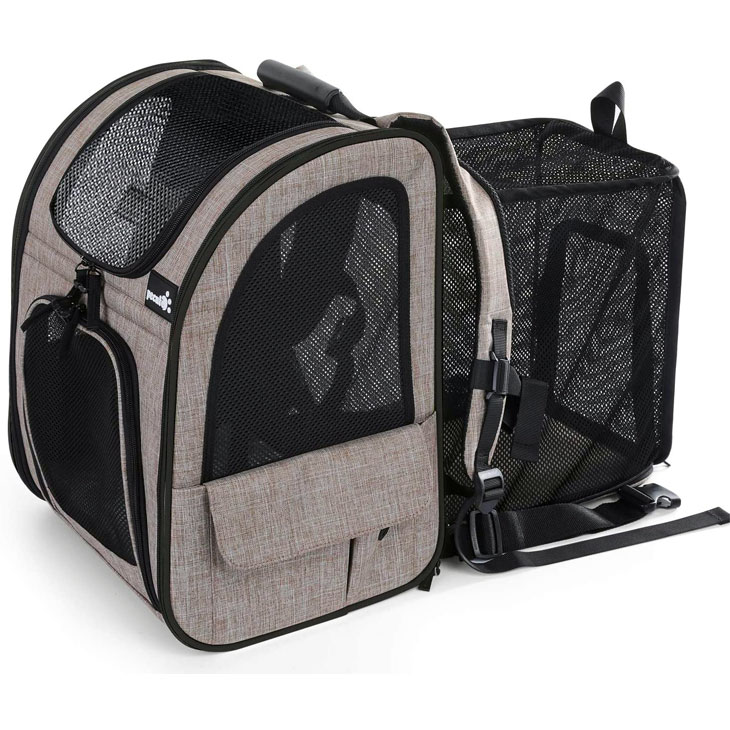 The Petcute Expandable Backpack features a pop-out mesh back. When the back is released, it increases your cat's space by 90%.
The pop-out, square tunnel allows easy walk-in entry for your kitty. It also means your cat can lounge comfortably when you've reached your destination. Or, allows time for a cat nap during a break.
There are also tunnel options. You can choose between acrylic and mesh windows as well as between a pop-out tunnel and window.
When the expandable back is put up, the backpack features four large mesh panels. The panels have locking zippers, providing your cat with maximum security.
This cat backpack has a honeycomb mesh elastic sponge back cushion. This means the bag is shock absorbent and breathable, ensuring your comfort.
Read the reviews on Amazon
[divider style="solid" top="15″ bottom="15″]
9. PETKIT Ventilated Backpack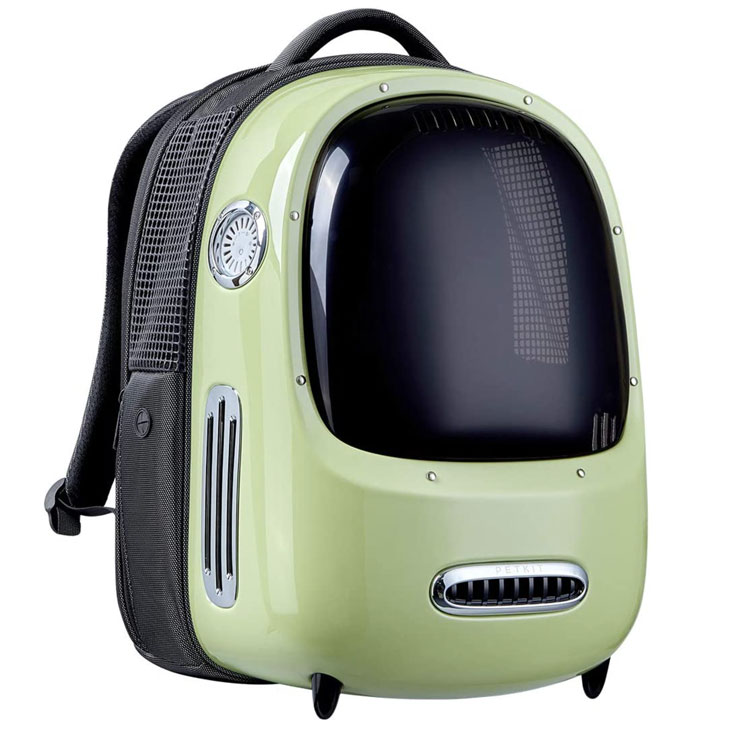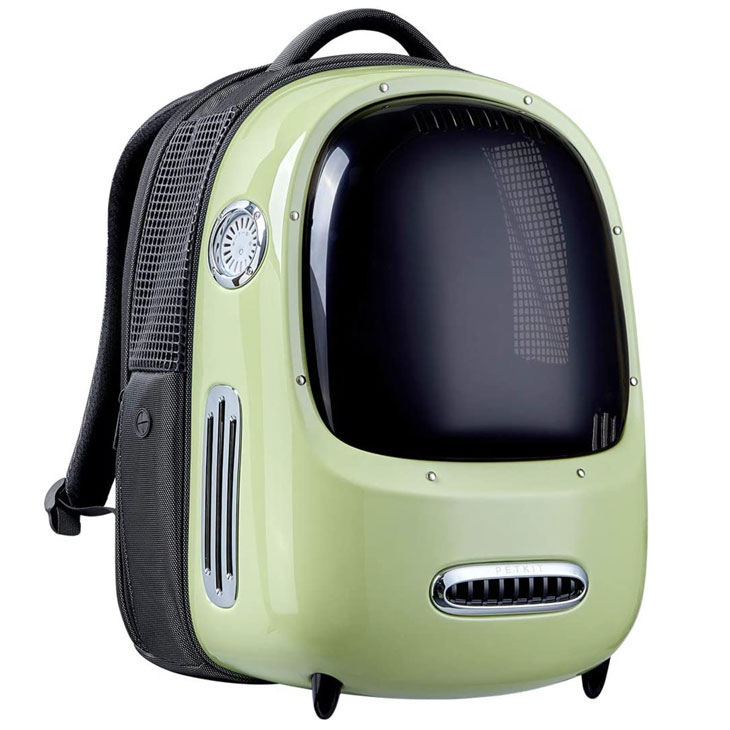 The PETKIT Ventilated Backpack is a luxury cat backpack. This bag offers a generous window that allows your cat to peer out into the world.
The most unique feature of this bag is the ventilation system included. PETKIT's backpack has normal ventilation holes and mesh panels. But, they went a step further to include an entire ventilation system for maximum breathability.
Even on the hottest of days, your kitty will stay cool and relaxed.
Though the added ventilation system may be a bit heavier than other bags, PETKIT has you covered. The bag also has an ergonomic design to support your back and keep you comfortable.
Read the reviews on Amazon
[divider style="solid" top="15″ bottom="15″]
10. Space Capsule Cat Carrier Backpack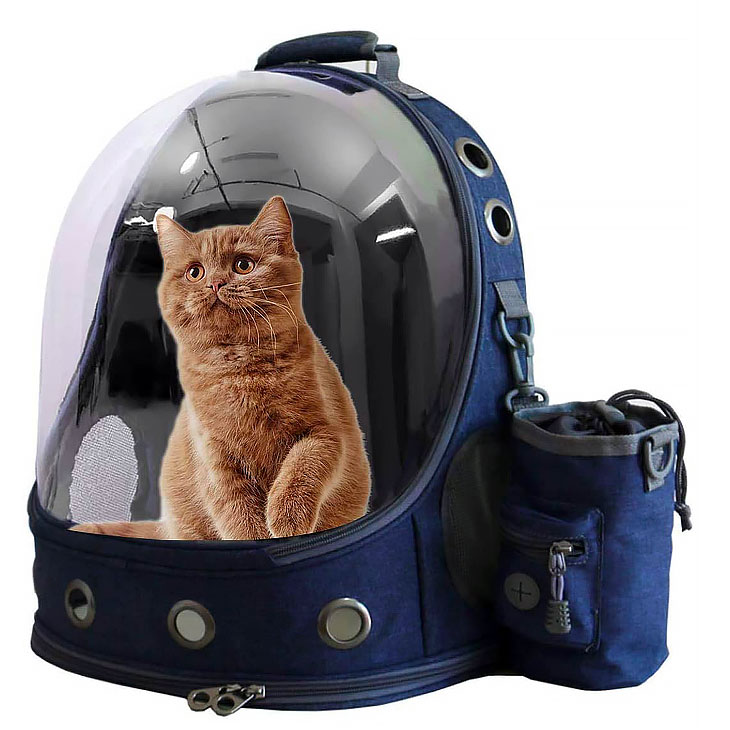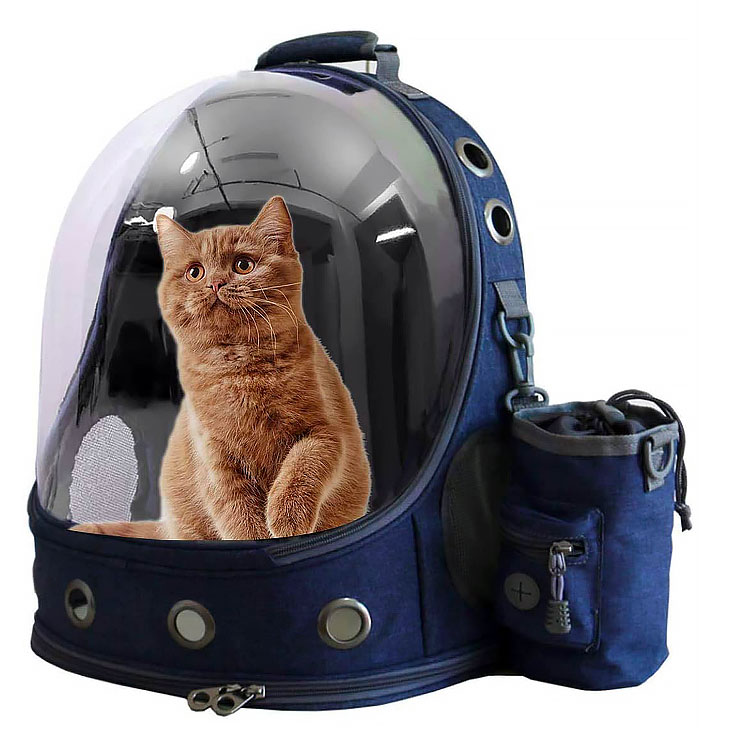 The Space Capsule Cat Carrier Backpack is the ultimate astronaut cat backpack. This capsule window bag allows your cat out-of-this-world views.
Due to the capsule design, cats have more range of motion than when compared to bubble window bags. The capsule offers 240 degrees of visibility, whereas other bags only give a one-way view. The capsule also zips off for an easy-to-use opening.
There are multiple mesh ventilation holes as well as a soft inner lining.
The Space Capsule Cat Carrier comes with a snack bag. The drawstring bag attaches to the backpack for hands-free movement.
Read the reviews on Amazon
[divider style="solid" top="15″ bottom="15″]
Which Cat Backpack is For You?
With so many choices, it can be hard to find the perfect cat backpack.
The best option? Make a list and try them out. You'll never know which is the best fit for you and your feline friend if you don't do a test-run.
Be sure to check out our blog for more information on the best products for your cat!