Mousr is the most engaging interactive toy to challenge your cat like a real prey does!
[dropcap]W[/dropcap]e as cat owners have a tendency to forget that our furry companions have needs that are not being met on a day to day basis.
Cats are born with a high prey drive and they are biologically programmed to stalk, hunt, pounce, chase and catch everything that's moving.
In our homes, we don't give them the opportunity to express their natural desire for hunting and that needs to change.
I have been a cat guardian for more than a decade and the classic feather toy is truly the only one that has never failed to provide the stimulation all cats need.
But there are major problems with feather toys:
You can't always be available at your cats disposal to control the feather wand whenever they are in the mood to play – like, right meow!
It can be very challenging to mimic the motions of what a live prey would do and if you don't do it correctly, it won't feed their hunting instinct
Feather toys require you to act like a prey animal but you'll never be small enough or fast enough to disappear, which eliminates the element of surprise during the hunt
So, over the past several years, I have been on a quest. A quest to find the ultimate cat toy that can double as a play partner for my indoor cats.
After five years of research and development, three cat lovers came up with a solution whose name is Mousr.
Video by Laurent Jaccard – Music by Danny Rayel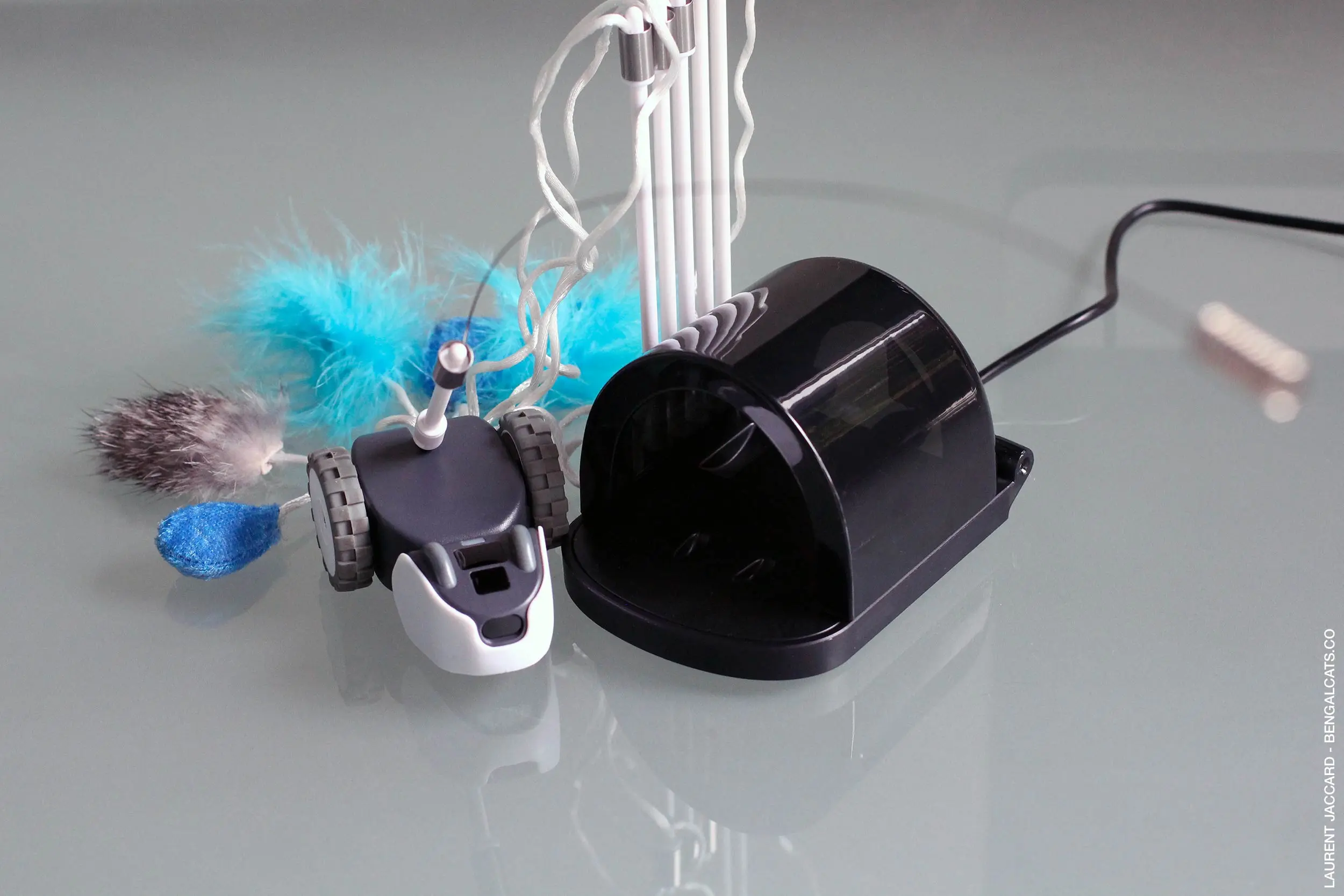 [taq_review]
Mousr Review
Ordering Mousr
I first found out about Mousr when I stumbled upon Petronics website on May 15th, 2018.
As a graphic designer, I instantly fell in love with the branding, the name and the product design.
As a tech enthusiast, I was impressed with the high level of engineering behind this robotic cat toy.
And as cat lover, I was excited to finally see a product that could deliver what every indoor cat is being deprived of.
I am definitely not an impulse buyer and I do my homework before any purchase but there were no reviews or videos online.
I wasn't too worried about that because Petronics was in a pre-launch phase and only a few Mousr units had reached their homes at this point.
After reading about the company's history and how this promising product came to be, I decided to take the plunge.
I found myself making a sales pitch to my girlfriend who wasn't to keen on adding another object to the pile of forgotten cat toys.
Fast forward… I ordered my Mousr and the big bundle of tails 3 hours later.
For the first time in my cat guardian's life I was excited about a pet product like a little boy on Christmas Eve.
My human experience with Mousr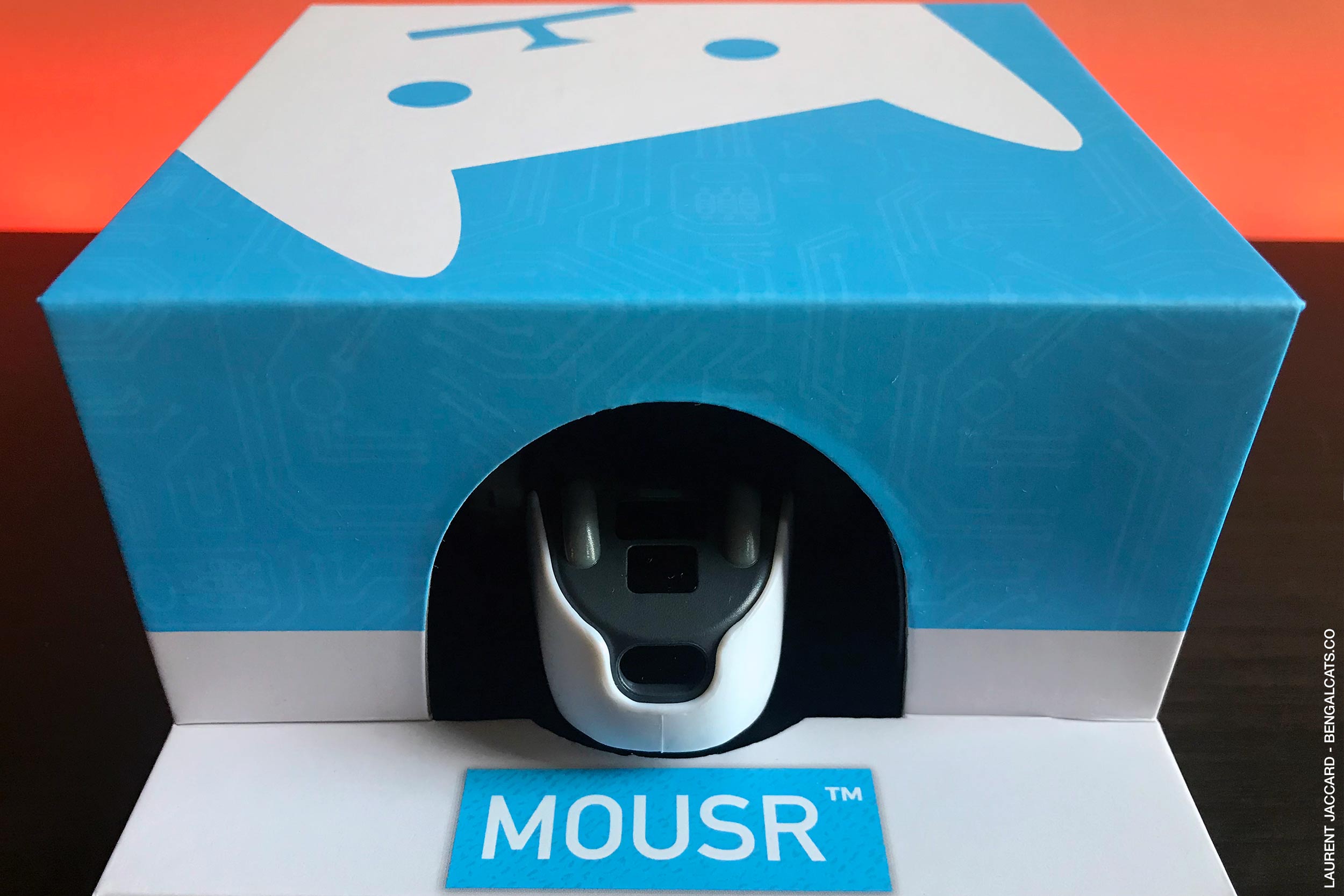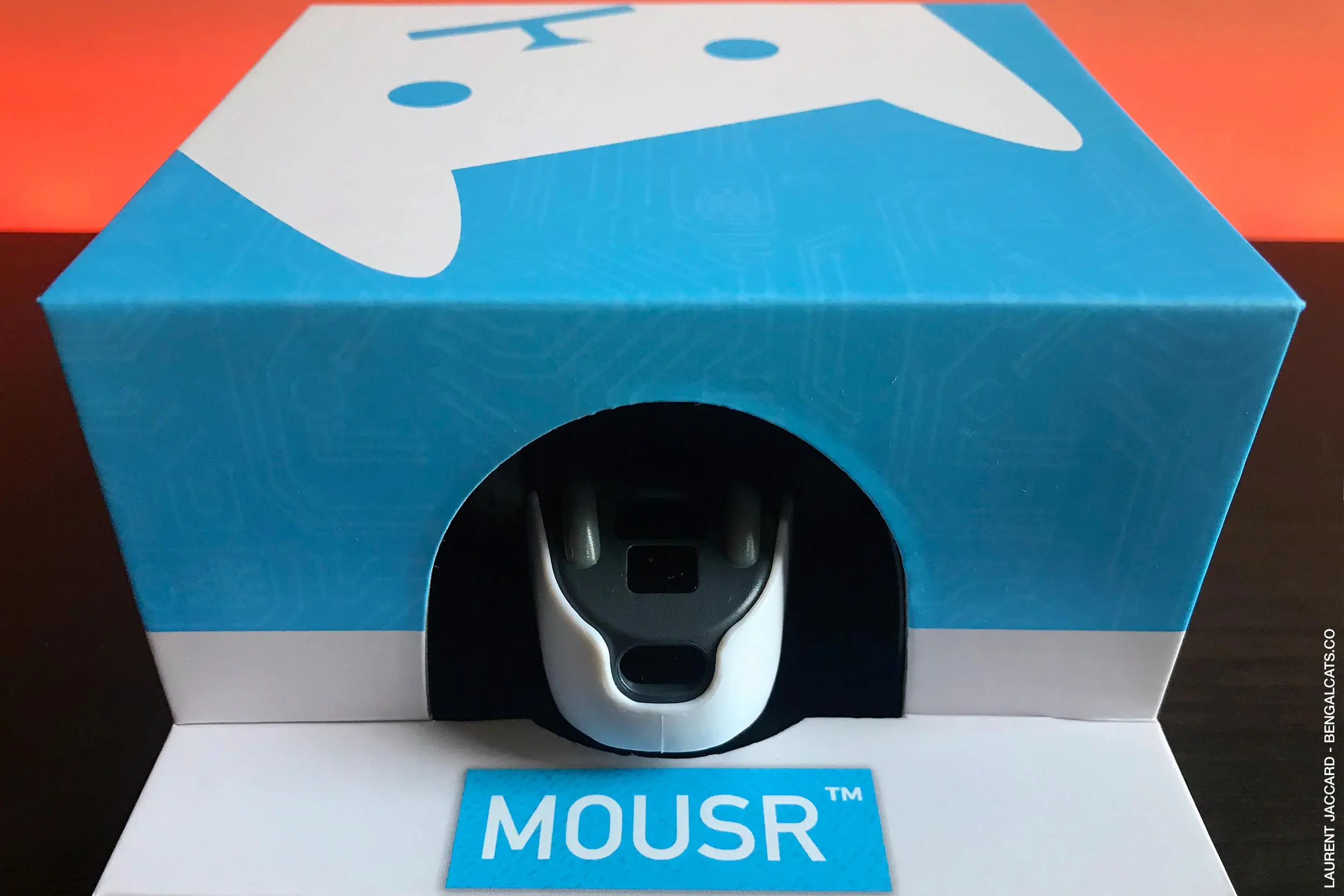 From the start, Mousr tapped into my childhood memories: the love of little remote-controlled cars and the Tom & Jerry chases on TV.
The very first impression was that the packaging is absolutely adorable, which makes receiving it even more exciting.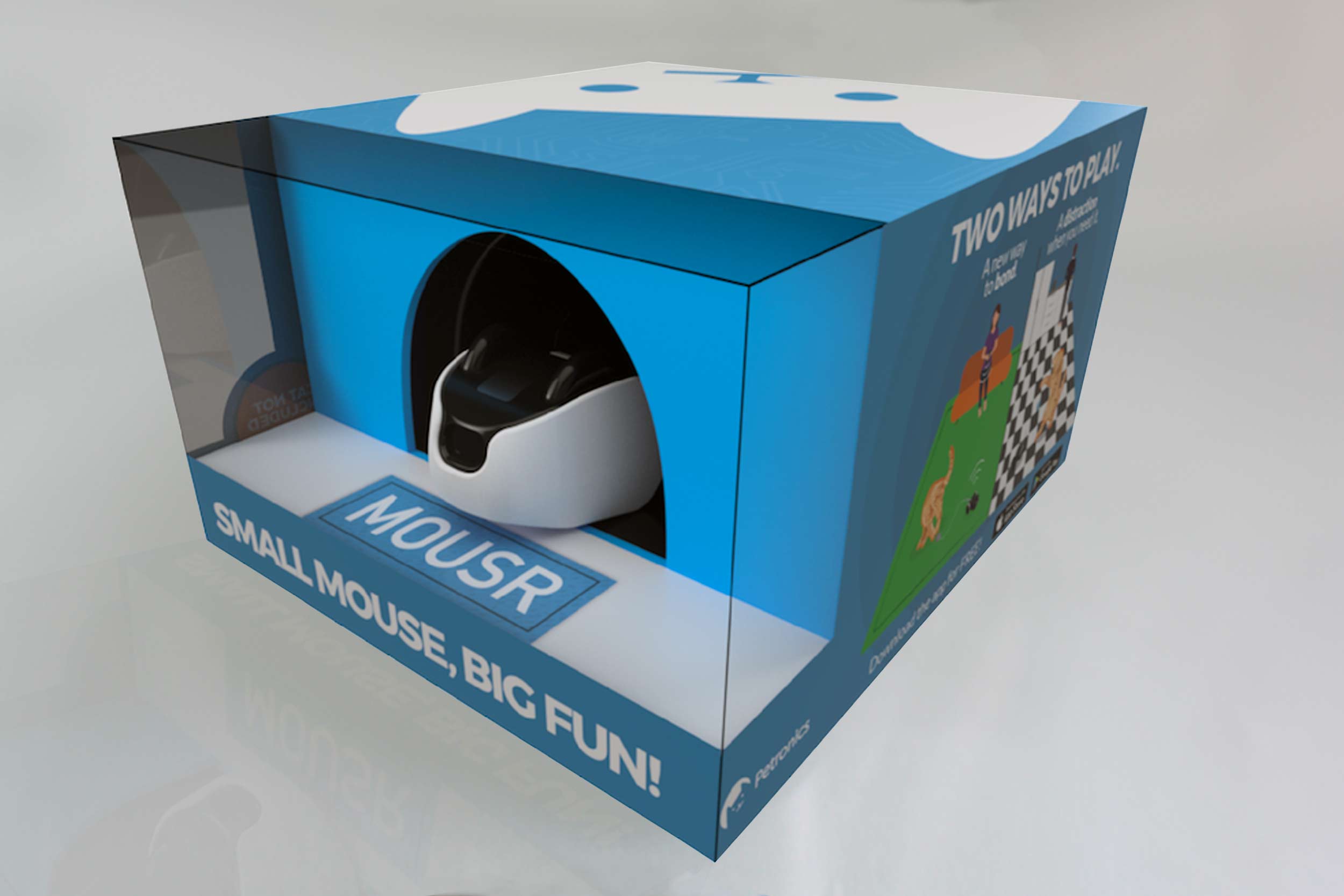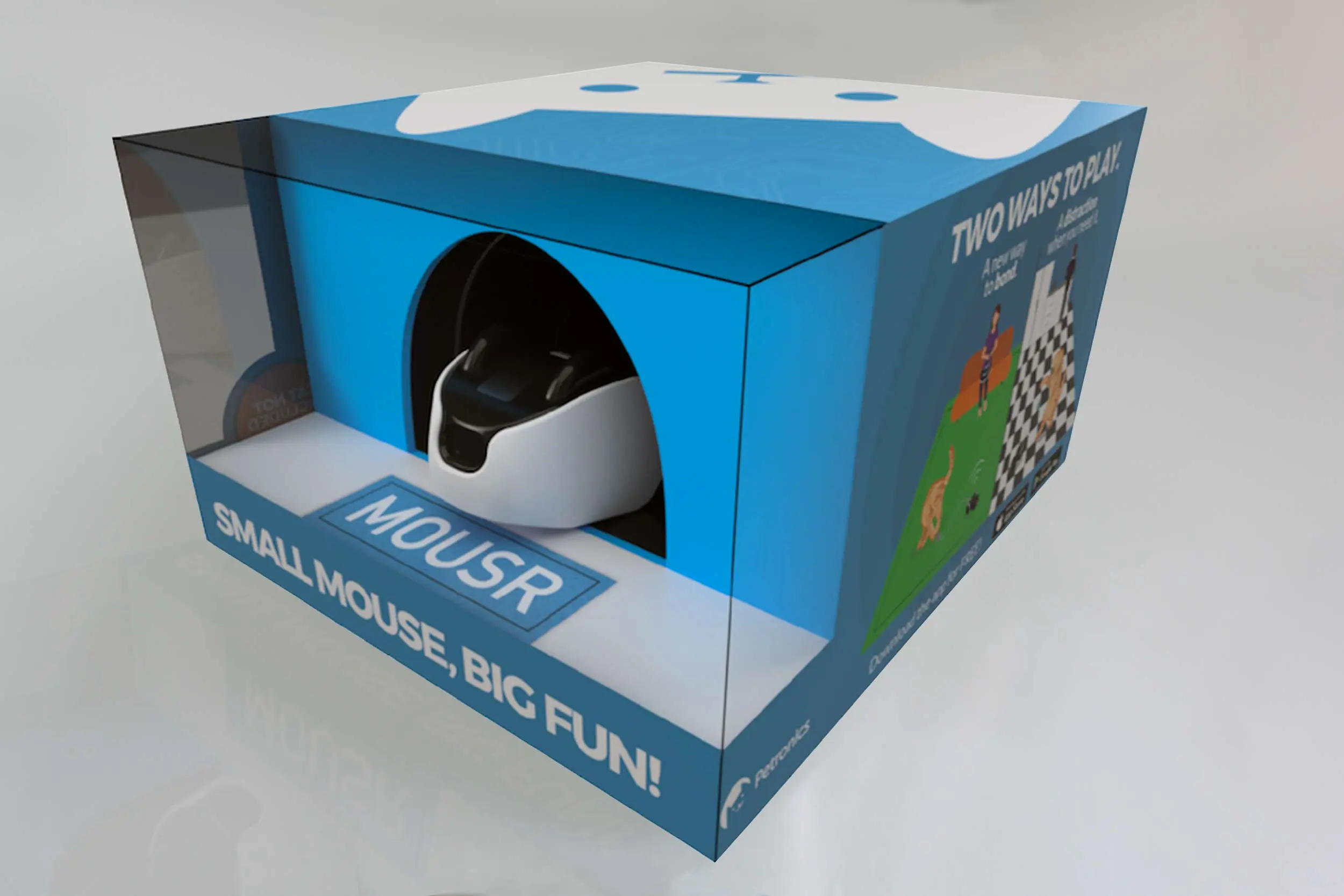 The box contains a Mousr robot, a charging dock with USB cable, 1 flick tail and 1 bounce tail.
After unboxing Mousr, I placed it in the charging dock and waited a couple of minutes until his LED light turned green.
Once fully charged, I installed one of the tail attachments into the slot and pressed the pushbutton on his chin.
The last step was to launch the Mousr companion app on my smartphone to begin the Bluetooth pairing process.
The operation was pretty quick and once connected, Mousr was ready to entertain our three kitties… and ourselves.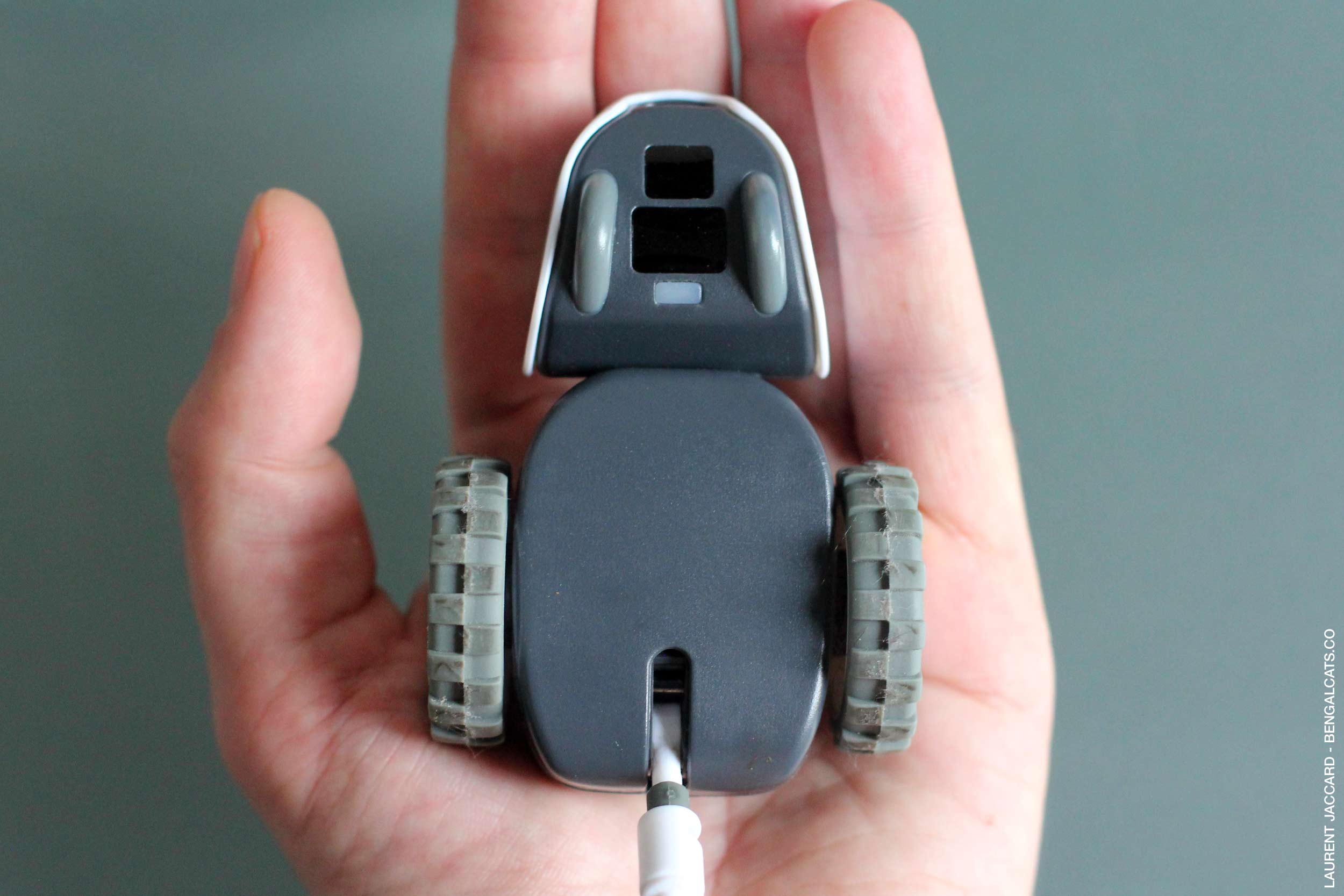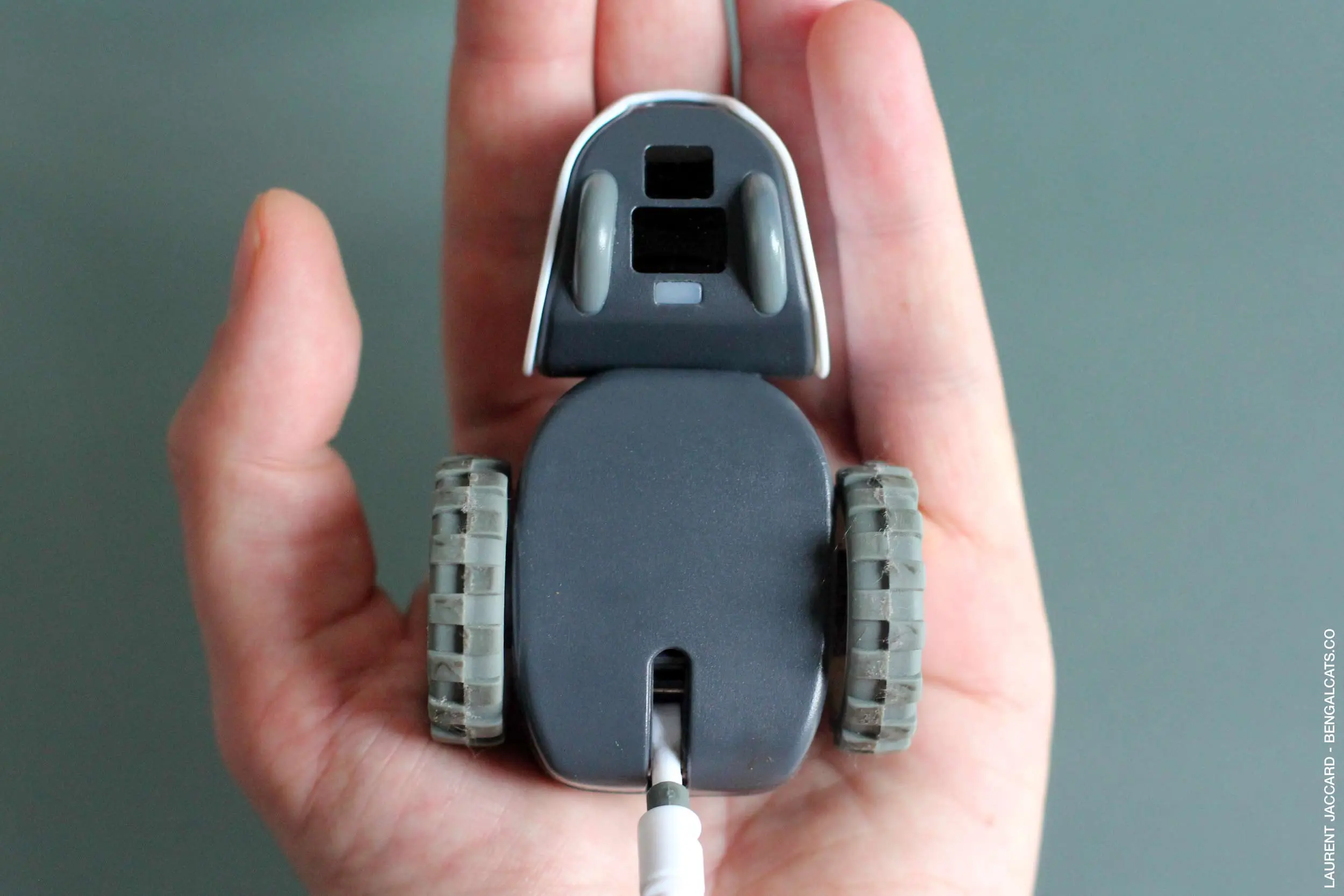 A tiny and adorable creature with a life of its own just settled in with a certain arrogance on our cats territory.
When you see Mousr moving for the first time, it feels like you just brought a new pet home.
And that's also how our cats seemed to take it.
My cats experience with Mousr
I had no idea how our cats would react when I placed Mousr on the floor for the first time.
I started with the auto mode in slow speed because I didn't want to drive it just yet.
I also wanted to let our cats get used to this newcomer before engaging in fast-paced chases.
As soon as Mousr started moving on the floor, we were all mesmerized by his presence.
It was nothing like all the automated mice and cat toys I had seen in the past.
Burma, Bailey and Baby were all curious, cautious and intrigued by this little robot that was moving like a prey animal.
When the cats started becoming more confident around their new… frenemy, I decided it was time for me to join in on the fun.
The companion app allows you to control Mousr in so many different ways, making it the most versatile cat toy I have ever tried.
I chose to sit comfortably from a distance with a good view of our entire cat's play area, formerly known as the living room.
Once you get the hang of the remote control mode it opens the door to an endless amount of intense or challenging play styles.
Who Invented Mousr
The problem with cat toys
Mousr is the brainchild of three cat-loving Ph.D. students in electrical and computer engineering from the University of Illinois.
Michael Friedman, Dave Cohen and David Jun came up with the idea while trying to figure out what games and toys their cats would really love to play with.
They were inspired by the fact that indoor cats don't get to spend enough energy and the existing automated cat toys on the market aren't cutting it.
After observing how excited their cats would get playing with them, and how bored they were with their automatic toys, they decided to come up with a smarter solution.
To build a reactive toy with the kind of intelligence needed to truly outsmart and challenge a cat, you need expertise from robotics, signal processing and artificial intelligence.
As engineers who specialize exactly in these areas, the solution was clear – robots with artificial intelligence!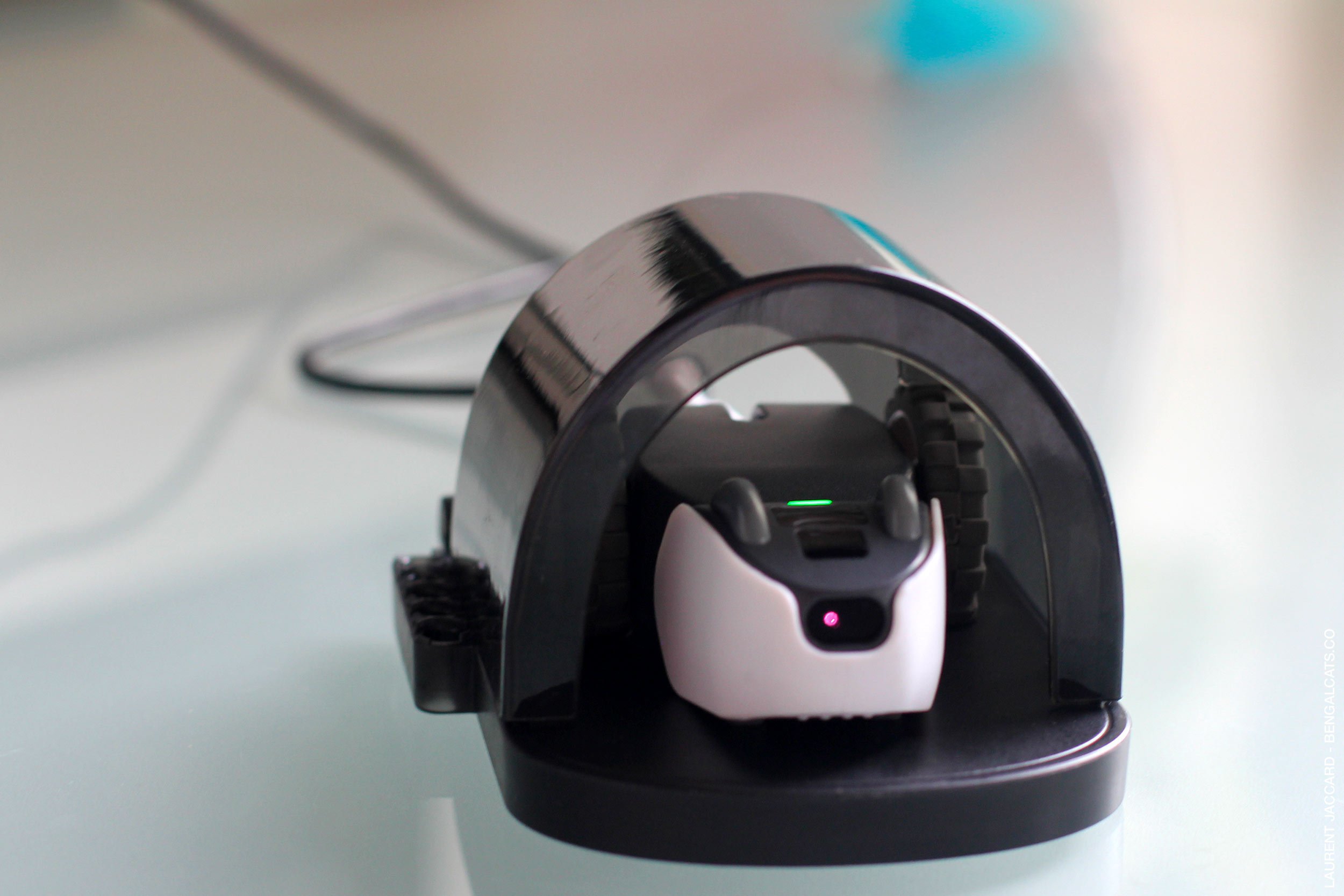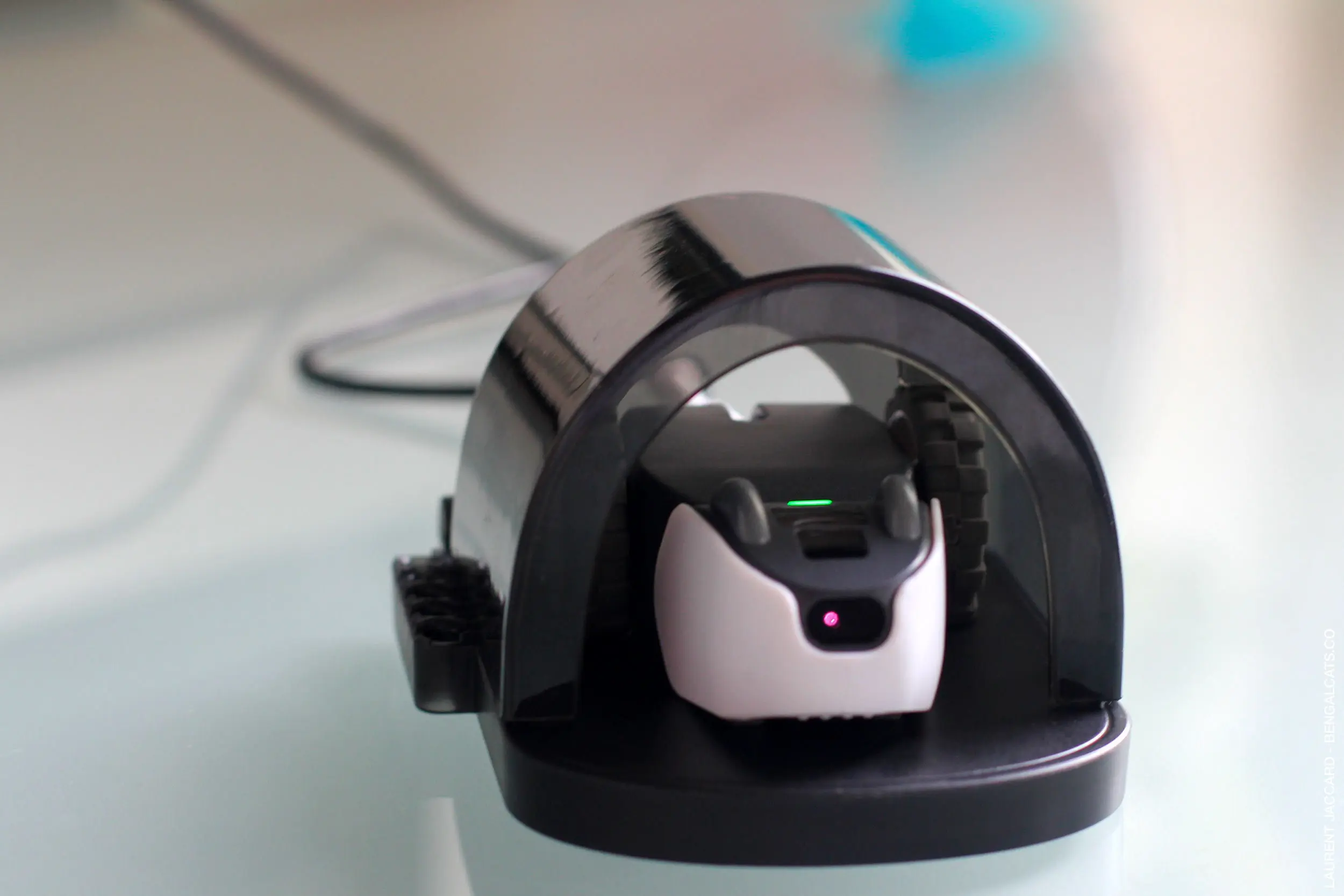 The birth of a robotic mouse
For the past 5 years, they worked on developing an entirely new class of robots: small, autonomous, smart devices that navigate their way through the home.
They really wanted Mousr to be as small and fast as possible, but they also wanted him to have a personality.
The team worked with several experienced designers and engineers in order to ensure Mousr's industrial design would be able to handle all the physical and technological requirements while remaining cute.
In 2014, they tested the concept through a Kickstarter campaign, confirming there was a demand for that product after raising over a hundred thousand dollars.
A.I. Meets Meow
Petronics was born and the team started working on this little robotic mouse designed to play automated games of hide and seek with house cats.
Their first prototype demonstrated the advantages of a toy that can react automatically and accordingly to your cat's movement.
They wanted Mousr to be able to understand his environment in a way that would let him learn how different cats play. Mousr would then be able to change his behavior in order to match different play styles.
The challenge for them was figuring out what set of technology, hardware and components they could put inside Mousr to keep it entertaining for cats and affordable to humans.
What's Inside Mousr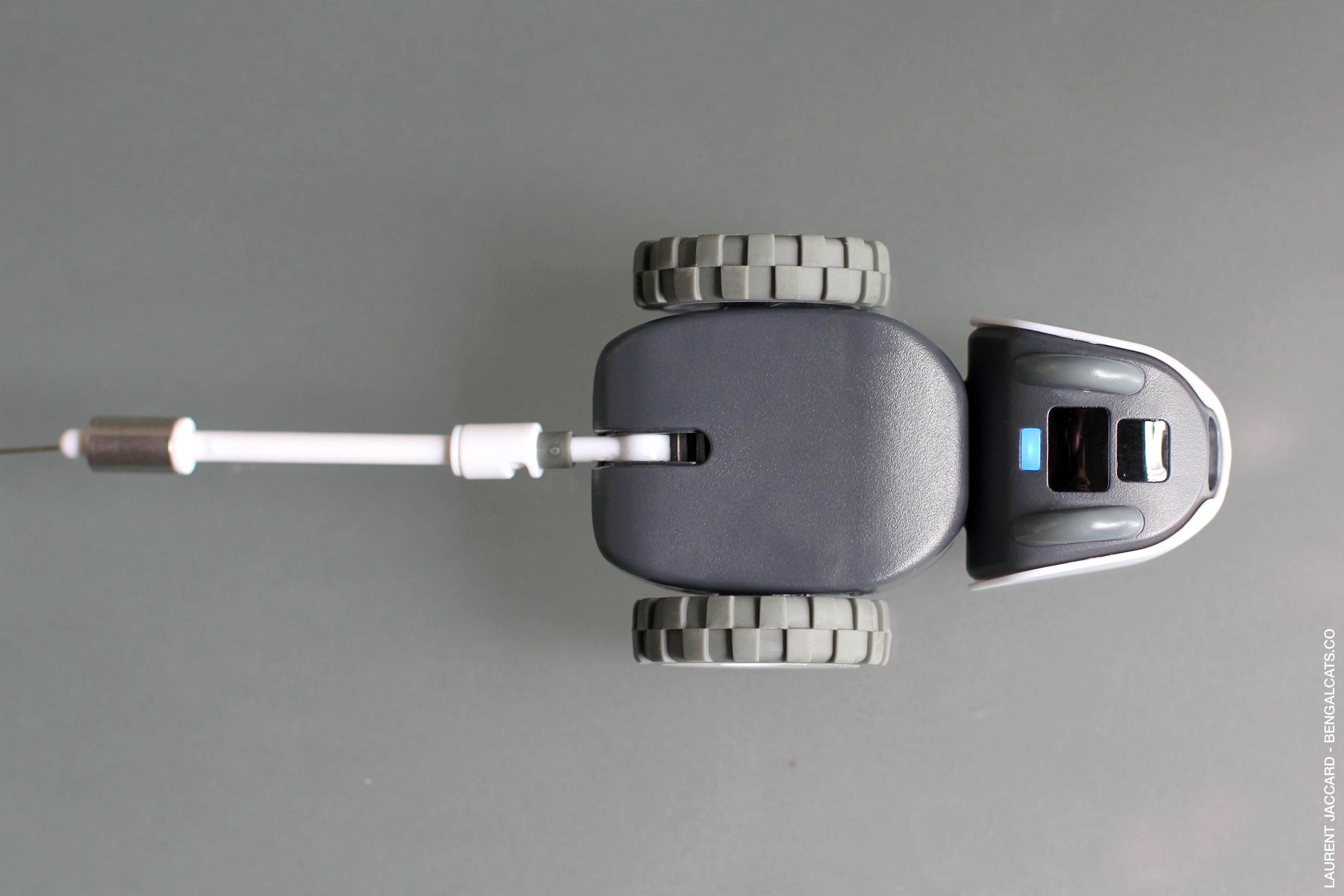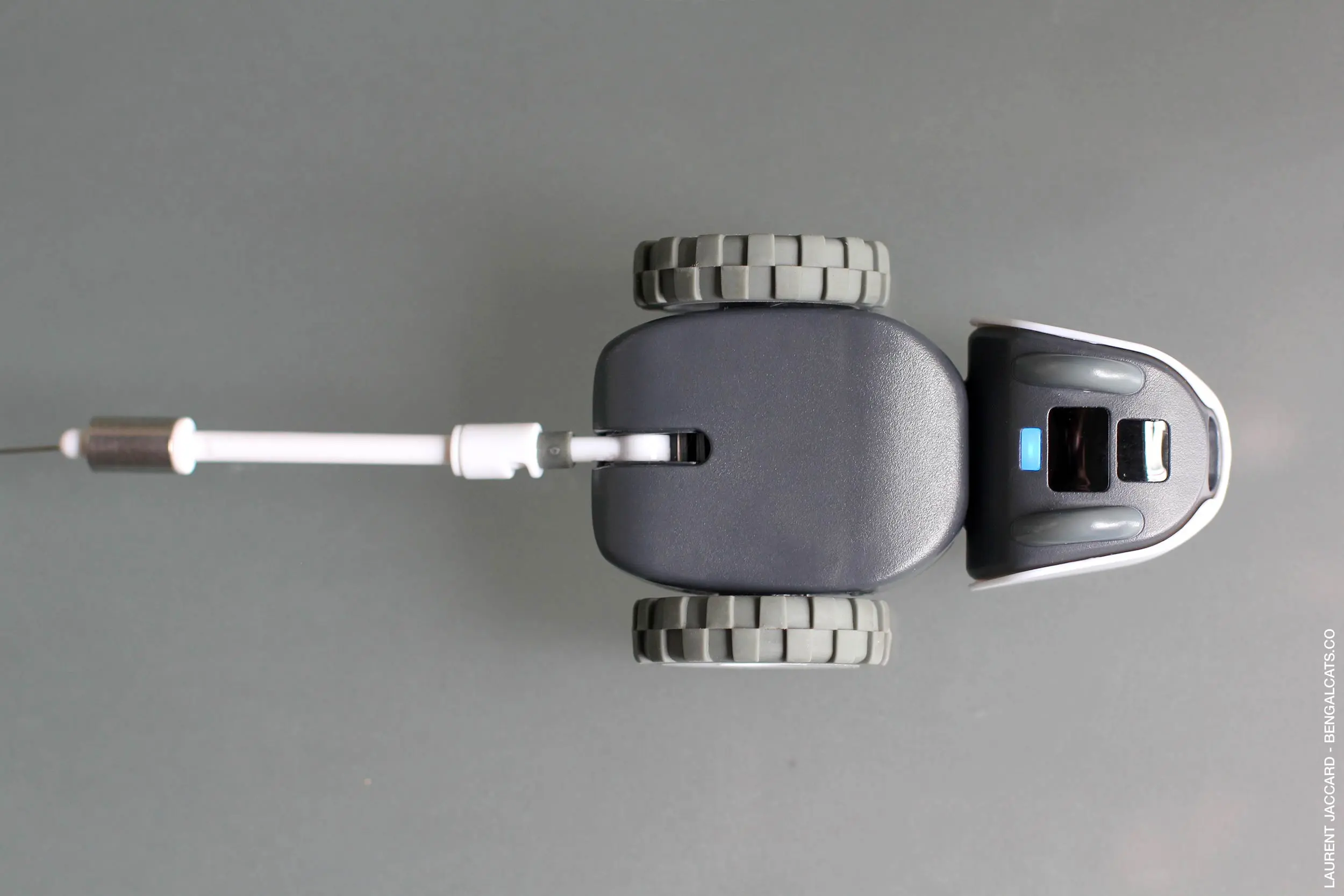 Mousr is the first and most technologically advanced robotic cat toy ever to exist.
It was designed from the wheels up to reproduce the hunting experience for indoor cats.
Thanks to an impressive array of new technology and some incredible engineering, Mousr has the ability to sense and react accordingly to your cat's movement.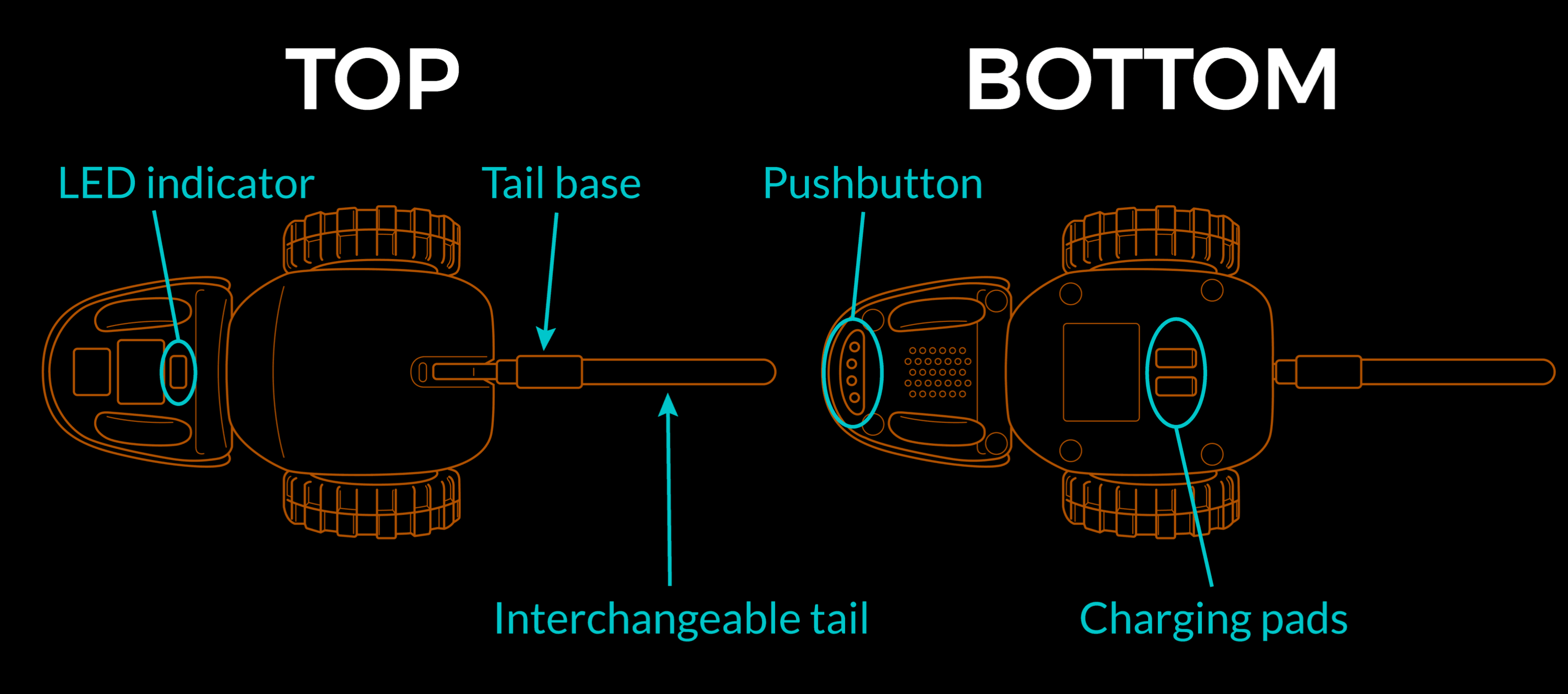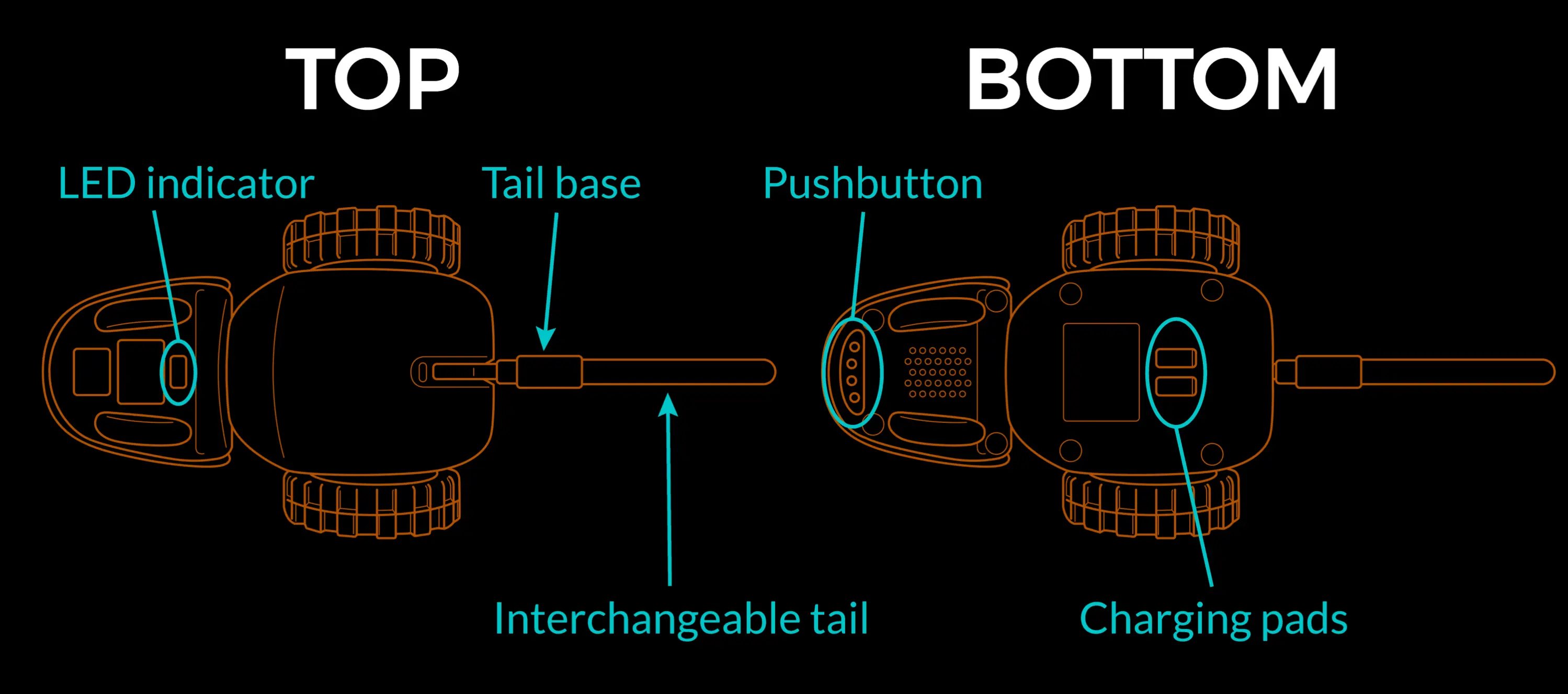 DISTANCE SENSOR
Mousr's forward-facing distance sensor provides measurements to the nearest obstacle with mm-precision up to 1.5m. This sensor allows Mousr to avoid unexpected obstacles and gain awareness about his environment.
PROXIMITY SENSOR
Located on the top of his head, Mousr's wide-angle proximity sensor allows him to detect when a cat is approaching and wants to play. In addition to alerting Mousr to the presence of a cat, it can detect when he drives underneath the couch or near a wall.
INERTIAL MEASUREMENT UNIT
The Inertial Measurement Unit(IMU) is a system that measures linear and angular motion with gyroscopes and accelerometers.The IMU powerfully combines motion sensing technologies to tell Mousr when it has been captured or to let him move precisely and stay on track.
BLUETOOTH CONNECTIVITY
Connect Mousr to your smart device to control it via Bluetooth with a 10-meter (30 foot) wireless range. Additionally, with wireless firmware upgrades being pushed automatically via Bluetooth, Mousr keeps getting smarter. He can learn new behaviors and escape tactics as the designers improve its artificial intelligence.
MOBILE APP
The free accompanying Mousr app lets you take control of it remotely with a smartphone or tablet running iOS or Android. You can engage and bond directly with your cats with the Remote Control function or you can let them play on their own with the Auto Play mode. Both options allow you to tailor-fit a variety of games to match your cat's play style and personality.
BATTERY
Mousr comes with a charging dock, which plugs into the USB port on your computer or any standard USB outlet. Mousr is powered by a Lithium-ion polymer (LiPo) battery that charges from 0—100% in about 30 minutes or less. It usually takes about 15 minutes to charge on average! The battery lasts about 40 minutes, but it depends on how Mousr is used (auto, manual, speed, etc…) and how frequently your cat plays with it.
SPEAKER
Feline hunting behavior relies heavily on sight and hearing to locate prey. A hidden speaker enables the robot to mimic a variety of realistic sounds that attract your cat, and signal if it is "lonely", "happy" or "scared." The app allows you to mute or un-mute Mousr's sounds at any time.
Mousr Appearance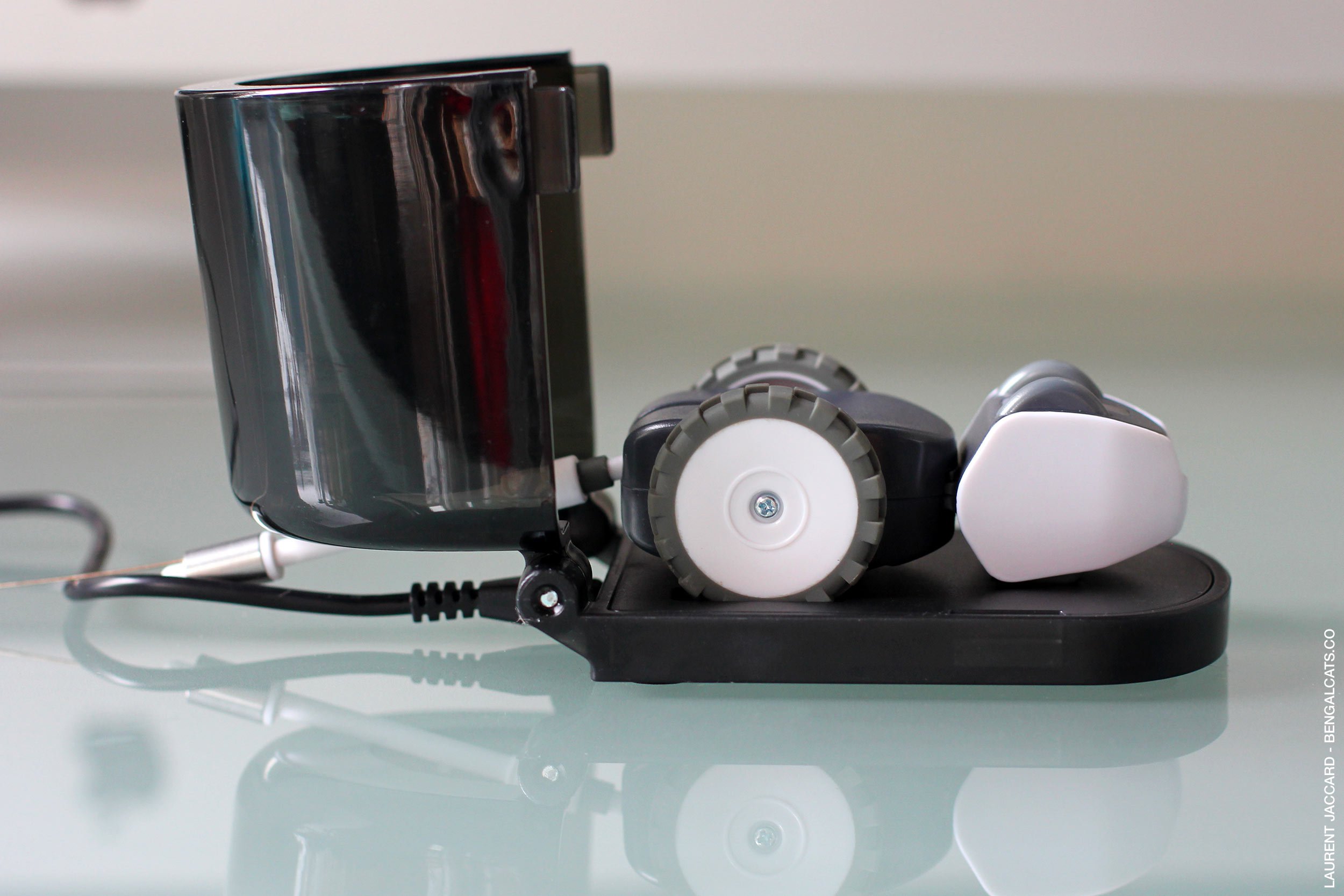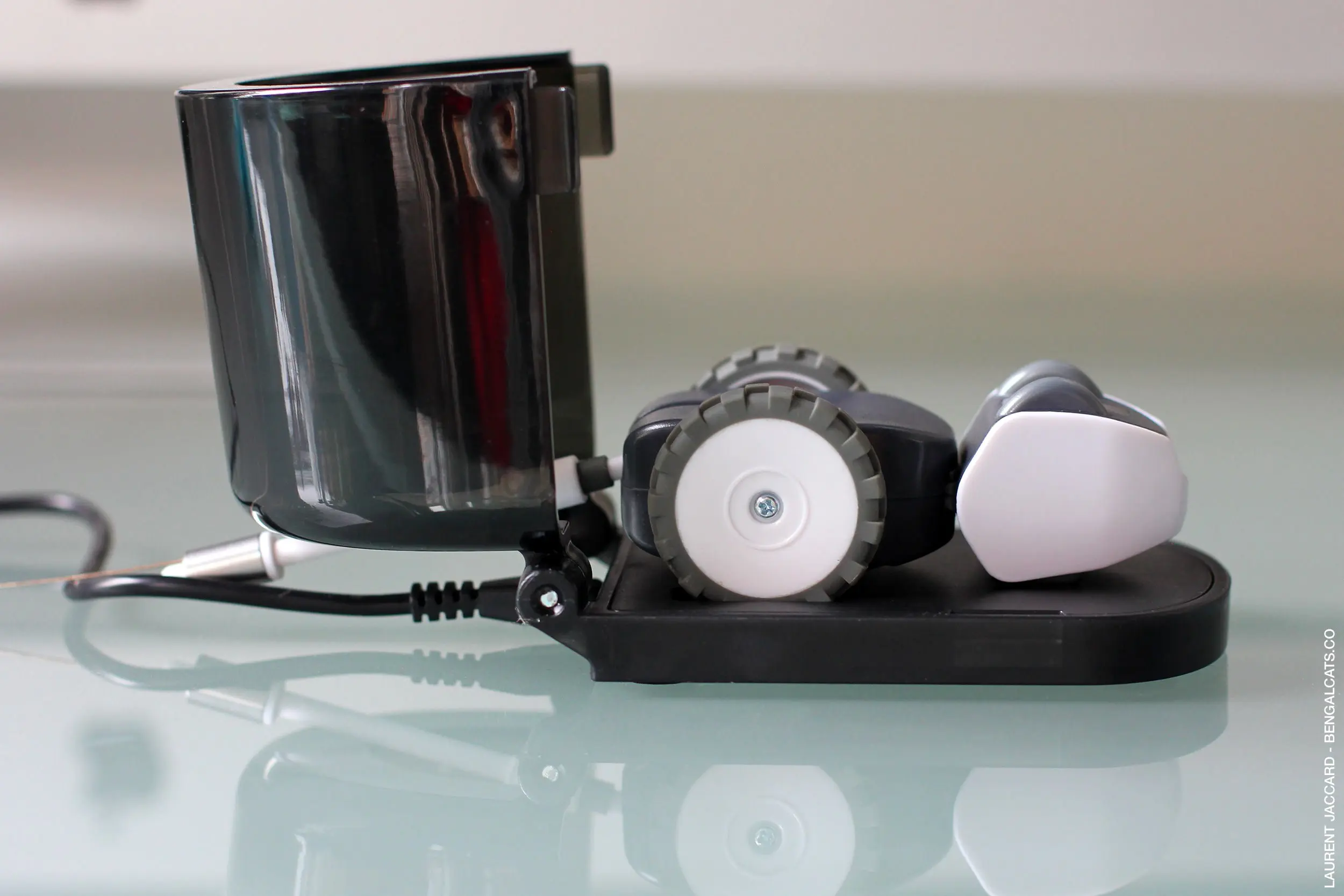 Mousr is, of course, shaped like a mouse, and moves around on small wheels powered by a powerful electric motor.
It sports an interchangeable fluffy tail, a hidden speaker to attract your kitty with cute noises, and a multicolored LED eye which change color to communicate his needs and current status.
The  team managed to make the robot small and light enough to not harm cats, human feet, walls or furniture while cruising through your living room at around 5 meters per second (18km/hour).
Mousr weighs in at just 60 grams — which is roughly equivalent to the weight of a tennis ball — but the materials are strong enough to avoid any damage when it crashes into walls.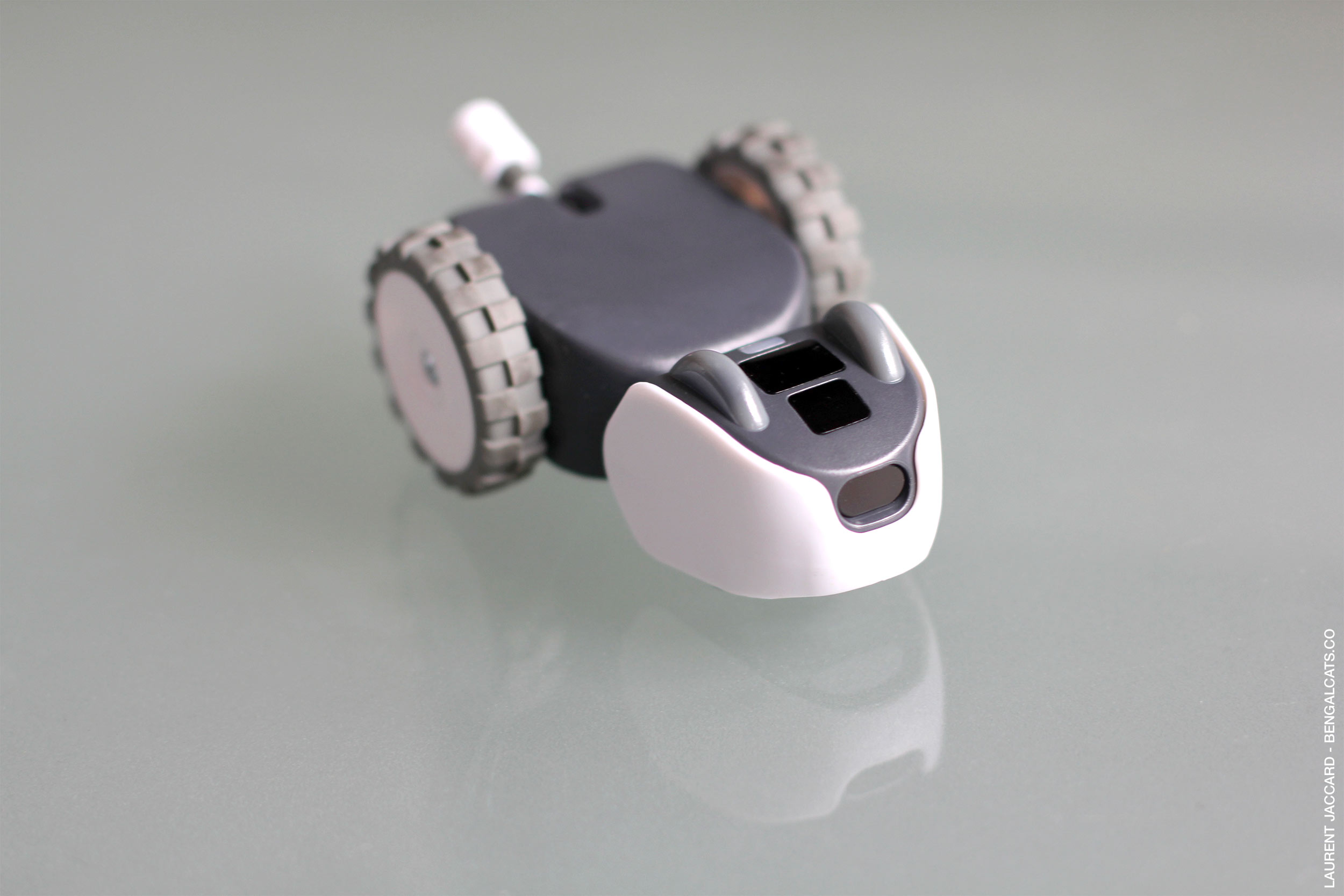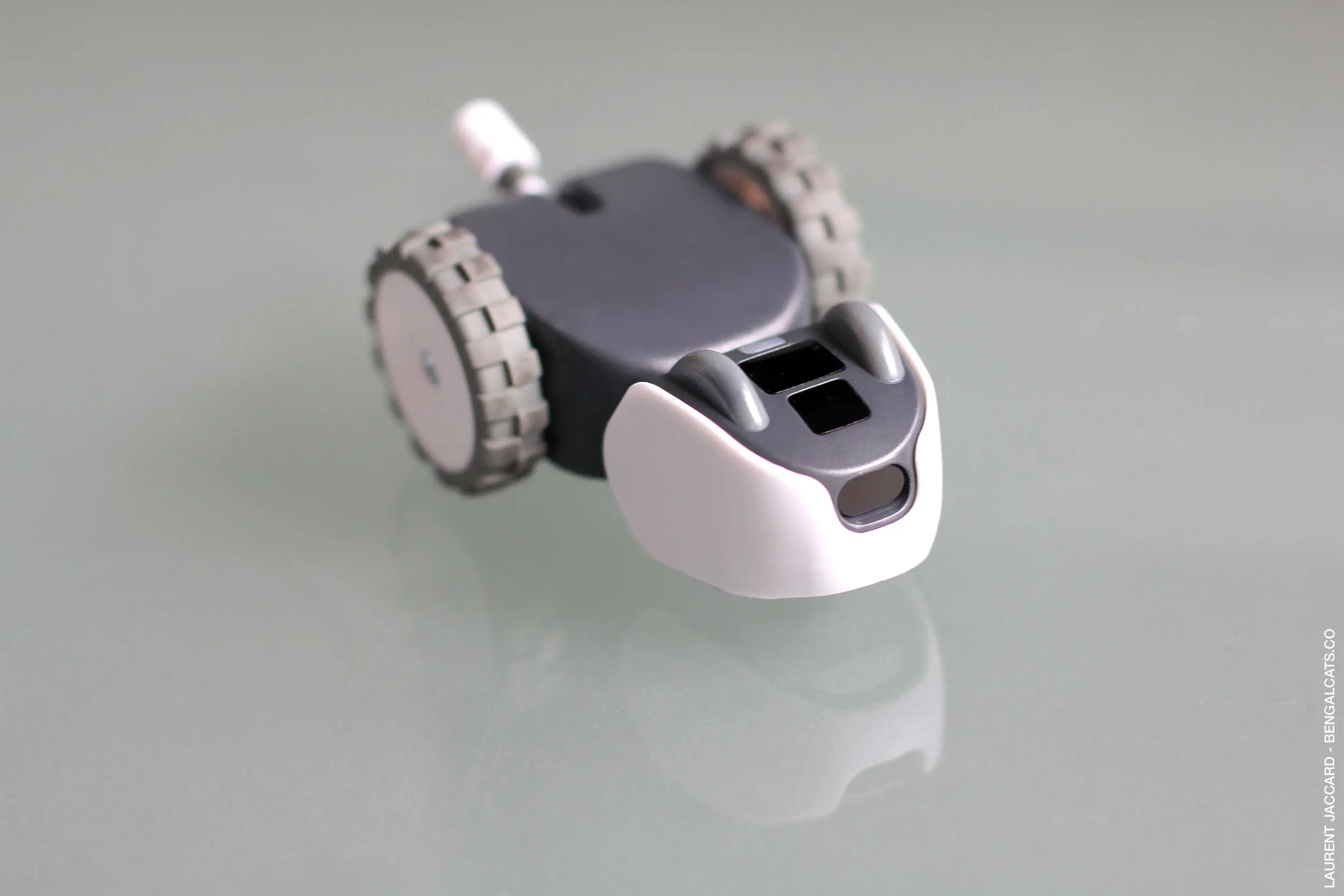 BODY
Made from an ultra-tough polycarbonate material, Mousr has been thoroughly tested in extreme conditions by Petronics to make sure it can withstand any abuse your cat can dish out: bite, scratch, crash and drop. We strongly recommend against using him with dogs though.
The problem with cats is that they have a tendency to hide or loose their toys, but Mousr comes fully prepared.
The body was designed to be too large for common hiding spots, like under the oven or fridge.
Mousr is equipped with an upward facing proximity sensor to help him avoid getting stuck under larger furniture, like couches and beds.
That said, if your cat is a hoarder and you are still having trouble finding Mousr, simply connect to your robotic mouse from the mobile app and press the sound button to help you or your cats locate him.
TAILS
Of course, the majority of cats won't even play with Mousr's body at all because for them, it's all about the tail and it's movements.
Variety is the spice of life for our feline friends and a typical cat will get bored easily playing with the same toy over and over again.
Rotating toys keeps play fresh and exciting, makes the hunt more interesting and should be done as often as possible.
Knowing this, Petronics made the tails easily interchangeable.
You can customize Mousr with 10 different custom tail attachments to match just about any play style so your cat can keep chasing it's favorite prey.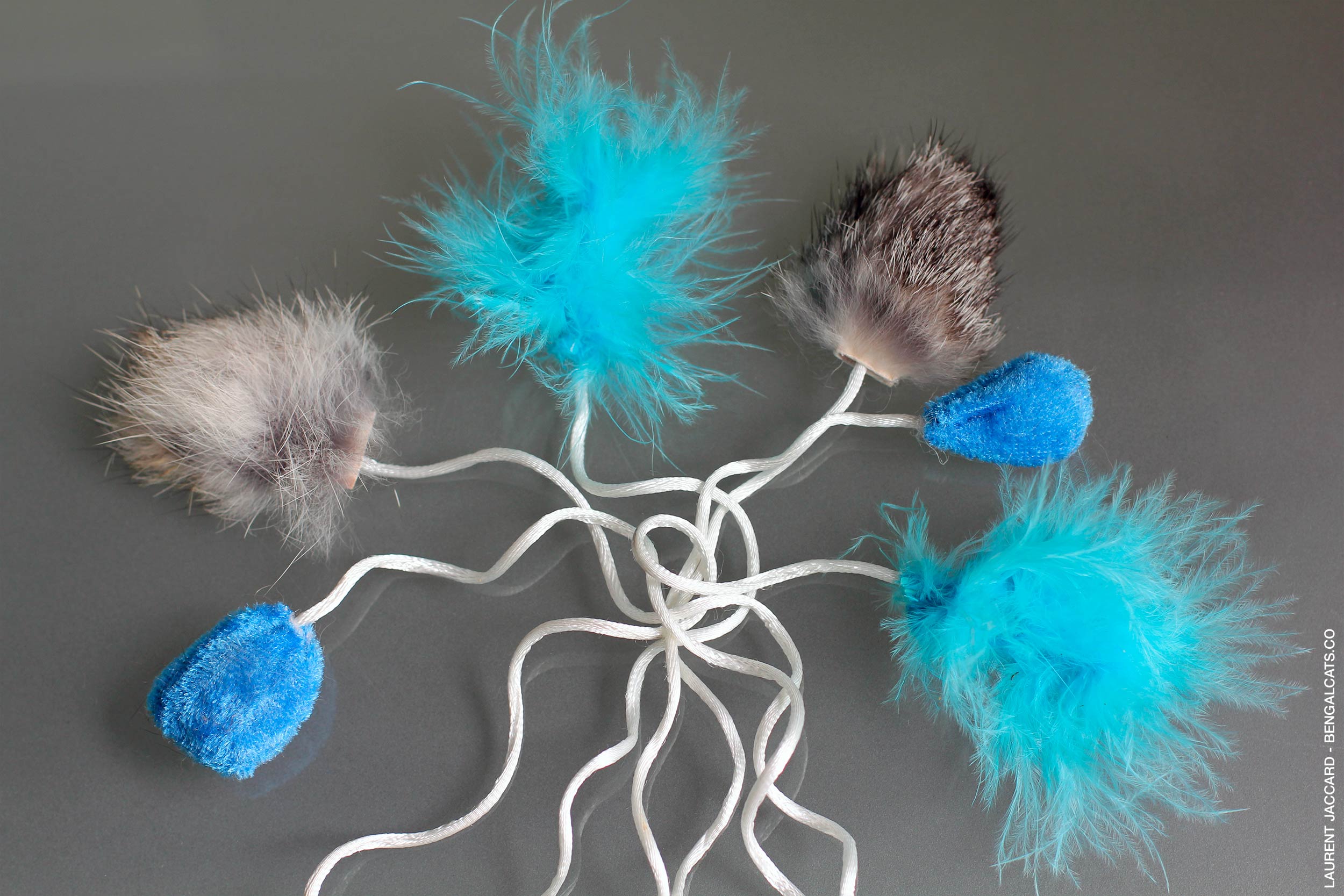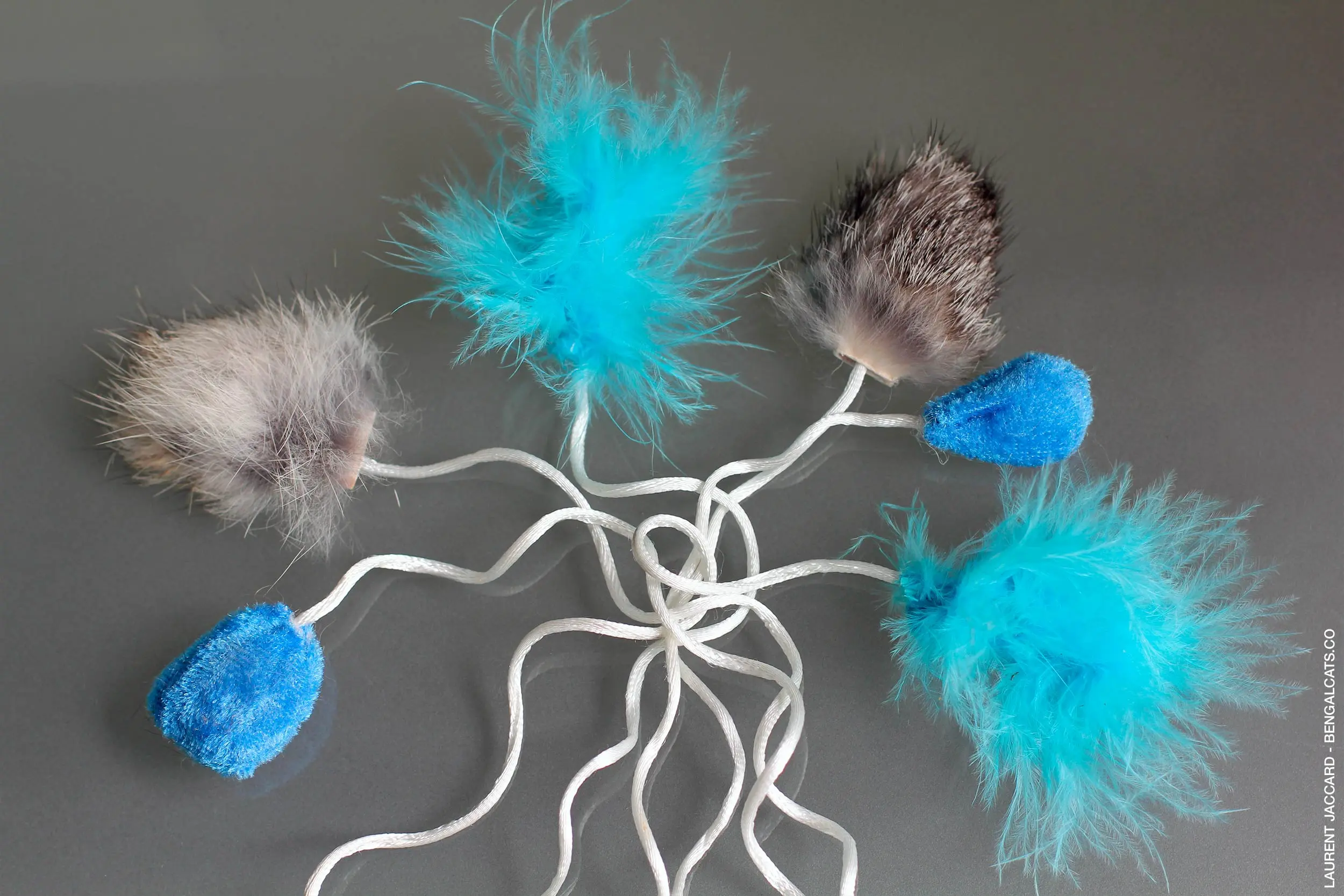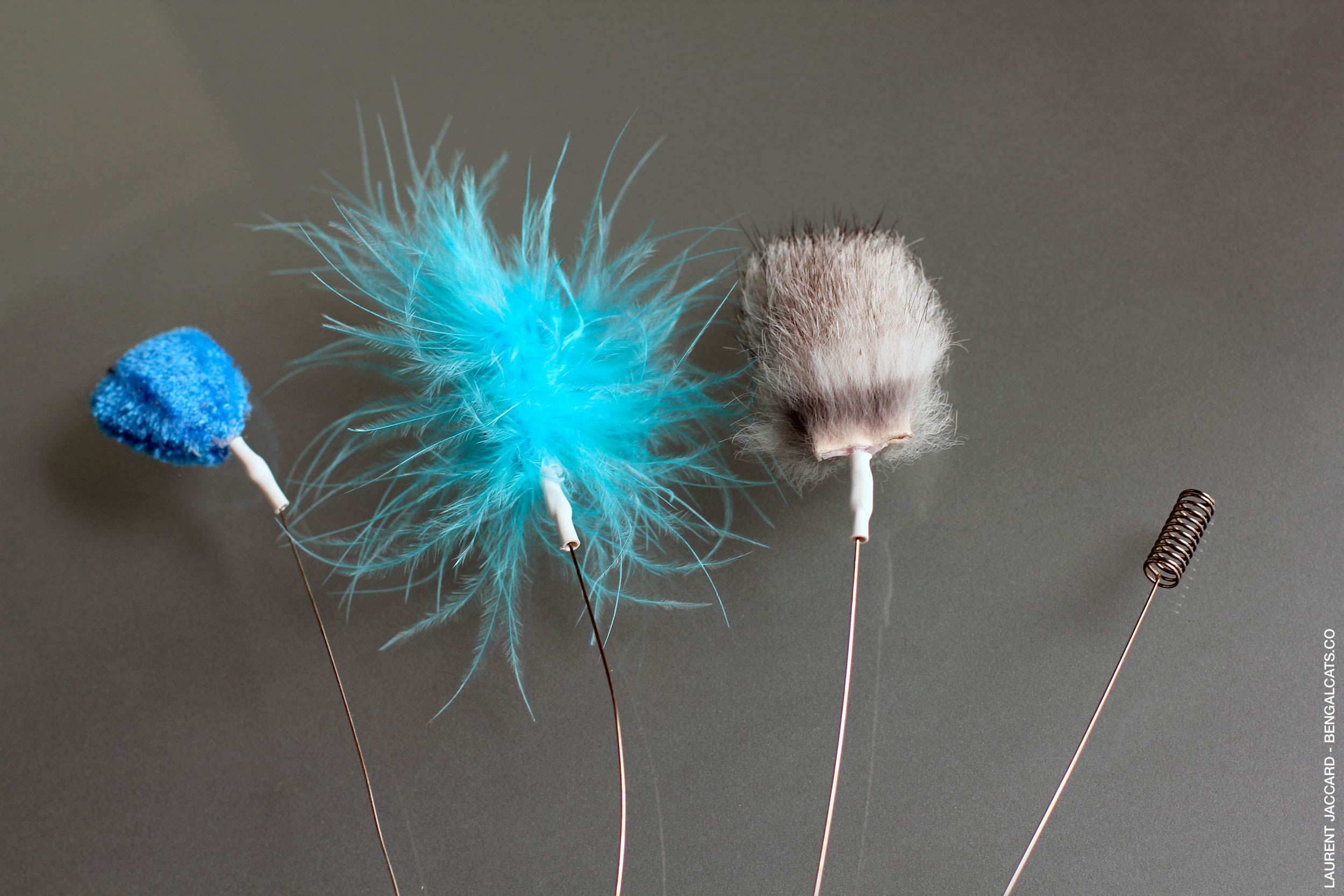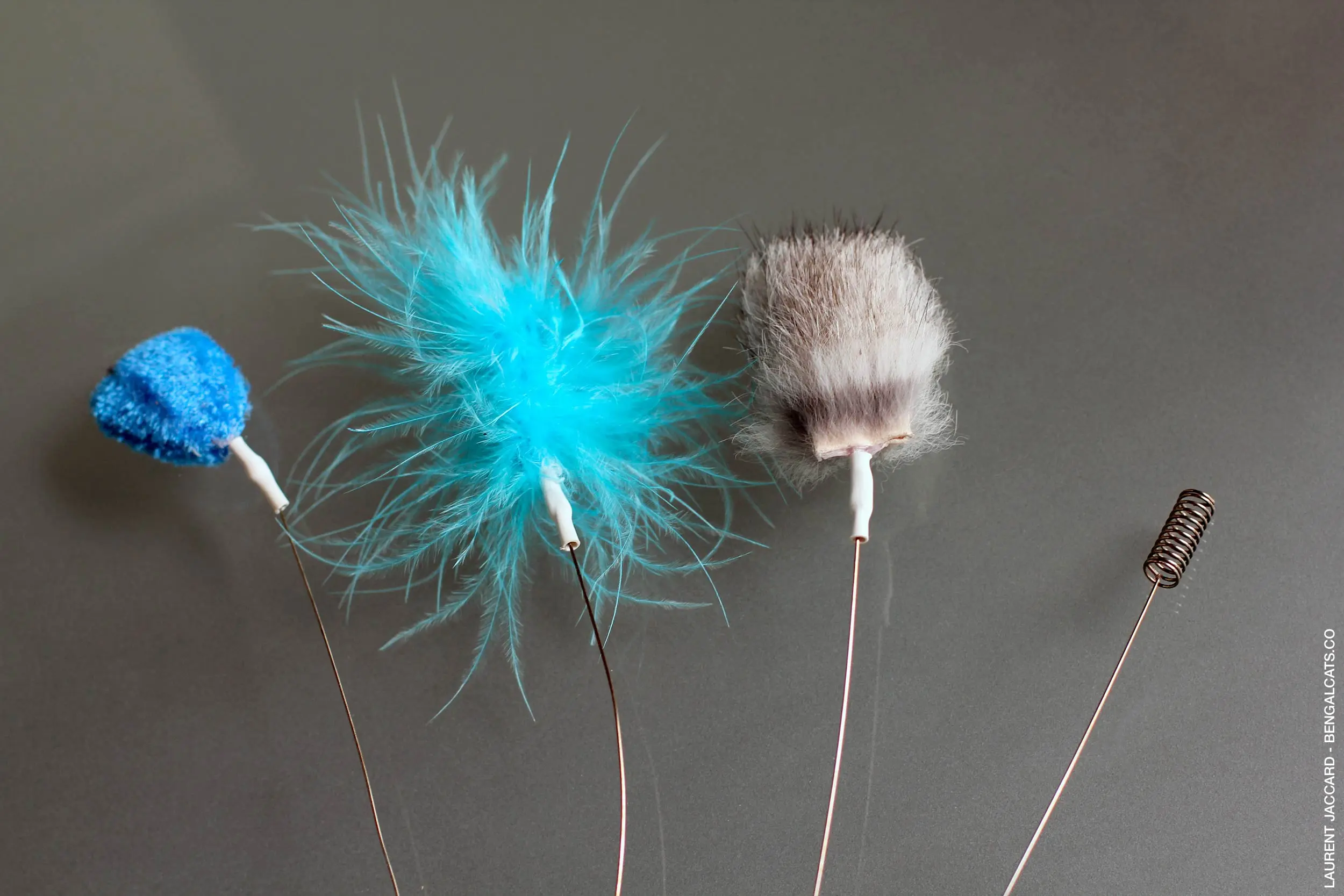 Whether your cat likes to stalk, chase, jump, bite, or swat, they've got a tail for it.
They've even optimized remote control and auto modes for each tail style!
Bounce Tail –  This long springy tail is best suited for stationary games. The Bounce Tail is ideal for the bug swatter that's attracted to wild, jerky movements or knocking things out of the air.
Flick Tail – This medium length string is perfect for high energy play sessions. The Flick Tail works best with confident cats who love to chase mice.
Chase Tail – This tail features a long string waving in a snake-like manner across the floor. The Chase Tail is ideal for more timid cats that prefer a little distance when playing.
The various lengths and styles in tails enable Mousr to accommodate each cat's personality.
By switching to a new tail once in a while, it'll be like your cat is meeting Mousr for the very first time!
In case your cat gets a little too rough with her favorite tails, replacement bundles are available.
WHEELS
Instead of feet and legs, the robotic mouse-looking device has large wheels (3.5 cm diameter) to ensure Mousr can drive on any household or indoor surface like carpet, wood, tile, linoleum, including high throw rugs.
Mousr is able to cross fairly large transitions between hard floors and tall rugs and it's near silent when running on carpet. So, no matter what floor you have in your house, Mousr should work great in any room and on any surface.
The wheels and body were specifically designed to let Mousr flip on his back in order to keep driving upside down, so he can crash and tumble without any interruption in game play even when it's been flipped over.
Mousr is also equipped with a collar system that prevents your cat's fur from winding around the rods. Hardened steel screws can be removed and replaced in case hair build-up does become a problem in the future.
Conclusion
Of course, starting at $149, it's not a cheap cat toy but when you see what Mousr is capable of, you realize you just got yourself a robotic cat sitter for a fairly decent price.
Keeping an indoor cat happy as well as healthy means providing more than just good care with proper nutrition and regular veterinary checkups.
All cats need exercise, entertainment and stimulation, particularly those who don't have outdoor access.
Eliciting an indoor cat's natural behaviors with foraging and hunting games can do wonders for your kitty's mental and physical well-being.
Having toys to chase or pounce is an absolute necessity for any cat!
The average cat toys are not engaging, too predictable and they don't react to an attack like a prey does.
What I like the most about Mousr is that the team is really dedicated to improving the product and Mousr periodically receives free device updates over-the-air when connected to its companion app.
And because I talk regularly with their founders I can say for a fact that they have some pretty cool stuff about to be released soon.
[divider style="solid" top="20″ bottom="20″]
Disclosure: This is not a sponsored review. This post contains affiliate links. I didn't receive the product for free and I wasn't asked or paid to make this review. I only share information that I feel is relevant to my readers and is in keeping with my website's mission. Petronics is not responsible for the content of this post and my opinion is based on 3 weeks of testing and daily usage by me and my three cats. The review will be updated with any new information or if problems are being encountered with this product in the future.