Articles
Trending
The 16 Best Interactive Cat Toys in 2022
We all know that cats are renowned as smart and curious creatures, but Bengals are a whole nother story. These spotted felines, apart from being one of the smartest cat breeds, are incredibly playful and have high levels of energy they need to spend productively. All Bengal cat owners know it is essential to keep them entertained, and what better way to do that than with interactive cat toys? Thankfully, today's market offers a range of challenging, intellectually stimulating cat toys that will help your cat stay in great shape and burn off that excess energy in no time.
Here is our list of the best interactive cat toys that will keep even the pickiest cats entertained and amused!
1. Electric Flopping & Moving Cat Kicker Fish Toy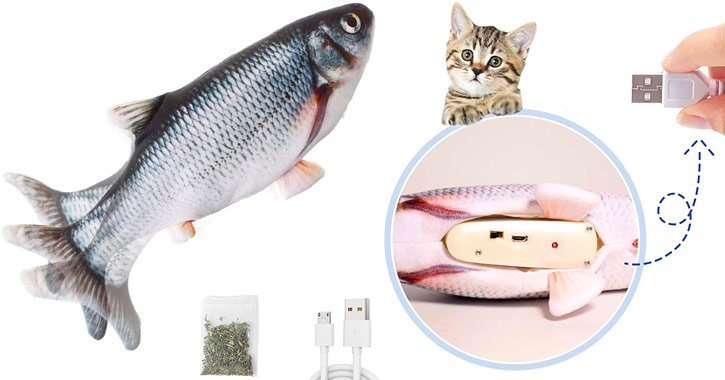 Made of cotton, this realistic cat fish toy is soft and will not harm your cats paws. It's an electric moving toy with lifelike movements that is perfect for kicking, chewing and biting.
The fish is filled with catnip which can make your cat excited and relieve them of stress and depression. It will alleviate boredom and loneliness when you are away from home. Thanks to the smart standby feature, the toy stays motionless to save battery power when your cat is not interacting with it!
You can also throw it away so that it starts moving when the switch is turned on. Every time your kitty touches the fish, the automatic built-in motion sensor kicks into action.
You won't have to replace batteries because it can be charged with the USB cable included in the package.
The motor inside can be detached from the exterior cover for convenient cleaning once it gets dirty.
Rechargeable
Washable and durable
Catnip pouch
Read the reviews on Amazon
---
2. Cat Dancer – Cat Charmer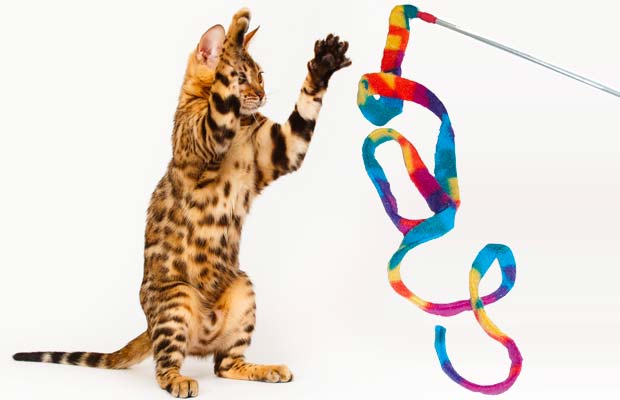 What's so special about a piece of fabric on a wand, you might ask? Well, it seems to have magic power over felines, because this simple interactive cat toy makes every kitty go crazy over it. The bright, colorful strip of fabric will provide endless entertainment for your Bengal cat and help them burn off all the excess energy they have. Cat Dancer – Cat Charmer is a great quality toy, so don't worry about your eager furball tearing it apart in a matter of hours. Nevertheless, rest assured, they will keep trying to do it.

Inexpensive but sturdy
Incredibly entertaining and great for exercise
Great fit for the temperament of Bengal cats
Read the reviews on Amazon
---
3. Catit Design Senses Play Circuit
The best interactive toys for cats engage at least some of their hunter senses- sight, touch, smell and sound, and Catit Design Senses Play Circuit covers all, with the exception of the smelly part (thankfully). With a smart, cat-specific design, this play circuit with a peek-a-boo track design will intrigue even the pickiest of felines. The ball, that's partly hidden and can be accessed only through random holes will entice your cat and entertain them for hours on end. The layout of the tracks can be changed in over a hundred different variations, so you can even mix it up a bit to ensure your kitty won't get bored after a few months. One thing is for sure, when you get this toy, it will be all your cat thinks about!

Versatile and engaging
Your kitty won't be able to keep their paws off it
Built from high-quality materials
Read the reviews on Amazon
---
4. The Ripple Rug Play Mat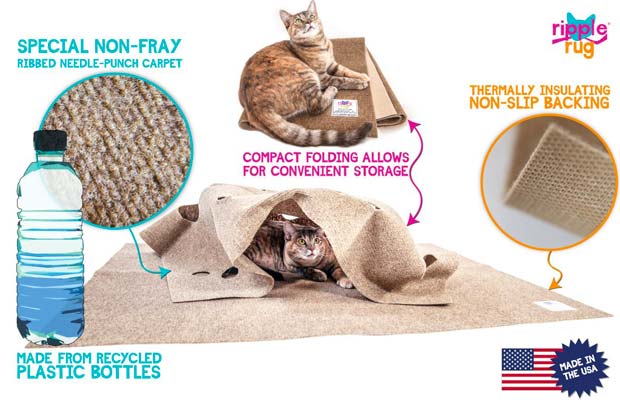 Although a brownish rug with holes certainly doesn't look like anything special, in feline eyes it's a remarkable toy with endless possibilities. Consisting of two non-fray, safe polyester carpets, this interactive cat toy can be a perfect spot for your Bengal cat to hone its hunting skills, take a nap, or just play hide and seek! The ripples can be arranged in an infinite number of different combinations, and the thermally insulated, non-slip material is both pleasant to cats and easy to maintain. However, consider yourself warned: your Bengal with sticky paws will definitely hide your prized possessions in The Ripple Rug as soon as you get it!

Non-toxic, resistant to mold, mildew, and stains, really easy to clean
Easily stored away and moved from room to room
A multifunctional, interactive cat toy suitable for all ages
Read the reviews on Amazon
---
5. SmartyKat Feather Whirl
It's well known that feathery toys guarantee lots of feline fun. The teasing feathers kick off their inner hunting instinct and make them want to chase it around, and there's simply no way a cat won't be interested in a toy that has feathers. And when that toy whirls around on a bright green ball…. Well, I don't have to tell you how kitties react to that. The random swirling patterns and durable materials allow your cat to pounce, chase and ambush SmartyKat Feather Whirl without fear of breaking it or it becoming boring. This automated toy moves around on its own but it's also very quiet, so it won't irritate either you or your cat, as some automatic or motorized toys do.

Unpredictable moving patterns keep cats amused
There are replacement wands available (for those particularly feisty kitties out there)
Whisper quiet
Read the reviews on Amazon
---
6. Petcube Play
The Petcube Play is as much intended for the owners as it is for their cats. A new and improved version of the Petcube Camera, Petcube Play lets you interact with your beloved cat wherever you are! This Wi-Fi, 1080p HD camera will allow you to keep an eye on your furry friend through your smart phone. You can talk and play with them by controlling a built-in laser toy with just a finger swipe on your phone. With the help of this great gadget, it's definitely going to occupy them while you're not at home. It comes with a 3x digital zoom, an autoplay mode for the built-in laser and night vision, for those of us who want a peace of mind when they're away for the night.

Non-slip bottom and chew-proof cord
Lets you talk to, watch and play with your cat in real time
Great for pets with separation anxiety (or owners suffering from the same affliction.)
Read the reviews on Amazon
---
7. Catit Senses 2.0 Food Tree
Bengal cats simply adore challenges. They are an intelligent, extremely curious breed and cracking the mysteries of how stuff works is one of their favorite things. This is why the Catit Senses 2.0 Food Tree, designed to stimulate cat's natural hunting instincts, is guaranteed to keep them on their paws for a long time. Through various side openings, your cat will try to reach the food kept inside. Even the laziest, most disinterested cats out there will be fascinated by a toy that doubles as a food bowl. You can insert pellets, treats or even a toy into this interactive cat toy. It's also compatible with Catit Design Senses Play Circuit, if you're looking to make a luxurious play center for your favorite feline.

Stimulating and challenging- perfect for Bengals!
Suitable for households with multiple cats
Easy to clean
Read the reviews on Amazon
---
8. Bergan Turbo Scratcher Cat Toy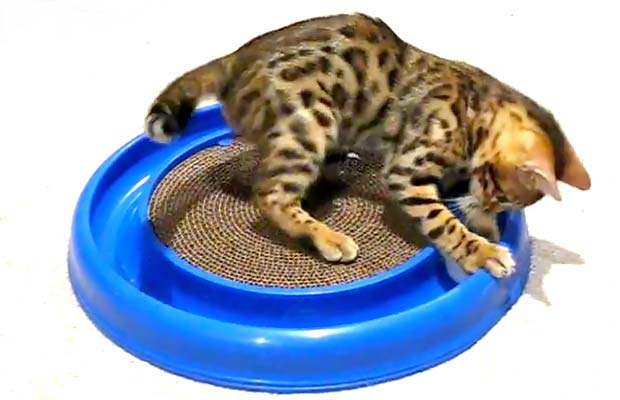 Were you ever wondering how sometimes the simplest things amuse your cat to no end? Well, Bergan Turbo Scratcher Cat Toy is one of the seemingly simple toys that will completely mesmerize your feline. With an enticing plastic ball that your cat can nudge around the track and the middle part that doubles as a scratch pad, this unpretentious yet amusing toy will provide hours of fun for your cat. The scratch pad, that's made from cardboard (and we all know how cats go crazy over it), is double-sided, and can be replaced when, eventually, your kitty manages to rip it to shreds.

The scratch pad will keep your cats from sharpening their claws on your furniture
This is a great way for your cat to be entertained when you're not around
The ball and organic catnip are included in the pack
Read the reviews on Amazon
---
9. SHRU – The Intelligent Cat Companion
If a simple cat toy simply doesn't cut it for your precious feline, then SHRU – The Intelligent Cat Companion might just be the thing for them. This interactive cat toy is egg-shaped with a feathery tail, but what makes it special is that it has a mind of its own. Created in collaboration with feline behaviorists, SHRU is designed to awaken your kitty's inner hunter by mimicking struggle, and even playing dead. This smart, modern toy is USB rechargeable and the perfect gadget to keep your Bengal cat occupied while you're off working. The 3 modes of play, Frisky, Sneaky, and Scaredy, are definitely going to keep any feline amused when they are home alone!

Intelligent design tailored to suit feline behavior
Virtually indestructible
Entertains your cat while you're away
Read the reviews on Amazon
---
10. Petlinks Electronic Motion Cat Toy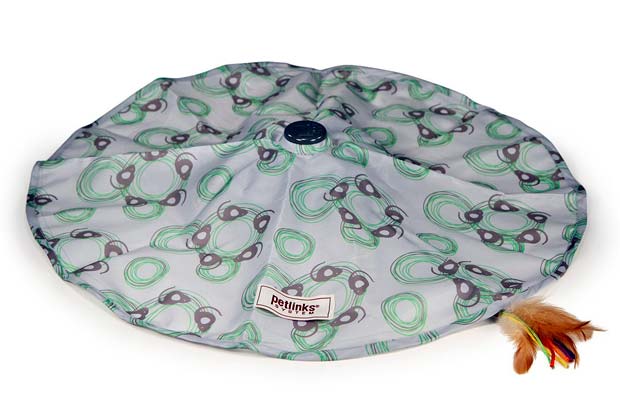 When it comes to automated, interactive cat toys, Petlinks Electronic Motion Cat Toy is one of the best. With a feathery tail that seems to move of its own accord and in an unpredictable pattern, it's no wonder that kitties go nuts over this gadget. Battery operated, the automated toy is concealed under a round, plastic sheet, and the fact that they can't see anything apart from the tail of their imaginary prey, keeps cats focused for hours. If you have ever noticed how your cat will pounce on you if you dare move your hand under the blanket, you can rest assured that this toy is going to be the center of their attention!

Durable and sturdy
Mimics the erratic pattern of actual prey
Suitable for cats of all energy levels
Read the reviews on Amazon
---
11. Petmate Crazy Circle Interactive Cat Toy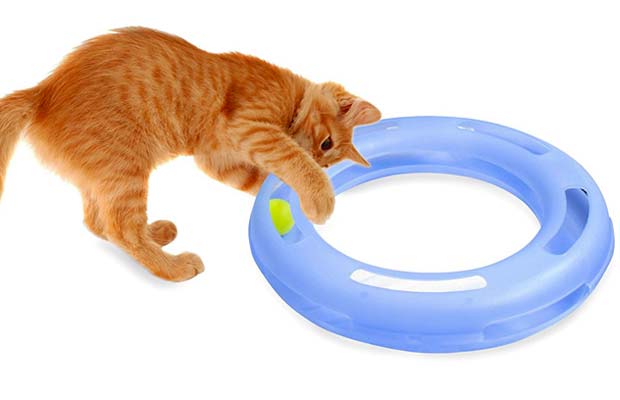 Interactive cat toys don't have to be complicated to keep felines interested. The Petmate Crazy Circle is a great example of how sometimes the toys with simple designs can be the ones that your kitty falls in love with. The ball is enclosed in a circular tunnel with an opening on the side, which will inspire your feline to spend hours trying to pry the ball out of its round prison. You know how cats, especially Bengal cats, loooove the things they can't get to? Well, this cat toy offers them exactly that, with an added bonus- you don't have to worry that their forbidden obsession is one of your valuables. It's a definite win-win!

Doesn't need the owner's supervision
Cheap but good quality
Guaranteed hours of fun
Read the reviews on Amazon
---
12. PetSafe Bolt Interactive Laser Cat Toy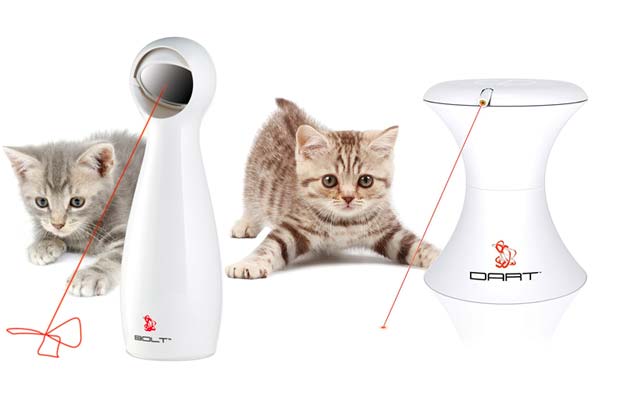 Anyone who's ever had a cat knows how much they are fascinated by lasers. However, the owners rarely share their enthusiasm, as laser chasing requires them to be the ones who are straining their wrists while pointing the laser for hours. Thankfully, the PetSafe Bolt and Dart Interactive Laser Cat Toys do all the grunt work for you. This cute, robot-like toy shoots out laser beams in a randomized pattern, fulfilling your cat's lifelong dream to chase lasers until they fall asleep from exhaustion. And, don't worry, it has a fifteen-minute shut-off point so your eager feline won't go crazy chasing that elusive red dot.

Great for energetic cats like Bengals are
Felines adore it
Suitable for kittens and adult cats alike
Read the reviews on Amazon
---
13. PetSafe Pounce Pet Toy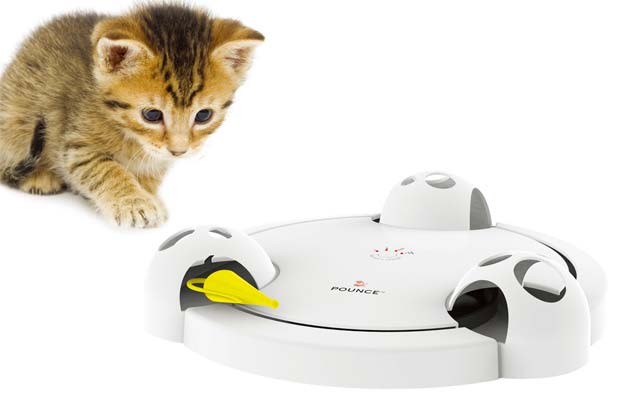 There's nothing like the good old-fashioned cat and mouse game to keep your feline going for hours. This automated interactive cat toy will enchant any kitty with an unpredictable mouse that moves at 4 different speeds and in different directions, zipping and hiding under obstacles all around the circular tracks. The cats love toys with random movements, which makes this toy super fun for them, and the little hidey holes for the mouse make it only more interesting. And if you sprinkle some catnip on the mouse…. Your cat will not want to get away from this toy!

Unpredictable and challenging
Cats don't get bored with it easily
Sturdy enough for a feisty Bengal
Read the reviews on Amazon
---
14. Petstages Tower of Tracks Cat Toy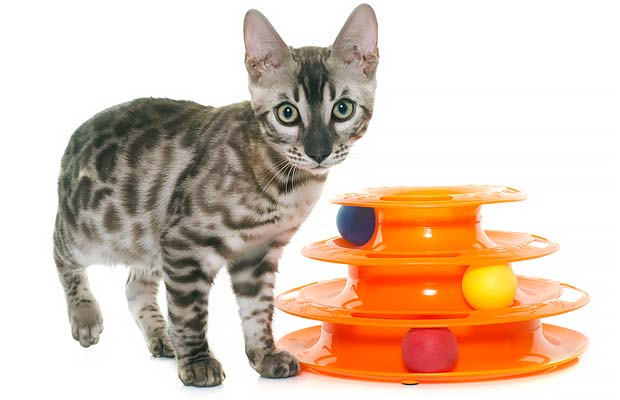 If your cat loves chasing balls, this tower with three levels and three colorful balls will mesmerize them. Apart from offering your spoiled kitty triple the fun as the more basic, one-ball models, it's also suitable for multiple cats. A new twist on the classic toy, Petstages Tower of Tracks Cat Toy will entertain even the most energetic kittens and adult cats equally. There is definitely something magic about these cute balls, as cats can't seem to stop swatting them around!

Suitable for households with multiple cats
Improved design with a safety bar in the middle
Doesn't require supervision
Read the reviews on Amazon
---
15. The Peek-A-Play Toy Box
There's nothing better to incite curiosity of a cat than hiding something away from them. The moment they think something is out of their reach, that very thing becomes the most interesting object in the known universe. That's why The Peek-A-Play Toy Box is an instant favorite with felines. This interactive cat toy looks simple, as it's a big, sturdy box with numerous holes in it, but the concept is very challenging and enticing. It comes with two balls (although you can add treats or some other toys), which your cat will (desperately) try to fish out. If your cat tends to be a little obsessive and too persistent, you can add softer or smaller balls that they can eventually dig out, but for lazy cats, this setup is ideal. They'll be bouncing and running around this mesmerizing wooden box for hours!

Works with many different toys
Engaging and stimulating
The wood it's made of is quite tough and durable
Read the reviews on Amazon
---
16. GoCat Da Bird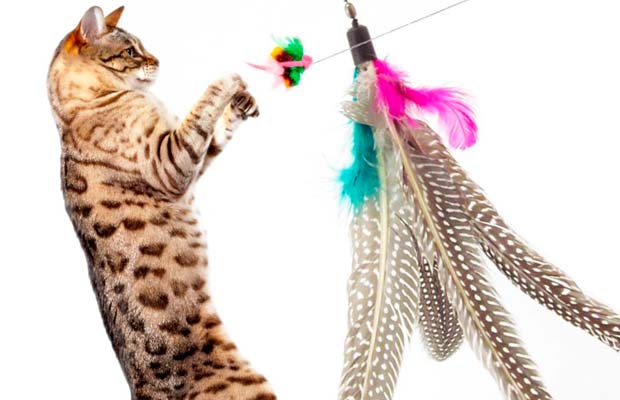 A modern version of the classic favorite, GoCat Da Bird is a realistic feather toy that is bound to captivate your furry friend. With the feathers that have the feel, appearance and the sound of real bird wings, this interactive cat toy is a perfect fit for Bengal cats which have a strong hunter instinct. This is the Easy to Store version of the Da Bird teaser, which means that the rod pulls apart and takes much less space than it usually would. And, when you have a spoiled little Bengal, you need as much space for their toys as you can get!

A great choice for active Bengal cats
Perfect for bonding with your kitty
Easy to store away
Read the reviews on Amazon
---
16. Mousr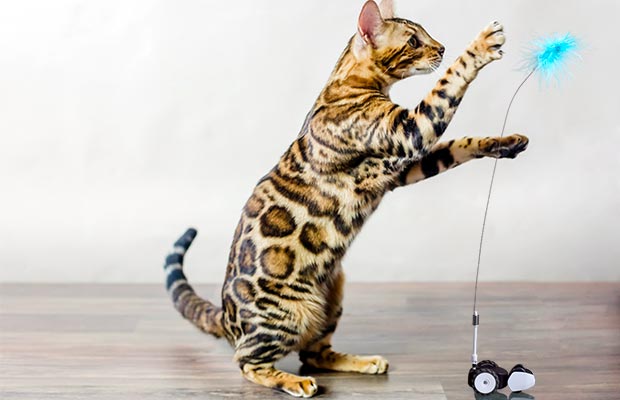 This new comer on the scene of interactive cat toys, released in early 2019, without hesitation takes a spot on our list. Mousr greatly improves the experience for both cat owners and their babies in ways that no other cat toys have been able to fulfill. The highly advanced artificial intelligence technology interacts with your cat by teasing, hiding, and moving in unpredictable ways, thus paralleling all the behaviours you would find in a real prey. In auto mode, Mousr can entertain your cats on its own when you are busy or away from home. For more intense play styles, you can also drive Mousr with your tablet or smartphone.
Read our Mousr review to learn more!
Artificial intelligence makes this toy the most sophisticated of its kind
New games and behaviors are being added free of charge
Different custom tail attachments to match your cat's play style!
Read the reviews on Amazon
---
Disclosure of Material Connection: Some of the links in the post above are "affiliate links" designed to provide a means for sites to earn advertising fees. This means if you click on the link and purchase the item, Bengalcats.co will receive an affiliate commission. Regardless, we only recommend products or services we use personally and believe will add value to our readers.