[dropcap]S[/dropcap]o, you've decided you want a Bengal cat in your life. That's great! But choosing a healthy Bengal cat kittens to be your new best friend isn't always an easy feat.
From specific details about the breed that can influence your decision, to finding the right breeder, there is a lot of things that can make adopting a Bengal kitten a stressful process.
In order to make it easy for you to find a Bengal kitten you'll completely fall for, I created this comprehensive guide that will help you save your time and nerves.
So, without further ado, here is everything you need to know in 9 steps to help you find healthy Bengal kittens for sale!
Step 1. Choosing The Right Generation
When you're looking to get a Bengal kitten, it's important to decide which filial generation is the right fit for you. There are two main groups of generations- foundation Bengals (also called early generation) and SBT Bengals (Stud Book Tradition).
All Bengal cats share similar traits: beautiful spotted coat, lean and strong figure and lovable personalities.
However, as the earlier generations of Bengals are closer to their wildcat ancestors, their appearance and character are much similar to the Asian Leopard cat than it is the case with SBT Bengal's. The foundation Bengals are not even recognized as domestic pets and they are usually reserved for breeding purposes or experienced owners.
Most Bengal cat breeders in the USA and the UK offer only Stud Book Tradition Bengal kittens for sale, since they are more suitable to be raised as pets. The SBT kittens display all the characteristics of fully domestic purebred Bengals: they are intelligent and playful, socialize quickly and have the recognizable leopard-like fur.
When you determine which generation of Bengals is going to fit in with your lifestyle, you should consider what type of pattern and color you prefer. A good place to start is by learning the types of Bengals and variations in their looks.
Step 2. Decide What Types of Bengal
Although the first thing that comes to mind when you think of a Bengal is lush, beige-brown fur with dark spots, there are variations in both patterns and colors within the breed.
The two main types of patterns are the spotted (or rosetted) and the marbled. The markings are unique to each Bengal, but always in one of these two patterns.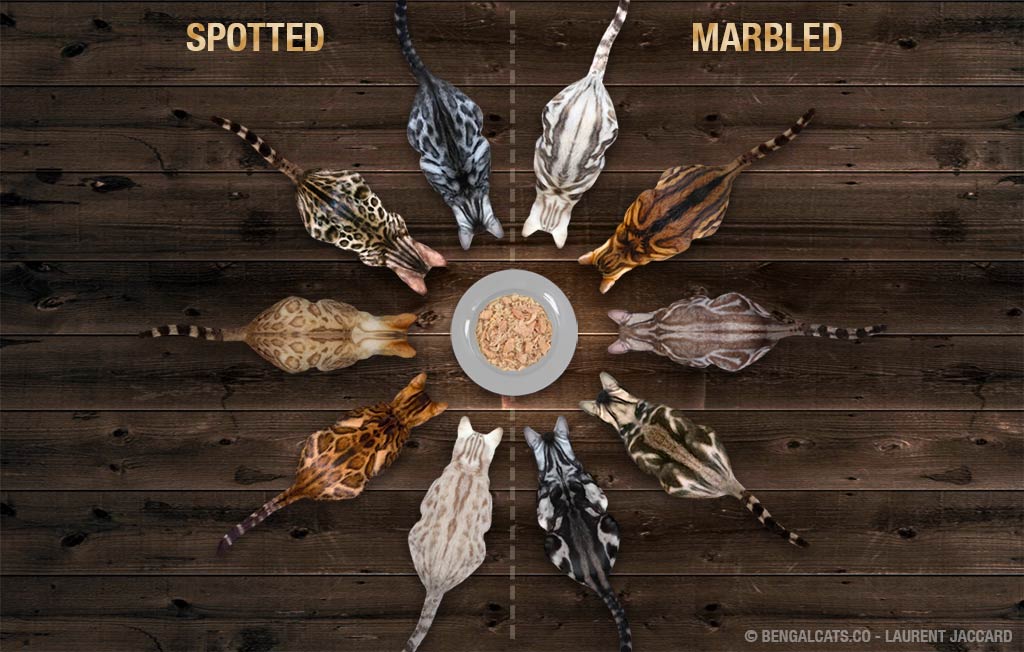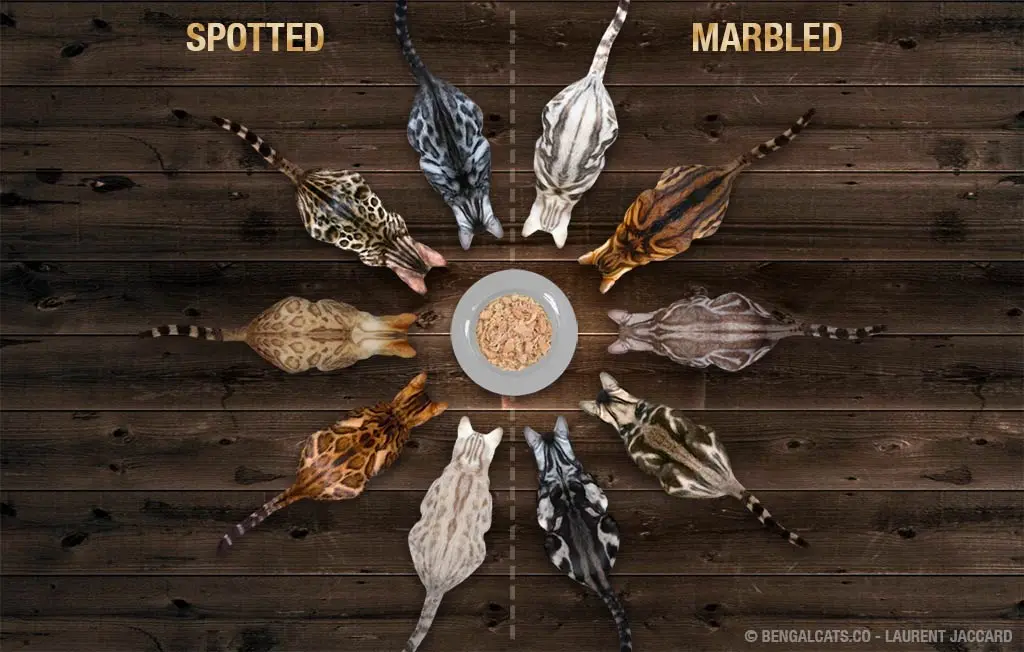 When it comes to the color of the Bengal's coat, the two most popular are brown or white (Snow Bengals). The shades vary from warm golden tones to creamy white. Some Bengals have a beautiful, glimmering sheen to their coat, called glitter.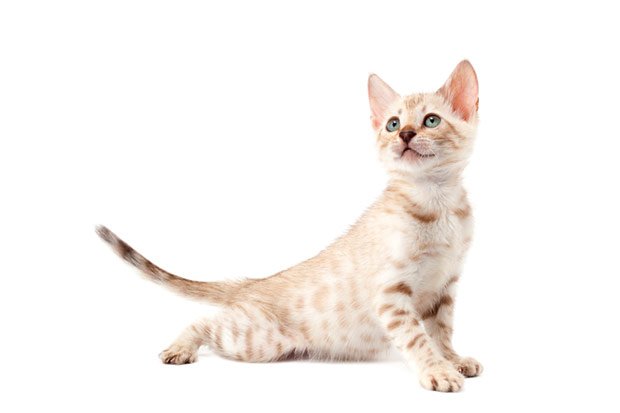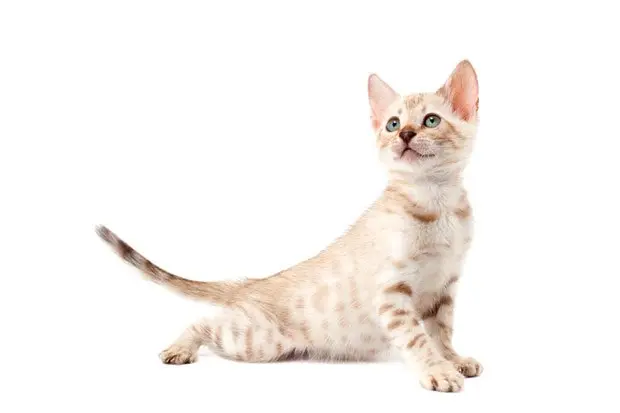 If you're curious to learn more about all the colors and variations in markings, make sure to read our article "Bengal Cat Colors And Coat Types".
By now, you probably decided what type of Bengal is the most attractive to you, and it's time to find breeders near you. To ensure your new Bengal kitten is healthy and has a good lineage, you'll need to find a reputable cattery.
Step 3. Choose A Respectable Breeder
In case you're still unsure what a backyard breeder is and what are the advantages of buying Bengal kittens from a verifiable cattery, the information provided in the article "The Importance Of Selecting A Reputable Bengal Breeder" will be helpful.
This short guide covers all the important details that make the difference between a breeder you can trust and a backyard breeder. Recognizing the signs of substandard breeding will help you find a well-socialized, healthy Bengal kitten. Not to mention the fact that you'll know that your Bengal came from a place where it was loved and cared for, and not brought up in appalling conditions.
Since Bengals are commonly not found in local shelters or pet shops, it's not always easy to find a breeder in your area, let alone one with a spotless record.
Our directory of Bengal kittens for sale or adoption can save you the time you'd spend scouring the classifieds and the web in search for a reputable breeder. There are dozens of listings that include both breeders and rescues. The search can be narrowed down to a specific area with an interactive map- you'll find listings from Europe, North America, Australia and many other parts of the world.
You can then sort the breeders by rating, new litter, title or date, and create a list of local breeders that meet your standards.
Step 4. Getting in Touch with Bengal Breeders
After you've made a list, you can either mail the breeders or phone them, depending on what information they have displayed on their profile. Let them know you're looking to buy a Bengal kitten and that you've seen their listing on our Bengal Cats website.
Inform them about your preferences concerning filial generations, as well as markings and color.
Ask the breeder if they have any kittens available or if they're expecting a new litter soon. Since TICA regulations make sure that the Queen (Bengal mama) can only have 2 litters per year, it's not uncommon for the kittens to be reserved even before they are brought to the world.
In case the breeders from your list don't have Bengal kittens for sale at the moment, or don't have the kitten you've been looking for, don't hesitate to ask them if they can recommend another local breeder. This will expand your original list and give you a few more options to choose from.
Step 5. Locating A Litter
There's a chance that you won't find the perfect kitten right away. Sometimes the breeder you've chosen won't have kittens that meet your preferences, or they might not have any available at the moment.
But, once you find a Bengal litter in your area, it's crucial to ensure the kittens were bred in accordance with guidelines. You'll need to be informed about the parents of the litter (Queen and Stud) and look at the past litters of both parents to see what to expect, especially if you're reserving kittens that are not yet born. Ask the breeder for pictures of the parents, or better yet, ask to meet them. The genetic makeup should play a part in your decision making. After all, the kittens will get most of their traits from their parents.
Depending on the breeder, the cats can be kept inside their home or in a breeding cattery. Either way, they should provide appropriate living conditions for their cats. If the kittens are coming from a place where they won't be taken care of and socialized properly, you risk a myriad of problems with your new pet. This includes different diseases and illnesses the kitten can contract at the breeders, or behavioral problems that can be hard to correct later on.
Step 6. Doing A Background Check
As I previously mentioned, it won't be enough to find a litter that meets your criteria and comes from a reputable breeder. To really make sure that you'll be bringing the right kitten home, you'll need to have all the information about the parents. And you can only get that in person.
Although a TICA certificate should be a given, it's not enough to help you decide on a litter. This means that the breeder registered the kittens, and that they've met The International Cat Association criteria for Bengal cats. However, this doesn't mean they will meet yours.
The only way to be sure that you're choosing the right litter is to meet both the Queen and the Stud, as well as the kittens. This way, you'll have firsthand impression of your future pet, and be able to determine if the personality and the looks of the parents are something you'd love to see in your Bengal kitten.
If you're not sure what to look for, here are the 3 main traits you need to pay attention to:
[tie_list type="checklist"]
[/tie_list]
Behavior
Bengals are known for their energetic, playful nature, and it's one of the reasons people choose them as pets. However, if they're not socialized in time, or neglected, they can become hard to handle.
When you visit the breeder and meet the parents, take notice of their behavior. Naturally, a Bengal with her babies won't be at her friendliest, but regardless, you should be able to determine if the cats have been socialized and what are their personalities. If you notice unusual aggression, erratic behavior or strong litterbox smell, consider it a warning sign.
Health
Although choosing a reputable breeder should minimize concerns about the health of the litter, it doesn't mean you shouldn't double check. Ask the breeder for shots and worming records, as well as for results of genetic screening of the parents. This helps you determine if the kittens from the litter will have predispositions for any disease, and ensure you're getting a perfectly healthy pet.
Standard
Although Bengals share common traits, no two cats are completely alike. But, all purebred Bengal cats with a documented pedigree do have similar features that are the result of a good lineage. Checking if the kittens (as well as their parents) meet the standards of the breed is particularly important if you were planning on showing your Bengal kitten. Each cat that is shown must have typical Bengal features, including coat color and marking, slender body and distinct head (more details on TICA website).
Step 7. Deciding On a Litter
Singling out just one litter can be hard, especially if you've connected with a few good breeders that happen to have available Bengal kittens. If that happens, you should take other aspects into consideration before deciding.
First of all, make sure the breeder is cooperative and helpful. It can make a world of difference, especially in those first few days with your new kitten, if you have a breeder to rely on for all your needs.
A good Bengal breeder should be on-hand, answering any questions you might have or giving advice when needed. It's also important that the breeder is willing to take back the kitten, in case everything doesn't go as planned. Having a safety net of sorts is essential, and in the beginning, a breeder can prove to be indispensable.
Of course, it goes without saying that the litter should be up to standards mentioned in the last few sections, from health to environment. The breeder plays an important role in the future development of your Bengal kitten. If the kitten has been socialized on time, and given extra care in that tender period of life, there's a higher chance it will grow up to be a lovable, healthy Bengal cat.
Step 8. Male Or Female Cat?
In some cases, people have a preference when it comes to sex, but, more often than not, there is a fair amount of misinformation influencing the decision.
Some people think that female Bengal cats are more loyal or that the males are more mischievous, but it's simply not the truth. Each Bengal cat has a character of their own, regardless of their gender.
Aspects in which the sex of the cats will matter is if you're planning on breeding them in the future or not. If you're not, you need to consider neutering and spaying, as well as the costs. Spaying a female is more complex, and therefore more expensive than neutering a male. If not bred nor spayed, both males and females can become frustrated and start marking with urine.
As it is the case with most species, male Bengals are slightly bigger than the females, but apart from the minimal difference in looks, you'll find that both sexes have equal appeal.
Step 9. Choosing A Healthy Bengal Kitten
Finally, the moment you've been waiting for is here! Which of the Bengal kittens from the litter you choose is going to be your pet?
In some instances, the choice will be narrowed by the availability, and you won't have much say in the matter. In situations where you're able to choose between a few kittens, it's best to rely both on your gut and the advice from the breeder. Don't be afraid to ask for an opinion from other Bengal cat owners with more experience or from the breeder themselves. They can help steer you in the right direction.
Finally, don't be afraid to trust your instincts. When you make sure that all the breeding requirements are in check, and that the litter is healthy, let yourself fall in love with one of the babies. After some time with them, you'll know which Bengal kitten is meant to be your pet.
[box type="note" align="aligncenter" class="" width=""][dropcap]I[/dropcap]f you have any questions or comments about this article, feel free to post in the comment section below or in our bengal cat forum![/box]
[products limit="3″ columns="3″ orderby="id" order="DESC" visibility="visible"]