[ads1] [dropcap]A[/dropcap]re you a "crazy cat lady"– and proud of it?
Anyone who's had a furry feline friend as a pet knows that they're the "cat's pajamas".
Cats far outnumber dogs, with 86 million households owning a cat versus 78 million dogs.
There's nothing wrong with being thrilled that you share your world with a cat.
While some may say they're aloof in reality they're sweet, loving, cuddly, and curious little creatures.
They are fiercely independent which might lead people to believe they can go without human interaction.
That's simply not the case – it's been proven that cats adore their human keepers. In fact, in some cases, they preferred their human companions over food.
If you love your cat and you're looking for a way to show it to the world, consider cat jewelry.
There are tons of adorable options out there – some you can even match with your cat!
No matter what kind of metal, precious stone, or style you need, there's some cat jewelry to meet your needs.
Let's look at all of the cute tchotchkes for you and your kitty that you're sure to love.
Go Wild For Cat Prints
Looking for cat jewelry that is a bit more subtle? Start with a piece that keeps it simple and classy.
Cat prints are never a bad choice. Leopard print can be a sexy statement piece that livens up your everyday clothes.
For example, a pendant or ring with leopard print gives your wardrobe an exotic flare.
A small leopard print bangle looks lovely dangling on your wrist.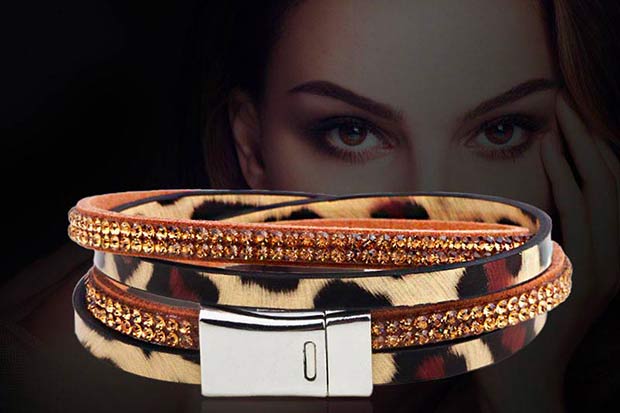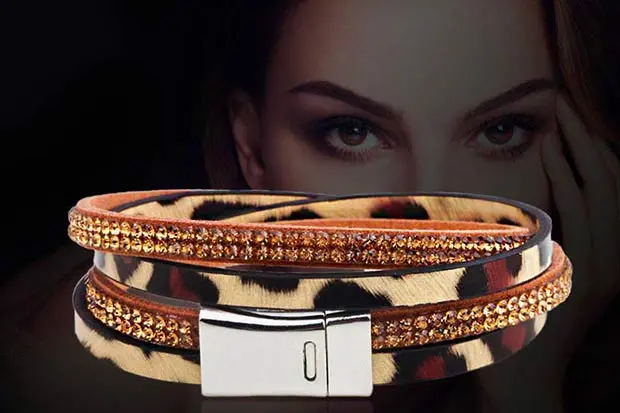 You can even find beads that have different stripes and spots and combine to form beautiful bracelets or necklaces.
Get them in different sizes to match whatever cat print mood you're in.
With the variety of wild cats, there's no end to gorgeous prints to you incorporate into your personal style. Think tiger, cheetah, and of course, leopard.
Some go overboard and do exotic cat prints head to toe. A few understated touches go a long way.
Kitties, Kitties Everywhere
Wouldn't it be cute to have an adorable little kitty sitting on your finger everywhere you go?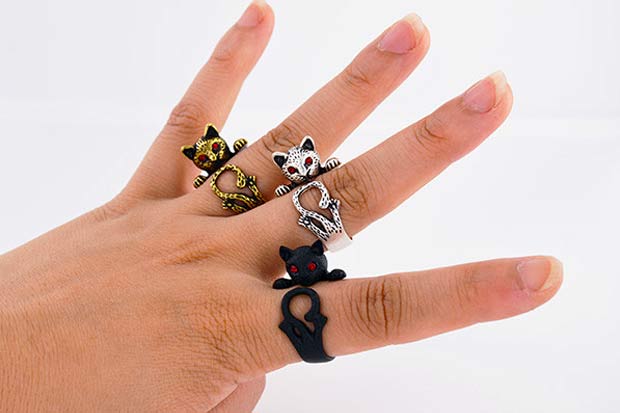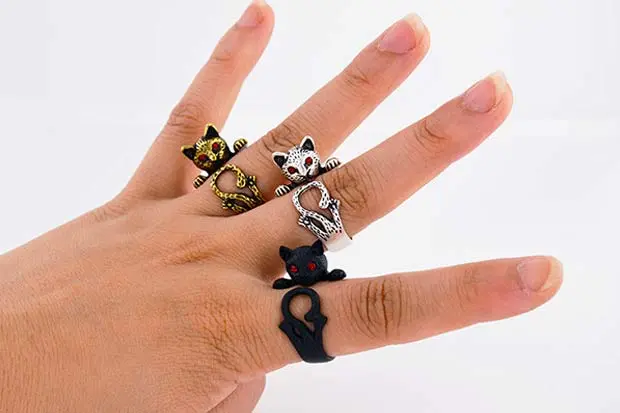 With a cat ring, you can live the dream.
Decorating your person with tons of darling cats and kittens it's completely possible.
There are tons of options when it comes to cat jewelry that features actual tiny cats.
Think about a cute cat dangling from your ears. If you dream it, it's out there.
Cover yourself with kitties head to toe – it's entirely within the realm of possibility.
Cat rings, cat pendants, even little cat earrings are all great choices.
Get Your Paws On Some Paw Prints
No doubt you've admired your cat's tiny paws. Depending on your cat's color, they might be black, pink, mottled, or everything in between.
Just a tiny part of a cat has inspired people all over the internet.
There's a trend where people draw a face on their cat's paws revealing little baby teddy bears.
Some people even call them toe beans because of the way their little toes resemble tiny jelly beans.
Cat paw prints have even appeared in 2,000 year old Roman roof tiles, proving our furry friends have put their mark on history.
Naturally, you'll want to have your very own paw print cat jewelry.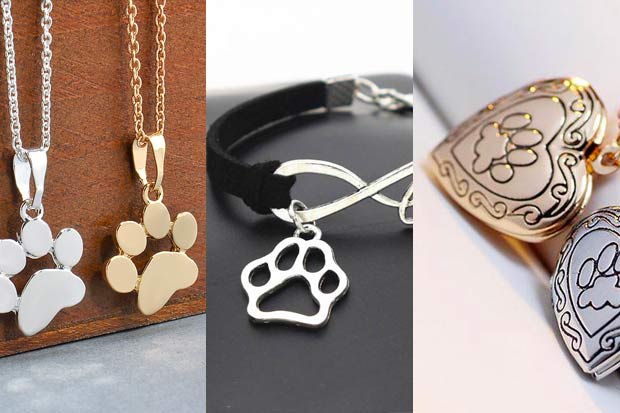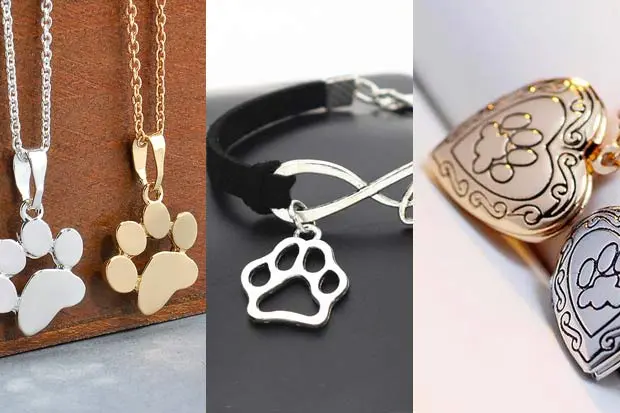 A few paw print earrings are just purr-fect (sorry, we had to sooner or later).
With a paw print pendant, it will look like your pet gave you a touch of kitten class.
You might be able to find a company that can take your actual cat's paw print and immortalize it in a precious metal.
Can you imagine touching it during the day? It would be like holding your cat's paw when you were apart.
The paw-sibilities (sorry again!) are endless!
Kits And Pieces
Paw prints are just one tiny part of our kitties that we love to immortalize in cat jewelry.
Sometimes, just a small part of your cat is all that's needed to bring a bit of kitty cuteness to your cat jewelry.
Think about how much cuter your accessories are when you sport a couple of studs that have some cat ears sprouting from them.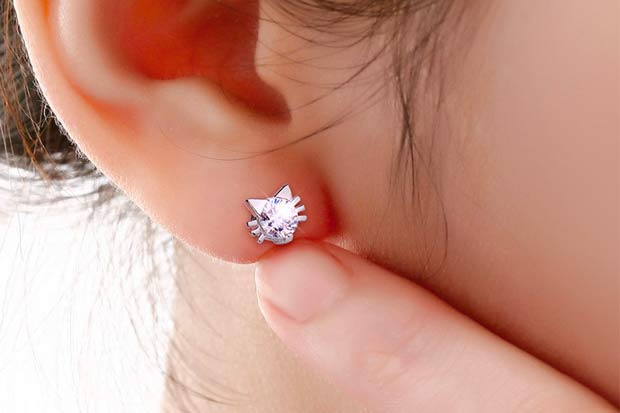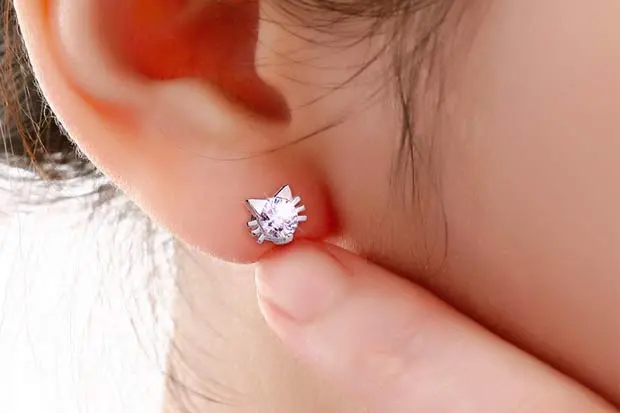 Just add some whiskers and everyone will know how much cats tickle your fancy.
Our cat's eyes are bright and mysterious – so why not add them to your accessories?
Think how beautiful cats' eyes look made out of jade, peridot, or even sparkling green rhinestones.
All you really need to make cat jewelry is just a couple of perky ears, a little pink nose, or some whiskers.
When you need a little pick me up during the day, wouldn't it be nice to have a cute kitty face to look at?
And think of the compliments you'll rake in! Having a little bit of kitten on you really brings a smile to everyone's day.
Stick A Pin In It
Enamel pins have exploded in popularity in the past few years.
It's not hard to see why – they're tiny, collectible, and there's a huge variety available on the internet.
Pretty much any kind of cat you want, there's a pin for it.
You can find photo realistic enamel pins that show true-to-life representations of any feline breed.
If you've got an iconic cat like a Siamese or a Bengal, having them pinned over your heart is a great way to show your kitty pride.
Enamel pin artists also have a great sense of humor. You'll find plenty of kitties being their smart and sassy selves as cat jewelry.
You can even trade them with your other like-minded friends and there are tons of new enamel pins hitting the market every day.
Maybe it's time to buy a jean jacket or canvas messenger bag and start pinning!
Abstract Cat Art
So you love cats but true-to-life representations are too gauche for your avant-garde tastes.
Fair point. For those who want their cat jewelry to cater to their sophisticated tastes, we recommend going abstract.
How does one do that? There are tons of ways.
When you're talking about art, as long as someone is inspired, they'll express themselves.
There's really no shortage of artistic and tasteful cat jewelry.
Think along the lines of stark outlines of a cat.
Consider a pendant with hard lines and heavy contrasts that still makes an elegant addition to your accessories.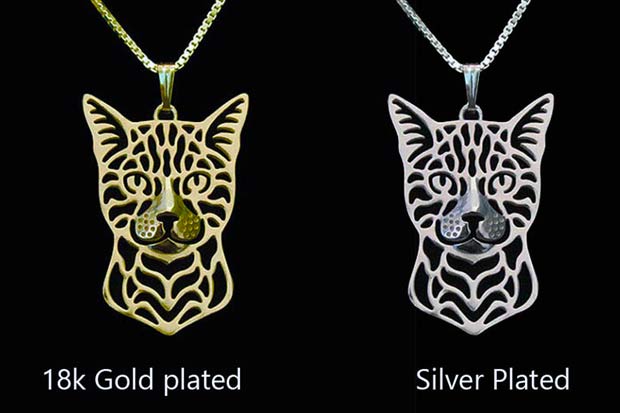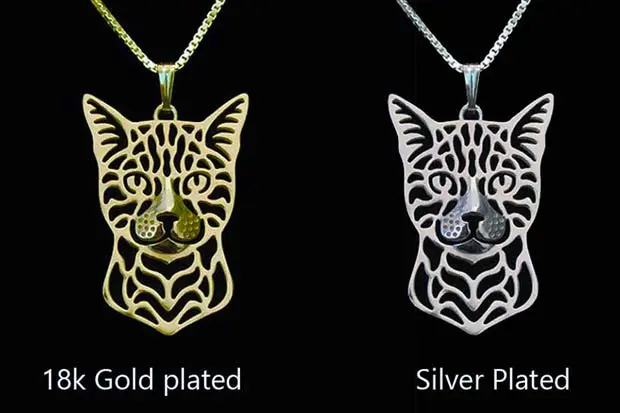 Wouldn't it be cool to have an origami cat necklace?
The great thing about abstract art is that there are so many ways to interpret it – and cats are endlessly interpretable.
Use Your Words
Not into that abstract stuff? Want to get straight to the point? Better bring in your vocabulary.
How can you make cat jewelry that says you're all about felines and doesn't mince words?
It's easy. Engraving is your friend here. Pick up a pendant that says it plainly – "Crazy Cat Lady".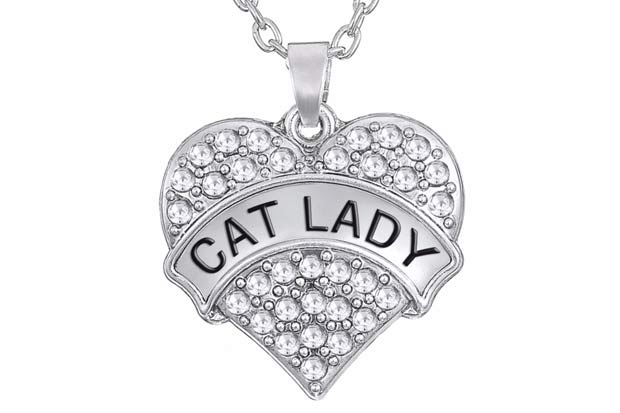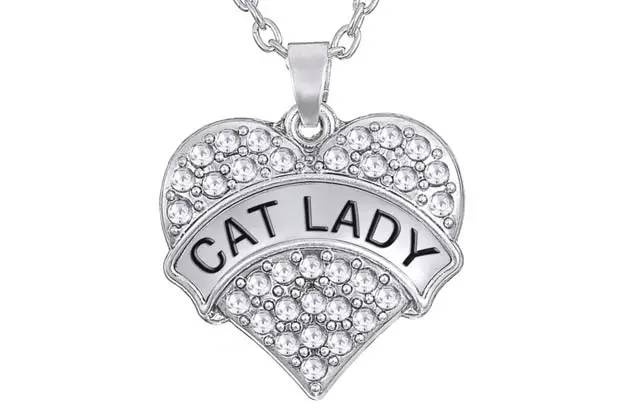 You can buy a bracelet with the names of your cat – or cats – engraved on it.
Spell out your feline frenzy with rhinestones.
Or how about acrylic and resin necklaces? There are lots of cute ones on the market that are customizable.
Think of all of the fun things you can spell out with a custom made necklace.
If you want to be meta about it, why not go with something funny and simple – the word "meow" written in acrylic letters?
Purrfectly Professional
Do you remember those old-fashioned Felix the Cat clocks that were a staple of every mid-century kitchen?
Although those are symbols of too-cute nostalgia, we want to talk about a cat clock that's way more portable and professional.
No professional's wardrobe is complete without a beautiful wrist watch.
Here's another opportunity for you to incorporate cat jewelry into your wardrobe. Find a wrist watch with a cat right on the face of it.
There are even wrist watches that have ears on the edges, making it look like the face of the watch is your kitty's face.
Some watches have cats whose tails or whiskers are the watch hands.
No matter what, you can find a wrist watch that caters to your need for cat jewelry and fits your lifestyle.
Cat Jewelry For Every Occasion
If you love cats, you can find cat jewelry that matches your mood.
Imagine – wearing your feline friends as accessories every day of the week!
You'll never be without a little bit of cat flair if you know where to look.
The best thing is that because cats are so popular, they've been represented in a wide variety of ways.
Rhinestone cats, enamel pins, engraved on lockets, little ears on your wrist watch – the options go on and on.
Cats are truly loveable and have wormed their way into our hearts. Isn't it only right that they find their place in our wardrobe?
Don't be shy – show your love for your furry friends every day with some adorable, daring, quirky, and personal cat jewelry.
Cats are a wonderful addition to our lives – make them an addition to your everyday look, too.