[ads1] [dropcap]T[/dropcap]ime to celebrate! I am humbled and honored to have been selected as a finalist for the Best Pet Video category at this year's Blogpaws Nose to Nose Awards! The judges had a tough task this year in judging the huge amount of nominations they received from all the very talented bloggers in the community. Each category was judged by a distinguished panel of professionals, and not by popular vote.
This is a great honor that speaks volumes to the quality of work we produce as pet bloggers. The BlogPaws Nose-to-Nose Pet Blogging and Social Media awards are the only pet industry awards on which pet bloggers, video producers and influencers are judged on the creativity, performance and expertise of the entry.
BlogPaws, the first and original social media network and conference designed by and for pet bloggers and pet social media influencers, recently announced finalists for the BlogPaws 2017 Nose-to-Nose Pet Blogging and Social Media Awards. Our video Bengal Cats Live in Montreal's Hair Salon and Charm Passers-by was selected as a finalist in the Best Pet Video – Sponsored category.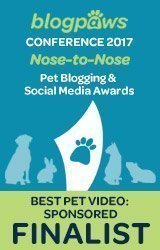 Designed to honor the best of the best in the pet blogging and pet social media influencer world, 56 finalists in 14 categories have been selected by a panel of industry professionals. The 14 winners will be selected by judges based on creativity, expertise, and performance in their respective categories.
BlogPaws hosted its first pet-friendly social media and marketing conference in 2010 and has grown annually into the biggest social media event and conference of its kind with attendees from all over the world.
Winners will be revealed in an exclusive red-carpet ceremony at the ninth pet-friendly BlogPaws Annual Conference, taking place May 18 through May 20 in Myrtle Beach, South Carolina at the Sheraton Myrtle Beach Convention Center Hotel. The three-day extravaganza culminates with this posh ceremony. All winners receive a trophy, recognition by peers, social coverage, press alert/coverage, and more.
Check out the video that was nominated and the article about this Bengal cat-friendly hair salon in Montreal.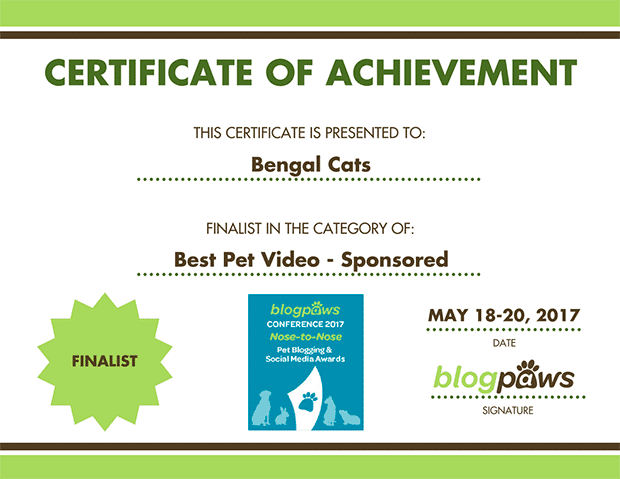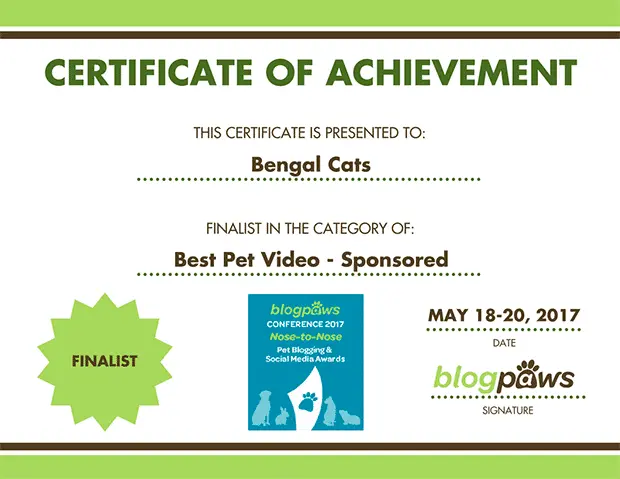 Thank you and congratulations to all 56 Finalists!