[dropcap]B[/dropcap]engal Audree and Herbee the hedgehog, guided by their owner, Talitha, are taking the internet by storm with their adventures and overload of cuteness.  I took some time to ask Talitha some questions about how she got started with this adorable pair, what it's like to go on adventures with them, and what are their plans for the future.
More info: MrPokee.com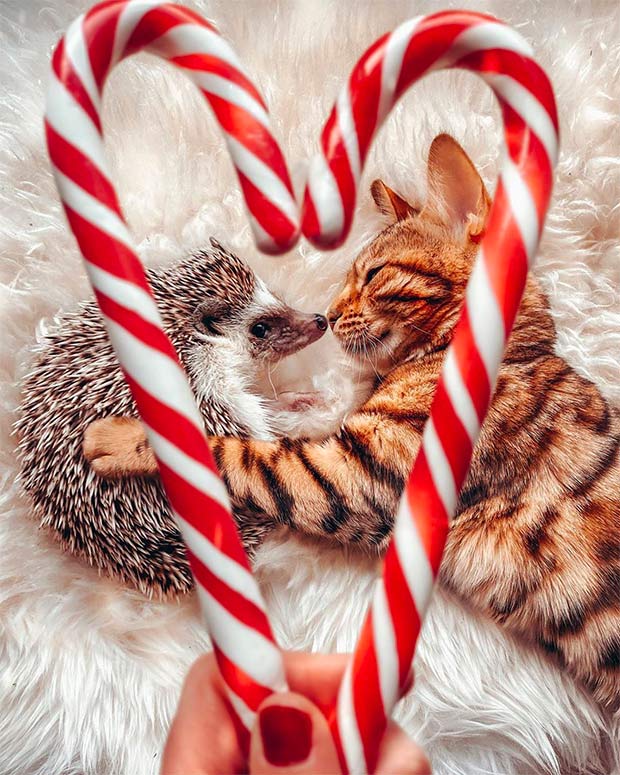 Can you introduce yourself and your pets? How did you end up with a Bengal and a hedgehog?
My name is Talitha, and I am 27 years old. I was born and raised in a city called Wiesbaden in Germany with two little brothers, who are actually taller than me now. We grew up in a little house in a suburb with a lot of pets. When I was 16 years old, I decided to spend a year going to high school in Michigan. While, it was the hardest thing for me to leave my family for an entire year, I ended up celebrating two graduations, one in the US and another one two years later in Germany. After school I decided to take a year off to backpack by myself through New Zealand and Australia. That's when I discovered my Wanderlust. 🥾🗺🌍
After that adventure, I started my studies, completing a Bachelor's degree in Media and Communication Management and a Master's Degree in Innovation Management. I saved every penny and took every chance to travel during semester breaks. I made my way through Asia visiting Thailand, Indonesia, Cambodia, Singapore and Vietnam. Traveling became my greatest passion in life. I love meeting people from all around the world and learning about their culture and stories.🗽🗼🗿⛩
My First Hedgehog
Five years ago I went through a very tough time and the one thing that would always cheer me up were cute hedgehog photos. One day something happened that I believe was fate. I was sent a video of a hedgehog getting belly rubs. That very moment, I decided that I wanted to adopt a hedgehog. On the same day, baby Pokee was looking at me through my phone screen for the first time looking like he had dipped his little nose into a jar of Nutella. 🍫
Weeks passed before I could finally pick him up. When Pokee was finally with me, I took a lot of photos for myself, so I would always remember the little moments of joy he brought me. After a few weeks I felt an urge to share these photos and share my joy with the world. It was cute hedgehog photos that had helped me through my own hard time, so I thought they might make others happy too! I was secretly thinking to myself, "If I can help just one person to be happier and smile more – my mission would be complete." And that's where this story begins. 🦔♥️
Life with Pokee
Pokee was my first hedgehog, and the reason I created this Instagram page. He taught me, and so many people around the world to be happy by bringing smiles to us. He was also my best friend, and we travelled everywhere together.  Pokee was always by my side.  On March 2nd of last year, Pokee passed away. He had a blood infection and and for two awful weeks of my life seeing I watched him suffer.  When he finally passed away, it broke my heart and my entire world fell apart. Remembering that New Zealand had been a place with great memories for me on past trips, I decided that was the place to go to clear my mind and try to heal. I booked my flights.
Herbee and Me
Three days before I left something happened that had to be fate. I got a message from a girl on Instagram who didn't know that Pokee had passed on. I received thousands of messages during this hard time and only saw hers because she had messaged me before asking for care tips. Her new message started with "Can I ask you a question?" and so I opened it… She told me that she got this hedgehog after asking me for care tips, but she wasn't able to keep him because she had severe allergic reactions everytime she handled him. After trying Facebook groups and other places for help, she found nobody was able to answer her questions. This girl then asked if I knew someone who would take care of him, because she didn't want a hedgehog to go to an animal shelter. I really wanted to help her.
Even though I didn't feel ready, I knew I had to come up with a solution for her and this hedgehog.  She brought him over one day before I left for New Zealand. It was very emotional, and we both cried and hugged each other.  When she left I looked at the hedgehog, saw something in his eyes that told me this hedgehog had found me. I immediately thought of the name Herbee, decided then and there to keep him.  It felt so right, like we needed each other.
My New Adventure
My best friend took care of him while I was away, and when I came back the new adventure began. 😊 It was crazy and meant to be.  Herbee was so calm with me from day one, which is not normal for a hedgehog. It filled me with sooo much joy and I wanted to continue to share that joy.  I decided to continue Pokee's İnstagram page with Herbee. A few months later, I adopted Audree, a little bengal cat. It had been my dream for so many years to have a cat and bengals get along very well with other pets. Of course, they immediately became friends! 🥰 Now they're inseparable! Wherever Herbee goes, Audree goes. She lays down on spots where he was, they sometimes even snuggle and play together. ☀️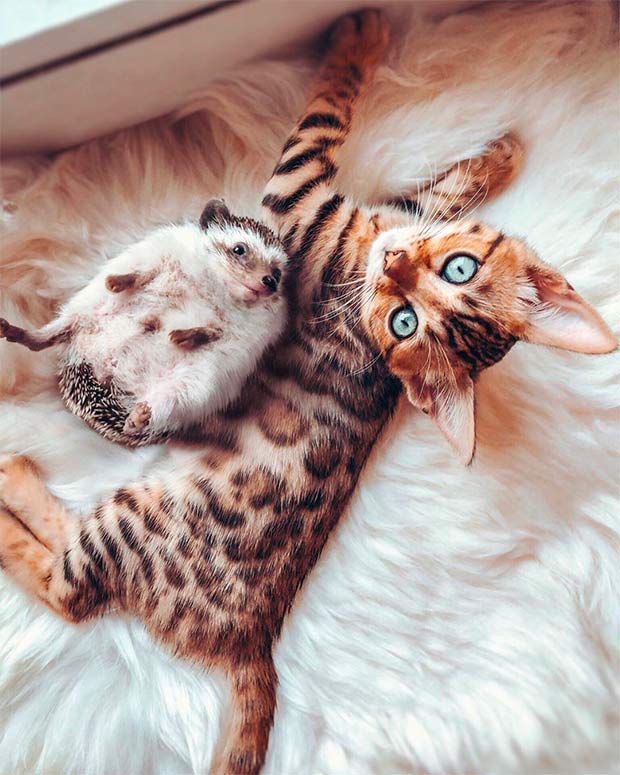 When did you first hear about Bengals and what made you decide to get one?
Where do I even begin? I think that since I was a little girl, I've always wanted a Bengal Cat.  Up until a year ago, it never felt like the right time in my life.
About six weeks before I got Audree, I had a funny dream. I dreamt that I was going on an adventure with a little baby tiger, and we had become best friends. It's hard to explain, I had the feeling that I didn't want to wake up from that dream because it felt so real and right. I couldn't stop thinking about that dream, and suddenly remembered my wish for a Bengal cat. From that moment forward, everything flowed naturally, and I was reminded of how I first found Pokee (or was it how he found me)?
Anyways, I remembered a quote from one of my favorite movies as a child, The Little Mermaid. It says, "Who says that my dreams have to stay just my dreams?"  I decided to search for Bengal cats, thinking to myself "Why not take a look, there's nothing wrong with just looking."  Clicking on the very first result in an internet search, the photos of this little kitten caught me heart, and I couldn't resist asking about her. I thought to myself "Why not write a message to them. It's not like you have to decide right away."
It was Fate
Next thing I know, I'm talking to a lovely lady named Jacky on the phone, who tells me about a Bengal girl that had been promised to someone else. However, only a few days earlier that person had canceled on her for unknown reasons. What Jacky said next gave me goosebumps. She told me that the Bengal girl was the only girl in the litter and had three brothers. (Remember, I'm the only girl, as well, and have two brothers). She does play with her brothers sometimes, but she's more like the girly-girl, likes to watch them play, but would rather do her own stuff. This brought back so many childhood memories.
Jacky, the breeder, also told me that she was much, much smaller than her brothers and apologized for that. Apparently, people like big giant Bengal cats. But, all I thought in that moment was, "Oh, great! Herbee is the smallest hedgehog and she will be the smallest bengal cat." I liked that idea so much!
And the last thing that Jacky said was, "You know, Litha, you should come by with Herbee and meet her, because in the end pets choose us, not the other way around." That is something I've always believed in.
Meeting Audree
One week later, Herbee and I went to visit Jacky and her kitties. We spent the entire day together, talked about life, eating together and mostly watching Herbee interact with the cats. At the end of the day, we agreed that the little Bengal girl belonged with me, and I would name her Audree. I've always been a fan of Audrey Hepburn movies. In "Breakfast at Tiffany's" she seems so elegant and wild at the same time. This little girl reminds me so much of Audrey's character. She looks like a little leopard who loves to be outside exploring and climbing on trees. At the same time, she's also the cuddliest cat I've ever seen.
On the way back from my first visit, Herbee and I spent a night at my grandparent's house. I found an old drawing on the wall that I made in the 7th grade, showing my very own interpretation of a "wildcat". I grew up with a lot of cats. Some of them were adopted from shelters, and others from small hobby breeders. I loved each and every one of them as a kid. I'd always dreamed of having my own "wild" cat like the one in the drawing that I would take on all of my adventures. As soon as I was older and responsible, I always knew I would turn this dream into reality.
Bringing Audree Home
Two weeks after my first visit, My best friend and I went to pick up little Audree.  Even though I grew up with cats, I've never experienced one like Audree. Unlike one of the cats we brought home who would hide behind the sofa for days, Audree was different.  The first thing she did was walk though my entire place and simply explore. When she was done, she jumped on my lap and let me stroke her for 2 hours straight, started purring and eventually fell asleep.
When Jacky asked me if Audree showed any signs of being homesick like missing her brothers or mom, I almost felt bad for saying "No, I really don't think so."  I realized the her behavior was actually the best thing that could have happened, and proves that it was the right decision.
I believe that some things are meant to be, and that pets choose us, not the other way around. My dream showed me that I was ready, that it was finally the right time to adopt the cat I've wanted for so long. My heart told me Audree is that cat. When I look at myself, I believe that Audree was the missing piece to make me complete again, and she was only able to find me because I followed my heart.  When I look at Herbee and Audree, and the way they interact with each other, getting along so well, I believe that love makes all the difference.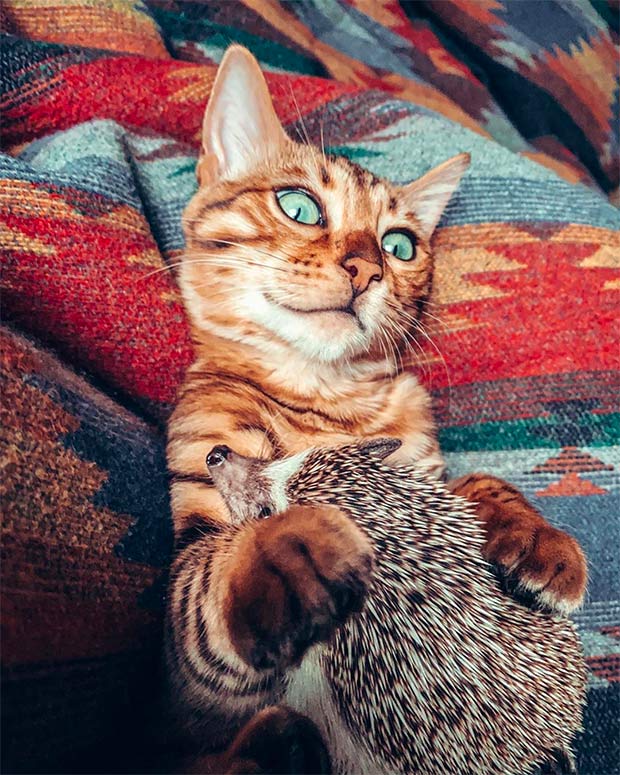 What made you think these two very different animals would get along?
Well, I always wanted a cat. But knowing that there was also Herbee, I wanted to be responsible and not just get any cat.  I had to think of Herbee as well. I heard that Bengals get along especially well with other cats. Audree was the only girl in her litter with 3 brothers, and she was half the size of her brothers. She was also the last one in her litter, and was used to her brothers playing/fighting.  She was always the weakest one, but she was calm and sometimes would just watch them play.
I figured it would be perfect for her to have a big, yet little, brother like Herbee. He can't hurt her, but he can bite or put up his quills when he's annoyed. He shows her what's okay and what's not. She was a quick learner. I had a feeling that Audree and Herbee would get along well and it turned out to be right. I also think it's about the way you introduce them to each other and how much trust and love you bring along.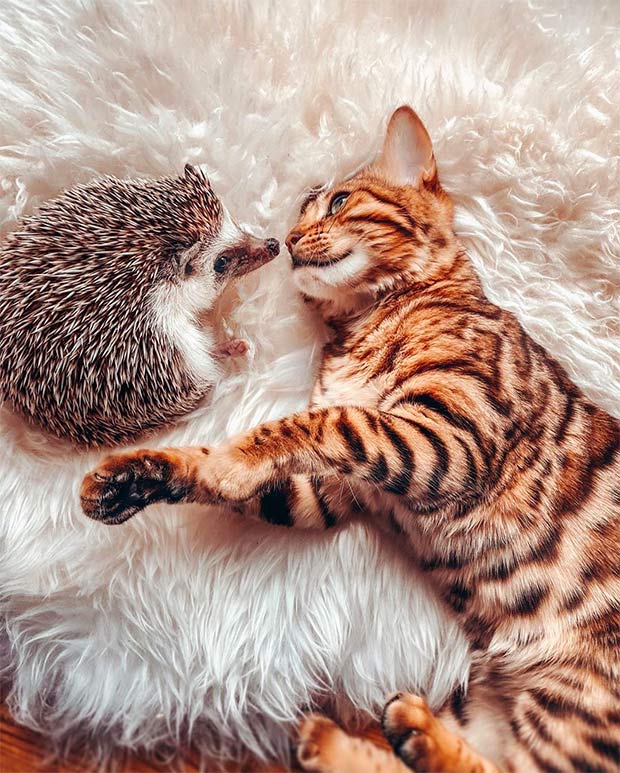 How did the two react when they first met and how is their relationship now?
They were curious. Herbee wasn't scared of her and did not put up his quill, and Audree was very cautious. Today they eat together at night, sometimes from the same bowl. Audree likes Herbee's food better than her own, even though they eat the same food (except for Herbee's insects). Audree is allowed in Herbee's cage and sleeps there occasionally or just watches him. Herbee bit Audree once, and while she wasn't hurt, she meowed and left for a bit – it never happened again.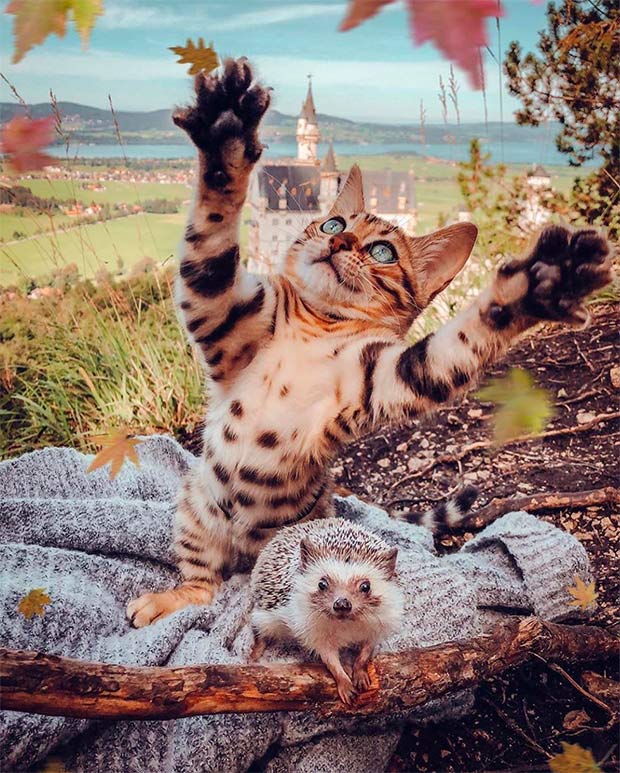 What are the differences and similarities between Herbee and Audree's personalities?
Differences:
– Audree is adventurous and shy, while Herbee is always very outgoing and up for any adventure.
– Audree can be moody, while Herbee is always happy!
Similarities:
– Both love to cuddle
– Both can be very calm or playful together
– They eat mainly the same food
– They are both the smallest cat and hedgehog I've ever seen
– They're respectful with each other
– They love to pose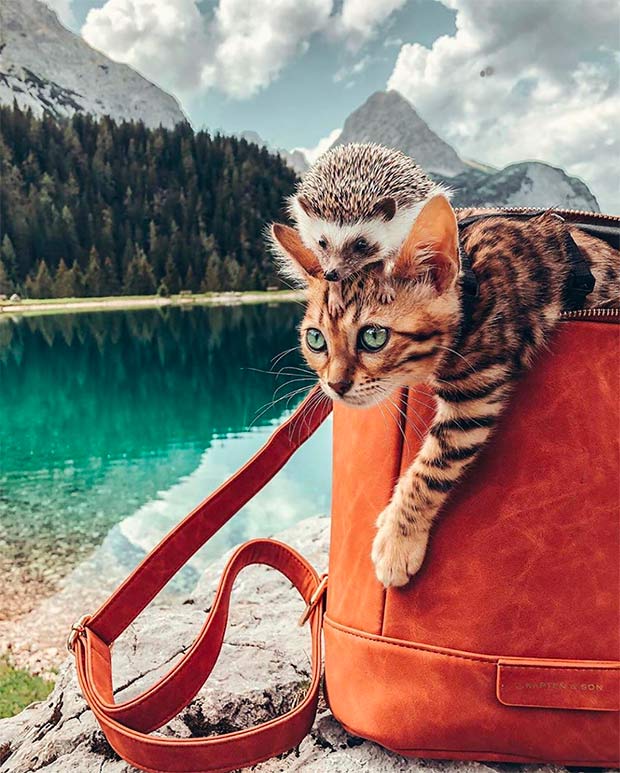 What kind of activities do you do with your Bengal and Hedgehog? How do you keep them entertained, happy?
– Audree gets daily trainings to do tricks, and gets to go outside with the leash almost every day
– I started teaching her to use a human toilet – you can watch the progress on Instagram!!
– Herbee gets belly rubs or just snuggles when he wakes up
– They get to run around the apartment at night and entertain each other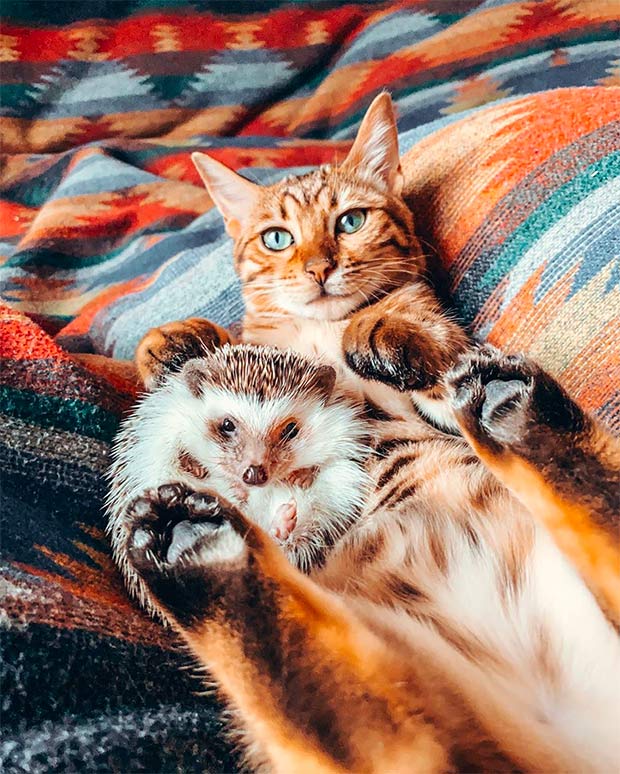 What is one of your favorite experiences with your pets?
Hard to tell, every moment with them is special, because it's always funny and unusual how they interact with each other!!
What do you bring along when you go on a trip or hike with them?
– I take all photos with my iPhone, so that's all I need for photo shoots. Maybe a tiny hat for Herbee or something. :)
– I bring a cat carrier backpack to carry them in – Herbee always stays in it and Audree gets to go in when she is tired or doesn't want to walk.
– Food and snacks and water for all of us.
– A snuggle blanket for them.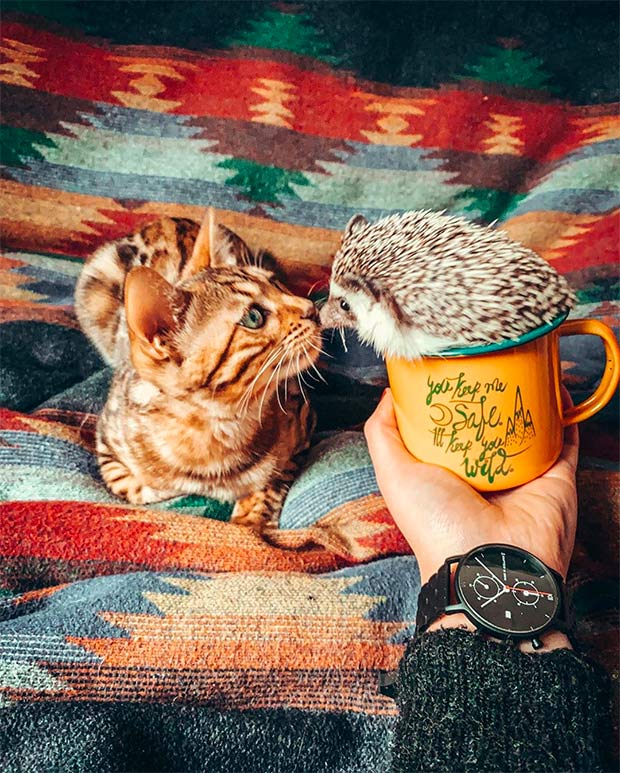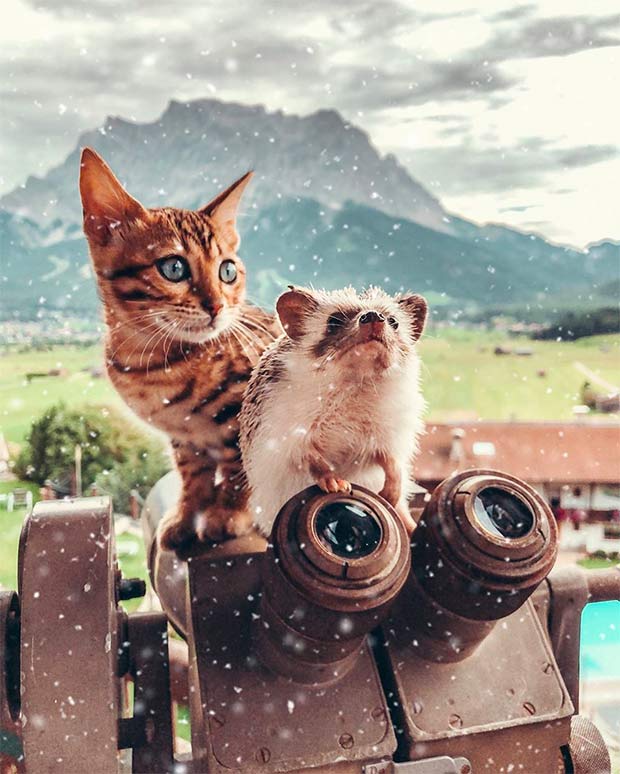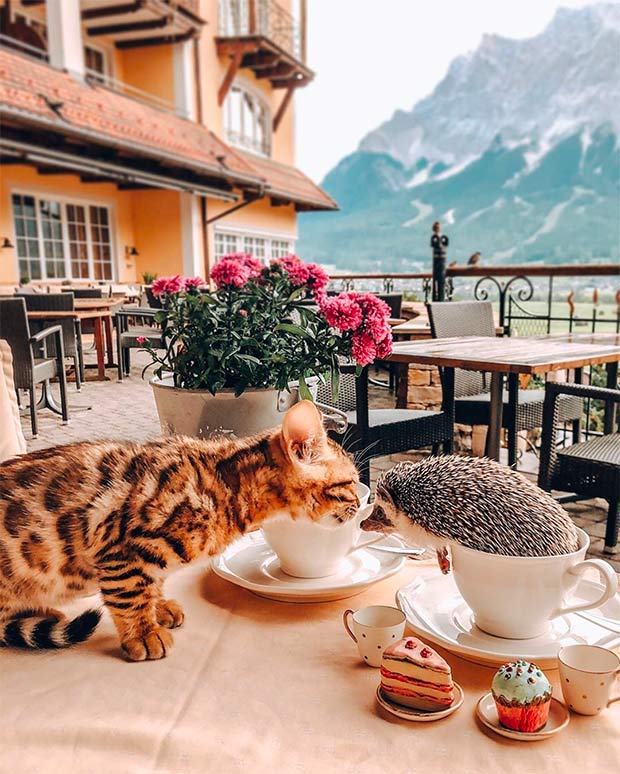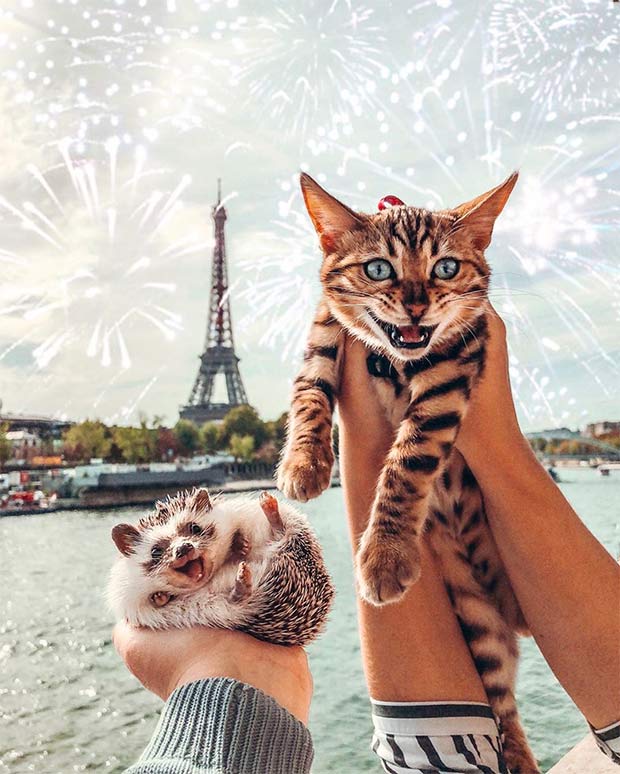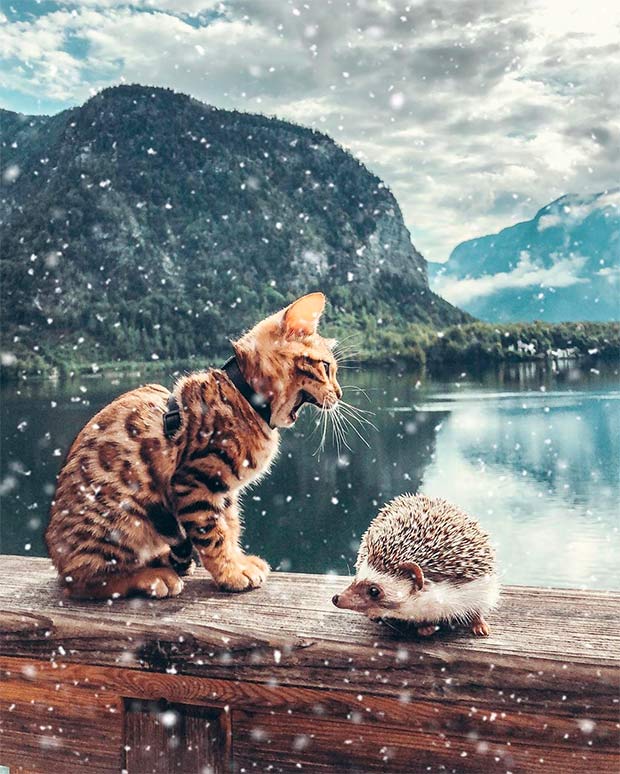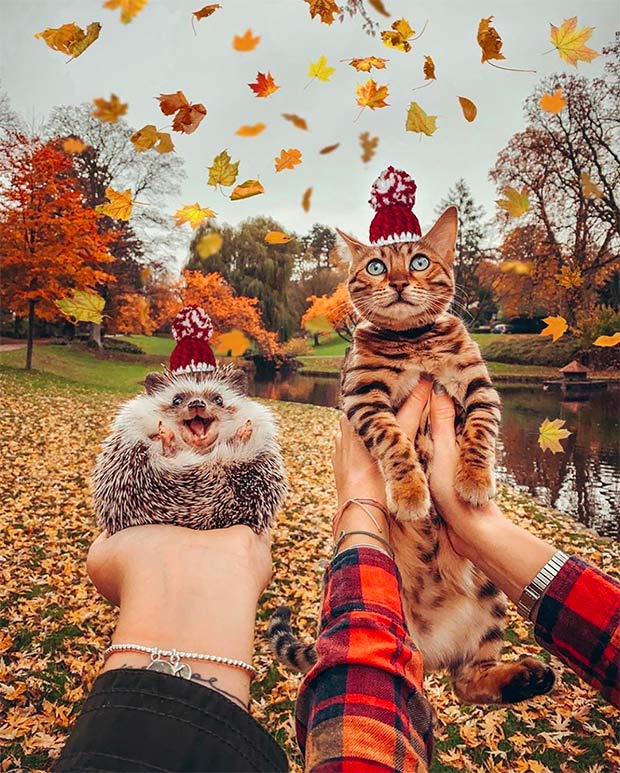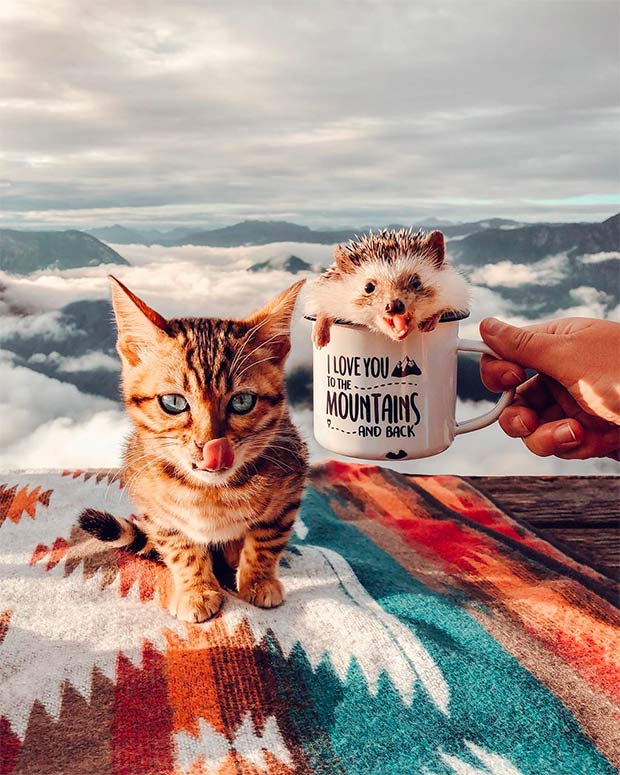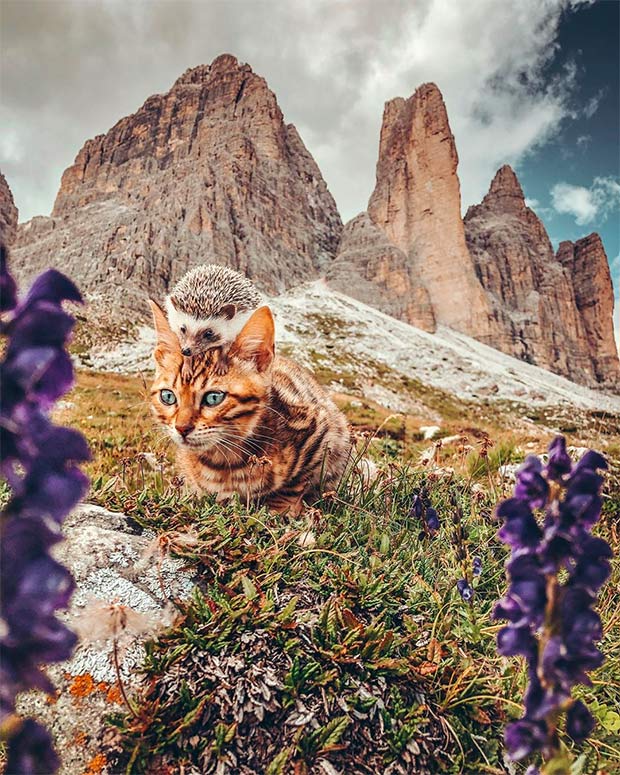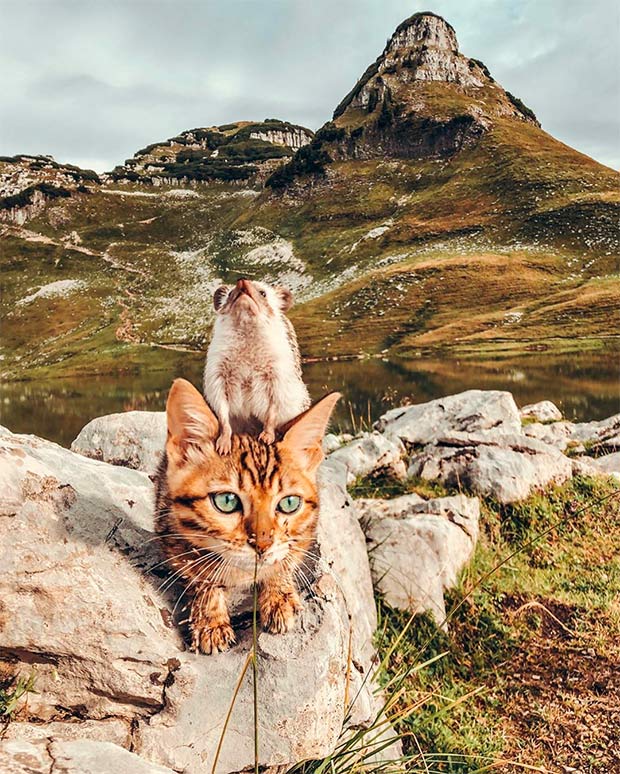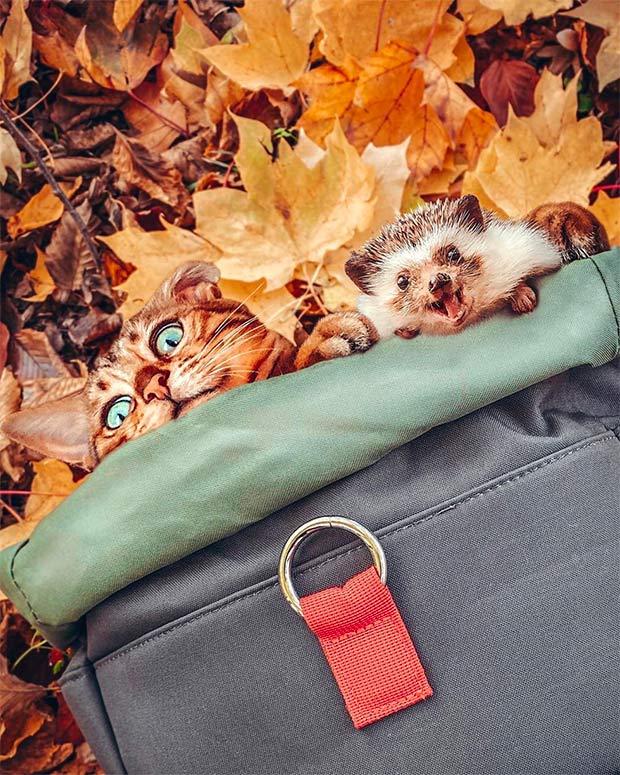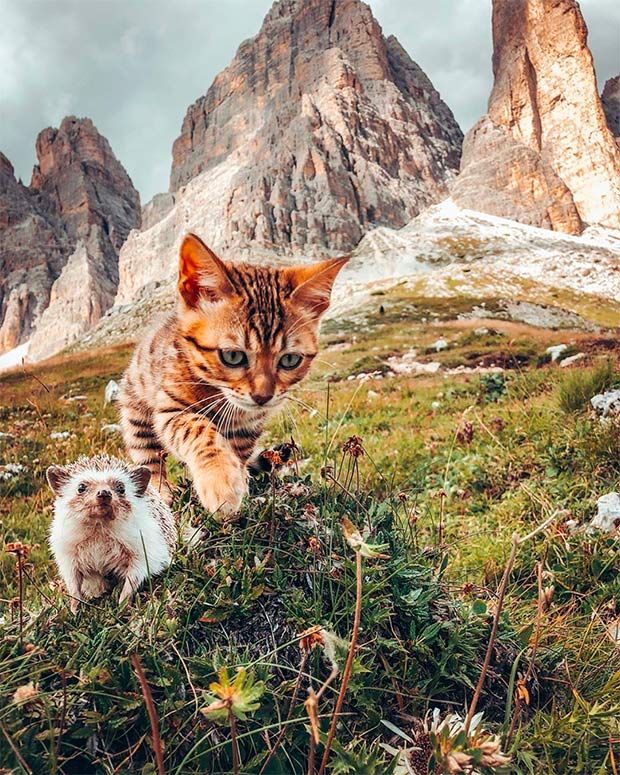 You might find it interesting that Herbee and Audree have their own social media accounts. You can follow them on Instagram.