[dropcap]I[/dropcap]f you are already familiar with Da Bird cat toy, Jackson Galaxy's Air Prey Wand (aka Mojo Maker) can be considered as an upgraded version of this cat toy. Designed for ease of storage as well as cat enjoyment and stimulation this toy offers everything you want for your cat and then some.
While Da Bird was easy to store with its two-part detachable rod the Mojo Maker has a retractable handle. Similar to a classroom pointer your teacher may have used in school the rod of this toy can be compacted down to just 8 inches which is small enough to fit in your pocket. It also has a retractable string to prevent tangles during storage.
The Mojo Maker's feathers are similar to Da Bird's and you can actually interchange the feather refills on either toy. If your cat prefers the Mojo Maker style you can use it on Da Bird toy and vice versa.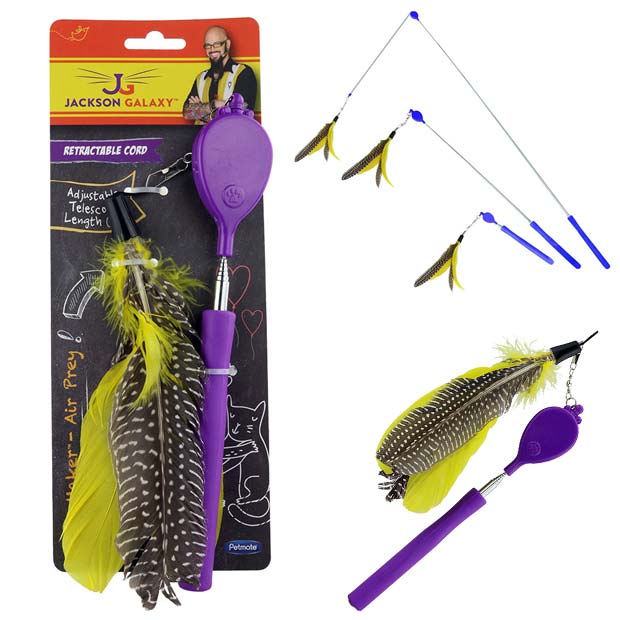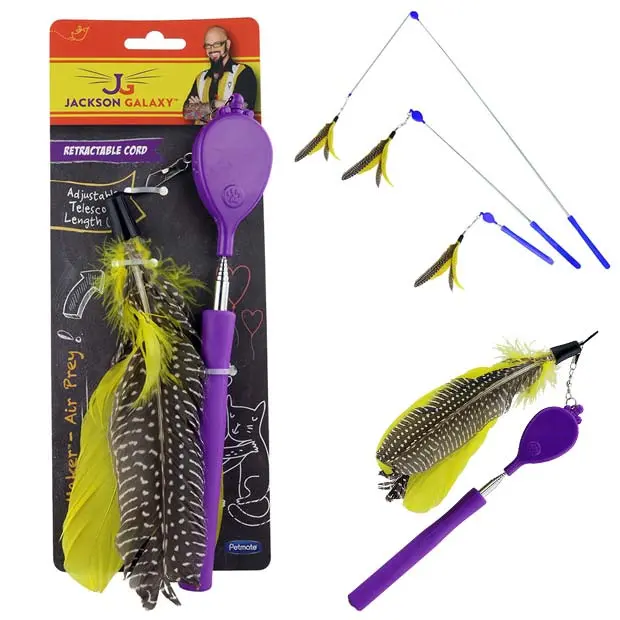 Designed to simulate a cat's instinct to chase and catch air prey like birds and bugs this toy can be great at getting your cat up and moving.
After reading some consumer reviews of the product it seems some downsides to the Mojo Maker are that rough usage can cause the rod to snap. While this may not be a problem for the average cat owner, Bengal owners will need to keep an eye on this as their cats tend to be bigger and a bit feistier than the average domestic cat.
For the price this cat toy is a great deal and definitely worth trying. It is a new version of an old favorite and your cat will love having a different toy to chase and pounce on. You can purchase the Mojo maker at many local retailers as well as at Amazon. When buying online be sure to get the entire toy, as the refills look similar, and it's easy to add the wrong one to your cart.
When trying out new toys with your kitty consider keeping a small journal to note how your cat interacts with the toy and give it a quick rating. It can sometimes be hard to remember which toys your cat prefers and how much they enjoyed it the first day you got it. Keeping a journal can be good to look back on when you are getting ready to purchase new toys or replace old favourites.
[taq_review]
Do you or someone you know tried the Jackson Galaxy Air Prey Wand? If you do be sure to leave a comment and share your experience with this cat toy.
[divider style="solid" top="15″ bottom="15″]
Disclosure of Material Connection: Some of the links in the post above are "affiliate links" designed to provide a means for sites to earn advertising fees. This means if you click on the link and purchase the item, Bengalcats.co will receive an affiliate commission. Regardless, we only recommend products or services we use personally and believe will add value to our readers.