[dropcap]T[/dropcap]here's no question that you love your cat. You make sure home is a happy, comfortable and safe place. And they show their appreciation every day. But what if you need to take your feline friend beyond home? You want the best cat travel carrier. How do your choose?
Travel happens
Chances are you are among the 77 percent of people who said that pets influence their holiday plans. But even during trips to vet or if you move to a new home, you cat deserves to be safe and comfortable.
There are many options. Finding the best cat travel carrier for your whiskered friend starts with knowing what you need.
How to choose the best cat travel carrier
There are 5 things to think about before choosing a cat carrier:
Purpose
Are you a jet-setter who wants to take your cat on airplanes? Then you'll need to factor airline requirements and airplane conditions into your decision. If going to the vet is the extent of your cat's travels, then you have more flexibility.
Size
Cat carrier manufacturers list the dimensions and weight limit of each model. You want a carrier that is big enough to make your cat comfortable but not so big that it's difficult for you to carry. And if you have more than one cat, will they be traveling together?
Also remember that if you plan to take your cat carrier into the cabin with you during air travel, there are size restrictions.
Material
Traditional cat carriers are made of hard plastic. Contemporary design has made it possible to make soft-sided carriers. Each kind has advantages and drawback.
Hard plastic carriers are more durable and offer greater protection from impact. However, they can be heavy and awkward to carry.
Soft-sided carriers can provide a cozy environment for your cat and are probably best when bringing home new kittens. But they can leave your kitty more vulnerable to bangs and bumps.
Carrying mechanism
The best cat travel carrier for your cat will also have the best carrying mechanism for you. Think about whether you want a traditional suitcase-style handle, shoulder strap, or both.
You can also get carriers with wheels and extendable handles. A few models have straps for putting the carrier on your back.
Security
Finally, you want to think about security. Is your cat a dasher who can slip by you in an instant? Then you'll want to look for features like a leash that attaches to the inside of the carrier.
Also pay attention to locking mechanisms. You want something that is hard for the feline passenger to open but easy for you.
Find the best cat travel carrier for you and your kitty
There's a remarkable range of cat carriers available today. We've compiled a list to help you decide which is the best cat carrier for you.
U-Pet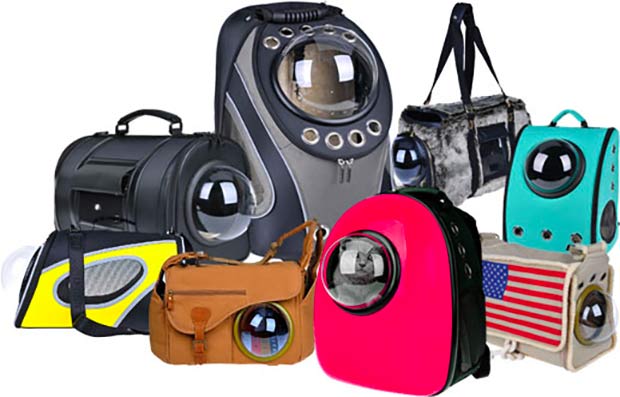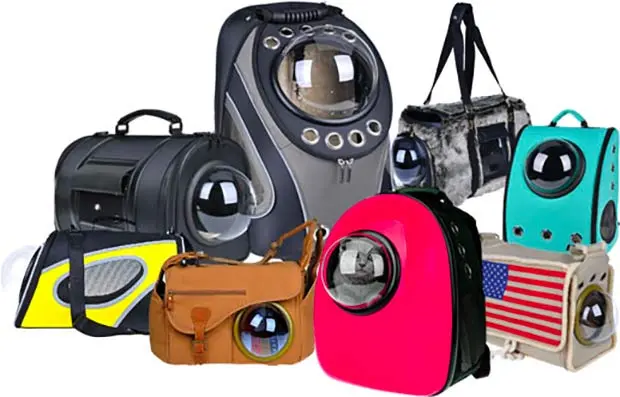 If you want a unique-looking cat carrier that has great safety, comfort and carrying features, U-Pet carrier might be for you.
These carriers have a distinct space-agey look thanks to a plastic semi-sphere window. The bubble-like window sticks out a little from the carrier so your cat can have a good view of what's going on.
Some models have a hard-shell case and can be carried like a backpack or wheeled using an extendable handle. Other models are made from soft but durable fabric and look like shoulder bags. (An advantage of backpack straps is that they make it easy to secure the carrier using a car's seat belt.)
In addition to multiple ventilation vents, each model has a built-in security leash and soft, washable pad for extra comfort.
Pay close attention to the pet weight limit. Some models are only suitable for animals up to 12 lbs.
Also, not all models are available in all countries. But one thing is certain: if you a U-Pet product is the best cat travel carrier for you, your cat will travel in style!
Read the reviews on Amazon
[divider style="solid" top="15″ bottom="15″]
SturdiBag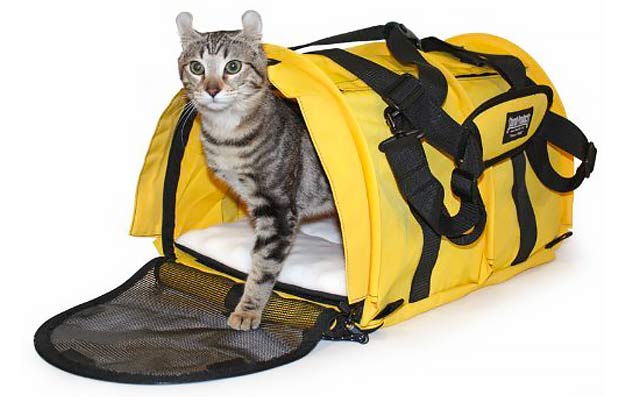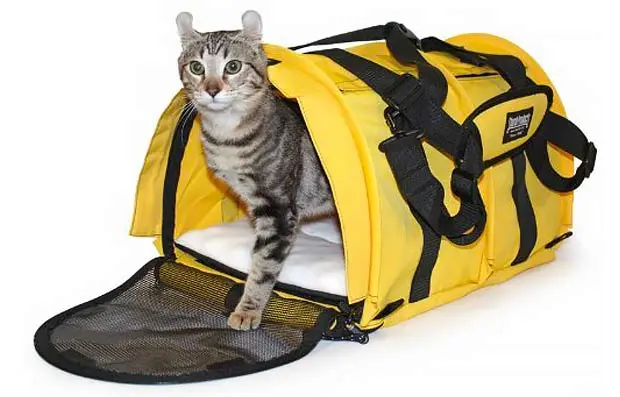 This is one of the most popular brands of cat carriers. SturdiBag carriers come in a variety of styles and sizes. They were designed for air travel and have a positive reputation for in-cabin use. Note: The SturdiBag Large is the biggest carrier that meets airline size and weight restrictions; it can hold animals that weigh up to 30 pounds.
All carriers are made from lightweight yet durable soft material. Flexible tension rods give them a sturdy shape. The solid floor is covered with a fleece comfort pad, which is machine washable. Two kinds of handles make carrying easy.
This brand also offers a divided carrier. This might be the best cat travel carrier for two cats who like each other but prefer their own space on the road.
Read the reviews on Amazon
[divider style="solid" top="15″ bottom="15″]
PetMate kennel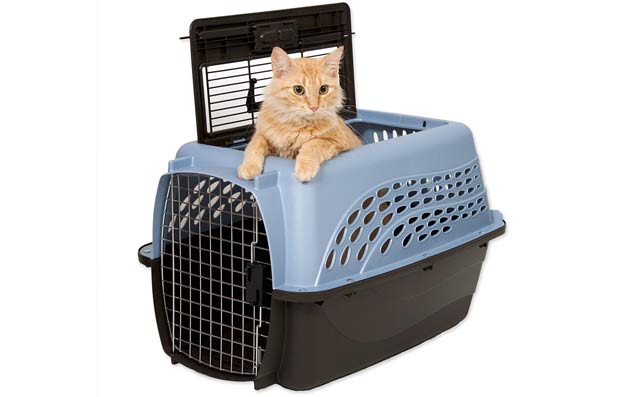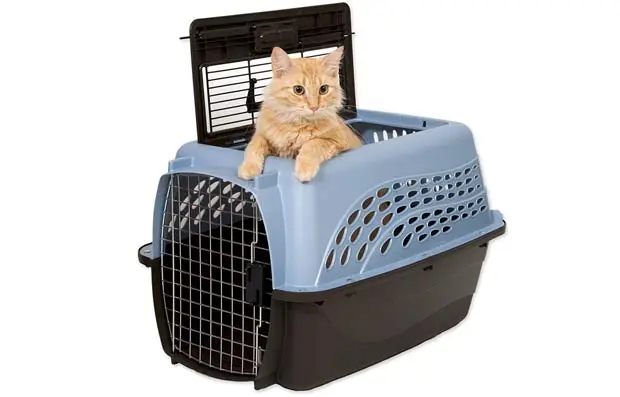 PetMate kennels are the traditional choice for cat carrier and are airline approved. For decades, they have been the go-to choice for air travel because of their reliable performance. Despite small style modifications made over the years, PetMate kennels are still recognizable by their basic design.
These carriers are made from hard plastic that is durable and easy to clean. The hard shell also provides extra protection from sudden impacts in planes or cars. Ventilation on all sides also allows your cat to easily see what's going on.
Some kennels have top access as well as the traditional front end access. This can be a good option for cats who are reluctant to go into a carrier head or behind first.
Each as a soft pad covering the bottom and removable water and food dishes.
Read the reviews on Amazon
[divider style="solid" top="15″ bottom="15″]
PetLuv Happy Cat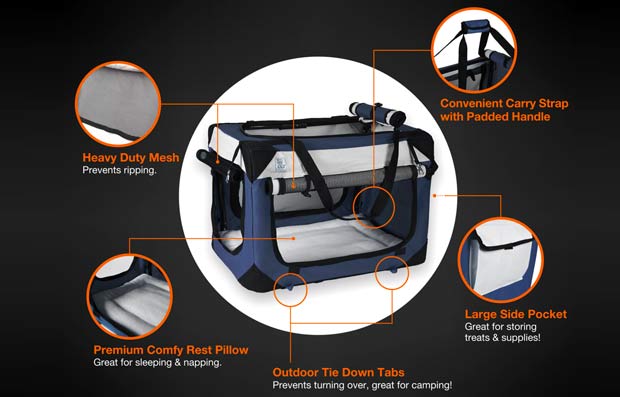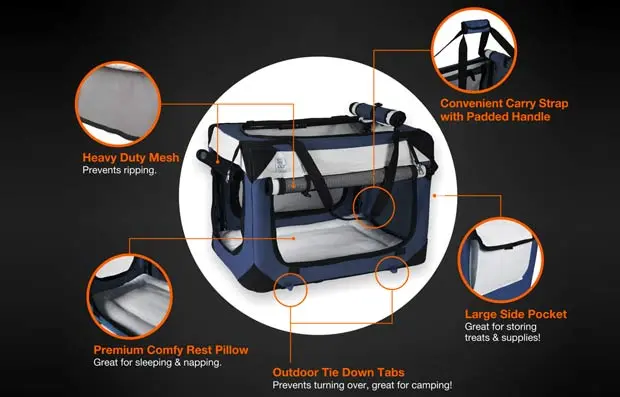 The line of soft-sided cat travel carriers made by PetLuv are designed to also be appealing places for your cat to nap and relax at home.
Lots of fleece padding gives the carrier a luxurious feel. Mesh "windows" on three sides and the top provide plenty of ventilation. Yet, the windows can be quickly covered with roll-down flaps like those you might find on a camping tent. This versatility contributes to this being an option for both nervous and calm cats.
There are also external tie downs to keep the carrier in place while in vehicles or during rests stops along the way.
The carrier folds for easy storage and is washable, which helps make it one of your best cat travel carrier options!
Read the reviews on Amazon
[divider style="solid" top="15″ bottom="15″]
Classic duffel carrier by Prefer Pets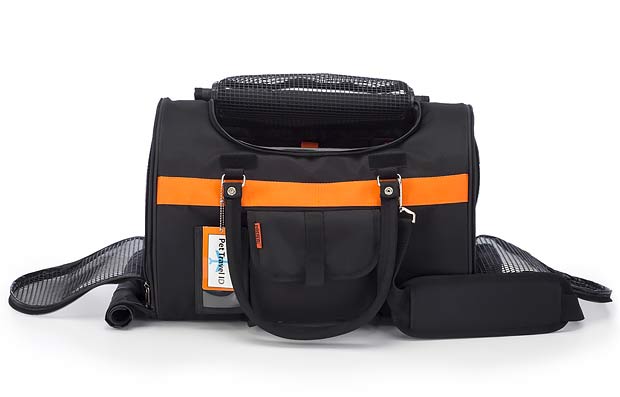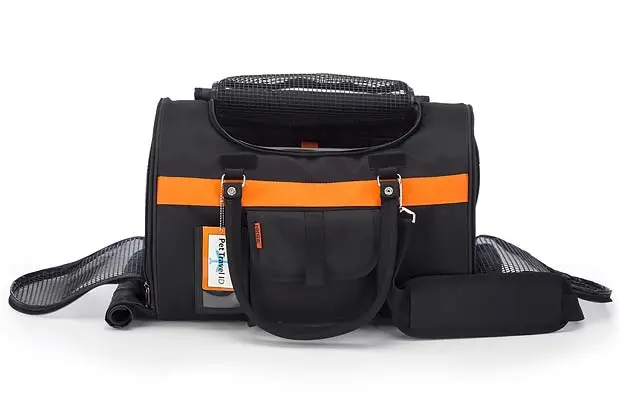 If you're looking for a straightforward yet stylish duffel-style carrier for your cat, Prefer Pets offers good options.
These carriers have enough room for the cat to stand, sit and lie down. Yet, they are discreet and look like ordinary luggage. This can be an advantage if you're concerned about drawing attention to your feline companion while traveling.
The multiple entry points come with privacy curtains. Inside, the bottom is fleece-lined and there is a detachable safety hook for attaching a leash or harness. Pockets on the outside are convenient for carrying treats and other supplies.
The carrier is suitable for in-cabin use on planes.
Read the reviews on Amazon
[divider style="solid" top="15″ bottom="15″]
Petmate Curvations pet tote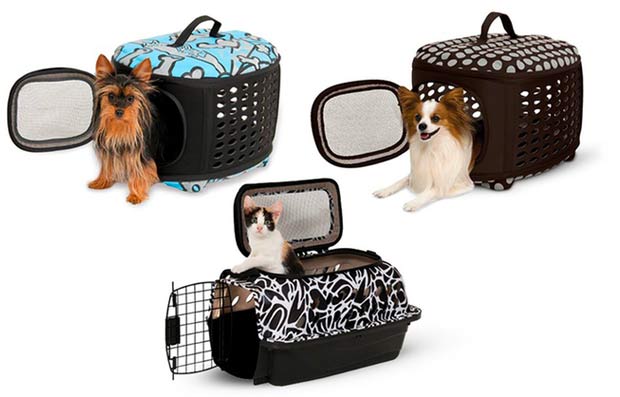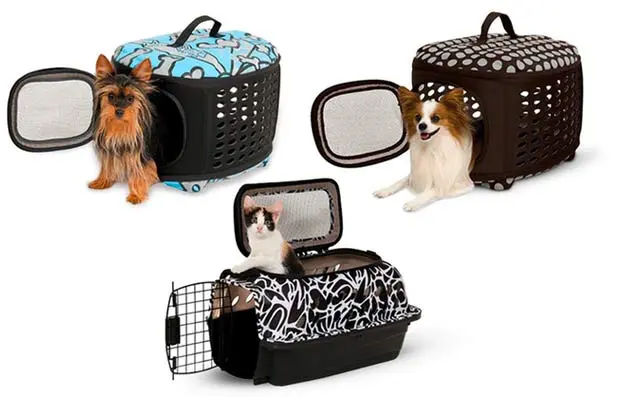 Another stylish option for traveling with your cat is the Petmate Curvations model. If you enjoy buying jewelry that matches your cat, you might like the range of colours and patterns available. (Note: Not all styles are available in all countries.)
These soft-sided carriers are best suited for short trips and cats under 10 lbs. They are machine washable and easy to store. The unique feature of "feet" on the bottom makes the carrier stable when on the floor.
Read the reviews on Amazon
[divider style="solid" top="15″ bottom="15″]
Tutto Wheeled Carrier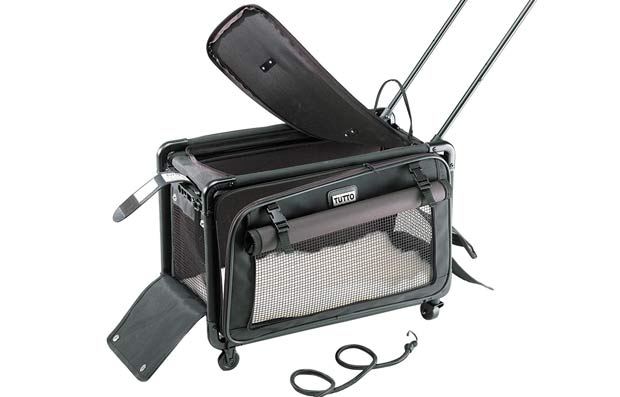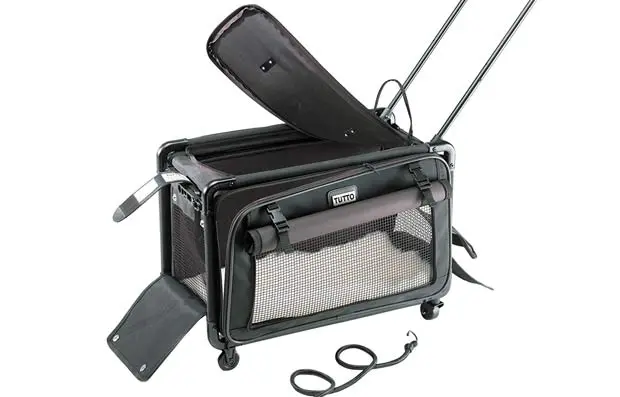 If a rolling carrier is most appropriate to your needs, a Tutto wheeled model might be the best cat travel carrier for you. The small model is suitable for in-cabin use on planes and can carry a pet that is up to 12 lbs.
Along with the extendable handle that makes rolling it easy, there is a handle for lifting the carrier. Inside, it has washable fleece padding on the bottom. Pockets on the outside are helpful for carrying treats and other supplies.
When not in use, this carrier can be folded down for easy storage.
Read the reviews on Amazon
[divider style="solid" top="15″ bottom="15″]
In summary
We put together this list of cat carriers to help you find the best cat travel carrier for you and your feline friends. Before buying any carrier, do your homework, starting with what features are important to you.
Remember to look at:
[tie_list type="checklist"]
Purpose
Size
Material
Carrying mechanism
Security
[/tie_list]
In the end, you want a carrier that will keep your cat happy, safe and comfortable. But with so many options available, there's no reason why you can't also have one that matches your style and is easy for you to use!
[divider style="solid" top="15″ bottom="15″]
Disclosure of Material Connection: Some of the links in the post above are "affiliate links" designed to provide a means for sites to earn advertising fees. This means if you click on the link and purchase the item, Bengalcats.co will receive an affiliate commission. Regardless, we only recommend products or services we use personally and believe will add value to our readers.